We sojourn to another part of this fair city where Kismet Russel, an artist Bette wants to exhibit at the Fancy Los Angeles Art Gallery where she now works, is having a little one-on-one with our favorite Yalie. Bette reveals that she fell in love with his "2016 light installation downtown."
Kismet's stoked for the opportunity to work with Bette Porter 'cause he knows who she is (Bette Fucking Porter) and what she stands for (Tina) but her boss Isaac Zakarian sucks. Issac immediately demonstrates his overall failure as a human being by crashing the meeting. I have previously referred to Issac as Professor Plum but today I am getting more of a Mr. Green vibe.
Issac invades the conversation with an irritating ignorant question and we remain at the edges of our seats terrified by what this overconfident white man might say out loud to ruin this relationship for Bette!
---
Back at the offices of The Aloce Show, Finley's organizing some headshots (Sue Perkins is at the top of the pile) 'cause she's run out of other stuff to do after fucking Sophie in the green room at the end of Season One, running off to Missouri, ruining a wedding, re-stocking all the candy and gum, cleaning out the fridge and also disposing of 12 yogurts that seemed a bit off.
Sophie: "You tasted all 12 yogurts?
Finley: "I mean, you can't let go of a good gurt."
Sophie: "You're so stupid."
FInley, sensing a warm moment, miscalculates a pathway in which to ask if Sophie's grandmother is mad at her. And we're off!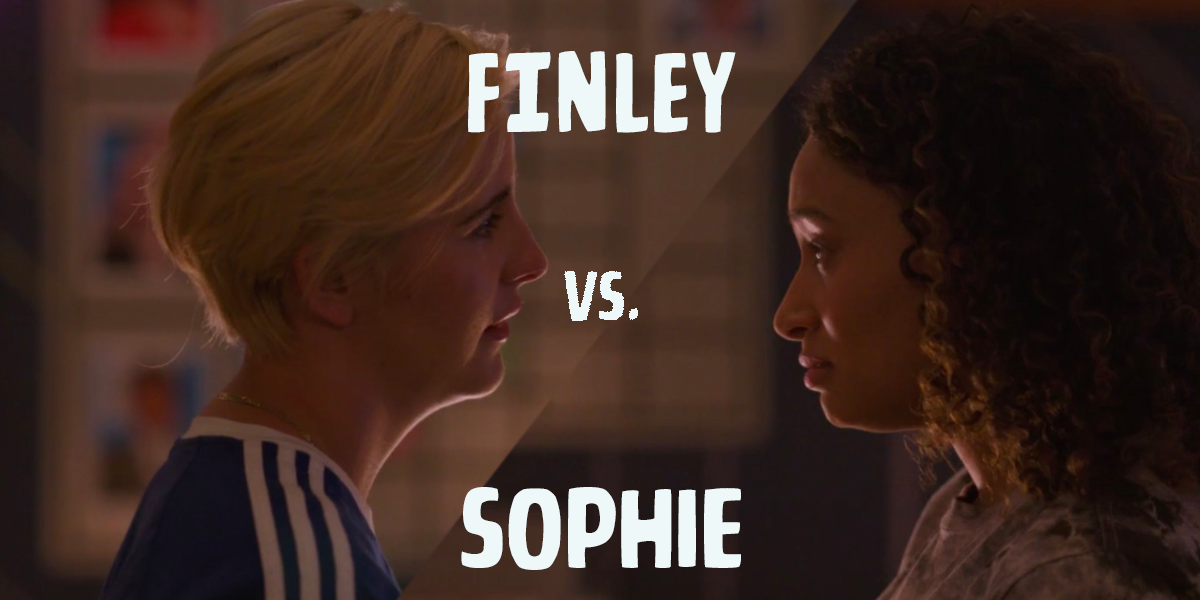 Lesbian Squabble #7: What Are You Doing, Buddy?
In The Ring: Sophie vs. Finley
Content: Sophie doesn't think Finley should make jokes! Finley's not sure what else to do! Sophie wants Finley to feel bad! Finley does feel bad! But does she feel bad for the right people or just for herself and Sophie's grandma??! Sophie bets she feels bad for Dani but does Finley feel bad for her, for Sophie? Because Finley hurt Sophie too!!?! And Finley's like come on we all watched Season One, you weren't happy, and Sophie is like "I was happy" but I do not believe her and she doesn't want to see Finley ever and doesn't want her to be here ever and you know what, this has gotten awfully loud!
Alice interrupts the slog-fest to declare it unprofessional. Finley volunteers to go. It's her fault, and Alice needs Sophie more than she needs Finley. Sophie's clearly impressed by Finley's knighthood in this context, but that doesn't make it easy. Alice is probably gonna have to switch to tea.
Who Wins? The assistant who will now get their job back?
---
We then transition back into the budding romance between Our Lady of Porter and Gigi, where they're talking about racist micro-aggressions in the workplace! After the absurdly post-racial worldview of the original series, these conversations are so refreshing, and it's nice to see Bette dating someone who can relate to some of what she's experiencing.
Bette: He told an emerging Black artist that his HERO, Karrey James Marshall, wasn't on the Zacharian roster because he wasn't ready.
Gigi: I mean I don't even know who that is and I can still see the thinly veiled racism.
Just like Bette always (allegedly) dreamed we have two (2) CAREER WOMEN here discussing how Bette can maximize her opportunity with this terrible white man. Gigi points out that at least he's paying Bette absurd amounts of money (to refresh your memory, he paid off her campaign date and offered her a $600k salary) and Bette's like "I'm not sure if it's worth it." A lot of people are working for terrible white men for $10/hour, so?
Then Gigi is like … you need to get clear on what you want…. IN BED
Lesbian Sexy Moment #2: What Do You Want
The Players: Bette and Gigi
The Pick Up: "What do you want? Do you want this?"
Is it Hot? Gigi's just got her fingers on Bette's earlobe and Bette moves in for her lips and Gigi pulls back because ladies IT'S A TOP-OFF. Gigi's down her knees, runs her tongue down Bette's body and then tells Bette to wait for no reason but actually yes there is a reason (it's a top-off) and the reason is control. They go back and forth and back and forth and Bette serves Gigi her fingers and they kiss like sex, like tugging and biting and sucking and then there's laughing and  and tearing at each other's clothes Bette flips Gigi over and climbs on top and then ….
---
Alice arrives home, full of complaints regarding her day, to find Nat slumbering upon the sofa watching an episode of Law and Order: SVU that I am ashamed to admit I immediately recognize.
Alice decides to dance with danger and unlock Nat's phone with her sleeping face, but Nat immediately awakens and somehow believes Alice's claim that she was simply attempting to partake in Farmville, a game nobody has discussed in over ten years. Alice is really pushing it this week!
---
Over at the Dana Fairbanks Memorial Tavern, Shane is failing at advice for notable Lost Kitten on the Highway, Finley. So Tess steps in:
Tess: I think what Shane is trying to say is that we tend to get stuck in certain patterns until we meet the person that we're meant to be with and then when you do, that's when you can end the cycle. I mean that's what we're all in it for.
This advice has absolutely nothing to do with the conversation they're having but you know, it's a nice sentiment.
Finley explains that she loves Sophie, it makes sense for them to be together and when they hooked up it just worked. But. She knew Sophie was gonna marry Dani, so faced with the options of Fight or Flight, she chose Flight. She went home, got sober, cleared her head. Then Alice called, said Sophie missed her, and Finley thought, "oh, perhaps I still have a shot."
Shane: Fucking Alice.
Finley: It's not her fault.
Shane: Eh, I've known Alice for a long time. It kinda is.
Tess is like, where are you gonna live my man? And Finley is like good q, but more importantly:
Finley: I knew the wedding was that day but I thought it was later like at night? I didn't think I was walking into the actual wedding. In a hat. In a fucking hat.
Shane: We know, we were there.
Tess: [Unforutnate nod]
Finley: I just…. I thought I was finally doing the right thing. Ha. Yeah. I'm an idiot.
This explanation does, actually, make a lot more sense than the idea of Finley orchestrating an entrance at the most dramatic moment possible and waiting until the absolute last minute to return to Los Angeles to make her Love Confession. (As dramatized in the short Mark + Gomey Film, Finley / Sophie Love Confession)
But those do not cover the entirety of Finley's woes: there's more. She's unemployed now! Luckily her Gay Dad Shane and her Gay Mom Tess will hire her to work right here at the bar! Shane's proud of Finley for speaking her truth which isn't easy and not many people can do it. Shane really ought to share her own wedding story! That's what I do when my friends fuck up, I am like "listen, here's a story of when I fucked up something similar but much worse." And then everybody can feel less alone! Sometimes!
Tess gives Shane a coy little smile and Shane's like "what?" and Tess is like "that was surprisingly sweet." HAVE SEX
---
Finley arrives at DaSoMi's with a six-pack and a message for Micah: she is aware that she is a piece of shit. Micah shrugs. He sees things differently now. "There's two sides to every story," he says. "Or, three." But will anyone ever forgive her? Micah says Finley is really hard not to love.
Then DRIVERS LICENSE starts playing? I am uncertain if this is technically legal. It is far too emotionally evocative for me at this time and I will be reporting this crime to Interpol. First up is Finley crying in bed:
And then we segue into the next day in which Dani's got the eye of the tiger and JUST KIDDING WE'RE STILL LISTENING TO DRIVERS LICENSE
Dani's running it out, having a good old fashioned cry-run. You know the type. Dani replays it all in her mind— the sex scene in the bathtub, the sexy dancing in the pilot… and that night Sophie was crying in bed in her arms and Dani knew she was crying but didn't pursue a reasonable line of inquiry. I find myself emotionally impacted by this scene. I too am crying for this relationship, but mostly for Dani's deep sense of dissolution. She throws up on a tree and Olivia Rodrigo throws up on my feelings.
---
Back at the Dana Fairbanks Memorial Tavern, Tess reiterates how sweet Shane was with Finley, how kind it was to tell this broken highway kitten that she was proud of her for putting her feelings out there. Shane reiterates how hard it is to do so. For example, people told Shane her entire life that she would become a psychopath if she didn't learn how to feel but then she did let herself feel and Cherie Jaffee ripped her heart out! (Also this isn't the point but I suggest you watch that video and tell me if you sense a Finley parallel!)
So, Tess is gonna try a little something called Getting Shane to Talk About Her Feelings, a game invented by Carmen De La Pica Morales in 2005. Tess goes first: her Mom has MS and her Mom used to take her to church and play bingo and smoke Virginia Slims.
Shane volunteers the deep emotional truth that Quiara took half her money in the divorce (which makes no sense!) so she really needs this poker thing to happen and Tess not only accepts that as a deep confession but agrees to do a dry run of poker night!!!!!!!
Tess is like omg you're blushing I made you blush and Shane is like omg I did not OKAY HAVE SEX
Pages: 1 2 3See entire article on one page