Welcome to the second recap of the second season of The L Word: Generation Q, brought to you by the same network that brought you The L Word, a show about a charismatic 55-year-old self-help guru with a wife and family who spends his days on the road speaking in expansive hotel conference rooms regarding his own self-help theory "The Theory of Everything" (aka TOE) and selling related merchandise and literature who, at one such event, meets a legendary singer-cum-entrepreneur seeking economic success for her queer coffee-shop/venue/club through overcharging for Pear Poletna Tarts, says she reminds him of an "alley cat," seduces her after a mid-morning poolside hotel lunch and then stands her up for a fancy dinner at said coffee shop, thus resulting in the unnecessary death of two lobsters set aside for the meal by noted Soup Chef Lara Perkins.
In this recap of Episode 202, we will find out what happens when lesbians stop being polite and start getting real honest at somebody else's wedding! I would like to give a hearty thank you to the 30k+ humans who read my first recap and everybody who gave me compliments in the comments, honestly it was even better for my sense of self than Wellbutrin and I'm walking on sunshine now. (But don't worry I'm also still taking the Wellbutrin.)
---
After last week's cliffhanger, itself a follow-up to a previous cliffhanger, it's time to strap on our carabiners and ascend the climbing wall of lesbian drama because my friends, Dani was in fact quite serious regarding cheating being a dealbreaker, which brings us to our very first fight in an episode that will set the record for "most fights ever in an episode of The L Word." The prior record-holder was Episode 511, the one where Jodi and Bette dressed exactly the same and broke up for eight hours.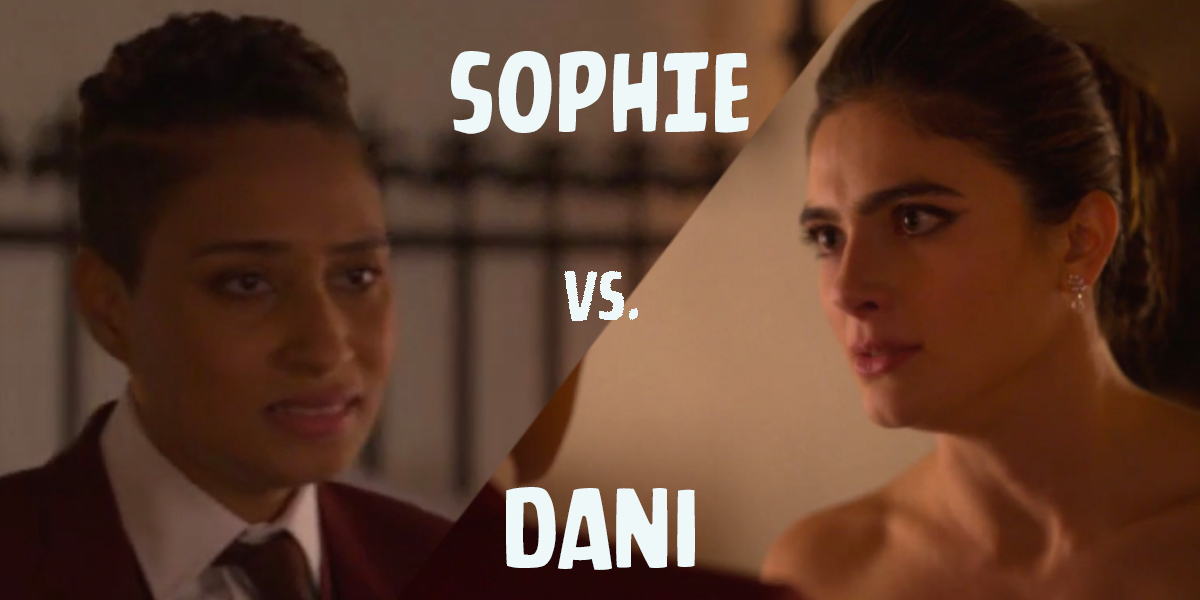 Lesbian Squabble #3: Did You F*ck Her All Night Before Telling Her I Was The Love of Your Life?
In the Ring: Dani vs. Sophie
Content: Dani has a lot of stuff to do now, like yell at Sophie in her veil. Also, pack a suitcase because this venue has it all: Bridal Suite AND wedding parlor AND rehearsal dinner room. It's like Greenfield Village but with less glass-blowing.
Also, Dani has questions like "when did it happen" and follow-up questions like "never mind I don't want to know." She's curious if Sophie was ever gonna tell her or if she was just gonna marry her, have her little babies and then sit across from Finley at Thanksgiving dinner as if they did not fuck in Episode 108; which, honestly, great question!
Sophie insists it was a one-time thing and Dani yells at her to stop talking. "Who knew?" Dani screams. "Did everyone know but me?" and Sophie is simply dying inside.
Dani would like to know if Sophie fucked Finley in their home (no) and then declares, "I never want to see you again, is that clear? You're fucking disgusting."
Who Wins? Chaos? I'm gonna give Dani the W here because she is objectively "in the right" and also let's be real, she needs a W.
---
Back in the downstairs chambers, Finley is, as Alice so aptly notes, "standing there like a kitten on the highway," and so Alice kindly trots over to offer support which Finley is unable to accept because she's in a bit of a wierd mood. Also, she's surrounded by extras who are really earning their day rate today "expressing disgust towards Finley."
Lesbian Squabble #4: Are You Here For An Affair, Sir?
In The Ring: Finley vs Everyone
Content: Bette — who has committed a healthy list of sins we will address later in the recap — leans over to tell Shane —  who fully left ethereal beauty Carmen De La Pica Morales at the altar in gorgeous Canadian snow-palace wedding sponsored by the Peabody Foundation — that Finley's little speech was "the most selfish thing she has ever seen." 🙄
Micah tells Finley to stop following him and wonders what exactly she thought would happen. Then Dani goes downstairs to tell Micah that she knows that he knew and then she gathers her petticoats and stomps over to Finley and punches her right in the face. Bold but also appropriate.
Who Wins? Again, let's give this W to Dani!
---
The Suarez family is facing another pressing dilemma: what the hell are they gonna do with all this food? They should have a party anyhow, like Will Schuster did in Glee, thus enabling Santana and Quinn to have lesbian sex. Despite explicit instructions to remove herself from Dani's life immediately, Sophie is on the horn trying to reach her.
Virginia: Give her time. She'll come around.
Maribel: Or she won't.
Sophie: Nobody fucking asked you!
Virginia asks Sophie why Finley thought her little class presentation would have a positive outcome. Does Sophie love her? Sophie doesn't answer the question. "I love Dani," she says instead. Virginia suggests that maybe Dani will take her back.
I'm not sure if Sophie is genuinely as all-in on Dani as she says, but I do think in this moment her interest in marrying Dani is probably difficult to parse out from the utter catastrophe and emotional turmoil of what she's currently facing. You never really know what it feels like to lose somebody until you do. You can try to prepare yourself, you can entertain a thought experiment wherein you consider hypothetically losing the person who's been by your side for many years but that rehearsal will always be a dreamy cakewalk compared to the stark reality of opening night. Even if your relationship is objectively broken, even if you no longer make each other happy — it's terrifying to let go of someone you love and have planned a life with. Especially due to your own fuck-up.
Even if Sophie did truly want to choose Finley, how? After the public spectacle of it all? After being outed as a cheater and a liar in front of her entire family, her friends, Mr. Dani, Shane, Marissa, Marissa's husband and Marissa's girlfriend? All of the extras who braved a pandemic to be present for this wedding, who dutifully waited outside in their N-95 masks for their time to shine? Would anybody besides me and my Gen Q podcast co-hosts be rooting for them? Would they feel like the black sheep of their social network? Would anybody in their remote network ever feel comfortable pressing "like" on a photo of Sophie and Finley grinning in their luxurious backyard pool? Would they feel like they had to succeed as a couple in order to justify everything they blew up to get there? 'Cause that's not a healthy place to be either!
On the one hand she has this beautiful life with this stable, employed, loyal, hot wife that was moments away from being certified by the government. On the other hand, a love nest with someone who has yet to reconcile her own internal demons and is a little adrift psychologically and logistically. And Sophie knows she hurt Dani, and no matter how much Dani hurt her by shutting her out and not being supportive when her grandma was in the hospital, this blows essentially all other methods of hurt out of the water. And like I said last week, if Dani can't forgive her then that doesn't just mean their relationship is over, it means Sophie has to grapple with what this says about her as a person. And that's really hard to do! She will probably feel guilty for the rest of her life!
---
It's evening at Natalice's, and Alice is gunning for quote of the week already with, "You know what the weird thing is? I don't even think Finley has seen The Graduate." But lest we dwell in levity, let us get into a BIG FIGHT.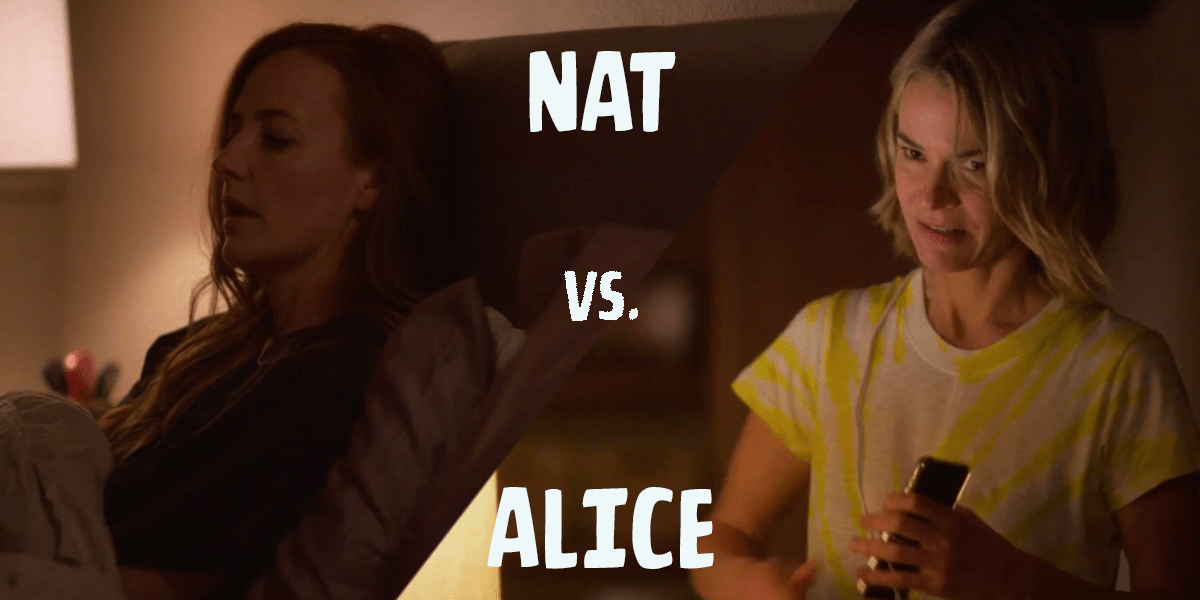 Lesbian Squabble #5: Is That a Poly in Your Pocket Or Are You Just Upset To See Me?
In the Ring: Nat vs. Alice
Nat: Do you think if Sophie had talked to Dani before, and just been honest about being attracted to Finley, that maybe Dani would've been okay with it?
Alice: Are you kidding?
Nat: I don't know, I mean I have lots of clients who have sex outside of their primary relationship. Monogamy's not for everyone.
Alice: Well it's for most people, except the bad ones.
Nat: I just think open communication is so important.
Alice: Well, there's nothing to communicate if you don't cheat.
It's for most people except the bad ones. This is both offensive and truly absurd, that Alice, who has been in the queer community in Los Angeles for three decades, is unfamiliar with non-monogamy and still believes it is a gross practice imposed upon humanity by bad people. Shane and Quiara were non-monogamous! So of coure Nat's crestfallen — she cracked a door open into a conversation she wanted to have and Alice slammed it in her face. Also "there's nothing to communicate if you don't cheat" is absolutely inane.
Who Wins? Genuinely nobody, but definitely not Alice.
Alice listens to Nat CRY AND BRUSH HER TEETH in the bathroom. When Alice asks what's wrong, Nat says she choked on some toothpaste — a very common dental issue many brushers struggle with on a daily basis!!! We do not talk about this enough! Louder for the people in the back!!!!!
---
Dani is unmoved by Sophie's voice mails and pleas for reconcilliation and therefore she will be LITERALLY FLUSHING MONEY DOWN THE TOILET in a video to her former beloved.
Imagine that your friend just ruined your wedding by revealing that they'd fucked your fiancée and the next morning you are throwing jewelery down the toilet and then there's a knock at the door and it's fucking BETTE PORTER with a bag of food from TARTINE?
Well, here's what Dani would do: claim she's totally fine and needs nothing and nobody, which tbh, is a classic Bette Porter move!
---
Now that Tess has been "blackballed" from every Poker table in town (which would be legitimately impossible for Eddy to actually pull off) and therefore is in serious financial turmoil, Shane's determined to fix the problem she unsurprisingly caused by opening up her own poker game at the Dana Fairbanks Memorial Tavern. It feels like they're trying to make a Dawn Denbo parallel, but Dawn Denbo was a skinny white lesbian trying to put Kit Porter out of business. For a show that so rarely (read: never) has Black masculine characters, having this be the entirety of Eddy's role in the story is irresponsible and offensive.
Tess worries Shane's not discrete enough to pull off this type of enterprise.
"Trouble follows you," Tess declares, correctly.
---
Back at the home formerly known as DaSoMi's, Micah and Maribel are developing what i'm certain is eventual sexual chemistry while returning wedding gifts and ragging on homewreckers. Like Finley, who arrives, surveys the scene, and promptly recuses herself from "sending back the gifts for the wedding I ruined."
When Micah declines a call from Jose and also pretends it wasn't Jose, Maribel starts an emotional prodding session, noting that Jose is still married and therefore Micah "is the Finley." Micah insists he's not the Finley 'cause he didn't even know Scotty existed. "Buy you do now, so," Maribel drops the mic. Finley announces she is gonna ditch the marriage-ruining talk to go vomit.
---
Welp, it's time to take your woes to work at The Aloce Show! Sophie's depressed but eager to work, because like I always say, "you can type and cry at the same time." Also, big news for Alice and bad news for Sophie: Finley's back, she's got the correct coffee in her hand and accurate knowledge regarding the soup of the day at Alice's favorite lunch spot. Alice and Finley share an enthusiastic hug and Finley's like, "I hope that wasn't an HR thing." Awww.
Sophie tells Alice she actually will take that producer job because it sounds more fun than having a nervous breakdown. Regarding Finley's presence in the workspace, she promises Alice her personal life will not impede her success in the workplace and I'd like to wish everybody a big Good Luck on that.
---
Micah hits up Jose for a little heart-to-heart and we're on a one-way road to Squabble-Town.
Gay Squabble #6: No Way Jose
In the Ring: Micah vs. Jose
Content: Micah doesn't wanna put anyone in the position Dani's in right now, even Jose's stupid-ass husband. Also, Jose is a liar. Jose says he never lied to Micah, he meant every word he said, which is absolute nonsense. "You're lying right now!" Micah points out. "You're a fundamentally dishonest person!" Then Scott peeks out to see if everything's okay and Jose's like, "yeah we're just catching up. You remember Micah?" DUDE.
"Fuck you," says Micah before getting the hell out of this disaster.
Who Wins? Micah. But he is almost overshadowed by the depths to which Jose loses!
---
Alice's book editor Tom, who you may remember from his halcyon days cruising through Beverly Hills with Cher and Dionne sharing theories regarding whomst is a Friend of Dorothy and how to drive, has arrived on the set of The Aloce Show to craft literary magic between takes. He finds himself immediately intimidated by the glitz and glamour.
Good news: Alice's draft is very funny and he loved the chapter about legendary MILF Lenore. But he's here to help her combine humor and pathos. "We know you're funny," Tom says. "But now we need to know what it felt like the day your Dad left… we wanna know how you and your girlfriend weather the storm." Finley and Tom become best friends immediately, Alice has a bisexual flag on her desk, and she apparently was unaware that part of writing a celebrity book is that someone else is actually going to write it!
We sojourn to another part of this fair city where Kismet Russel, an artist Bette wants to exhibit at the Fancy Los Angeles Art Gallery where she now works, is having a little one-on-one with our favorite Yalie. Bette reveals that she fell in love with his "2016 light installation downtown."
Kismet's stoked for the opportunity to work with Bette Porter 'cause he knows who she is (Bette Fucking Porter) and what she stands for (Tina) but her boss Isaac Zakarian sucks. Issac immediately demonstrates his overall failure as a human being by crashing the meeting. I have previously referred to Issac as Professor Plum but today I am getting more of a Mr. Green vibe.
Issac invades the conversation with an irritating ignorant question and we remain at the edges of our seats terrified by what this overconfident white man might say out loud to ruin this relationship for Bette!
---
Back at the offices of The Aloce Show, Finley's organizing some headshots (Sue Perkins is at the top of the pile) 'cause she's run out of other stuff to do after fucking Sophie in the green room at the end of Season One, running off to Missouri, ruining a wedding, re-stocking all the candy and gum, cleaning out the fridge and also disposing of 12 yogurts that seemed a bit off.
Sophie: "You tasted all 12 yogurts?
Finley: "I mean, you can't let go of a good gurt."
Sophie: "You're so stupid."
FInley, sensing a warm moment, miscalculates a pathway in which to ask if Sophie's grandmother is mad at her. And we're off!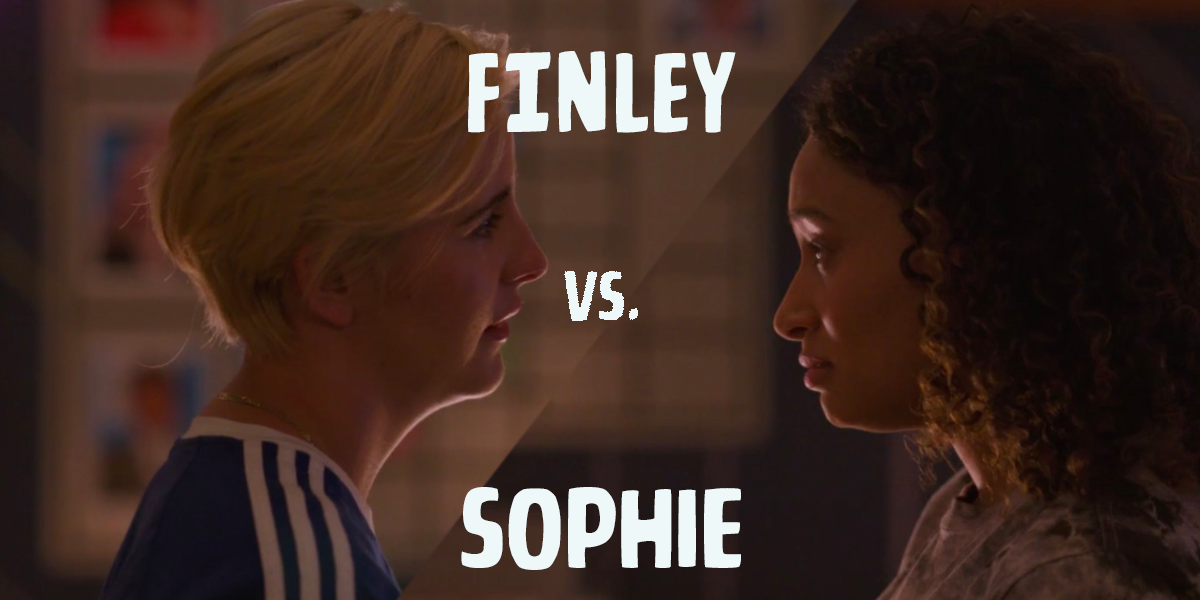 Lesbian Squabble #7: What Are You Doing, Buddy?
In The Ring: Sophie vs. Finley
Content: Sophie doesn't think Finley should make jokes! Finley's not sure what else to do! Sophie wants Finley to feel bad! Finley does feel bad! But does she feel bad for the right people or just for herself and Sophie's grandma??! Sophie bets she feels bad for Dani but does Finley feel bad for her, for Sophie? Because Finley hurt Sophie too!!?! And Finley's like come on we all watched Season One, you weren't happy, and Sophie is like "I was happy" but I do not believe her and she doesn't want to see Finley ever and doesn't want her to be here ever and you know what, this has gotten awfully loud!
Alice interrupts the slog-fest to declare it unprofessional. Finley volunteers to go. It's her fault, and Alice needs Sophie more than she needs Finley. Sophie's clearly impressed by Finley's knighthood in this context, but that doesn't make it easy. Alice is probably gonna have to switch to tea.
Who Wins? The assistant who will now get their job back?
---
We then transition back into the budding romance between Our Lady of Porter and Gigi, where they're talking about racist micro-aggressions in the workplace! After the absurdly post-racial worldview of the original series, these conversations are so refreshing, and it's nice to see Bette dating someone who can relate to some of what she's experiencing.
Bette: He told an emerging Black artist that his HERO, Karrey James Marshall, wasn't on the Zacharian roster because he wasn't ready.
Gigi: I mean I don't even know who that is and I can still see the thinly veiled racism.
Just like Bette always (allegedly) dreamed we have two (2) CAREER WOMEN here discussing how Bette can maximize her opportunity with this terrible white man. Gigi points out that at least he's paying Bette absurd amounts of money (to refresh your memory, he paid off her campaign date and offered her a $600k salary) and Bette's like "I'm not sure if it's worth it." A lot of people are working for terrible white men for $10/hour, so?
Then Gigi is like … you need to get clear on what you want…. IN BED
Lesbian Sexy Moment #2: What Do You Want
The Players: Bette and Gigi
The Pick Up: "What do you want? Do you want this?"
Is it Hot? Gigi's just got her fingers on Bette's earlobe and Bette moves in for her lips and Gigi pulls back because ladies IT'S A TOP-OFF. Gigi's down her knees, runs her tongue down Bette's body and then tells Bette to wait for no reason but actually yes there is a reason (it's a top-off) and the reason is control. They go back and forth and back and forth and Bette serves Gigi her fingers and they kiss like sex, like tugging and biting and sucking and then there's laughing and  and tearing at each other's clothes Bette flips Gigi over and climbs on top and then ….
---
Alice arrives home, full of complaints regarding her day, to find Nat slumbering upon the sofa watching an episode of Law and Order: SVU that I am ashamed to admit I immediately recognize.
Alice decides to dance with danger and unlock Nat's phone with her sleeping face, but Nat immediately awakens and somehow believes Alice's claim that she was simply attempting to partake in Farmville, a game nobody has discussed in over ten years. Alice is really pushing it this week!
---
Over at the Dana Fairbanks Memorial Tavern, Shane is failing at advice for notable Lost Kitten on the Highway, Finley. So Tess steps in:
Tess: I think what Shane is trying to say is that we tend to get stuck in certain patterns until we meet the person that we're meant to be with and then when you do, that's when you can end the cycle. I mean that's what we're all in it for.
This advice has absolutely nothing to do with the conversation they're having but you know, it's a nice sentiment.
Finley explains that she loves Sophie, it makes sense for them to be together and when they hooked up it just worked. But. She knew Sophie was gonna marry Dani, so faced with the options of Fight or Flight, she chose Flight. She went home, got sober, cleared her head. Then Alice called, said Sophie missed her, and Finley thought, "oh, perhaps I still have a shot."
Shane: Fucking Alice.
Finley: It's not her fault.
Shane: Eh, I've known Alice for a long time. It kinda is.
Tess is like, where are you gonna live my man? And Finley is like good q, but more importantly:
Finley: I knew the wedding was that day but I thought it was later like at night? I didn't think I was walking into the actual wedding. In a hat. In a fucking hat.
Shane: We know, we were there.
Tess: [Unforutnate nod]
Finley: I just…. I thought I was finally doing the right thing. Ha. Yeah. I'm an idiot.
This explanation does, actually, make a lot more sense than the idea of Finley orchestrating an entrance at the most dramatic moment possible and waiting until the absolute last minute to return to Los Angeles to make her Love Confession. (As dramatized in the short Mark + Gomey Film, Finley / Sophie Love Confession)
But those do not cover the entirety of Finley's woes: there's more. She's unemployed now! Luckily her Gay Dad Shane and her Gay Mom Tess will hire her to work right here at the bar! Shane's proud of Finley for speaking her truth which isn't easy and not many people can do it. Shane really ought to share her own wedding story! That's what I do when my friends fuck up, I am like "listen, here's a story of when I fucked up something similar but much worse." And then everybody can feel less alone! Sometimes!
Tess gives Shane a coy little smile and Shane's like "what?" and Tess is like "that was surprisingly sweet." HAVE SEX
---
Finley arrives at DaSoMi's with a six-pack and a message for Micah: she is aware that she is a piece of shit. Micah shrugs. He sees things differently now. "There's two sides to every story," he says. "Or, three." But will anyone ever forgive her? Micah says Finley is really hard not to love.
Then DRIVERS LICENSE starts playing? I am uncertain if this is technically legal. It is far too emotionally evocative for me at this time and I will be reporting this crime to Interpol. First up is Finley crying in bed:
And then we segue into the next day in which Dani's got the eye of the tiger and JUST KIDDING WE'RE STILL LISTENING TO DRIVERS LICENSE
Dani's running it out, having a good old fashioned cry-run. You know the type. Dani replays it all in her mind— the sex scene in the bathtub, the sexy dancing in the pilot… and that night Sophie was crying in bed in her arms and Dani knew she was crying but didn't pursue a reasonable line of inquiry. I find myself emotionally impacted by this scene. I too am crying for this relationship, but mostly for Dani's deep sense of dissolution. She throws up on a tree and Olivia Rodrigo throws up on my feelings.
---
Back at the Dana Fairbanks Memorial Tavern, Tess reiterates how sweet Shane was with Finley, how kind it was to tell this broken highway kitten that she was proud of her for putting her feelings out there. Shane reiterates how hard it is to do so. For example, people told Shane her entire life that she would become a psychopath if she didn't learn how to feel but then she did let herself feel and Cherie Jaffee ripped her heart out! (Also this isn't the point but I suggest you watch that video and tell me if you sense a Finley parallel!)
So, Tess is gonna try a little something called Getting Shane to Talk About Her Feelings, a game invented by Carmen De La Pica Morales in 2005. Tess goes first: her Mom has MS and her Mom used to take her to church and play bingo and smoke Virginia Slims.
Shane volunteers the deep emotional truth that Quiara took half her money in the divorce (which makes no sense!) so she really needs this poker thing to happen and Tess not only accepts that as a deep confession but agrees to do a dry run of poker night!!!!!!!
Tess is like omg you're blushing I made you blush and Shane is like omg I did not OKAY HAVE SEX
Back at The Aloce Show, Sophie's doing some research for the segment, probably figuring out some introductory whale facts and yellow wallpaper ideas. Just something to keep her little mind busy! She tells Alice it's okay if she doesn't give her the segment job, Sophie's just happy to be here doing research to help the incoming Segment Job Person. Alice is like you know what kiddo, take the segment! The world is your segmented oyster!!!!
Also, she invites Sophie to poker night and I hope there's some liquor in the rear tonight if you know what I mean!!!!
---
We return to Daddy's Manor where Micah's arrived to deliver some important items from The Apartment Formerly Known as DaSoMi's. We don't get very far into this encounter before we embark upon yet another round of fight club!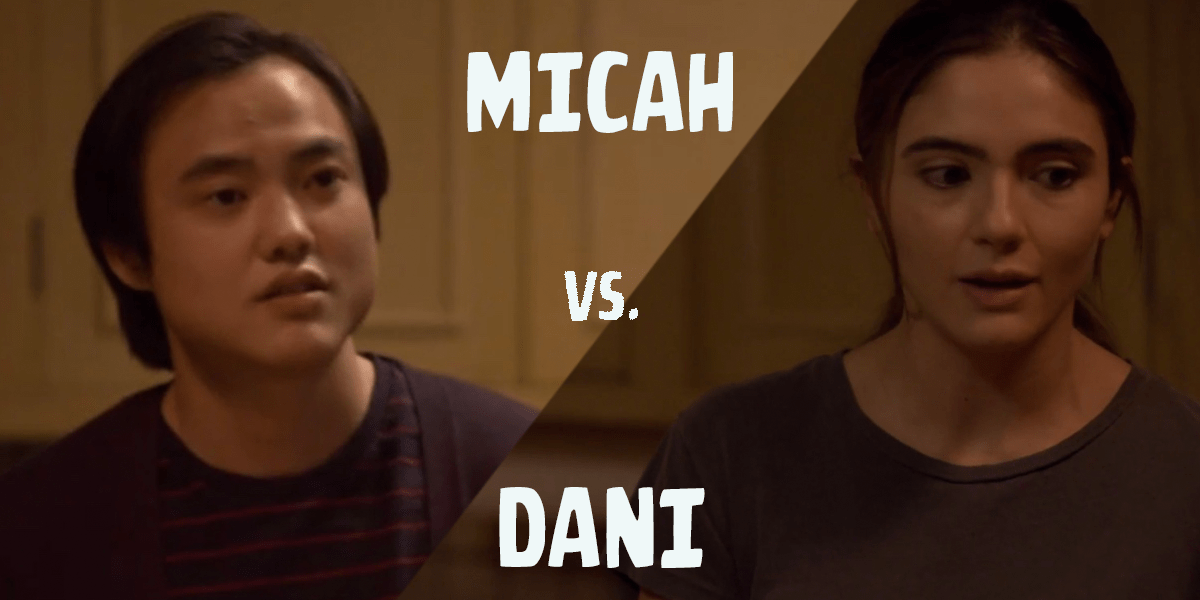 Gay Squabble #8: Where Did The Goods Go
In the Ring: Dani vs. Micah
Content: Dani does not feel she owes Micah a 'thank you' for bringing over her stuff 'cause Micah didn't tell her that Sophie was a cheater! Micah says he thought they were happy and Dani says they were, or she thought they were? Or she thought they'd be happy together forever? Micah suggests that they still could be happy if Dani were for example to forgive Sophie.
Micah: "I know it doesn't feel like it but you have all the power right now, trust me. If you don't wanna be with her, that's one thing. But if you wanna forgive her, you could. And I won't judge you."
Dani: "How would I even begin to—"
Who Wins: Micah. Dani's just angry and needs an outlet for it, which's completely understandable and 100% forgivable, but it will not earn a win!
---
Friends, get your poker ducks in a row because it is time for Round 500 of The L Word's conviction that lesbians in Los Angeles are obsessed with poker!
IT'S TIME FOR FANCY POKER NIGHT. Gigi's boobs are out and Bette and Gigi are hot and Bette is skeptical of Finley's presence. Shane announces that all the pokers have arrived and Bette feels moved to mention that she invited Dani but she's still "too shattered" to go out. POINTED STARE AT SOPHIE.
Luckily we are able to hurdle right over that tension and avoid the steeplechase puddle (for now) as the music ramps up and the cards are shuffled and distributed and evaluated and everybody's teasing each other and Finley and Sophie make eye contact without turning into pillars of salt! Intergenerational poker party is underway and G-D IT'S JUST SO GREAT.
---
Meanwhile guess who's walking down the street, it's my NUMBER ONE SHIP Maribel and Micah!!!!!!!! MICABEL FOREVER. Micah's feeling good because he told Jose to go fuck himself in a swan boat and kinda patched things up with Dani. He would like to thank Maribel for being a friend.
Their dynamic is so cute!
---
At Papi's Poker Palace, Alice says her editor wants her to spill all her messy stories, as if there is any other way to write a good book? Once upon a time when not many celebrities came out so Autostraddle still covered male celebrities coming out, Don Lemon came out, and I read his entire autobiography on an airplane waiting for some messy gay shit and the whole thing was just about his career! I am glad someone is not letting Alice make the same mistake.
Bette jokes, "Don't put me in the book"! As we all recall she has already been in one (1) book (Lez Girls by Jennifer Schecter) and does not want to relive her Bev Trauma again. I would like to request, of course, that Alice devote an entire chapter to Fingerbanging At The Opera. Anyhow, speaking of Bette and sex, it turns out Bette was actually not done doing her little pot/kettle thing with Sophie during this otherwise congenial group activity.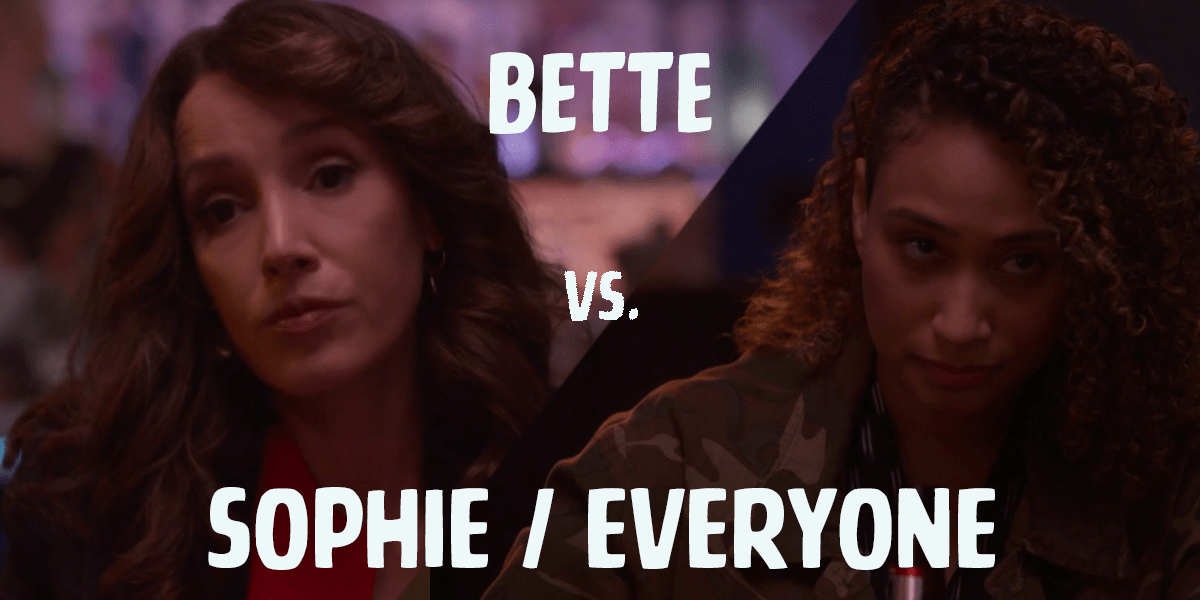 Lesbian Squabble #9: Justice for Jodi
In The Ring: Bette vs. Everyone / Her Internal Demons
Content: Referring to Alice's impending memoir, Shane declares that it's good that she's digging into the tough stuff because "the messy parts are the relateable parts," which's true. Sophie agrees emphatically. Then Bette, shooting stern daggers right out of her retinas, declares:
Bette: Well it's fine when it's your mess, but when your mess is the cause of someone else's pain it's not quite so—
Sophie: Was that at me?
Bette: Did it feel that way?
Sophie: I know I fucked up, you don't need to keep throwing it in my face.
Tess: It's probably best not to judge.
Alice: Yeah…
Sophie: And I'm sorry. If you see her before I do, just tell her I'm sorry.
Shane: Everybody makes mistakes, right? (To Bette) Including you.
A hush falls over the crowd. Bette admits… that she cheated on Tina 17 years ago and will regret it for the rest of her life UM BITCH THAT IS NOT ALL YOU DID.
Firstly before I begin this list of Bette's sins, I would like to say that I am itemizing these sins not to pass judgment but simply to fill in some backstory on some PRETTY BIG MISTAKES  made by Bette because as mentioned, we all make mistakes. Bette:
Cheated on her girlfriend Alice with Tina, who had a boyfriend at the time
Cheated on Tina, her partner of seven years who was at the time processing the emotional fallout of her miscarriage, with The Carpenter
Slept with her T.A. Nadia, who was clearly in love with her
Cheated on her girlfriend Jodi with aforementioned Tina for a significant period of time, actively lying to Jodi and keeping her around despite her clear preference for Tina, denying anything was going on when Jodi inquired about it, therefore essentially driving Jodi insane with the gaslighting! Cheating is bad. But the ongoing betrayal? Denying Jodi the information she needed to understand the landscape of her relationship? SIMPLY NO. "Sneaking around" is a whole extra level, it is really hard to recover from that.
Had an affair with a married colleague that she continued after it was exposed that said colleague was married, despite it putting Bette's mayoral campaign at risk, which would potentially have negative repercussions for everybody else working on the campaign
In 2007, banged a folding chair on the floor of The Planet and yelled ARSON! ARSON! without knowing if there were any arsonists in the building
And yet only cheating on Tina with the carpenter is what she brings to bear upon this argument. Perhaps she is simply projecting her situation onto Sophie's.
Anyhow, Gigi throws her chips in on Team I Have Cheated, Alice name-checks Nat's trust issues, Tess says people can change 'cause her and Shane are friends now and then Shane declares "we're all a bunch of fuck-ups." And this is the thing! That's what we want out of these intergenerational dialogues is the olds telling the youngs that we are all fuck-ups and change is possible!
Who Wins? Alice closes out this conversation by literally winning the poker game, so.
---
Alice returns home to where her dearly beloved girlfriend Nat says dinner's in the fridge and Alice takes a HAMBURGER AND FRIES out of the fridge and starts eating it without heating it up? Is she a sociopath???
She presses Nat to tell her what's wrong, and finally, Nat does so. Which brings us back into the ring!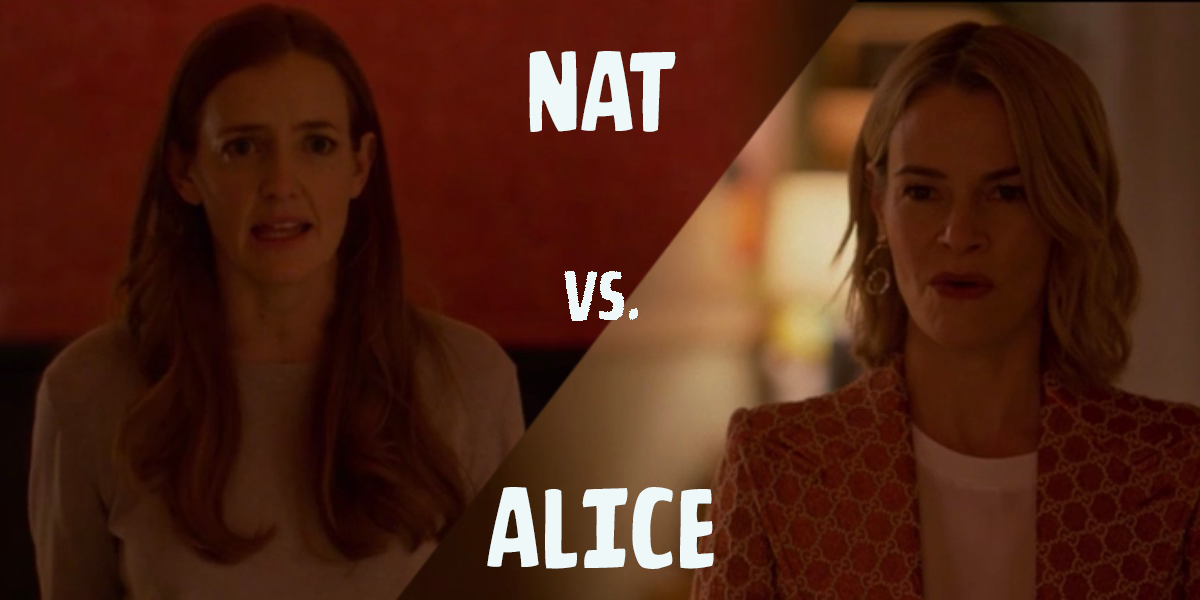 Lesbian Squabble #10: There's More Than One Way To See The World
In the Ring: Nat vs. Alice
Content: Nat is polyamorous. She was afraid to broach this topic with a woman who didn't heat up her dinner, and that was a good call because Alice could not possibly have a more appalling reaction than she has in this scene! She's disgusted, she's betrayed, she's refusing to believe Nat's reality. And then?
Nat: It's no different than you being bi!
Alice: What?
Nat: Yeah, I'm poly and you're bi.
Alice: That is not the same.
Nat: It's actually exactly the same. It's part of our identities that need to be explored.
Alice: I don't want to be with a guy! I don't even think about guys.
Um, what? Who wrote this scene!!! Giving Nat as much latitude as is currently possible on the world globe, it could be argued that when somebody realizes they're bisexual, if they've only ever been with one gender, they might feel the need to explore the possibilities of dating or fucking other genders. I felt that way personally when I was 23! Not everyone does but I did! Nat taking this statement into the present tense, though, is confusing.
It's similar insofar as Nat feels polyamory is not something she can change about herself, which is the same way many bisexuals feel about bisexuality.
But Alice's response suggests the implication isn't either of those things — that somehow this is about desire for people outside of your primary relationship. And that's a really pernicious bisexual stereotype that should not be alluded to so dramatically and/or clumsily!
Who Wins? Um
---
Over at the Suarez Homestead, Sophie's Mom is lamenting the expensive kitchen accessories that now must be returned to the wedding guests when Dani creeps in like a ghost doll to return a dish and before she can escape, Sophie spots her and chases her outside for a heart-to-heart.
Lesbian Squabble #11: And I Know We Weren't Perfect But I've Never Felt This Way For No One Else
In the Ring: Dani vs. Sophie
Content: Dani feels humiliated. "I was holding you that night, wasn't I?" she asks.
"When?"
"The night you were with her," Dani says. "You were crying in bed and I was holding you. Right?"
Yes indeed, the night she was crying and you didn't ask her why she was crying was indeed the night she fucked Finley in the green room.
Dani: The thought of losing you isn't something I thought I would ever have to face.
Sophie: I fucked up. I fucked up. But I will spend every single day of the rest of my life making it up to you, I promise. Just come home with me.
Dani: I wish I could, but I can't. I know myself.
Sophie: We can go to therapy —
Dani: It's not gonna help.
Sophie: We can just slow things down —
Dani: I will never be able to trust you again. Do you understand what that means?
That means it's over!
Who Wins? Dani. She's right! She will never be able to relax, to settle into this relationship, ever again. The cheating is one thing — Sophie could've confessed and maybe they'd have worked through it. But it's the ongoing dishonesty that really seals it. Knowing Sophie could keep a secret like this for months, could be ready to tie the knot and have babies without ever revealing it, let alone addressing the conflicts that led to her feeling unloved by Dani in the first place. So, Dani wins insofar as she is correct about losing.
---
So it's time for a slow montage! For Sophie to cry in her mother's arms…
For Dani to truly win the night by having her emotional vulnerability cradled in Bette Porter's loving arms…
And then, for Sophie to go home. Finley's eating cereal in the kitchen. She apologizes for existing and explains she thought Sophie was staying with her family and that Micah was letting her crash in the back room, which Finley loves because "it's like a little prison, which is fitting."
Sophie says she'll take a bowl of cereal. Finley says she's sorry for totally fucking up Sophie's life.
"You didn't," Sophie says. "It was all my fault."
Finley says she'll be out of there in the morning.
Sophie says "No, I want you to stay."
They say goodnight. And scene.
WELL GUYS EVERYTHING IS IN TURMOIL SO WE'RE OFF TO THE RACES FOR A JUICY SEASON TWO
---
In Summary:
Lesbian Sexy Moments: 1, 2 all season
Gay Squabbles: 9, 11 all season.
Quote of the Week: "You know what the weird thing is? I don't even think Finley has seen The Graduate."
Pages: 1 2 3See entire article on one page