Welcome to the final recap of the first season of The L Word: Generation Q, brought to you by the same network that brought you The L Word, a show about a tender young boy named Shay whose father leaves him on the back porch of his estranged daughter's West Hollywood home sans explanation after stealing $10k from her generous benefactor friend leading Shay to a life of skateboarding, milkshake-drinking and Gay-Mommi-bullying before eventually breaking his arm, requiring his sister to become an underwear model to pay his medical bills, only to be re-snatched-up by his very own father mere episodes later and then to disappear from everybody's consciousness forever and ever, amen.
Well, it's the finale and what a ride this has been. It seems like just yesterday that my hair looked great at the Los Angeles LGBT Center and now here we are, running through the airport on the journey of a lifetime. I have SO enjoyed discussing this program with all of you over the past eight weeks! You can look forward to a solid amount of follow-up content this week.
Also, Carly and I pop in at the end of Monday's episode of "To L and Back: Generation Q" and will be returning to our regularly scheduled podcast recapping of the original series on February 3rd! We'll be kicking off with 306, which is, I'm sorry to say, REAL BAD.
Also in other big news: those Wildfang coveralls Sophie was wearing earlier in the season are back in stock.
---
We open at the raucous election night celebration for our one and only Bette Porter for Mayor 2020, where a local news anchor informs us that unlike all of us here reading this recap, the people of Los Angeles have "really connected" with Bette's "commitment to tackle the opioid crisis head-on." Inside, Dani's topping all the scrawny gays and softest butches with her interests and desires — specifically, she needs poll numbers and she needs EVERYBODY to be on the registrar's website.
The crowd goes wild for Bette Porter as she makes her way through the throngs of admirers! She's so pretty! Bette's yanked aside by Maya, a hot reporter who wants Bette's hot take on the latest polls, but Bette remains tight-lipped outside of being "cautiously optimistic." Meanwhile, Alice's flipping through potential dates on the exclusive dating app Raya, lamenting how she went from having "the greatest girlfriend" to two girlfriends to a dating app that shows you the same 15 people over and over again. Alice is going to get kicked off the app for letting Showtime film her using it, that's against the rules! Shane favors a girl who's taken 40 pictures of herself with a parakeet, but Alice isn't ready for birds.
Shane gets an ambiguous emergency call requiring her immediate attention, so obviously Quiara is having a miscarriage. Meanwhile, Bette's won a district they weren't expecting to win!!!!
Dani: "We could actually win this thing."
Bette: "Well, that's the goal."
Dani, overwhelmed by either intense thirst or admiration, watches Bette recede into the crowd with a fully captivated stare. Alice shows Dani her bird girl.
Alice: What do you think of her?
Dani: I dated her. The birds were a whole thing.
I want and need to know EVERYTHING about Dani's dating life before Sophie!
---
Deep in the annals of Kit + Denny's, Finley's suddenly a bartender and is immediately distracted by Sophie's arrival. The pain! The intensity! The deep queer yearning! A thing you'll have to accept this episode is that there is no such thing as "time." How much time has passed since the hospital hallway kiss? What happened just afterwards? What happened to Nana? Did Finley come back to the hospital the next morning? Is there a world in which Finley and Sophie, who live together now, have not already encountered each other post-kiss and been forced to discuss what happened? There is: it's this world.
Finley looks at Sophie with hesitant warmth, Sophie returns that emotion but with a little extra weight and remorse before pivoting to the RADIANT Micah and Jose, who definitely look like they've been fucking all day, and then, to the arrival of her fiancee Dani, who dares to defy expectations by telling Sophie she looks beautiful and that she's so glad Sophie's here.
Dani's NEVER been this nervous IN HER WHOLE LIFE and she could PUKE at any second! Sophie says she's so proud of her no matter what happens. Finley watches from across the room with a tinge of sadness. Bette Porter loses the 13th District which means the campaign attack ads I saw around town must've really done some damage! Here, I saved one for posterity:
Alarmed by this devastating loss in District 13, Dani darts off. "That was nice while it lasted," Sophie laments, although it's entirely fair for Dani to be too busy for her on this night of all nights. In other news, Jose's done a painting of Micah and he is JONESING to see it.
---
Meanwhile at this social mixer, Alice sits at the bar with Angie, who's deep in thought over that classic, eternal question: What Is Lesbian Sex?
Alice wants to talk election numbers but Angie's got a divergent line of inquiry:
Angie: "When did you lose your virginity?"
Alice: "Mmm. Okay. I haven't yet."
Angie: "I know you're lying!"
Alice: "Okay okay, I was um… I was like 37."
Angie: "You know what? I'll just ask Shane. I think that's perfect!"
Alice: "Okay okay okay! I'll talk I'll talk! I was 17. And it was with this guy who played my Mom's son in a movie of the week."
Angie: "What's a movie of the week?"
Alice: "That was your takeaway from what I just said?"
Before we can get more details on this Important Sex Talk, there's another Important "Sex" Talk happening just outside, where a seemingly sober Finley's brought Sophie for a little relationship climate change denial. Finley would like to acknowledge her historical relevance as a "shitstorm for people" and her desire not to fuck up Sophie's relationship with Dani. Finley nervously and clumsily suggests "select-all-deleting" everything that happened in that hallway, instead of what she should be suggesting, which is scrolling back, pressing play, and watching it again!!!
Sophie's not sure how to react — it's all an act, after all, for both of them, trying to do the right thing instead of the thing they want to do. So they repeat how "good" they are, how "good" things are, even though they're clearly "not good." Finley heads inside. Sophie remains on the curb, looking despondent.
---
Shane arrives at the hospital to find Quiara waiting to see a doctor about some bleeding. Shane immediately recognizes her wife as the hospital's Most Important Patient and determines her wisest course of action would be to yell at the kind receptionist just trying to do her job until she agrees that rushing Quiara in is very important. I hated this!
---
Back at Kit + Denny's Wild Election Night party, Dani and Vaguely Masc Extra #45 are playing with their little map game, ruminating over the slimness of the chance of Bette winning. This particular human is played by Lex Ryan, who's non-binary!
But! Good news: they won the 5th District! Beverly Hills and showed up for their one + only!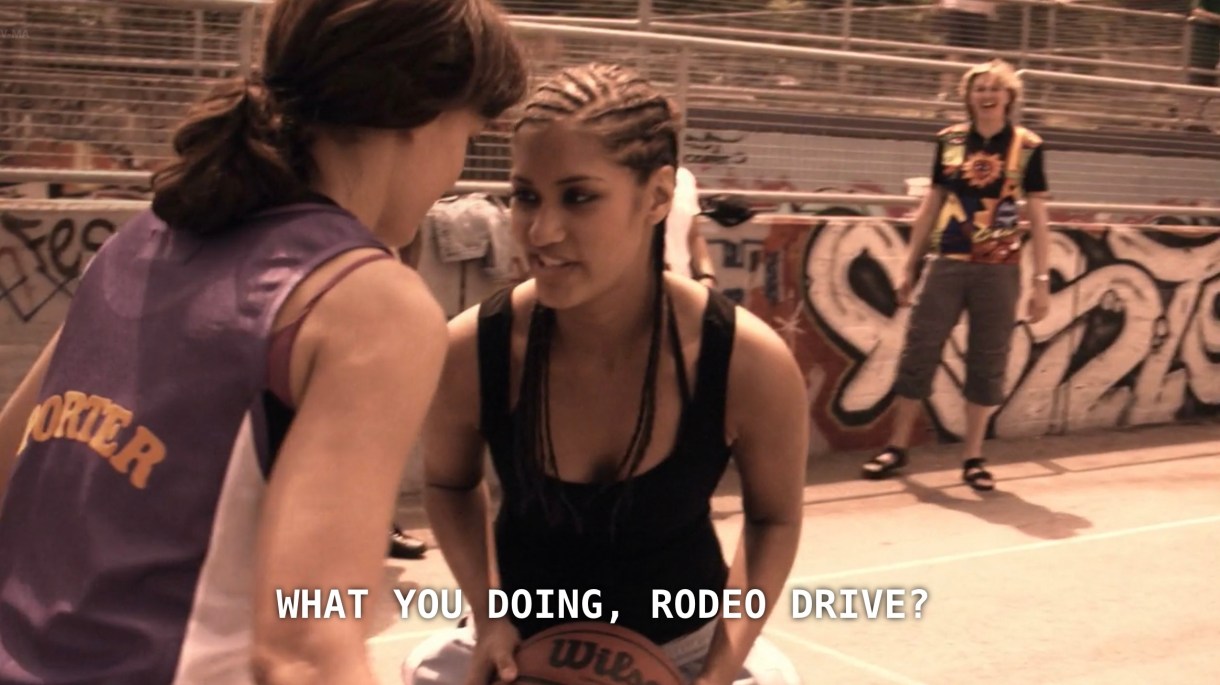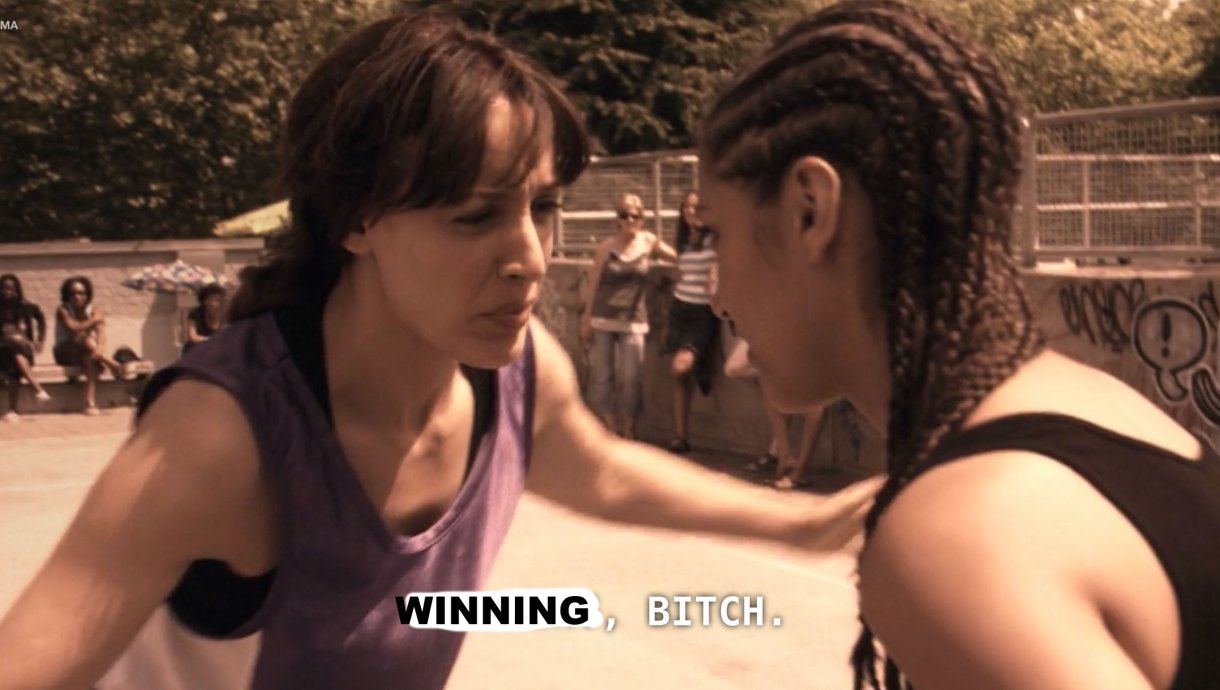 Dani rushes over to her love, Bette Porter, to celebrate the great news while her other love, Sophie Suarez, looks on.
Deep in a Kit + Denny's backroom, Bette and Dani hibernate to engage in the soothing, productive process of compulsively refreshing the computer screen.
Outside in the bar, the crowd has gathered to wonder why Jeff Milner looks like a creepy homicidal ex-husband from an episode of America's Most Wanted in his campaign headshot.
And then, finally, we reach the climax of this somewhat meandering storyline: Bette Porter loses. She will not be mayor of Los Angeles. Milner's gonna run this city right into the ground! Dani sits down, crushed. Bette tries not to cry. Dani apologizes. "I did everything that I could. I'm so sorry." Bette rubs Dani's back and says that she did a great job.
Bette's stressed, compulsively re-arranging her strange outfit while repeating "it's okay, it's okay," as Dani sits there with her fingers intertwined, overcome by despair and, perhaps, unconscious sexual desire for Bette Porter. Now it's time for Bette to address the crowd.
---
At Shane's Hollywood Mansion Palace, Shane is participating in Ye Olde Classic L Word Emotional Turmoil Practice I mentioned in last week's recap: offering to make Quiara some tea. Quiara has had a miscarriage, and is understandably quite broken up about it!
Quiara's non-reposnsive re: the tea. Shane's gonna go ahead and make tea anyhow.
---
We cut to what appears to be the next morning in beautiful Los Angeles, California — land of the Golden Dream, land of beautiful birds and endless splendor and DaSoMi's East Side Hideaway, where Sophie's feeling like her whole body is closing in on itself — she's sighing, trying not to cry, looking in the mirror like she wishes it was a portal to somebody else's life — and Dani's serving up some SERIOUS sideboob.
Sophie enters the boudoir in her t-shirt and boxer-briefs to find, surprisingly, that her fiancee is still at home. Now that she's unemployed, Dani's not sure what to do with herself. Here are some things I just thought of:
+ Take a boxing class to get Strong Arms like Shane
+ Follow 10+ interior design instagrams, move all your furniture around, buy 6+ houseplants and then empty your savings account at West Elm
+ Make an earring out of feathers, just like Romi
+ Get a cactus costume and then eat at In-n-Out dressed like a cactus
+ Go to Target
+ Blow glass
+ Build a tiny shed in the yard and then go adopt a little dog and put it in the shed, but not permanently, it should really be in the house with you, the shed is just for special occassions
+ Listen to a domestic thriller on audiotape while walking in circles around your neighborhood
+ Stare despondently at the ceiling fan
But don't worry, Dani's got an equally great idea of her own:
Dani: "Let's get married."
Sophie acknowledges that getting married is, indeed, the plan, but Dani would like to speed up their timeline a bit.
Sophie: "What, 'cause you suddenly have time for me?"
Dani: "No. Because why not?"
Sophie: "Oh you know, I can think of a few reasons…"
Dani's got no further inquiries regarding those few reasons, only an offer to fly them both to Hawaii tomorrow after Sophie's show to get married. Sophie's concerned about their families who'd like to witness this catastrophic union of souls and secrets. Dani suggests a party when they return with very strong tans that'll look great in photos. Dani insists this is the best way to "start our life together on our own terms." She bends down in front of Sophie and says "I just wanna be your wife." I'd say from personal experience and also from watching a LOT of television that generally one partner pushing for an unexpected quickie wedding is NEVER a good idea! Just ask Jenny (RIP) or Carmen!
Sophie reluctantly agrees with a, "My Mom is gonna kill me." Yeah! She is! Your family will be heartbroken! They kiss. Dani bounds off excited. Sophie remains pensive. Ladies…. w h a t   a r e   y o u   d o i n g.
Why does Dani want to get married like this, instead of surrounded by friends and family who've been eagerly anticipating this event? Why must they do it now? There's lots of other things to do in Hawaii! For example, on my trip to Hawaii ten million lifetimes ago with my then-girlfriend, I planned an entire day where we just went to all the places on the island where Lost had been filmed! We didn't get married at all! In fact, we broke up like a year later and now she is engaged to somebody else. Let that be a lesson to everybody.
[ETA: My friend who's worked on political campaigns says that campaign workers often do impulsive things like getting engaged or married after a campaign loss as a response the emotional drop-off that happens when the candidate you've been working with doesn't win.]
---
We zoom over to somebody's apartment — Shane's? It appears furnished? — where Bette muses, "I remember when Tina miscarried." [Throwback #22: Tina's miscarriage in Season One] Yes, we all remember when Tina miscarried. Especially Candace, she probably remembers it the most. It was a very sad time!
"It was so painful," Bette says, remembering making out with Candace while she still had her overalls on.
Don't worry though, Shane's doing okay!
Bette: "We're here for you now."
Alice: "Yeah! And if my show gets cancelled, I'll be here a a lot more. And! Since I'm homeless, I'll actually be here more than I realized a second ago?"
Shane: "Wow, we're doing great."
Ah yes, tfw when you and your other grown-up friends realize that despite being grown-ups, your lives are still hot messes. Bette's optimistic about Milner's opioid crisis task force, which he's asked her to head up, and Alice is awed by Bette's supernatural calm.
Bette: "We went out swinging, I gave everything I had to the campaign, and I found a way to be myself. What more could anyone ask for?"
Bette's assertion gets Alice's gears turning and so we….
---
…cut to the well-furnished offices of everybody's favorite Bubble, The Aloce Show, where Alice is in the building and ready to address her minions with an inspirational speech! She discloses that two of her best friends suffered horrible losses last night and it got her thinking about relationships, and how maybe, just maybe, the best thing to do is to just "stay true to who we are," even if "who we are" is not afraid to sleep with your ex-wife.
Alice set out to change a few people's minds about a couple of things and if she can't use this platform to do that, then she doesn't want this job after all!
Alice: "…sometimes we have to take a risk, and let's make the show we wanna make. well, make the show i wanna make. We have to make the show I wanna make."
Finley laughs. Sophie looks at her, Sophie looks down, Sophie looks back, Finley looks back. The air is heavy. That thing that happens where you're so obsessed with somebody that you can feel every movement their body makes even if they're on the other side of the room.
Alice: Fuck the viral videos, fuck the network mandate. Sophie, I want Roxane Gay.
Sophie: You got it, boss.
Drew attempts to interject with the suggestion of a "middle ground" and is roundly rejected by Alice, who informs him that if he can't get on board, he can get the fuck out of here. That's right Drew! Go home and sit in your mayonnaise bathtub.
Drew: "So you're gonna get… Roxane uh… Roxanne uh…"
Sophie: 'Roxane Gay? Yeah."
Drew: "Am I allowed to say that?"
Sophie: "Oh my god. OH MY GOD."
Drew: "I wasn't sure if that was like uh—"
Sophie: "OH MY GOD."
Finley laughs at Sophie, their eyes meet, Finley opens her mouth to say nothing because there's nothing she can say. Sophie looks down, exits stage left.
---
Pages: 1 2 3See entire article on one page