Early on in our relationship I promised my girlfriend Marni that although my career choice of Professional Lesbian was unlikely to bestow great riches upon us any time soon, she'd at least get a few free vacations out of it. Unfortunately, the onset of our relationship seemed to correspond precisely with a tightening-of-the-purse-strings amongst lesbian travel/event companies that previously had been relatively generous with their press passes and accommodations. Needless to say, we were all surprised when it was her job, and not mine, that landed us in Honolulu this February, with a meal allowance and everything!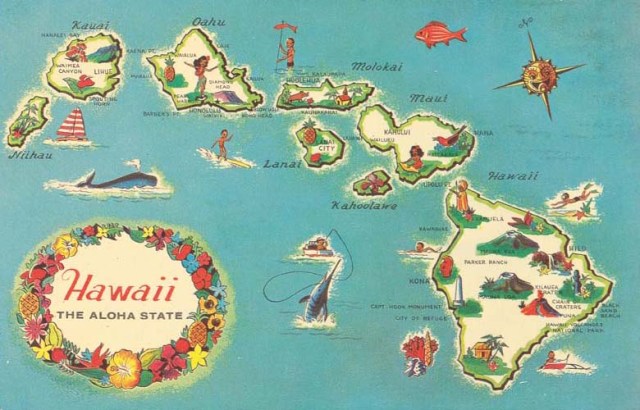 I'm a big overplanner when it comes to vacations but Marni is pretty much down for "whatever" as long as it doesn't involve olives or walking up a hill.  I'm not even remotely easygoing and require advance preparation for all activities (such as proper footwear and adequate budgeting). So needless to say I had five days of packing anxiety and had carefully marked up several maps of Hawaii in anticipation of our arrival.
"You have to embrace the Aloha Spirit," Marni reminded me on our first day as we lay on a beautiful beach while I was trying not to think about whether or not we should make dinner reservations within the next 25 minutes. I pointed out that arguably she embraces the Aloha spirit every day of her life, and thought to myself that it's possibly this attitude that enables her to tolerate my neurotic existence and, you know, be in love with me and stuff. Obviously embracing the Aloha Spirit would be a Character-Building Experience, which I also consider to be a time maximizer.
Needless to say there were a few situations that attempted to demolish my Aloha Spirit — but they did not succeed.
(Sidenote: This is supposed to be a normal travel article but obviously I can't pull off a normal travel article because I like reading about history too much.)
---
Friday – Traveling & Beaching & Eating
Marni's employer was putting her up at the Outrigger Reef On the Beach, one of three Outrigger hotels within a ten minute radius of one another. This is really confusing if, for example, your itinerary includes dinner at the wrong Outrigger hotel. The Outrigger Reef is located smack-dab in the nexis of Tourist Central, which means everything is really expensive and heterosexual.
Because Marni had picked a crack-of-dawn flight, our room wasn't ready when we arrived in Hawaii so we charged down the beach in our airplane clothes in search of nourishment, and eventually plopped down at The Edge (at The Sheraton, 2255 Kalakaua Avenue) where we had a super-cute dyke waitress (unfortunately this was not a beacon of future cute lesbians to come) and a sandwich I couldn't eat because it was super-gross and I am super-weird.
Hawaii's got these ABC Stores everywhere which are basically for tourists to load up on macadamia nuts and overpriced toothpaste. They also sell alcohol for the low low price of your left arm, your first-born child and a pint of blood. Thus we spent the next few hours on a magical journey deep into less hyper-sanitized parts of Honolulu in search of inexpensive alcohol, suntan lotion, and moleskin for the blisters I acquired during said magical journey.
Here's the thing I learned quickly about Waikiki: it's the most expensive place I've ever been in my life. And I lived in New York City for six years and currently live in The Bay Area. So.
After getting our room, we managed to sneak in an hour or so of Beach before sunset. Waikiki Beach is crowded but it's also the backyard of our hotel. It's just so fucking beautiful there, even with all the tourists everywhere. Every twenty minutes or so it would rain — it never got dark, there were just these little windows of sprinkling misty rain, cutting through the sun like something on its way somewhere else.
Later that night we got lost three times looking for the highly-recommended Duke's Waikiki (2335 Kalakaua Ave), which turned out to be hiding inside another Outrigger Hotel, several blocks down on a street crowded with tourists, fancy hotels and luxury shopping like Tiffany's and Versace. We'd called for reservations but they were booked and recommended coming in anyhow, the wait would only be 30 minutes or so. It was 90 minutes. (Always make dinner reservations in Hawaii!)
Across the street was the International Marketplace, a cornicopia of booths schilling various tourist-friendly wares, like pearls and Aloha shirts, stores with names like Rainbow Gift Shop, Sunshine Fashions & Gifts and Island Gift Outlet. We dipped inside an outdoor bar/restaurant with decor reminiscent of a Disney ride that's fallen out of favor, where a friendly waitress plied us with Mai Tais and peanut-butter-stuffed pretzels at the tiny bar. It was called Tiki's (2330 Kalakaua Ave // Honolulu). About twenty minutes after our arrival, a bunch of straight guys showed up to shamelessly flirt with the waitress and talk loudly about sports, television and women, at which point we figured our table was probably ready, paid the bill, and fled the premises.
Duke's was recommended by TripAdvisor, Yelp and everything else on the internet and so it seemed like a good choice and it was, if an outrageously expensive one. I had a super-buttery "Mac Nut & Herb-Crusted Tilapia" and Marni liked her Sirloin.  The restaurant's aggressive surfer-kitsch was, allegedly, intended to reflect the spirit of the restaurant's namesake, Duke Paoa Kahanamoku. Simply based on my knowledge of interactions between white people and brown people throughout history, I was 95% sure before even looking it up that this restaurant somehow involved white people exploiting brown people and that it was unlikely Duke has a hand in "Duke's Famous Salad Bar." Which brings us to…
---
History Break #1: The Story of Duke Paoa Kahanamoku
Duke Paoa Kahanamoku, descendent of Hawaiian royalty and the man Duke's restaurant is named after, was only three years old when 129 white Americans decided to execute a charge on his people's kingdom to better exploit natives and improve their fortunes in the region. For twenty years, the "Father of International Surfing" represented the United States in the Olympics, winning gold medals for swimming while spreading surfing's gospel worldwide. He moved to Hollywood in the 20's and appeared in over 30 movies and, while living in Newport Beach, executed the "most superhuman surfer rescue act the world has ever seen" when he rescued eight fishermen from a capsized fishing vessel in heavy surf. He then served in various government positions and became the states Official Ambassador of Aloha before his death in 1968.
Steve Pezman, publisher of Surfer's Journal Magazine,said the following about Duke to Honolulu Magazine: "He traveled the world and introduced that concept to other cultures. He was in many ways pure of heart—a very simple, loving person who had this huge bunch of charisma that became commodified by everyone around him."
Of course, the story of how Duke's name ended up on this restaurant is complicated. In 1962, along with Honolulu DJ Kimo McVay, Duke opened Duke Kahanamoku's Restaurant and Nightclub (they hired Don Ho as the entertainer) and trademarked his name in hopes of preventing others from capitalizing on it. But in 1973, his widow Nadine Alexander sold the name to a swimwear company in California who eventually would go bankrupt before utilizing the trademark and sell the trademark to a man named Charlie Carr in 1993. In 1986, Nadine gave the trademark to the Outrigger Canoe Club to develop a nonprofit in Duke's name. The Outrigger Canoe Club was where Nadine, who Duke met in California, felt most comfortable on the island, even though her husband was one of the only Hawaiians granted membership back then due to its race-based exclusionary policy. When Carr came on the scene in 1993, Outrigger sued him for ownership of the trademark, claiming it had been "abandoned" by its prior owners.
The charitable foundation established in his name, overseen by a board that's two-thirds Outrigger Canoe Club members, has given scholarships to its wealthy members' children and gives its largest grant to the Outrigger Canoe Club's yearly canoe regatta. They also granted permission to TS Restaurants to open a restaurant using Duke's name in Kaua'i and Waikiki. Carr continued battling Outrigger for the rights to Duke's name, a conflict which bears "an undercurrent of long-standing ethnic tension."
For some reason none of this information was available in the menu?
---
Pages: 1 2 3 4See entire article on one page