Early on in our relationship I promised my girlfriend Marni that although my career choice of Professional Lesbian was unlikely to bestow great riches upon us any time soon, she'd at least get a few free vacations out of it. Unfortunately, the onset of our relationship seemed to correspond precisely with a tightening-of-the-purse-strings amongst lesbian travel/event companies that previously had been relatively generous with their press passes and accommodations. Needless to say, we were all surprised when it was her job, and not mine, that landed us in Honolulu this February, with a meal allowance and everything!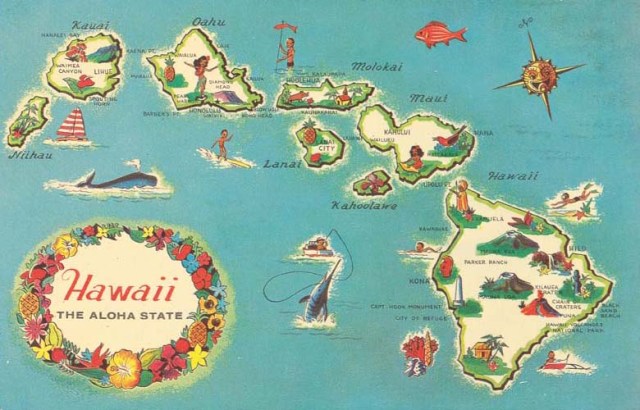 I'm a big overplanner when it comes to vacations but Marni is pretty much down for "whatever" as long as it doesn't involve olives or walking up a hill.  I'm not even remotely easygoing and require advance preparation for all activities (such as proper footwear and adequate budgeting). So needless to say I had five days of packing anxiety and had carefully marked up several maps of Hawaii in anticipation of our arrival.
"You have to embrace the Aloha Spirit," Marni reminded me on our first day as we lay on a beautiful beach while I was trying not to think about whether or not we should make dinner reservations within the next 25 minutes. I pointed out that arguably she embraces the Aloha spirit every day of her life, and thought to myself that it's possibly this attitude that enables her to tolerate my neurotic existence and, you know, be in love with me and stuff. Obviously embracing the Aloha Spirit would be a Character-Building Experience, which I also consider to be a time maximizer.
Needless to say there were a few situations that attempted to demolish my Aloha Spirit — but they did not succeed.
(Sidenote: This is supposed to be a normal travel article but obviously I can't pull off a normal travel article because I like reading about history too much.)
---
Friday – Traveling & Beaching & Eating
Marni's employer was putting her up at the Outrigger Reef On the Beach, one of three Outrigger hotels within a ten minute radius of one another. This is really confusing if, for example, your itinerary includes dinner at the wrong Outrigger hotel. The Outrigger Reef is located smack-dab in the nexis of Tourist Central, which means everything is really expensive and heterosexual.
Because Marni had picked a crack-of-dawn flight, our room wasn't ready when we arrived in Hawaii so we charged down the beach in our airplane clothes in search of nourishment, and eventually plopped down at The Edge (at The Sheraton, 2255 Kalakaua Avenue) where we had a super-cute dyke waitress (unfortunately this was not a beacon of future cute lesbians to come) and a sandwich I couldn't eat because it was super-gross and I am super-weird.
Hawaii's got these ABC Stores everywhere which are basically for tourists to load up on macadamia nuts and overpriced toothpaste. They also sell alcohol for the low low price of your left arm, your first-born child and a pint of blood. Thus we spent the next few hours on a magical journey deep into less hyper-sanitized parts of Honolulu in search of inexpensive alcohol, suntan lotion, and moleskin for the blisters I acquired during said magical journey.
Here's the thing I learned quickly about Waikiki: it's the most expensive place I've ever been in my life. And I lived in New York City for six years and currently live in The Bay Area. So.
After getting our room, we managed to sneak in an hour or so of Beach before sunset. Waikiki Beach is crowded but it's also the backyard of our hotel. It's just so fucking beautiful there, even with all the tourists everywhere. Every twenty minutes or so it would rain — it never got dark, there were just these little windows of sprinkling misty rain, cutting through the sun like something on its way somewhere else.
Later that night we got lost three times looking for the highly-recommended Duke's Waikiki (2335 Kalakaua Ave), which turned out to be hiding inside another Outrigger Hotel, several blocks down on a street crowded with tourists, fancy hotels and luxury shopping like Tiffany's and Versace. We'd called for reservations but they were booked and recommended coming in anyhow, the wait would only be 30 minutes or so. It was 90 minutes. (Always make dinner reservations in Hawaii!)
Across the street was the International Marketplace, a cornicopia of booths schilling various tourist-friendly wares, like pearls and Aloha shirts, stores with names like Rainbow Gift Shop, Sunshine Fashions & Gifts and Island Gift Outlet. We dipped inside an outdoor bar/restaurant with decor reminiscent of a Disney ride that's fallen out of favor, where a friendly waitress plied us with Mai Tais and peanut-butter-stuffed pretzels at the tiny bar. It was called Tiki's (2330 Kalakaua Ave // Honolulu). About twenty minutes after our arrival, a bunch of straight guys showed up to shamelessly flirt with the waitress and talk loudly about sports, television and women, at which point we figured our table was probably ready, paid the bill, and fled the premises.
Duke's was recommended by TripAdvisor, Yelp and everything else on the internet and so it seemed like a good choice and it was, if an outrageously expensive one. I had a super-buttery "Mac Nut & Herb-Crusted Tilapia" and Marni liked her Sirloin.  The restaurant's aggressive surfer-kitsch was, allegedly, intended to reflect the spirit of the restaurant's namesake, Duke Paoa Kahanamoku. Simply based on my knowledge of interactions between white people and brown people throughout history, I was 95% sure before even looking it up that this restaurant somehow involved white people exploiting brown people and that it was unlikely Duke has a hand in "Duke's Famous Salad Bar." Which brings us to…
---
History Break #1: The Story of Duke Paoa Kahanamoku
Duke Paoa Kahanamoku, descendent of Hawaiian royalty and the man Duke's restaurant is named after, was only three years old when 129 white Americans decided to execute a charge on his people's kingdom to better exploit natives and improve their fortunes in the region. For twenty years, the "Father of International Surfing" represented the United States in the Olympics, winning gold medals for swimming while spreading surfing's gospel worldwide. He moved to Hollywood in the 20's and appeared in over 30 movies and, while living in Newport Beach, executed the "most superhuman surfer rescue act the world has ever seen" when he rescued eight fishermen from a capsized fishing vessel in heavy surf. He then served in various government positions and became the states Official Ambassador of Aloha before his death in 1968.
Steve Pezman, publisher of Surfer's Journal Magazine,said the following about Duke to Honolulu Magazine: "He traveled the world and introduced that concept to other cultures. He was in many ways pure of heart—a very simple, loving person who had this huge bunch of charisma that became commodified by everyone around him."
Of course, the story of how Duke's name ended up on this restaurant is complicated. In 1962, along with Honolulu DJ Kimo McVay, Duke opened Duke Kahanamoku's Restaurant and Nightclub (they hired Don Ho as the entertainer) and trademarked his name in hopes of preventing others from capitalizing on it. But in 1973, his widow Nadine Alexander sold the name to a swimwear company in California who eventually would go bankrupt before utilizing the trademark and sell the trademark to a man named Charlie Carr in 1993. In 1986, Nadine gave the trademark to the Outrigger Canoe Club to develop a nonprofit in Duke's name. The Outrigger Canoe Club was where Nadine, who Duke met in California, felt most comfortable on the island, even though her husband was one of the only Hawaiians granted membership back then due to its race-based exclusionary policy. When Carr came on the scene in 1993, Outrigger sued him for ownership of the trademark, claiming it had been "abandoned" by its prior owners.
The charitable foundation established in his name, overseen by a board that's two-thirds Outrigger Canoe Club members, has given scholarships to its wealthy members' children and gives its largest grant to the Outrigger Canoe Club's yearly canoe regatta. They also granted permission to TS Restaurants to open a restaurant using Duke's name in Kaua'i and Waikiki. Carr continued battling Outrigger for the rights to Duke's name, a conflict which bears "an undercurrent of long-standing ethnic tension."
For some reason none of this information was available in the menu?
---
Saturday – Loving and Lurching
We wanted to see the island. The whole entire island, far away from the bulk of the tourists. More specifically I had an intense burning desire to see a few of the locations where LOST was filmed, assisted by the incredibly informative website, Lost Virtual Tour.
In order to properly traverse the island, we'd need a car, but the Hertz location in our hotel pitched us a $160/day car rental rate and didn't have anything available 'til Sunday. Luckily we found a better rate online at A-1 Rent-A-Car, out by the airport, which Marni proclaimed to be "only an hour away on the award-winning Honolulu bus!"  We didn't know which award the bus had won, only that it had won an award for sure. Probably "Best Supporting Performance By a Bus." "Bus of The Year." "The GLAAD Award For Most Outstanding Bus."
Accidental Tourists
This bus ride presented the first challenge to our Aloha Spirit. The bus was crowded, maybe half locals and half tourists, and we were wedged in at the very back of the bus in the bench of seats facing outwards. A man to my left asked Marni about her Canadian water bottle and when he asked where I was from, I said Michigan, because that seemed accurate and unlikely to start additional conversations about his trip to San Francisco or his brother who lived there for two years in 1978 or whatever. So we kept to ourselves, really, but then another woman, sitting on a side bench, asked me, "Did you say you were from Michigan?" and my body was moving in the general direction of her body to answer her question when everything suddenly stopped.
The bus, that is.
The bus stopped.
Or, lurched, really.
The bus lurched. The bus driver had slammed the breaks with remarkable force, and because I was the girl in the back of the bus on the bench facing the entire bus with nothing in front of her, this was when I literally flew out of my seat and landed, then tumbled, onto the steps between the front of the bus and the back of the bus. I was wearing a sunndress and flip-flops, that's it.
Initially, I couldn't breathe. "You had the wind knocked out of you," Marni said. Right, yes! That. It had been a while since something like that had happened to me. Basketball, maybe, or soccer. When I was younger. I couldn't breathe and my back hurt and my knee was gashed and bleeding and the bus was stopped. I felt like we were stopped forever and everybody kept talking to me about going to the hospital. I kept saying, "I don't have health insurance." I wasn't the only person who got hurt, but I got hurt the worst so there was a lot of attention on me which was scary, and then everybody got off the bus.
The bus driver's supervisor was there, and the police, and they wanted me to sign something to say I didn't need medical attention, but I wanted to go see the beach where the plane crashed in the pilot of LOST!! I could sit still but otherwise my torso was out of commission — no turning, no lifting, no lying down, no opening doors, no stretching. There was a dent in my back from where it hit the stairs. I think I cried a little.
After we pretended to sign a document excusing the bus company from liability in case I didn't get better within a week, we were shuffled onto a new bus and an hour later, we were finally in our rental car. I WOULD NOT LET PAIN GET THE BEST OF ME.
Modeling Through It
From the airport it was maybe thirty minutes up to the top of the island. We drove through rainy bits and sunny bits, and when we got closer to our first destination we started passing groups of people our age or maybe younger in crazy costumes, caked in mud, some with numbers on their backs, walking to or from cars. It was The Warrior Dash.
The whole drive was so beautiful, even the intermittent patches of rain. We then got to the vegetarian lunch spot I'd picked out, The Beet Box (66-443 Kamehameha Hwy // Haleiwa, HI 96712), which is tucked away in the back of a natural foods store, with an open kitchen and a few small occupied tables.
The rain started hitting hard the moment we got inside, but we ordered our smoothies and lunches to go and  drove to Mokule'ia Beach (Waialua, HI 96791), where Oceanic Flight 815 crashed all those years ago! I was super excited to find a comfortable sitting position (impossible) and consume my Mexicali Blues ("eggs scrambled with a crunchy, toasted sprouted corn tortilla and jalapeno jack cheese topped with our homemade salsa & avocado, served with brown rice & brazilian black beans") (successful.)
It was rocky that day, just some windsurfers and a few families, nobody was really swimming, but we found a place to sit and eat and be peaceful even though I was still in excruciating pain. But if there's anywhere to be when you feel like that, it's exactly where we were.
From there we drove the perimeter of the island, stopping first at Walgreen's to stock up on ibuprofen and then cruising the beautiful coastline from the Kamehameha Highway past all the beaches before finally settling on Sunset Beach (North Shore) to lie down for a bit before the sun set. We even saw a rainbow!
It started pouring down hard as we drove back to Waikiki — we had actual dinner reservations at Roy's 38, another recommendation from Marni's colleagues and TripAdvisor. Even though I'd almost died that morning, it was my favorite day in Hawaii because we saw so many beautiful places. It was just us in our little car on a two-lane road, listening to classic rock radio, driving past the gorgeous and breathtaking and cinematic Kawailoa Forest Reserve, the shoreline blocked off by the tony Turtle Bay resort at the north tip of the Island, and the Kahana Valley State Park on our way back down the other side of the island.
Especially far away from the intense commercialism of Waikiki, there is something ridiculously magical about this place, this island, like it's not even fair for something to be as beautiful as this. Like why doesn't everybody live in Hawaii.
As aforementioned, dinner was at Roy's 38 (226 Lewers St), conveniently located right across the street from our hotel. Roy's was the end of the line for our bank cards and her meal allowance. I had scallops and Marni had like four different kinds of fish. It was tasty with nice ambiance but also definitely overpriced.
When I told my team back home via e-mail about the bus accident, Alex wisely stated: "I'm convinced that someone is trying to off you." This is a valid theory considering Palm Springs and all those other times. I suspect Ilene Chaiken.
---
Sunday – Eating and Beaching
Brunch is another thing in Waikiki that you should probably get reservations for. We didn't, obviously, but my TripAdvisor App (seriously they should pay me to promote this thing) said The Cream Pot, a short walk from our hotel, was pretty good. Of all the overpriced things in Waikiki though, The Cream Pot (444 Niu Street // Honolulu, HI 96815) takes the cream!
We spent the afternoon lying on the beach. Behind us, a dead ringer for Buddy Garrety in an Aloha shirt hawked booze cruises to passers by, alternating his sales pitch for each market and telling everybody the four o'clock was already sold out.
Later we'd go back into Honolulu along the boardwalk, hit up happy hour for cheap margaritas on the roof of a hotel, see the big Duke statue and jostle busy tourists with shiny shopping bags dangling off their arms like water wings. Just existing was nice.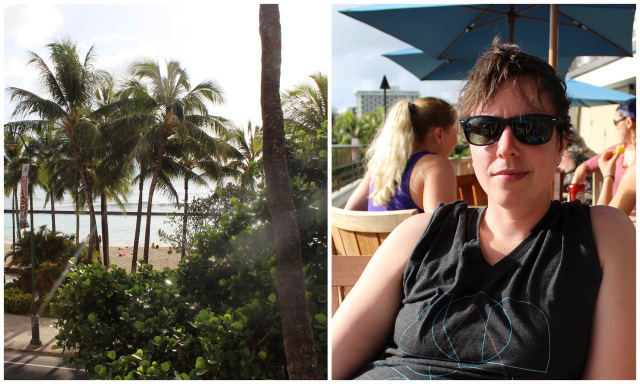 Then we'd go back to our room and drink whiskey and watch The Oscars in a bed so much bigger than our bed at home that it was like we had moved to separate continents at night, far-flung. Then we'd drift in and out of sleep until I woke up at 6:30 AM and rolled over, startled to see Marni was awake too. Neither of us slept very well there, but we remained well-rested.
---
Monday – A Day of Learning
Found in the Museum
Marni had to go to work Monday morning to perform the job she'd been sent to Hawaii to do. First I returned the car. It should've been a quick journey but wasn't, because of traffic and getting lost in a part of the city that looked more like everywhere else than any other part of the island I'd seen — lots filled with machinery, boxy buildings with no windows, a few fast food restaurants, a despondent K-Mart. From there a cab took me to The Bishop Museum (1525 Bernice Street // Honolulu, HI 96817).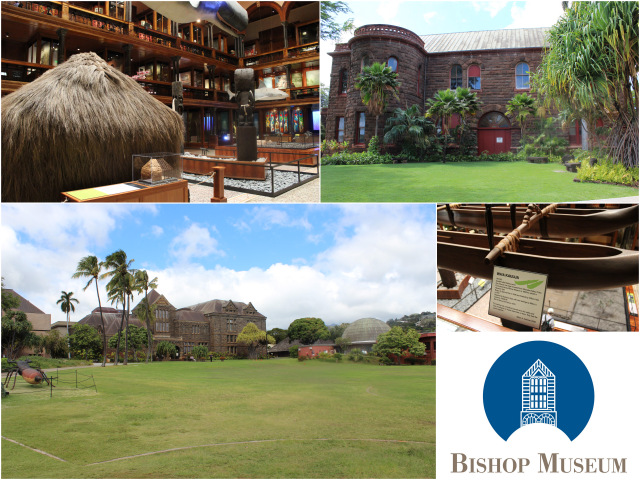 It's so easy for me to get lost in museums, I mean I could spend my whole life in museums. Princess Bernice Pauahi, the last descendent of the Kamehameha family, married a white man from New York named Charles Reed Bishop, who started this museum in her honor when she died to house her royal family heirlooms and collection of Hawaiian artifacts. I didn't know or remember the details of Hawai'i's history, all I knew is what I'd always assumed, which's that white people did something really fucked up and now Hawai'i is part of America. I knew the whole story might get whitewashed or otherwise maligned by this museum but as far as I could tell, they did okay. (I'm definitely not an expert though, so feel free to let me know otherwise!)

Firstly, Hawai'i had so many female monarchs and I loved reading about them. I started writing everybody's name down so I could read about them later, like Ruth Keelikolani and Emma Rooke. All of these strong women and all of these weak men, is the story. Is always the story.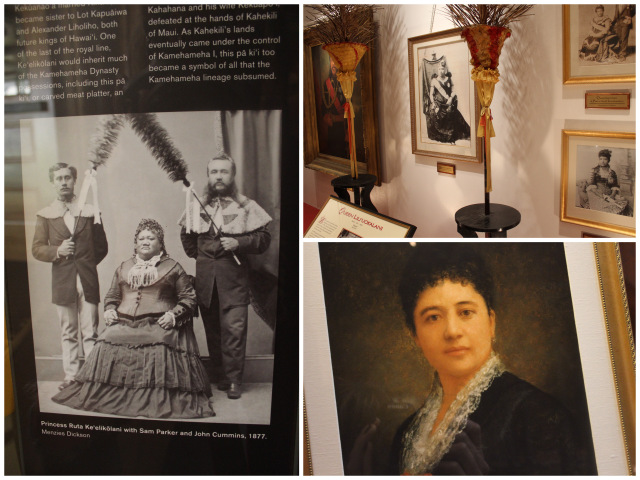 One story in particular seemed especially fucked up and I kinda wish I'd known it from Day One so as to properly acknowledge our role in this universe. Let me tell you!
---
History Break #2: John L. Stevens is a Douchebag
So, in January, 1893, U.S. Minister John L. Stevens led a military coup against Queen Lili'uokalani, storming the Iolani palace with a group of white settlers known as the "Committee of Safety," backed by a white militia group as well as a group of U.S. Marines from the U.S.S Boston warship. Along with other white settlers on the islands, Stevens feared that upcoming adjustments to the Hawaii'n constitution — namely, its intent to take power away from the wealthy-property-owner's legislature and return it to the Monarch and the "common people" of Hawai'i — weren't going to assist them in their endeavors to exploit the nation and its people.
Hoping to avoid "any collision of armed forces" or "the loss of life," the Queen surrendered, yielding to "superior force of the United States of America" and "solemnly protest[ing] against any and all acts done against myself and the Constitutional Government of the Hawaiian Kingdom by certain persons claiming to have established a Provisional Government of and for this kingdom." She also stated that she hoped the U.S. government, when hearing of the coup, would "undo the action of its representatives."
Indeed, President Grover Cleveland wasn't impressed when he heard about this unauthorized military action. He rejected the all-white provisional government, demanded Hawai'i  be returned to the kingdom, and sent a congressman to Hawaii to investigate the situation. The congressman returned with a 1342-page report which clearly stated that the coup had been an 'act of war' against a "friendly and independent nation." The Cleveland Administration began planning and attempting actions to remove the white guys from power but never quite succeeded, so when William McKinley took the office in 1897, hope was basically lost. Because McKinley didn't really care.
This is only one of numerous stories about how the West ravaged and colonized this independent land but it's one that really stuck with me because of how fucking incidental it all was, like one big goof that ended up on the permanent record. I mean the U.S. government is pretty openly shitty most of the time and this is completely in character, but how crazy is it that Stevens wasn't even authorized by this U.S government that he claimed to represent to take over Hawaii? The president wasn't okay with it, but then his term ended, and the new president didn't care, so that was the end of it. That's how these things can happen, and that's appalling.
It's also worth noting that it wouldn't have been possible to pull off the coup in the first place if the strength of the Hawaiian people hadn't already been depleted by disease brought by Westerners — between 1778 and 1900, the Hawaiian population decreased from 300,000 – 500,000 to only 30,000.
---
After four hours in the museum, including a great exhibit on waves of immigration from other countries and a weird exhibit about Aloha shirts, I took the bus back to our hotel. I figured lightning wouldn't strike twice. It was crowded but I eventually got a seat close enough to the window to see the things I'd hoped to see along the way, like the Queen Emma Gardens, Chinatown, and some of the Capital District.
Then Marni came home after her big day of work and a masseuse recommended by a colleague of Marni's came to our room to give us massages for only $50/hour! I was nervous because I still had limited mobility and pain, but I'm obsessed with massages so I decided to model through it. Incidentally, he somehow managed to make Marni's back hurt more and mine hurt less? So we were in bang-up shape as a couple at this point, is what I'm saying.
---
Tuesday – Diamonds in the Sky
My last full day in Hawaii, I felt well enough to take five ibuprofen and hike Diamondhead. It was an hour or so walk from the hotel, I'd brought my hiking boots and it was a beautiful day, because of course, it's Hawaii.
I walked past everything we'd already walked past and then past a zoo and then I was about fifteen minutes away from the part where I could actually hike Diamondhead! It was a surprisingly residential and quiet neighborhood that I'd been lead to by Google Maps, actually, I figured it was a shortcut.
But then it started to feel like something was on my shoe? Like I'd stepped on something that was now flapping off the sole of my shoe.
It turned out to be that my shoe that was flapping on the sole of my shoe.
So I stood on the street in my hiking shorts and backback and my chunky Nike hiking boots and lifted one foot to see that  the entire bottom of my shoe had peeled away from the top, like something that had aged and soiled and was cracking open in the sun. It came right off so when I stood on what was left of the shoe it was like wearing a slipper, almost.
Then I remembered: I must have purchased these twelve years ago? I should get out more.
Anyhow, so I didn't make it up Diamondhead but 'round about happy hour, I met up with Marni and her Australian co-worker for drinks with a side of sunset at Rum Fire (2255 Kalakaua Ave // Honolulu, HI 96815). The cocktails were delicious and so was the view.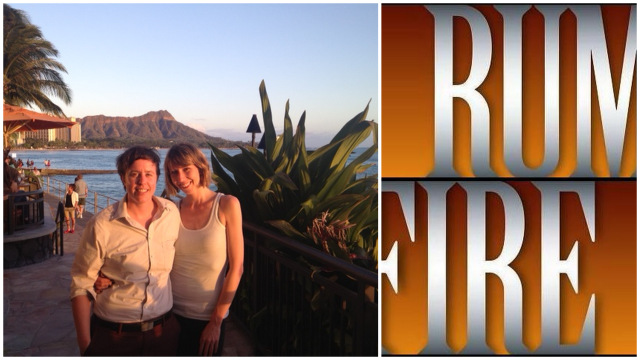 Three or five drinks later we were at Bacchus Waikiki (408 Lewers at Kuhio, Waikiki, Honolulu), a dank second-floor gay bar that reminded me of my early 20's, when I'd do the Hell's Kitchen Gay Happy Hour with my gay friends and wonder why it was always so dark, even at four in the afternoon in July. But it also reminded me of how much more comfortable I am surrounded by gays, even if they're all men. Britney Spears mega-mixes and other 90's relics churned softly from elevated televisions and the pour was generous. Marni's coworker's husband showed up and from there we walked about six feet down to Siam Square (408 Leweres, Ste 200, Waikiki, Honolulu). It must have been 10 or 11 by this point, and so for the first time all week, we were seated right away.
Dinner was delightful, the company was fantastic, and we returned to our hotel for one final night in the giant bed.
---
Wednesday – Goodbye Sunshine
Our last morning in Hawaii. Could I open doors or lift suitcases? No. Did I want to stay forever? For sure! We spent the last morning hanging out poolside, reading and sun-soaking and eating Cheeseburgers. When it was time to go to the airport, the only taxi they had available was a limo but they said it would cost the same. I don't know, it was super-weird and kinda hilarious.
It only took about another week for my back to heal, therefore affirming my decision at the time that it was much more important to see the beach where Oceanic Flight 817 crashed than it was to sit in the ER all day.
---
In conclusion, the only thing that could make Hawaii more awesome than it is already would be if James Cook hadn't shown up in 1778 to begin fucking shit up, following 2,000 years of successful self-governing during which the Hawaiians had signed peace treaties with foreign nations such as the U.S. and England which recognized Hawaii as an independent nation. I'm not an expert on this issue by any means, but just saying.
Pages: 1 2 3 4See entire article on one page