Sunday – Eating and Beaching
Brunch is another thing in Waikiki that you should probably get reservations for. We didn't, obviously, but my TripAdvisor App (seriously they should pay me to promote this thing) said The Cream Pot, a short walk from our hotel, was pretty good. Of all the overpriced things in Waikiki though, The Cream Pot (444 Niu Street // Honolulu, HI 96815) takes the cream!
We spent the afternoon lying on the beach. Behind us, a dead ringer for Buddy Garrety in an Aloha shirt hawked booze cruises to passers by, alternating his sales pitch for each market and telling everybody the four o'clock was already sold out.
Later we'd go back into Honolulu along the boardwalk, hit up happy hour for cheap margaritas on the roof of a hotel, see the big Duke statue and jostle busy tourists with shiny shopping bags dangling off their arms like water wings. Just existing was nice.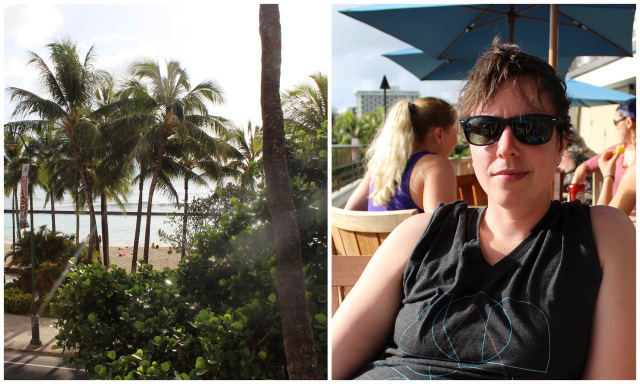 Then we'd go back to our room and drink whiskey and watch The Oscars in a bed so much bigger than our bed at home that it was like we had moved to separate continents at night, far-flung. Then we'd drift in and out of sleep until I woke up at 6:30 AM and rolled over, startled to see Marni was awake too. Neither of us slept very well there, but we remained well-rested.
---
Monday – A Day of Learning
Found in the Museum
Marni had to go to work Monday morning to perform the job she'd been sent to Hawaii to do. First I returned the car. It should've been a quick journey but wasn't, because of traffic and getting lost in a part of the city that looked more like everywhere else than any other part of the island I'd seen — lots filled with machinery, boxy buildings with no windows, a few fast food restaurants, a despondent K-Mart. From there a cab took me to The Bishop Museum (1525 Bernice Street // Honolulu, HI 96817).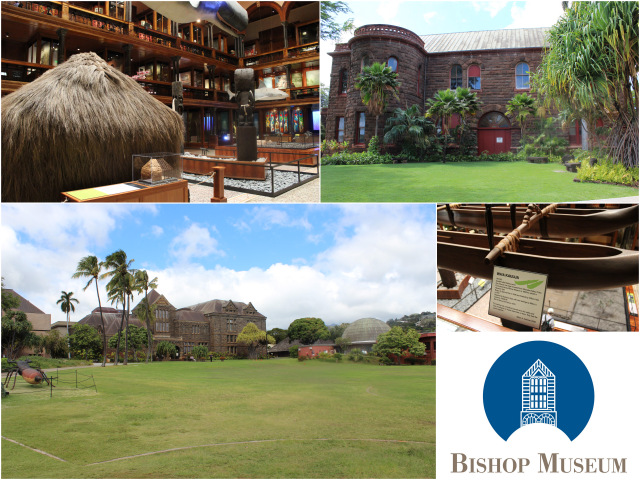 It's so easy for me to get lost in museums, I mean I could spend my whole life in museums. Princess Bernice Pauahi, the last descendent of the Kamehameha family, married a white man from New York named Charles Reed Bishop, who started this museum in her honor when she died to house her royal family heirlooms and collection of Hawaiian artifacts. I didn't know or remember the details of Hawai'i's history, all I knew is what I'd always assumed, which's that white people did something really fucked up and now Hawai'i is part of America. I knew the whole story might get whitewashed or otherwise maligned by this museum but as far as I could tell, they did okay. (I'm definitely not an expert though, so feel free to let me know otherwise!)

Firstly, Hawai'i had so many female monarchs and I loved reading about them. I started writing everybody's name down so I could read about them later, like Ruth Keelikolani and Emma Rooke. All of these strong women and all of these weak men, is the story. Is always the story.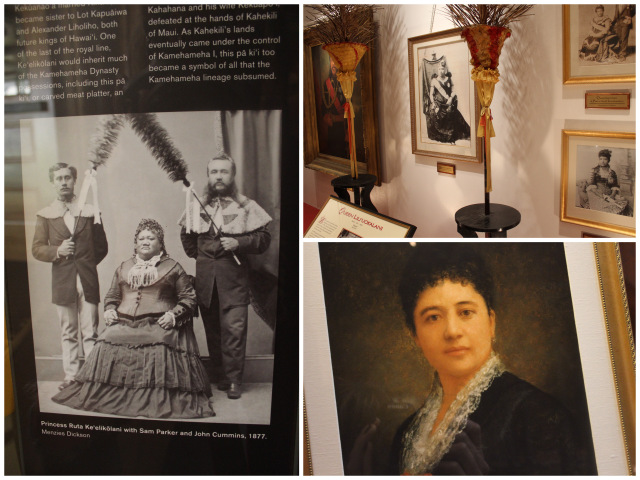 One story in particular seemed especially fucked up and I kinda wish I'd known it from Day One so as to properly acknowledge our role in this universe. Let me tell you!
---
History Break #2: John L. Stevens is a Douchebag
So, in January, 1893, U.S. Minister John L. Stevens led a military coup against Queen Lili'uokalani, storming the Iolani palace with a group of white settlers known as the "Committee of Safety," backed by a white militia group as well as a group of U.S. Marines from the U.S.S Boston warship. Along with other white settlers on the islands, Stevens feared that upcoming adjustments to the Hawaii'n constitution — namely, its intent to take power away from the wealthy-property-owner's legislature and return it to the Monarch and the "common people" of Hawai'i — weren't going to assist them in their endeavors to exploit the nation and its people.
Hoping to avoid "any collision of armed forces" or "the loss of life," the Queen surrendered, yielding to "superior force of the United States of America" and "solemnly protest[ing] against any and all acts done against myself and the Constitutional Government of the Hawaiian Kingdom by certain persons claiming to have established a Provisional Government of and for this kingdom." She also stated that she hoped the U.S. government, when hearing of the coup, would "undo the action of its representatives."
Indeed, President Grover Cleveland wasn't impressed when he heard about this unauthorized military action. He rejected the all-white provisional government, demanded Hawai'i  be returned to the kingdom, and sent a congressman to Hawaii to investigate the situation. The congressman returned with a 1342-page report which clearly stated that the coup had been an 'act of war' against a "friendly and independent nation." The Cleveland Administration began planning and attempting actions to remove the white guys from power but never quite succeeded, so when William McKinley took the office in 1897, hope was basically lost. Because McKinley didn't really care.
This is only one of numerous stories about how the West ravaged and colonized this independent land but it's one that really stuck with me because of how fucking incidental it all was, like one big goof that ended up on the permanent record. I mean the U.S. government is pretty openly shitty most of the time and this is completely in character, but how crazy is it that Stevens wasn't even authorized by this U.S government that he claimed to represent to take over Hawaii? The president wasn't okay with it, but then his term ended, and the new president didn't care, so that was the end of it. That's how these things can happen, and that's appalling.
It's also worth noting that it wouldn't have been possible to pull off the coup in the first place if the strength of the Hawaiian people hadn't already been depleted by disease brought by Westerners — between 1778 and 1900, the Hawaiian population decreased from 300,000 – 500,000 to only 30,000.
---
After four hours in the museum, including a great exhibit on waves of immigration from other countries and a weird exhibit about Aloha shirts, I took the bus back to our hotel. I figured lightning wouldn't strike twice. It was crowded but I eventually got a seat close enough to the window to see the things I'd hoped to see along the way, like the Queen Emma Gardens, Chinatown, and some of the Capital District.
Then Marni came home after her big day of work and a masseuse recommended by a colleague of Marni's came to our room to give us massages for only $50/hour! I was nervous because I still had limited mobility and pain, but I'm obsessed with massages so I decided to model through it. Incidentally, he somehow managed to make Marni's back hurt more and mine hurt less? So we were in bang-up shape as a couple at this point, is what I'm saying.
---
Pages: 1 2 3 4See entire article on one page