Tuesday – Diamonds in the Sky
My last full day in Hawaii, I felt well enough to take five ibuprofen and hike Diamondhead. It was an hour or so walk from the hotel, I'd brought my hiking boots and it was a beautiful day, because of course, it's Hawaii.
I walked past everything we'd already walked past and then past a zoo and then I was about fifteen minutes away from the part where I could actually hike Diamondhead! It was a surprisingly residential and quiet neighborhood that I'd been lead to by Google Maps, actually, I figured it was a shortcut.
But then it started to feel like something was on my shoe? Like I'd stepped on something that was now flapping off the sole of my shoe.
It turned out to be that my shoe that was flapping on the sole of my shoe.
So I stood on the street in my hiking shorts and backback and my chunky Nike hiking boots and lifted one foot to see that  the entire bottom of my shoe had peeled away from the top, like something that had aged and soiled and was cracking open in the sun. It came right off so when I stood on what was left of the shoe it was like wearing a slipper, almost.
Then I remembered: I must have purchased these twelve years ago? I should get out more.
Anyhow, so I didn't make it up Diamondhead but 'round about happy hour, I met up with Marni and her Australian co-worker for drinks with a side of sunset at Rum Fire (2255 Kalakaua Ave // Honolulu, HI 96815). The cocktails were delicious and so was the view.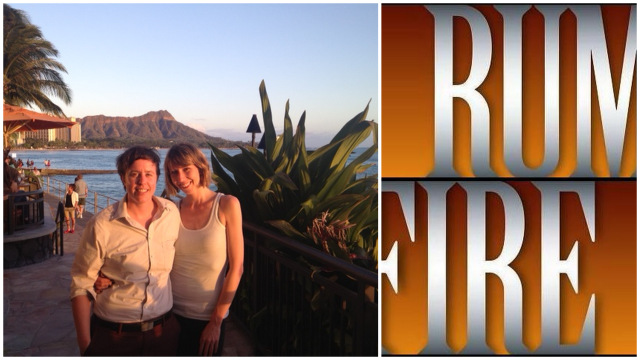 Three or five drinks later we were at Bacchus Waikiki (408 Lewers at Kuhio, Waikiki, Honolulu), a dank second-floor gay bar that reminded me of my early 20's, when I'd do the Hell's Kitchen Gay Happy Hour with my gay friends and wonder why it was always so dark, even at four in the afternoon in July. But it also reminded me of how much more comfortable I am surrounded by gays, even if they're all men. Britney Spears mega-mixes and other 90's relics churned softly from elevated televisions and the pour was generous. Marni's coworker's husband showed up and from there we walked about six feet down to Siam Square (408 Leweres, Ste 200, Waikiki, Honolulu). It must have been 10 or 11 by this point, and so for the first time all week, we were seated right away.
Dinner was delightful, the company was fantastic, and we returned to our hotel for one final night in the giant bed.
---
Wednesday – Goodbye Sunshine
Our last morning in Hawaii. Could I open doors or lift suitcases? No. Did I want to stay forever? For sure! We spent the last morning hanging out poolside, reading and sun-soaking and eating Cheeseburgers. When it was time to go to the airport, the only taxi they had available was a limo but they said it would cost the same. I don't know, it was super-weird and kinda hilarious.
It only took about another week for my back to heal, therefore affirming my decision at the time that it was much more important to see the beach where Oceanic Flight 817 crashed than it was to sit in the ER all day.
---
In conclusion, the only thing that could make Hawaii more awesome than it is already would be if James Cook hadn't shown up in 1778 to begin fucking shit up, following 2,000 years of successful self-governing during which the Hawaiians had signed peace treaties with foreign nations such as the U.S. and England which recognized Hawaii as an independent nation. I'm not an expert on this issue by any means, but just saying.
Pages: 1 2 3 4See entire article on one page