You ever consider about breaking up on TV? Well, Ultimatum: Queer Love Season Two is casting! Trans icon Angelica Ross is leaving Hollywood. This week, Nic reviewed The Other Black Girl; Valerie Anne reviewed Wilderness; and Christina recapped The Morning Show. Over in the film world, Drew gave us a TIFF queer festival recap and made a list of movies you can watch right now at home if you're having film festival FOMO. She also reviewed the queer twisty thriller, The Origin of Evil. We've also got some updated lists for you! 50 TV Shows With Lesbian, Bisexual and Queer Characters Cancelled After One Season and 25 Lesbian Movies on Hulu That You Can Watch Right Now For Fun If You Want.
Notes from the TV Team:
+ All Rise finally kicked off the back half of its third (and final) season last Saturday on OWN. After being stabbed during the courthouse insurrection, Ness teeters near death for most of the midseason premiere. She even flatlines at one point. But thankfully she survives and — fingers crossed — she'll recover in time to be a part of All Rise's final episodes. — Natalie
+ In a move that can only be described as homophobic, TPTB have scheduled Sunday's first game of the Las Vegas Aces/Dallas Wings WNBA semifinal series against Megan Rapinoe's final game with the USWNT. If Julie Ertz's final game was any indication of what we might expect on Sunday, be prepared for a lot of goals and a lot of tears. LFG! — Natalie
+ Kayla has already written about Harlan Coben's Shelter but I just wanted to pop in and add my two cents because I'm genuinely loving this show. If you like YA mystery/thriller, this is a treat. It's way more queer than I ever could have anticipated when I started it, and all the teens are just so…sweet. It's quite wholesome for a show where people keep getting kidnapped and murdered. — Valerie Anne
---
Written by Nic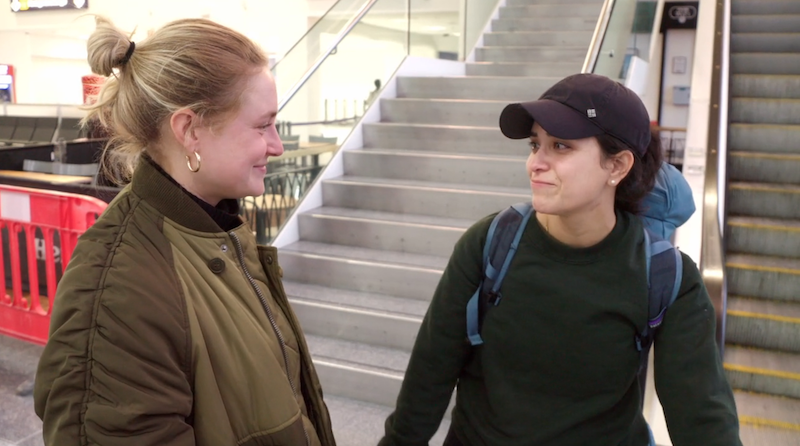 This week's episode actually opens with our sapphic couple who are in the middle of the fight from last week about whether or not they want to have kids. Dempsey is packing up and getting ready to leave while Statler just asks her to talk to her because she's confused about what happened. Also confused is Dempsey because she says that she can't understand how Statler can just drop that information so casually when every other time they've talked about kids, she's said that she wasn't sure, and now it's "no, never." In her confessional though, Statler says Dempsey essentially did the same thing except she was also unsure, yet now she's "all in" on kids. Lots of she said, she said, but cut to 20 minutes later and the two have calmed down and apologized to each other. Dempsey admits she was just caught by surprise and didn't mean to storm out. They talk some more about having kids, and Statler further explains that in this moment she cannot fathom being someone's mom, but maybe in a couple years she'll think differently. So Dempsey holds on to that "maybe" with everything she has, and tell Statler that she still wants to be with her, to try to make it work.
When they return to England, they're chatting on the couch, doing that thing where they talk about how much they're going to miss each other and wondering when they can see each other next. And Dempsey hits Statler with an Uno Reverse she's been holding onto for who knows how long, and says "you can move in with me if you want." DEMPSEY WHAT?! Look, I know this shit is mostly fake and involves so much editing, but starting an episode with a fight over kids and then immediately changing your mind about moving in is the GAYEST SHIT, my goddess. Statler's as shocked as I am and rightfully asks Dempsey multiple times if she's sure. Because Statler's seen this film before, and she didn't like the ending. Her ex also told her she wanted her to move in, and then right after Statler went back to the states, her ex broke up with her. So homegirl is a little wary.
The next day while Statler packs up to leave, Dempsey admits that she's anxious about Statler being comfortable in her caravan, given the cold showers and needing to walk to a working toilet. Statler doesn't seem to think it'll be that big of a deal though. So they head to the airport and have the quintessential 90 Day Fiancé tearful goodbye. Oh, I'm sorry, the "see you later", because they refuse to actually say the g-word. They just hope that they're making the right decision, and honestly, I do too.
---
The Chi 608: "Who Shot Ya?
For a bulk of The Chi's sixth season, Otis "Douda" Perry has been growing as a threat. With each episode, he grows more dastardly and, with each menacing turn, more people are pushed to their breaking points. I fully expected the season to end with a "who shot J.R." moment — where numerous people are given the means and opportunity to take Douda out — but that's not exactly what happens in this week's mid-season finale.
Instead, we know exactly who takes shots at Douda (I won't spoil their identity). We know that The Chi's dastardly villain escapes with his life when the gun jams on what would've been the likely kill shot. We know that the would-be assassins is injured in the ensuing gunfight. And, thankfully, we know that no member of The Chi's rainbow coalition was involved…at least not directly.
When Victor hears about what's happened, he knows what's coming. He knows that Douda is going to reign down hell on his community and more bodies will fall. He knows he has to step in. After visiting the shooter in the hospital, he returns home and changes into street clothes…it's almost as if he morphs from Victor back to who he was when we first met him: Trig. Fatima catches him and realizes what he's about to do.
"This isn't your fight!" she pleads. "You can't keep trying to save everybody, especially when you have family right here at home who needs you."
For a moment, it feels like Fatima's pleas have been heard. Victor admits that she's right and apologizes. Fatima hears it as atonement for having forgotten to put their family first but what it really is is a preemptive apology for what he's about to do. The moment her back is turned, Victor heads back into his room, pulls his gun from underneath the mattress, and slips out the back to end things with Douda once and for all.
Meanwhile, Brittany's no where to be found as her brother grapples with his guilt over the death of his surrogate father. Instead, she's locked in a studio with her new manager, Jemma, listening to her sultry new track (which, I'm not gonna lie, is kinda fire). Jemma starts swaying to the beat and Brittany eyes her from across the room. She slides up behind Jemma and they sway together as the lyrics grow even more suggestive. Jemma turns and wraps her arms around Brittany's neck…and Brittany kisses her. Jemma steps back and initiates another kiss before pushing Brittany away.
Jemma reminds Brittany that she's with Jake but Brittany points out all the ways her boyfriend is letting her down. She asserts that she only wants a professional relationship with Brittany. The Chi-town newcomer says she accepts that but, after hearing Jemma lament not having money to afford her own spot, she sends her $10k for an apartment.
"Is this 'I believe in you' money or is this 'I want to fuck you' money?" Jemma asks.
"I ain't gotta pay to fuck," Brittany answers. She asks Jemma to consider it an advance, an investment in what they can do together. Jemma seems to accept that but, later when she shares the news with Jake, he tells her flat out, "that's hoe money and [Brittany's] now [Jemma's] pimp." I don't know if that's true or just the musings of a jealous boyfriend…but I have a whole lot of questions about Brittany and her money awaiting the back half of this season.
Nina and Dre finish on a high note: their son, Kevin, is heading to Los Angeles to forge his own path as a gamer and they throw a send-off party for him at their house. It's a dream that Nina's accepted begrudgingly but when Kevin promises to make his friends and family proud, she gets a full view of the man she raised. They end the episode — and, perhaps, Alex Hibbert's stint on the show — wrapped in a warm embrace.
---
This week we learn that when Loretta was a teenager, she had a baby and put him up for adoption, and that the scrapbook Oliver found in her apartment wasn't clippings of Ben at all, they were of Dickie, her biological son.
She auditioned for the show specifically to meet Dickie, and she writes her whole story in a letter, saying she's loved getting to know him. She takes the letter to rehearsal, but doesn't give it to him just yet.
Mabel shows up to the rehearsal, and the boys confront her about doing the podcast solo. She says her running theory is Dickie, which Oliver decides is okay for her to pursue because that wouldn't affect his show at all. Charles is trying to get them all to put their hands in and stop the fight, but Oliver and Mabel aren't quite ready to make nice.
The rehearsal starts up but is almost immediately interrupted by Detective Williams, who makes a dramatic entrance to interrogate the cast to find the real killer, since the superfan was cleared of the charges. Oliver convinces her to do the interviews in the theater so the rehearsal can still continue. Oliver and Charles are going to try to snoop on the interviews while Mabel goes with Howard, who figured out the noise he heard from opening night was someone shredding something in the locked office. So he gets to work putting the scraps back together
Loretta pulls Oliver into her dressing room and they talk about the scrapbook and Mabel's Dickie theory, which Loretta hates a lot, and she find Mabel to tell her so. She offers reasons (murder is a women's weapon) and even a new suspect (KT) but Mabel thinks it's just awfully convenient that Dickie had access to Ben's food and hated his brother. Means, motive, opportunity.
Mabel finds her boys and learns that they managed to record the interrogations, and as they share clues like old times, Mabel puts her hand in and the guys join. Murder brought them together again.
Later, Dickie admits to Loretta that when he first heard his brother was dead, he felt relief. Then when Ben was back…he just "couldn't take it anymore." This implies to me that he possibly didn't poison Ben but did push him down the elevator shaft. Dickie tells Loretta she's been the best part of this whole experience, and for one horrifying second I was scared Dickie was going to try to kiss his birth mother. Luckily he did not.
While rehearsing Loretta's big final number, Mabel and Charles snoop through her bag and find the scrapbook and letter. Loretta, in the part of the nanny, sings about how she'd go to hell and back for the sake of a child, and sees Detective Williams pull Dickie aside. Loretta panics, stops the song and says she killed Ben. Poisoned him, pushed him down the elevator shaft, the whole shebang.
And Oliver has a heart attack about it.