Have you ever dreamed of moving into a camera-laced condo with a virtual stranger, calling that co-habitation ritual a "trial marriage," and then using that experience to determine whether or not you are ready to marry the partner you were dating prior to this "experience," while that partner is in a condo with a different stranger arguing about how much they do or do not love dogs??? Well have we got the thing for you!!! Netflix is currently casting for the next round of The Ultimatum: Queer Love! This is great news for us because that means there will be an Ultimatum: Queer Love Season Two — a show of mess and chaos that brought gifts into our life such as "Mal." They're looking for lesbians, queer women and non-binary people in relationships where one person is ready for marriage and the other person isn't ready for marriage, but might be once they have to consider that their partner might fall in love with someone else!
All you have to do is fill out this 50+ question form, answering important queries such as "Do you wonder if the grass is greener with someone else?" and "How have you tried to improve your relationship? Have you seen a therapist? Please explain." You'll also need to provide links to all your social media handles. Nowhere on this form do they ask for our opinions on "Fingergate," though, which is a missed opportunity.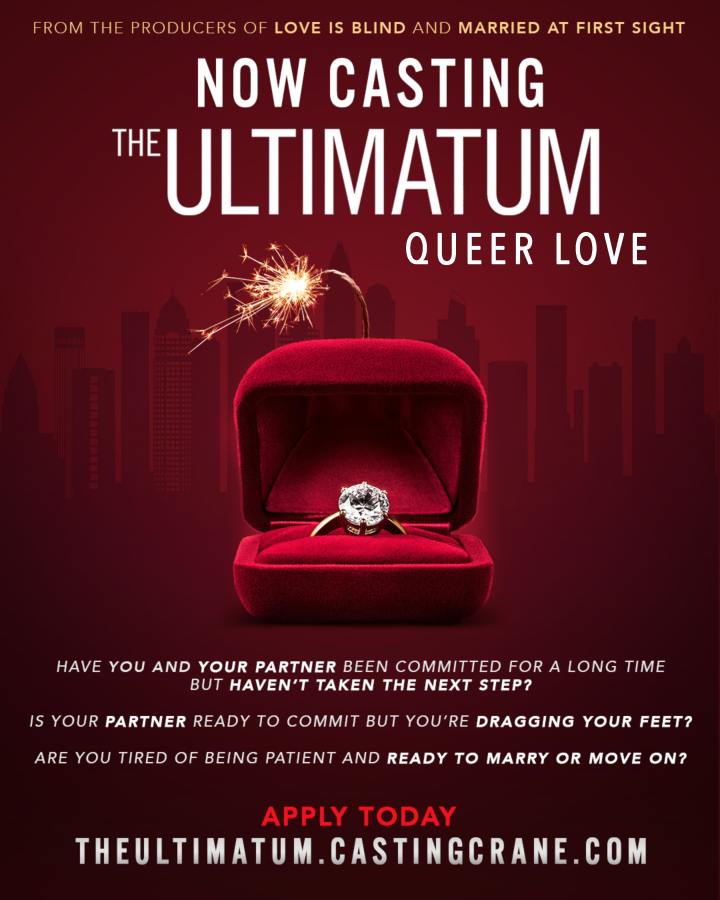 It's important to note, should you be realistically considering auditioning for The Ultimatum: Queer Love Season Two, that you need to be able to take two full weeks off from work. It looks like they're seeing if you have any major conflicts between February 12, 2024 and April 10, 2024, so if you're ready to see if your relationship can stand the stressors of reality TV production, don't schedule any vacations during those dates!
Sometimes, sometimes, deep in Nico's conspiracy theorist brain, they think that shows like this a psy-op trying to get us as a collective to value monogamy and marriage and child-having. But who knows! All they know is that they watched the last season of The Ultimatum: Queer Love while going through a breakup and that was certainly a choice.
There's no word on when the casting call closes, so get in there and apply, queers!