Halloween is over. That means we're now under that weird blanket: The Holidays. That's right — and it's been Christmas in Michael's since August. Instead of showing you how to make a drink this month, I'm going to introduce you to the ways that my home bar has enhanced my cooking and baking. Specifically, having a bar in my home has really jazzed up my basic buttercream frosting. If you're baking for a holiday, why not go above and beyond? And in this case, it seems like you have done a lot of work when in reality, this is real damn effortless.
Maple Bourbon Buttercream
I've never understood buying frosting in a can when frosting is arguably the easiest part of baked goods. Even if you make cake from a box, frosting is so quick to make. And when you make your own, you can customize the flavors; it can make a box cake taste like not a box cake! The frosting is really what we're talking about today, but in case you want to know how I'm making these cupcakes, I'm using the Smitten Kitchen 'I Want Chocolate Cake' Cake recipe. This is, by far, the best cake recipe I've ever attempted and I think I will always use buttermilk in cake forever, but I digress. The buttercream can be used on a wide variety of cakes that require frosting—the flavors really do go with a lot. I'm choosing chocolate because that's my dessert bias.
You Will Need:
+ Two sticks salted butter
+ One generous cup confectioners sugar, plus a bit more to add to get the right decorating consistency/sweetness for you
+ Three tablespoons of your favorite mixing bourbon. I've made this frosting with Bulleit and with New Holland's Beer Barrel Bourbon. It's been good with both, but slightly different. Follow your heart and your taste buds.
+ Three tablespoons real maple syrup. It's gotta be the real stuff, otherwise your frosting will taste like chemicals. And that's what we are trying to avoid by making our own frosting.
+ An electric hand mixer. Good lord, I can't imagine doing this without an electric hand mixer.
+ Some cake to frost. I chose to bake cupcakes because my fiancée wanted cupcakes.
Ahead of time, put your two sticks of butter in a large bowl to soften. Room temperature butter is easiest, and you want to avoid putting it in the microwave because it'll melt too much.
When it's all nice and soft (and after your cake is mostly cool), add the cup of confectioners sugar and beat with the hand mixer until it looks like frosting. I shit you not, that's how I do it. Does it look like I could frost a cake with it? Peachy, then I'm done mixing.
Keep in mind that when you first start mixing, the frosting will look weird and lumpy. You will likely say to yourself, "Ali. There is no way that this will ever be frosting." Just keep mixing and trust me.
Now add the maple syrup and the bourbon. Give it a quick mix and you'll notice it makes the frosting wetter, so have your confectioner's sugar on hand. Add and mix until you've achieved the frosting's former consistency and you can easily decorate a cake without the frosting just straight up dissolving into goo. Should be a bit stiff, but easily workable. Feel free to taste along the way to make sure you love the taste. Taste is most important.
Now if you want to riff off the flavors a little — say the frosting is too boozy for you, go ahead and mess with the balance between the maple and the bourbon. Try two tablespoons bourbon and four tablespoons maple. I just wouldn't go with more than six tablespoons of additional liquid, or the frosting won't hold its shape. Either way, remember that this frosting is adults only! It's basically a cocktail on a cupcake.
Now to frost — if you're doing a regular cake, just grab a baking spatula and have at it. If you're getting fancier, you can use a pastry bag. Personally, I think pastry bag is the easiest way to frost a cupcake. If you use a pastry bag, stick it in the freezer for a couple minutes before you start piping—your hands warm the bag as you go, so starting cold is a good way to ensure your frosting doesn't turn to goo. But literally only, like, two or three minutes, otherwise it'll be too hard to work with.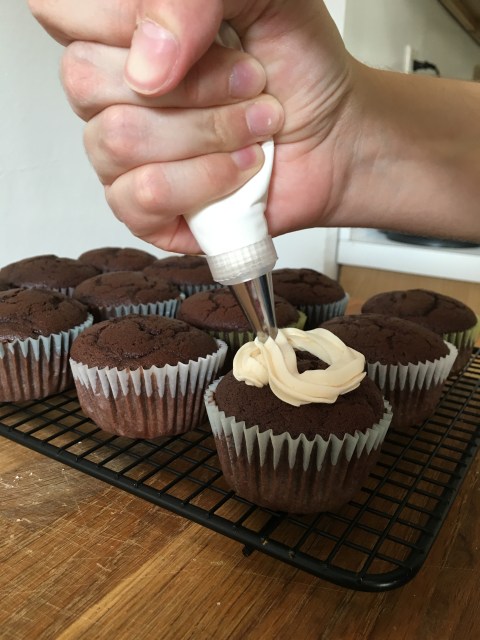 I've kept a pastry bag in the fridge with this frosting in it for up to a week, because butter keeps for a really long time AND there's liquor in it. If you do that, just make sure you let it warm up a little before decorating anything with it. Room temperature combined with handling it a little does that just fine.
Go forth and frost!