WEEZER'S UNOFFICIAL WORD CUP SONG:
The World Cup leaves behind a legacy of not-so-great official songs (a recent all-time low point being Toni Braxton and Il Divo's 2006 song, "The Time Of Our Lives"), so Weezer thought they'd try their hand at improving the landscape. Rivers Cuomo and the gang released "Represent" just a few days ago, along with a soccer montage video companion. It might not be the best soccer song out there (or really… a soccer song at all), but Weezer fans rejoice: new material! Watch the video for "Relentless" below and hear more great soccer songs from around the world at NPR Music.
+
NEW VID FROM KATY PERRY:
Countless songs have been written about California girls: The Beach Boys' sunny classic and The Magnetic Fields deceptively upbeat jab of a song are among my favorites. Now, Katy Perry has joined the club with "California Gurls" featuring Snoop Dogg. In a new video for the song, she struts through a life-sized Candy Land, lies naked on a cotton candy cloud, and shoots whipped cream from her nipples. Visually, it's stunning. Candy, candy everywhere! But I'm not too impressed with the song nor Katy Perry's overall "thing."
What do you think of Katy Perry's new vid? Let us know in the comments and watch it below:
+
NEW VID FROM OK GO:
OK Go, the band famous for their treadmill choreography, is back with another video — this time, for their song "End Love." Some have already called the video viral, but let's not get ahead of ourselves. It is my naive understanding that the song, in addition to the video, must be good and I'm not really feeling this one. Am I alone in my feelings, Autostraddlers? Am I on a rampage of dislike for Katy Perry and now OK Go? Let me know in the comments. As Yoda once said, "Color-coordinated outfits and choreographed dances make not a viral vid. Hmmmm!"
+
MARK RONSON NEW VID WITH QTIP:
Producer Mark Ronson debuted another video from his upcoming album The Record Collection. "Bang Bang Bang" features electronic musician MNDR and rapper QTIP. Watch it below:
+
NEW VID FROM MGMT:
Psychedelic rock duo MGMT have released a video for "It's Working" from their album Congratulations. Since the album is technically a "no singles" album, it's been interesting to see which songs Andrew VanWyngarden and Ben Goldwasser have chosen to spotlight. "It's Working" is fairly representative of the album as a whole, and the video is, too, with it's rainbow effects and slightly sci-fi plot. Check out MGMT's "It's Working" below:
+
"STRAIGHT OUTTA COMPTON" WITH THE ROOTS AND ICE CUBE:
The internet is a great thing — not just because websites like Autostraddle can exist, but because videos of Ice Cube performing "Straight Outta Compton" with The Roots during a commercial break on the Late Night With Jimmy Fallon can be posted for all to see. Watch it below:
+
GLEE AND COPYRIGHT:
Did you ever think to yourself, "Hey, I wish Glee could happen in real life, at REAL high schools!" Apparently, it can never happen in real high schools, because singing those pop hits would cost hundreds of thousands of dollars. Read more about Glee and copyright issues. (@salon)
RAPPERS ROCK
When Giant Magazine listed this year's Top 5 New Age Rockers, the results begged the question: are the Jay-Zs, Kanyes and Lil' Waynes of our world the new rock stars?
QUESTIONS FOR EMINEM:
In the lead up to the release of his new record, Recovery, Eminem speaks about a new maturity and also answers for his douchebag behavior, including but not limited to his history of using lyrics to gay-bash. "I think if two people love each other, then what the hell? I think that everyone should have the chance to be equally miserable, if they want." (@NY Times)
NEW SONG FROM M.I.A.:
M.I.A posted another song from her upcoming album, MAYA. "Steppin' Up" isn't quite "Paper Planes," but it's a little friendlier than "Born Free." Listen to "Steppin' Up" at M.I.A.'s blog.
BRANDON FLOWERS' NEW SONG:
As we mentioned in a previous fix, The Killers lead singer Brandon Flowers is hard at work on a new solo album and the first single (presumably) is finally streaming from his site. Hear "Crossfire" at brandonflowersmusic.com.
COURTNEY LOVE IN BEHIND THE MUSIC:
Hole's Courtney Love is the next artist featured on VH1's revamped Behind The Music series, airing June 21 at 8:30pm EST. If the previews are any indication, it should be an interesting one. "My goal for Hole was stupid. I said, "This band is going to be ten times bigger than Sonic Youth, but not as big as Jane's Addiction.wp_postsWhat was the "butwp_postsfor? It's like a fucking curse. That's so stupid. The gods were listening when I said that. I could have said "This band's going to be ten times bigger than Sonic Youth and the Beatles, and that's where we'd be right now!wp_posts(@stereogum)
THANK DRAKE LATER:
To promote the release of his new album, Thank Me Later, Toronto rapper Drake staged a free concert in South Street Seaport but then canceled his performance last minute due to overcrowding and "a weird riot-type thing that resulted in metal chairs and tables being thrown off balconies and police having to eventually spray the crowd with mace". Not even the support acts, Ninja Sonik and Hanson, felt safe enough to play their sets. Drake has since issued an apology.
In other news, the kids over at Degrassi High – where Drake got his start in entertainment as Aubrey – have weighed in on the album.
BACKSTREET BOYS:
The Backstreet Boys' Brian Littrell and A.J. McLean – who are Grand Marshalls at this year's SFO Pride – chat to Out about supporting their gay fan base and their desire to become more involved in the gay and lesbian movement.
THE SPANGLES WOW AMERICA:
Awesome 80's dance group and Autostraddle Rodeo Disco performers, The Spangles, won the hearts of the nation this week when they featured on America's Got Talent. Watch their performance then buy a ticket to Rodeo Disco!
AUTOSTRADDLE AT BONNAROO 2010:
Laneia and Sarah survived the heat, sweat, and inadequate port-a-potties. Read their stories and see the photos.
Upcoming Albums: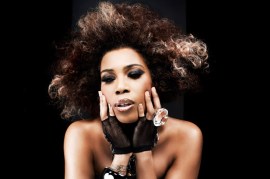 Macy Gray: "I try to say goodbye and I choke/ Try to walk away and I stumble." Macy Gray is back with a new album, The Sellout, streaming now at Billboard.com.
Stars:  The Five Ghosts is streaming in its entirety now at NPR Music.

The Chemical Brothers: Further is also streaming in its entirety now at NPR Music.

Taylor Momsen: Jenny Taylor Momsen from Gossip Girl is also a punk-rock musician. Hear her EP at Billboard.com.