Hey you prideful homosexual souls and allies. Did you know there's ohhh… TEN DAYS OR SO left until NYC Pride/Rodeo Disco madness and if you haven't bought your ticket yet, you probs should!
We're excited, Rachel's excited, the Anyone But Me cast is coming and excited, DJ Saratonin & DJ Carlytron are excited, Go Mag is excited, the Candy Slice Girls are excited, Facebook is excited, we're excited/totally unprepared, and you know who else is excited?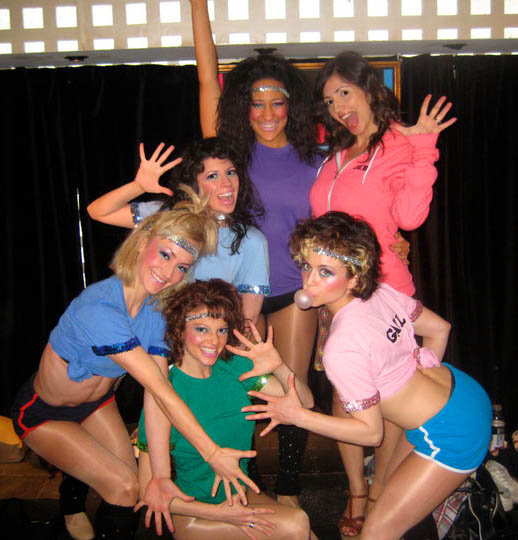 Who the f*ck are The Spangles? Officially way more famous than we'll ever be, as this 80's dance group was featured on America's Got Talent this week. Look at 'em go!
Reflecting our longstanding tradition of having our finger on the collective pulse of Awesome, we saw these kids at a Candy Slice show a few months ago and thought THESE PEOPLE ARE GOING TO BE STARS, WE WANT THEM AT OUR PRIDE PARTY. And now they are stars. And so there you go!
Also, we are collecting some serious prizes you can win either at the door or by riding the bull:
T-shirts and Cd's from Beth Ditto's Gossip
Madonna Celebrations DVD
Twilight Eclipse soundtrack
kd lang recollections album
Glee soundtrack
New albums from Ke$ha, Cyndi Lauper, Katie Melua, Paramore, Natalie Merchant, Charlotte Gainsburg, Little Boots, Marina & The Diamonds, Kasabian.
Prints by Robin Roemer from Uh Huh Her, signed by Leisha Hailey & Camila Grey
Original prints from Stef Mitchell featuring Ruby Rose
Anyhow kids, you really need to purchase your tickets ahead of time, we are telling you this b/c we love you and we want you to get the good price. Also, if something really terrible happens and you can't come, we'll still get to keep your money which is a win win for us. Actually, a lot of y'all are asking how you can support us even if you can't make it to the party, and to that we say: if you can't go but still want to help us raise our funds, buy a ticket anyway! It's like throwing us a $12 donation! Or just give us your money. After this weekend, we kinda/totally need it in a serious way. Give it.