Her hair was curly and untamed, and it lent her an air of slight madness, as though the thoughts in her head were springing directly out through her scalp.
– Shamim Sarif, I Can't Think Straight
Hair! While first impressions are often based our expressions and words, the fluffy stuff that frames your cute face also plays a role in how society perceives you. More often than not, we play the game. We buy the products; we cut, color, highlight, razor and heat our hair to best suit our personalities. As queer folks, we're particularly accustomed to playing with these concepts of gender and image. Curly hair comes with its own odd sort of self-awareness. If you have it, you probs learned at an early age that a part of you was already railing against the norm. And sometimes, standing out is the exact opposite of what you want to do. Adolescence can be an particularly awkward series of "Princess Mia Thermopolis breaking a brush" moments. You also realize that most people who love curly hair have never actually had it.
These are our post-adolescent curly hair feelings.
See Also:
Queer Girl Hairstory: Our Hair's Not So Straight Either Part 1
+
Short Hair and Back Again
by Hansen
I've always had a weird thing about my hair. My hair is super thick, coarse and wavy. My friend explained to me that hair is circular, triangular or oval, and that's what determines if your hair is straight, curly or wavy, but she said I have all three shapes in there for some weird reason. Thanks, genetics.
I had it long for years after I broke up with a girl who had always begged me to grow it out. I wanted her to be jealous that it'd finally grown out, like that would make some difference. I find a recurring theme in my relationships — my butch girlfriends are always asking me to have long hair. I, too, love the look of beautifully styled long, wavy hair, but I look like Mufasa when I don't style it. In college, I'd wake up two hours before class every other day and straight iron or curl it. Two hours! Think of all the sleep I could have gotten if I hadn't been obsessed with my hair. I also had a girlfriend tell me that she wasn't sure she'd find me attractive with short hair, so I immediately chopped about a foot off just to see if she'd stick around.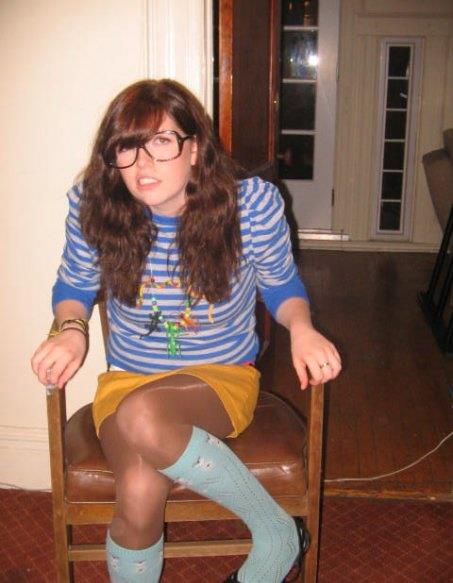 I recently cut it short again — although this time it wasn't because of anyone else — and although the ALH is okay, having extremely thick hair kind of makes me look like a mushroom. I'm trying to find middle ground. Thinning shears are your friend — look up online tutorials on how to properly do it yourself to save monies.
My favorite products over time have been Kerastase Nutritive Oleo-Curl Curl Definition Cream For Thick and Curly Hair. It's a little pricey but it lasts around four months and it tames my frizz and curls without any problems, even in extreme humidity. Also, I always use smoothing or color-safe shampoos, even if they say they are for straightened hair. Clarifying shampoos open up the cuticle and increase crazy frizz. I'm not precious about what I use, I get whatever is on sale. I dye my hair a lot (although I'm blonde now, I was a ginger for MANY, many, many years) and I swear by Palmer's Coconut Oil Protein Pack for a weekly deep conditioner.+
Ch-Ch-Ch-Ch-Changes
by Carmen
I don't know how I define my hair and how I feel about the word "curly" but I know it's hard to manage and I know it's not straight. Products for "curly" hair never used to help me, mostly because my hair was a massive frizzball for the majority of my life. But now I've cut it off! And life has never been easier. You can see the curliness even more now, which is weird. But I've heard I have a helluva pompadour and I'm okay with that, especially when I wear crew necks.
At first I tried to master my hair by straightening and "relaxing" it, which made me feel not only like a fake but also probably like the ugliest person on Earth. When you spend each day trying to change how you look it kind of slowly breaks you down on the inside, mostly because carrying your hair straightener around and making touch-ups during class reminds you that without the ability to change your curls, you'll hate yourself. Step one in every curly-haired girl's life needs to be getting the fuck over that shit and realizing how lucky we are to be unique and beautiful in our own ways.
So loving it is important – and led me to my fro (RIP). Having an Afro meant that for the first time I wanted to take care of my hair by being affirming of its own existence and letting go of culturally embedded ideals of beauty that were stressing out our relationship. Now, when you have curly hair you have to love it so that you can manage it and get it to cooperate.
You will look ten times better once you learn to love your curls. No, seriously. Coming to love my hair has resulted in a deep love for caring for it. In fact, taking care of my hair is what keeps me sane and well-balanced. So products are important! Here's my own quick review:
I use all-natural HEMP Shampoo and Conditioner  both because my mom is highly uncomfortable with the huge pot leaf on the front and because it makes me feel honest. I like it because it is relatively weightless and lets my hair do its own thang.
I also used to use It's A 10 After-Wash Leave-In Conditioner to protect my hair from heat damage when I blew it out. It smells really really good. My biggest and best kept secret, though, is that I regularly deep clean like every other week using Neutrogena Shampoo, which cost seven bucks when I got it in January and still hasn't run out. It removes everything, but it's also super harsh and dries out hair (which is of course questionable) so I go ahead and condition after that real well.
On Finding My Inner Mermaid
by Rachel
I didn't even know my hair was curly for the first half of my life; I just thought it was awful. Both my parents have beautiful shining thick straight Garnier Fructis commercial hair, so there was no reason to think mine would be any different. As I was growing up, they tried taking care of my hair the way that was normal for them: brushing it with boar-bristle brushes and shampoo and conditioner. Hairbrushing turned into a nightmare where I would cry and scream while they tried to drag a brush through tangles, and I always looked like I had just run into an electric fence, but no one really knew what else to do, so I spent years managing to look fierce and adorable even with a frizzy halo of hair.
When I reached middle school, having crazy person hair was suddenly no longer acceptable, much like wearing MLB t-shirts every day and having sleepovers in the same bed as my best friend. My life's mission became making my hair look as straight and sleek as possible. I believe my hair inspiration at the time was Jo O'Meara, the blonde chick from S Club 7. Every time I went to get my hair cut, I had them blow it out and straighten it as hard as it would go, and anxiously try to stretch out that period of hair idyll for as long as possible (usually two days). I bought every straightening product they had at CVS, and since we didn't have/couldn't afford a flat iron, I spent hours before school with a comb and a hairdryer trying to MacGyver it flat. This never worked, and my hair always looked mournful and pathetic. It was a sad, lonely, totally normal adolescent time.
Sometime between senior year of high school and college, I sort of stopped caring about my appearance in the traditional sense full stop. (This coincided with not shaving, wearing Birkenstocks, listening to a lot of Ani, and developing a lot of very close female friendships.) Surprisingly, when I didn't do much to my hair besides wash and dry it, it was sort of nice, and turned out to be full of waves and curls. Neat! I still didn't really know what to do with it, so it was frequently weird and fluffy and crunchy and dry, but a lot of pretty girls told me I looked like a mermaid, so. Then, as a junior in college I discovered hair oil (Dabur Amla was my first), and my life has never been the same. It turns out that pumping my hair full of super-duper extra-double moisturizing conditioners is cool and all, but my hair actually wants to have more oils added right onto it. Ever since, packaged hair oil or just straight up coconut oil have been my jam. And ever since I chopped off about a foot and a half of my hair a few years ago, I like my hair even more — I can keep up with the split ends, and my hair has never been curlier or happier.
I'm not actually super picky about conditioners, and have usually used the Aussie line (both their Moist conditioner and their magical deep conditioner) with some success. Usually I'm in the camp that many curly-haired people are in of washing my hair as little as possible in order to preserve the natural oils. But I've recently found a shampoo that doesn't dry out my hair and that I find I can use as frequently as once a week and not get my hair weird and fluffy: Davines Love Shampoo (obviously it was a gift, as I would have to sell a kidney to buy it on my own).
Relaxers, Fitted Caps and Side Shaves: The Trinity of My Queer Hood Hairstory
by Gabby Rivera
I had the best baby hair ever in life: soft, wavy and light brown. No kinks, no tangles, just good old baby hair that would eventually fall out and be replaced with some untamable locks. (Not that kinks or tangles are bad but they require effort to manage and skill to master. Even as a baby, I needed my hair to be super low maintenance.) At age 13, my mother and I went to the Puerto Rican-owned beauty salon and I received my first relaxer treatment. If you're unfamiliar with a relaxer, here's the gist: a relaxer is a heavy lye cream made of sodium hydroxide, petroleum jelly, and some type of emulsifier (ingredients vary). This cream is combed through wet hair specifically of the curly, kinky, nappy, non-straight, non-kristenstewart type of hair. It often stinks. So, lucky me — no seriously, I was super excited for my first relaxer. I hated dealing with my curls and fighting with my mother about her way of doing my hair. (She'd sit me between her knees and pull through the knots in my hair with a metal comb and if I complained, she'd give me a real reason to cry. Ever been hit in the head with a hot brush? Yeah not so fun.)
So I got my first relaxer treatment and it burned my scalp while also leaving silver dollar sized scabs on my head. But lo and behold, after sticking my head under a dryer for another hour, my hair was smooth and silky like hair you see on tv. I went back every weekend for a wash and set and then every few months to re-do the relaxer treatment. Flash forward to me being 20 and spending over a hundred dollars on a treatment only to leave the salon and get doused by a speeding car hitting a puddle in the curb at just the right angle. No more straight hair.
I just said fuck it. I mostly wore bandanas and caps anyway and after this incident, they became my staple. Bandanas and caps and fitteds and do-rags and anything to cover the hair i didn't want to deal with. Also, my femme-ness was wearing off and I found myself attracted to a more masculine/funky little style, so out went the relaxers. After the treatment finally grew out, my curls were softer but my hair was also a little thinner. Eventually the bandanas and snapbacks took their toll on my hair, too. Or more specifically, my hairline. So last summer, I shaved the side of my head and freed just enough curls for me to deal with.
Also, the weirdness I always felt in a beauty salon is gone. Getting my side shave shaped-up in local barbershops, like Khane Kutzwell's in Brooklyn or Razor Blade Barbershop in the Bronx, is so much more my speed. I love the razor blades shaping up my lines and gliding against the back of my neck. Finally, my hair is something I'm proud of and feel connected to and I don't need any chemicals to burn it or hats to cover it up.
I use Dr. Bronner's soap for everything, including shampoo. I particularly like the rose and hemp scented soaps. They smell good and keep me from spending bank on fancy-ass chemical-heavy shampoos. For conditioner, I like to try out different concoctions from hair dressers/barbers that I trust. Randy, my favorite barber in the world who now lives in West Virginia, created his own hair conditioner so I bought some. It's made of lavender and coconut oils, along with some other stuff that makes hair soft. I use it to detangle my curls and as a leave in conditioner. On humid days, I'll also apply some Queen Helene gel which I can get from the bodega for like $3 bucks. It doesn't leave the same type of flaky sticky crap in my hair that other major brands like Dep or whatever do. If I don't put anything in my hair, then it's just frizzy and dry. I haven't figured out how to leave it completely natural without it looking like it could start a forest fire, so I stick to oils, homemade conditioners and the occasional dollop of  gel. As for the shape-ups, I get them done every 2.5 weeks and designs, maybe once every few months or when I get the urge. I love my curls more now though, and my side shave; it's like all of gender presentations on my one big beautiful pumpkin head.