Yes, I realize that starting an article with a picture of two boys isn't necessarily the best way to get your attention, but these are some serious tortilleros. That is: men who make tortillas. This is relevant to your interests because one of the rude ways to say "dyke" here is "tortillera." I'm pretty sure it's got something to do with the way you make mexican tortillas (those delicious flat little pieces of bread made out of corn or flour) and straight people's ideas about what lesbian sex looks like, but I'm not entirely sure.
But back to the matter at hand. Besides being tortilla masters, these gentlemen are also my roommates: Pablo and Pablo. After ordering a seriously disappointing tortilla at a restaurant, Pablo On The Left told me that he could definitely make a better one. I waited a whole week before I cracked and came home with a sack of potatoes, requesting a tortilla for dinner.
Tortillas can be fat or skinny and can be filled with cheese, peppers, zucchini, onions or just plain old potatoes depending on where you are and who's making them. Pablo On The Left's mother makes them with just potatoes, so we went with what's comfy. Which is really what tortillas are: the ultimate comfort food. The Pablos' recipe makes enough for three people, but you can easily adjust the amount and proportions of ingredients you use if you've got more people or happen to like zucchini a lot more than potatoes.
Tortilla Española
Ingredients
5 potatoes
5 eggs
Lots of olive oil
Salt
Instructions
1. Peel the potatoes and slice them into roughly identical 1/2 cm pieces.
2. Fill a large pan with olive oil and heat it. Because the Spanish love their fried foods, we keep a pan of oil in our oven so that it can be pulled out and used to fry up some patatas at a moment's notice. We also have this handy little metal insert that goes into our pan so that we don't have to fish for our potatoes in a giant vat of burning oil.
3. Add about half the potatoes (Pablo On The Right says that making sure you don't add too many potatoes at once is one of the secrets to making a good tortilla) and fry them until they're soft but not crunchy. It takes about five minutes and they won't get very dark. Remove the potatoes from the pan and let them cool on a plate covered with a paper towel. Pablo On The Right's second tip for tortilla excellence is to salt the potatoes after they've been fried, salt the eggs after they've been beaten, and then salt everything once it's mixed together in the pan. With that in mind, salt those potatoes.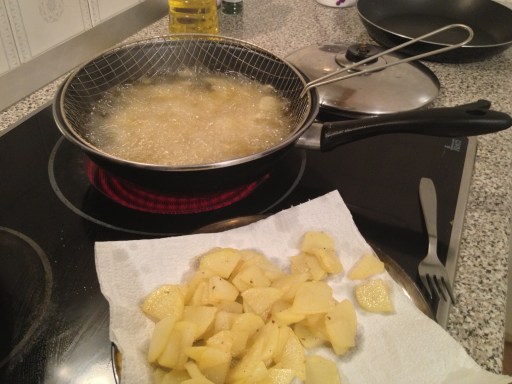 4. If you're adding an onion or a zucchini, now's the time to chop them up and fry them. Do it just like you did for the potatoes.
5. Beat the eggs in a bowl (add some salt!) and then add the potatoes et cetera and stir until everything is coated in egg.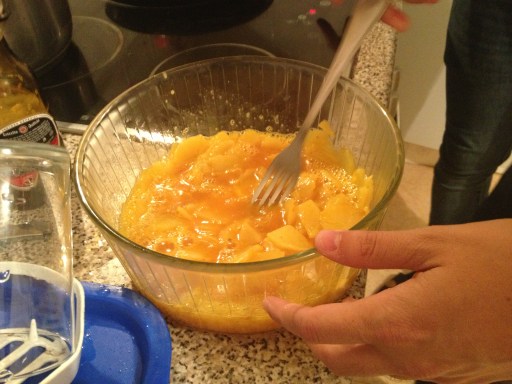 6. Add a small amount of olive oil to a new pan, let it heat up nice and hot and then pour the eggy mixture in. You know what comes next, but I'm going to remind you anyway: salt!
7. The bottom of the tortilla will start to set quickly, so after about a minute, cover the pan with a plate, flip it over so the tortilla falls out onto the plate, and then slide it back in to the pan, uncooked side down. It's probably not going to look very pretty at first, but that's okay.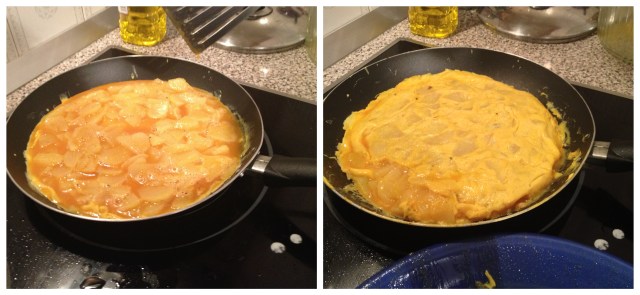 8. Let it cook until the center's no longer slimy. We only cooked ours until it was just barely done, but I've had tortillas that were so done they almost had a crust and they were just as good.
9. Grab a beer and some jamón and you're ready to eat!