Today, October 21st, is International Fisting Day!
Jiz Lee and Courtney Trouble started International Fisting Day last year after their film, Live Sex Show, was banned and censored for featuring a fisting scene between Lee and Nina Hartley. Lee explains:
"Fisting Day began not only a celebration, but a call for awareness – this sex act is banned and censored in most forms of adult entertainment, and that fear is reflected outside of the sex industry as well.

We believe that sex-positive education, exposure, information, and discussion is an easy cure for this fist-phobia!

That's why Fisting Day exists, as a day set aside to aid in the debunking of the myth that fisting is inherently painful, obscene, or wrong. Many people enjoy fisting for many reasons, which is why we invite bloggers, writers, photographers, film-makers, adult performers, pornographers, and lovers of sex to participate in this day-long love of fisting by publishing something you've made, by saying what you think, for sharing your fisting stories, for trying it out with your partner (or yourself!), for writing a research paper, posting an interview on YouTube or QueerPornTube, or hosting a sex education event in your city on this fantastic subject."
So, what is fisting? Fisting is when one partner inserts their entire hand into another partner's vagina. Done correctly, it feels really good. So how do you do it correctly?
First Time Fisting: A Love Story
By Gabby
After sex one night, she said, "I want you to fist me." "You want me to what you?" I'd just started to almost enjoy the act of eating pussy and wasn't sure if I could handle any other queer sex acts. For fuck's sake, I'd just turned 18 and hadn't even officially come out yet. She was supposed to be the innocent one. The reason I received my first toaster from the National Board of Lesbians was now asking me to fuck her with my fist. Fists. Fists are what I'd ball up while walking on the block listening to DMX daring someone to start something. Fists are what I used to punch my dorm walls because I was too hot tempered and young to know how to properly deal with my anger. How was I supposed to put one inside of the first person to ever tell me that they loved me?
"Maybe" was my final answer. I hoped she'd just drop it. That week between classes and crowded lunches in a cramped dining hall, girlfriend did her research. She found articles on lube, trust techniques and other ways to please your partner. She brought me books with titles like "101 Lesbian Sex Acts." She kissed me until I ran out of dry underwear and reasons to say no. I still wasn't sold on fisting but I knew that pleasing her physically helped me show her that I loved her because sometimes I didn't have the right words to say it. Also, bringing her to orgasm turned me on beyond anything else I'd ever known. My "maybe" turned into an "ok, baby, whatever you need."
We started on a Monday night, naked, breathless, armed with information and me adding more fingers upon request. Lubing digits upon re-entry and whispering concerns of comfort and questions of continued consent. "Are you ok?" "Does this hurt?" and "Should I keep going?" slipped into our vocabulary. Technically, neither of us were virgins but this felt more like my first time than my actual first time. This felt way more connected and honest. By Thursday, I was wrist deep, my open palm exploring the insides of my girl-woman. Still no balled fist, still on the edge of what she needed, but now I was fully on board. The week of trying built up a level of physical trust that we'd never experienced. Also, holy shit it felt amazing to be that deep inside of her, to find her g-spot and feel it pulse.
Saturday night, we went for it. We started with an hour or so of vaginal warm up because that's just common courtesy. You can't just pop a fist at the pussy. You've got to get it ready, especially if you're a beginner. So so so, all of the glorious foreplay on all of the glorious body parts, then my fingers, then my hand and we stayed there in our safe place for a moment. "Keep going," she said, and so with shaking hands, I lubed up my fist, looked her in the eyes and slowly made my way in. I was so scared and didn't want to hurt her. But in that moment, we both realized that yes, sex sometimes involves a little pain and a lot of patience. My fist hurt her but she told me not to stop. Deep breaths, gentle movements, more lube and soon we had a serious rhythm going. I was finally fisting her and she came alive under me. Everything stopped around us. I don't remember anything but this blurred, sweaty feeling of hot disorienting blissful fucking. We weren't little girls anymore. We were fist-fucking, baby-dyke warriors without fear and sin vergüenza.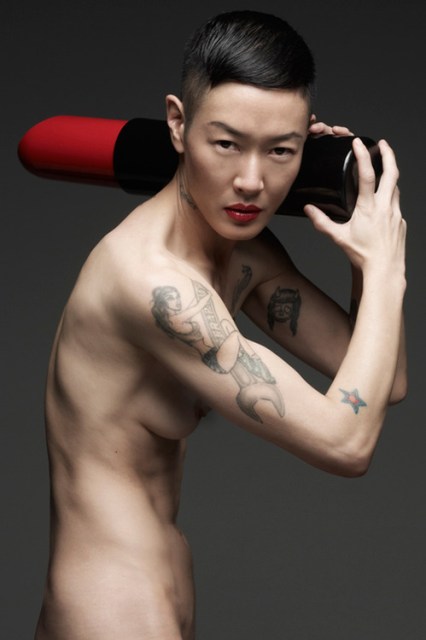 Resources
"I forget how we started fooling around, but I remember with incredible clarity the way her gloved fingers felt inside me. She fingered me hard, and it felt amazing, and I, of course, started begging for more. She slid another finger inside me, and asked if I wanted more. I indicated that I did, and I felt myself stretch as she pushed her thumb into me. There was a little pain, as her hand twisted inside me, trying to work its way all the way in, but it hurt far less than I expected […] I seriously hope I never forget her looking up at me and telling me that her whole hand was inside me. It was a moment of intense connection, her looking into my eyes and telling me I was, in fact, being fisted for the first time." —Absynthe Cocktail
Disclaimer: All of the photographs on NSFW Sundays are taken from various tumblrs and do not belong to us. All are linked and credited to the best of our abilities in hopes of attracting more traffic to the tumblrs and photographers who have blessed us with this imagery. The inclusion of a photograph here should not be interpreted as an assertion of the model's gender identity or sexual orientation. If there is a photo included here that belongs to you and you want it removed, please email our tech director at cee [at] autostraddle dot com and it will be removed promptly, no questions asked.