Special Note: Autostraddle's "First Person" column exists for individual queer ladies to tell their own personal stories and share compelling experiences. These personal essays do not necessarily reflect the ideals of Autostraddle or its editors, nor do any First Person writers intend to speak on behalf of anyone other than themselves. First Person writers are simply speaking honestly from their own hearts.
---
My friend Marina cut all my hair off on Tuesday. Surprisingly enough, it was all my idea.
The first inkling I had that I wanted to cut my hair was based in the extended process of my own coming out, of my own exploration of what that meant to me and who I wanted to be in this new world. I found that I wanted to try something more masculine. I found that I wanted to try something that made me feel like more a part of the lesbian community, of the queer community. I realized that the girls I wanted were maybe the girls I wanted to be, and that the short hairstyles I loved were things I had wanted when I was a little kid. I was sick of being talked to by dudes. I was tired of being fetishized because my hair grows out and not down.
Mostly, I was trying to form new sentences and I didn't have the vocabulary because it was hidden in that big mass of hair. I wanted to declare something new. My afro was exhausted from speaking for me for so long. I needed to put it to rest, especially since toward the end it became clear that even the most obvious and explicit signifier of my biracial identity – my Puerto Rican father's hair – was up for grabs and was going to be misread as Jewish, as "straight white hipster," as somehow fake or illegitimate or an avenue for questioning my experiences or attacking my stake as a woman of color. Most importantly, it became clear that my afro was read as being stagnant whereas I read it as being complex and flexible: it was "femme," it was for straight girls, it was only for activists and not for bad bitches. My hair was speaking for me and I felt like it just didn't know proper syntax anymore.
I knew I wanted to keep it natural – I knew no style I ever asked for would involve irons or chemicals. (In fact, this style doesn't even involve a blow dryer!) I also knew that if I kept it natural it would stand out, despite its common shape and common cut. I felt like keeping it natural kept it a signifier of my ethnicity. But I didn't want that to be the single defining piece this time. I wanted to be even more visible. I wanted to feel like every dimension of my person really existed. And I wanted to challenge myself to finally embrace the stuff that takes guts to embrace: the masculine, the queering of my public self. It wasn't that hard to imagine after the fro. Nothing is or ever will be. Because let me tell you, the fro took guts. And it took patience and it took being nice to weird strangers and offensive motherfuckers and all those people who pull their kids away from me on the street.
This time it took three false alarms to finally do it. But I took the dive.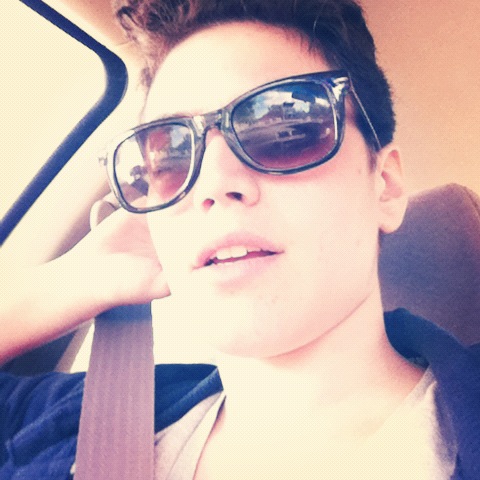 Marina and I shifted around a lot uncomfortably on the couch beforehand and I don't know if either of us really believed it was going to work out, but eventually we had to cut my hair before we each had a second cup of rum & Diet Coke. I had shown her reference pictures of Rihanna, three strangers from hair websites, and Carly because she's my hero. I told her the different shit I wanted but I understood nothing she asked me about it after a certain point. "Just fucking cut my hair until you think it looks good," I said, or at least I think so. I don't really remember.
We drank, we smoked, and we watched a fan video for Lana Del Rey's "This Is What Makes Us Girls" because that's just kind of how we roll. We had to use my old hair bows as clips. We were so tremendously unprepared but that was kind of what made it fun, you know? We were winging it. It would be something nobody else could have possibly done because we were doing it with a pick from my suitcase and a travel-sized bottle of my favorite hair product.
There was hair everywhere and to be honest, a few times I wondered what I'd gotten myself into. I had to keep reminding myself: I was still me. I would still be me. Even if I didn't recognize myself for a little while.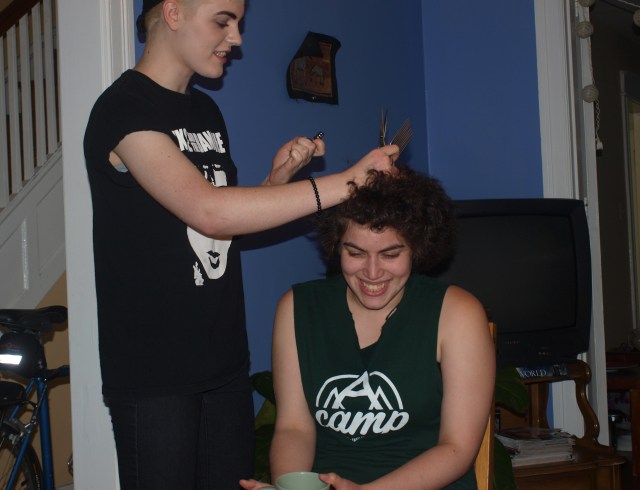 And now?
I regret nothing.
And I think I really like it.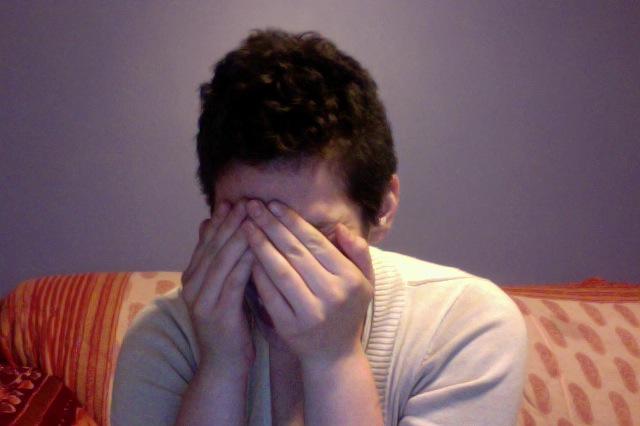 And suddenly it's just like the last time – I'm relearning everything. How to walk down the street without fidgeting my fingers, how to be proud of how I look and who I am and dress right for my shoulders and my face. How to shampoo and condition. How to get ready every morning and know I'll feel good about who I am afterward. What to wear on my face, and in my hair. Yesterday I experimented with headbands and bandanas and lately I wear my glasses all of the time. Everytime I feel good until I don't feel good about it anymore. A lot of times I take deep breaths and remind myself that it's too late to go back and then when I challenge myself to commit to growing it back I realize I don't want to, not right now. And then it's okay.
I like a lot of things about the cut. I like my face and my bone structure and I like finally being able to wake up 20 minutes in advance of something. I like not using any styling tools on a daily basis to feel like my hair "looks good." I like that my hair looks the same when I wake up, when I get out of the shower, and every other minute of the day. I kind of like not having to entertain questions about my hair and "how I get it to do that" this time around. I like feeling flexible about how I represent myself, and knowing I can choose between multitudes and between dapper, femme, tomboy, and whatever else I want. I like feeling limitless and like I can finally wear hoodies and hats, but never fedoras. I like feeling like I am finally out, like I am finally visible, like I finally exist authentically. I like that nobody pulls their kids away from me on the street. I like that people sit next to me on the bus.
I like that Marina cut my hair. That someone cut it who kind of got where I was coming from, I guess. It was a post-haircut haircut; I had gone to a salon for my typical fro touch-up right before A-Camp and had hated not looking different when it was over. I had been too embarrassed to tell my stylist to cut it off because my hair "is the epitome of what she wants her hair to do," and she was heartbroken at the suggestion. I had been embarrassed to tell her I "wanted to look gayer" because it seemed deliberate and inauthentic, as if it allowed people to somehow question how real that all was in the first place. But that was important – I needed someone to get that I existed as this person with my multitudes and that I needed to put them all on display before I exploded. I needed to feel like something about me that was permanent and real – something that wasn't clothing or shoes or a single feather earring or a pair of sunglasses – looked exactly like me. It felt shallow but it still felt important. It is important.
When I cut my hair into an afro for the first time I felt like I looked like what I was. I was trying to minimize false expectations, to set my own unique bar and let people know right off the bat in what seemed like the most honest way that I was biracial, that I was passionate and sometime super brave, that I was empowered. It was my declarative sentence about who I am. Or maybe just the exclamation mark. But the last time my stylist cut my hair I realized she didn't know me and that was what was missing. How could she cut my hair into a queer style if she didn't know that was one of the words in the statement?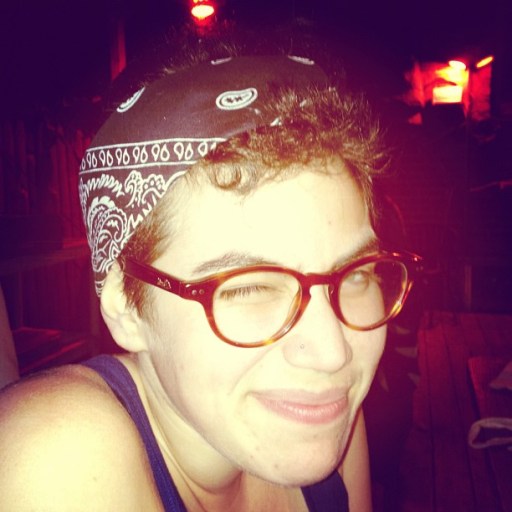 Instead I had a queer woman cut my hair into a little queer thing right above my face and for a while it was scary to be so fucking straightforward but then it became exhilarating and now it's starting to feel like it was right. I feel justified in thinking my hair could help me find the words, because it did. I finally feel like a complete sentence without opening my mouth. I look even more like myself.
Cutting your hair is always a growth process, right? You sort of challenge yourself to do this thing and then cope with and readjust to it later. You sort of master yourself that way. Now it's a new day, a new light, a new haircut. I no longer feel invisible when I feel femme and I no longer feel like an outsider when I butch it up. I also, you know, kind of like butching it up? And now I feel like I finally can. I think I can wear more shoes and maybe even more men's clothes but also floral headbands and soft scarves and that makes me smile, and sorry, I'm not sorry, I'm super excited because now I can just try the world out for another go and land somewhere else and have it be super amazing and adventurous and honest. The entire fucking time.
That isn't to say, however, that there aren't challenges – that there aren't times where I'm suddenly extremely aware of looking queer in public space and times where that really freaks me out. There are times where I'm scared that now I look like everyone else, some huge lesbian cliché. There are times where I'm worried people are misreading my gender. There are times I'm worried people are misreading my races. There are times I am worried I make white people too comfortable. There are times where I get nervous about what I will say when my mom sees it for the first time, or, more accurately, what my mom will say to me, and whether or not this haircut will push us from "not talking about it" to "not talking at all." I'm scared of the judgement from my family and sometimes when my friends don't tell me they like it as soon as they see me I get self-conscious.
But then I sort of just breathe. I will still be me. I am still me. Even more than before.
---
Special Note: Autostraddle's "First Person" personal essays do not necessarily reflect the ideals of Autostraddle or its editors, nor do any First Person writers intend to speak on behalf of anyone other than themselves. First Person writers are simply speaking honestly from their own hearts.