This Wednesday the Australian Senate rejected a marriage equality bill with a vote of 41 to 26 against same-sex marriage. This happened less than a day after the House of Representatives also overwhelmingly voted down the legislation with a vote of 98-42.
Both Labor Prime Minister Julia Gillard and opposition leader Tony Abbott voted against the bill. Gillard allowed her MPs to vote according to conscience, and not along party lines, on the issues. And despite the bill's failure to make it through parliament, the numbers are encouraging. Labor frontbencher Anthony Albanese, who voted in favour of the reform, spoke to reporters saying that "Just a few years ago there wouldn't have been the support of anything like 42 votes on the floor of the national parliament for a marriage equality bill."
Then there are the statistics showing that the majority of the Australian public is in favour of same-sex marriage. Earlier this year the House of Representatives conducted a survey of over 270, 000 participants and found that 64% of them supported same-sex marriage. Albanese thinks it's only a matter of time before Parliament catches up with public opinion. Meanwhile, same-sex unions are already recognized in five states, and next week Tasmania might just go ahead and legalize gay marriage. If the bill passes next Wednesday, it will offer state-sanctioned marriage to any Australian gay or lesbian couple who wishes to tie the knot. Tasmania is hoping all the happy newlyweds-to-be will help boost its tourism industry.
Not surprisingly, Australia's marriage debate caused a bit of a soap opera in Parliament: there were many well-dressed people with a lot of feelings. When Liberal senator Sue Boyce read the riot act to her colleagues – There are good gays and bad gays; rich gays and poor gays; gays who want to get married and gays who don't; gays who like footy and gays who don't; gays who want children and those who don't – poor Senator John Madigan felt like he was being bullied. He said:
Under the guise of compassion for the desire of same-sex couples, we have endured a non-stop campaign of denigration against those who have refused to buckle under the weight of an attack designed to pour scorn and guilt on those who have the temerity to refuse to deny their principles.
Madigan went on to say that getting angry at politicians who don't support same-sex marriage just isn't very loving, and marriage equality proponents ought to practice what they preach.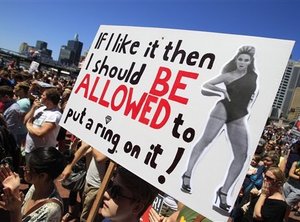 As Finance Minister Penny Wong, who's raising a child with her partner, put it:
I do not regret that our daughter has Sophie and I as parents. I do regret that she lives in a world where some will tell her that her family is not normal. I regret that even in this chamber, elected representatives denigrate the worth of her family. I will not rest in the face of such prejudice. I want for her, for all of us, an Australia which is inclusive and respectful, and this is why this campaign will not end here.
Senator Cory Bernardi, the parliamentary secretary for Tony Abbott is very afraid that an inclusive and respectful Australia will lead to people marrying their dogs, among other things. In a comment made last week that later forced him to resign, he predicted, "The next step, quite frankly, is having three people or four people that love each other being able to enter into a permanent union endorsed by society,wp_postshe said during the parliamentary debate. There are even some creepy people out there… [who] say it is okay to have consensual sexual relations between humans and animals. Will that be a future step?"
Bernardi needs to educate himself on non-monogamy; but it's even more crucial that he read up on consent because he obviously has no idea what it means. If he thinks an animal is capable of consent, maybe he also thinks a woman can consent when she's sleeping or that no actually means yes.
His knowledge of international news is also sorely lacking because though same-sex marriage has been legal here in Canada since 2005, I have yet to develop any sort of sexual attraction towards the elk I see in Jasper. Nor are my fellow Canucks up in Churcill, Manitoba rushing to hook up with the nearest polar bear.
Australia's decision on same-sex marriage is certainly disappointing, and it's deeply unfair to same-sex Australian couples that the obvious bigotry and willful misinformed-ness of some of their legislators is preventing them from accessing the same level of stability that their straight counterparts have. But it's heartening that there's still so much passionate support for marriage equality, both in and out of the legislature. And there's hope that the next time this vote comes up, it might go differently. Which isn't enough, but is going to have to be for now, because the Australian legislature is still putting its irrational fears about what gay equality would mean ahead of Australian families.