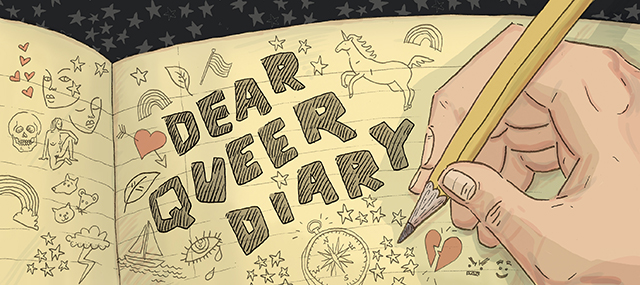 There is nothing in the definition of the word "diarywp_poststo imply that it must be kept secret. According to my dear pal Google, a diary is simply "a book in which one keeps a daily record of events and experiences.wp_postsAnd yet, a non-secret diary is a bit like an ice cream sundae without hot fudge, or Tegan without Sara. I have never shared more than a few sentences of mine. In my book (pun intended!), privacy is one of the reasons that a journal is different from a blog or a personal essay or a letter to your former high school history teacher.
The appeal of a diary is that it is uncensored, full of scandalous anecdotes and withheld opinions that otherwise might never be known. We are under the impression that a person's diary may be the only place that they tell the whole truth and nothing but the truth, without the fear of hurt feelings or not being invited to so-and-sos birthday party. And so, there is something simultaneously taboo and delicious about the idea of reading someone's journal.
If you are concerned about someone reading your journal without your knowledge, it is my pleasure to report that the ever-educational WikiHow has some fine suggestions. Perhaps you are interested in laying a single hair upon the cover of your diary and seeing if it is still in the same position when you return?
To be honest, I think anyone who read my journal would probably be disappointed. Who is hoping to find an exhaustive recounting what I ate for lunch or a lengthy disquisition on the pros and cons of moving to a new apartment? Sure, there might be a few exciting parts. But overall, its secrets are a little more Secret deodorant than Victoria's Secret.
In spite of the relatively dull nature of my ponderings, I still feel on principle that it is crucial that my diary remain a chamber of secrets (preferably sans killer snake and/or dark wizard).
While part of me believes that our queerness means we are already pushed too frequently into silent, secret corners, at the same time, I think there is actually something liberating about having an entirely safe place to air one's feelings with the knowledge that no one will ever encounter them. There are plenty of things that I find difficult enough to admit to myself—just imagine how difficult those same things might be to write down on paper knowing someone else could read them.
The public pronouncement of secrets has its own power (everyone say hello to my old obsession, PostSecret), but my journal is a place for working things out carefully, in private before those same thoughts can be released into the wide, wide world.
That's not to mention the consequences associated with your brother or best friend or significant other-person encountering a secret in your diary that they might be better off not knowing: the impulsive complaint you scribbled after a fight but no longer mean or the secret that's not yours to tell. David Sedaris, who seems to be a rather prolific diary-writer, told Time that "If you read somebody's diary, you get what you deserve," and I cannot argue with his sentiment.
There has been considerable debate online as to whether or not a parent might read a journal belonging to her child with impunity — a topic on which I feel insufficiently qualified to comment given my complete and utter lack of parenting experience. I am fairly sure that my own parents refrained from reading my journal in my youth, though I suspect that this is mostly due to the fact that they well knew that the most dangerous things I was doing were studying European history and pining after unrequited loves. More daring children might provide their parents with more acute temptations — did your parents ever crack open the covers of your dearest, queerest diaries when you were growing up?
More to the point, have you ever read someone's diary? (If so, all I can say is that I hope you have a fan-freaking-tastic excuse for your perfidy. Anyone caught reading my diary will be sentenced to 48 consecutive hours spent watching How To Lose A Guy In Ten Days with only grape popsicles for sustenance.)
Would you ever let anyone read your journal, Straddlers? Who? Why? Under what circumstances? Is this a "when I am dead and in my gravewp_postssituation? Or are your middle school ponderings already in the public domain? Spill your secrets!
---
Dear Queer Diary is a column about the joys (and occasionally, the pains) of journaling. We crack open our tiny notebooks and break out the rainbow-colored pens on the regular, so get ready to limber up your writing hands and document all your beautiful feelings!
Header by Rory Midhani