"I thought we'd get to see forever, but forever's gone away…"
— Boyz II Men
"I just thought she would live forever. I don't know why but I thought she would." This message appeared in my all social media timelines over and over again yesterday. Yesterday, we lost a defining voice in our culture. One that defined strength, courage, honor and wisdom. It became the small voice in the back of our minds that told us that we could do it, or the one that gave us stern warnings in the form of life lessons.  On this day the light of one of our greatest storytellers was blown out. Yesterday, we lost Dr. Maya Angelou.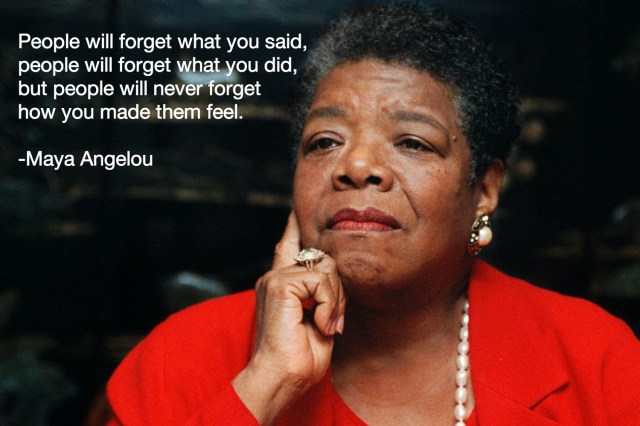 There are not enough words in the English language to describe or define what Maya Angelou meant to our generation. And as she spoke 6 different languages, this is a quite appropriate sentiment. For a generation of young black girls she became a voice in a world that failed to see them as "cute or built to suit a fashion model's size." Her stories and words reminded us of the most intimate and important aspects of our culture. She spoke of the sass and sway of beautiful black sistahs in a way that media never had. The power in our community, the stories we held, the folklore that she passed down as if she herself had been personally chosen to carry them through this segment of the African diaspora. To shine a light into a dark place and bring forth its beauty. She was the voice of your mother, sister and grandmother. She spoke of home like Friday night red light parties and southern Sunday fried chicken dinners and she did it all in the midst of painful recollections of survival. Stories so poignant yet tinged with sorrow that someone everywhere was able to connect and seem visible. For you see, before Dr. Angelou we had never been able to expose the secrets of our communities past and still celebrate the triumph at the same time. She embodied her iconic poem "And Still I Rise." She wrote it because she meant it and she wanted all of us, black, brown, women and men to rise above the circumstances that oppressed us. I don't know one little black girl who can say they never had the privilege of reciting "Phenomenal Woman" for their school or church Black History woman. She put an undeniable arch in our back and sway in our walk as we spoke her words of empowerment. As Oprah Winfrey put it, her stories let black women know "there is a world out there that's about me. Somebody knows about this."
Amazingly, we almost didn't receive the gift of Maya's voice. She learned its power early on. She rendered herself mute at 6 years old after she identified her rapist and he was subsequently kicked to death. She decided that she shouldn't speak because people might die. She believed by speaking up that she had done something wrong. She loved words so much she considered them their own things. But during her time as mute, she also learned to listen. It's this ability to listen to people's stories and situations which allowed her to tell those same stories so eloquently.
But she became so much more than just an African-American icon. She was a national treasure who painted pictures with her words in ways that no one have ever seen. She became only the second poet, and the first African American, to write and perform an inaugural poem. Former President Bill Clinton was given the honor of requesting any poet in the world that he wanted to perform for his inauguration and he chose Dr. Angelou. This was a true testament to how much her voice had become known as an authoritative call to action. Her poems, stories, screenplays and narratives were all very intentional in illuminating a cultural ill so that we could see the personal story that it embodied and we could delicately break down what it meant to us and how we could change.
She was a well of knowledge that spanned decades. She never turned her back on any leader that wanted to come to her for that wisdom, whether it be Oprah asking her to speak on the empowerment of women and the power of spirit or John Singleton asking her to give poetic voice to his justice. Dr. Angelou knew very well the secrets that she held close to her heart as an elder and only needed for you to ask her for it. She was a scholar who personified what it was to be community accountable. She was a healer because she spoke of her life as one steeped in faith in God, mankind and in community. Her words held the power and cadence of an old Baptist preacher or perhaps a Negro spiritual. Her words just by their sheer nature healed minds and hearts.
And now as Maya, the caged bird, takes her seat among the ancestors, we celebrate her for what she has given us. Her body of work is phenomenal and she has garnered almost every award and accolade imaginable. But I believe that if she were here she would say that her greatest accomplishment is what she gave to the people. It was the voice she gave to the voiceless. It was in the faith that she taught us to demonstrate. It was in the stories she told, for we know that if no one documents the stories of our community, it is as if we never existed. It was in the power she displayed. It was the other community accountable artists she inspired. We now understand that the caged bird sings because it MUST or it will die. That the caged bird sings of freedom; the universal song of the caged bird.
For me, as a black, lesbian, masculine of center woman, I thank her for showing me how to make my invisible self visible. I thank her for the lives that she inspired so that they could inspire me. I thank her for bell hooks and Pearl Cleage and Bebe Moore Campbell and Toni Cade Bambara and Nikki Giovanni and Terry McMillan and Angela Davis and Octavia Butler and Paula Giddings and so many others. You are truly our mother, our sister now. We speak your name, dear Maya, with every bit of love, power and respect that you deserve, and that you taught us. We speak your name. We speak your name. We speak your name!