While the media has a long history of sensationalizing stories involving trans people, in the last few months a number of debates have erupted in response to mainstream media figures asking prominent trans women invasive and inappropriate questions about their bodies during interviews. While the response from those media figures to criticism over this line of questioning has varied from equivocation to petulant outrage, what is often lost in the discussion is that one reason trans women object so strongly to this is that we are so accustomed to receiving questions like these in our private lives (or at least, what should be our private lives).
Beyond being merely invasive, there are situations in which trans women can detect a seed of violence in these kinds of questions, which in numerous cases has manifested in actual violence. Last week in Atlanta just such a situation led to an extreme and violent incident in which two trans women were attacked, and one was beaten and forcibly stripped naked in public, evidently as a form of punishment for resisting such interrogation.
Last Tuesday, two trans women, Janell Crosby and Tyra Woods, were walking to a MARTA transit station when a group of cis men approached and starting yelling inappropriate questions at them. Not content with publicly gawking at these two women in public, they began following them, even taking pictures of them on the subway platform without permission.
Janell Crosby later told Atlanta's WSB-TV News, "[They] just kept of asking us was we real… Like really trying to get us. 'Are you real?' 'Are y'all this or that?' Just trying to embarrass us."
"They were trying to find out if we are men or women," said Tyra Woods. "I shouldn't have to disclose who I am to [someone] I'm not even interested in talking to."
However, the situation dramatically worsened when both of these women and the male harassers boarded the train. During transit, Crosby resisted their harassing behavior by telling the men off, to which one of them responded by kicking her. A melee ensued in which one of the men violently ripped the clothes off of Woods while beating her, exposing her breasts and genitalia. She ended up defending herself while completely naked.
An intensely disturbing video of the incident has been posted online that makes the intentions of the men who attacked them abundantly clear: submission and humiliation. In particular, the man who ripped off Tyra Woods' clothes is clearly attempting to shame her about her body, as a kind of answer to the question: "What are you?"
These events are only more disturbing considering that while there were apparently dozens of onlookers, not a single one attempted to intervene at any point, nor did any of them bother to call 911 or alert MARTA authorities, during or after the fight.
Indeed, one observer filmed the graphic video mentioned earlier and then posted it online in order to continue gawking and further humiliate the two women, which is made clear by the tagline on the page, "2 Trannies Get Into A Fight With 2 Guys On ATL MARTA!" [The page with the video can be seen here]. The video has gone viral, with a large number of commenters chiming in with similar transphobic language and expressing disgust at these women's bodies, as well as some pushing victim-blaming narratives regarding the violence they experienced.
The voyeuristic element of this incident is reminiscent of an event from April 2011 in which trans woman Chrissy Lee Polis was brutally attacked and beaten by two young cis women (one of them only 14 years-old) in a McDonald's bathroom in Maryland.
In her own words, Polis stated in the aftermath of the incident, "They said, 'That's a dude, that's a dude and she's in the female bathroom,' … They spit in my face." The two attackers were so brutal that they ended up dragging Polis across the floor of the restaurant by her hair and she eventually fell into a seizure.
Meanwhile, an employee of the restaurant (who was later fired) filmed the incident while some onlookers laughed, and later warned the attackers to run as police were on their way. The video was again posted online with the intention of gawking and humiliating the trans woman victimized in the attack.
"I knew they were taping me; I told the guy to stop," Polis said afterwards. "They didn't help me. They didn't do nothing for me."
Of course, not every time someone asks a trans woman an invasive question does this necessarily come from a place of violence; however, while plenty of shades of grey exist between Katie Couric asking Carmen Carrera, "your private parts are different now, aren't they?" and some guy yelling out, "Bitch, are you a man?!" on the streets, the fact is that all questions along this spectrum are rooted in voyeurism, and usually misogyny as well. The latter point is evidenced in part by the fact that these questions are most often directed at trans women and trans-feminine individuals, especially on the streets where we are most vulnerable.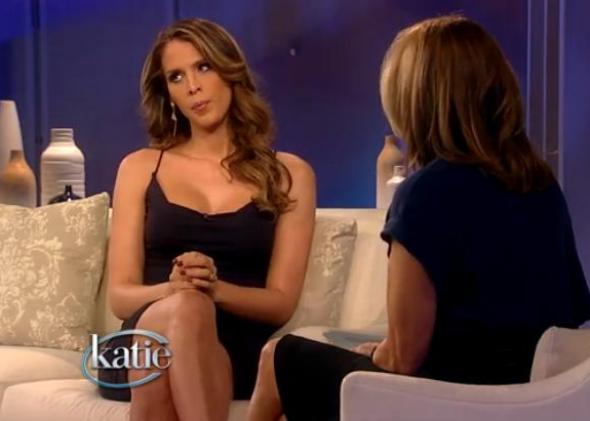 A further important point that is often lost in discussions on this issue is that when media figures force these invasive questions into the conversation, they are implicitly setting examples for real-world social interactions, and that includes people watching at home that may have never even (knowingly) met a trans person before. Casually asking trans women inappropriate questions about their bodies mirrors a society that views interrogation of trans bodies so casually that a man could violently strip a woman naked in pubic, almost certainly well aware that he was being filmed in the act, and show no care or concern for any potential consequences whatsoever.
Indeed, this belief is borne out in the subtle fact that in their news report, WSB-TV News made the unfortunate decision to blur out the faces of the men who attacked Janell Crosby and Tyra Woods on a MARTA train — for some reason choosing to protect the identities of men engaged in a public act of sexualized trans-misogynistic violence.
And while of course many trans people have been generous enough to share intimate details of their stories in books, interviews, and elsewhere, it is partly with this important point about modeling real-life interactions in mind that I have previously proposed that if media figures insist on asking trans people these kinds of questions, the very least they could do is to frame those questions by acknowledging the fact that they would never ask similar questions of a cis person.
Along these lines, one trans woman who has kindly shared her story with the public, author and advocate Janet Mock, recently beautifully exposed the invasiveness of these types of media questions when she flipped the script in an interview with journalist Alicia Menendez. Mock, who had previously had her own experience with gross, misgendering questions on Piers Morgan's now defunct CNN primetime show, asked Menendez about her history as a cisgender woman with questions like, "When did your breasts start budding" and "Do you have a vagina?" Even though Menendez graciously agreed to go along with the scenario from the beginning, as soon as the interview ended she instinctively cringed, acknowledging, "That was awful!"
Once it is acknowledged that we would never ask similar questions of a cis person, I think it becomes quite difficult to justify asking them of a trans person, especially when they have no relationship to the ostensible topic at hand. And again I emphasize that part of the reason trans women object so strongly is because these are similar to issues we deal with in our own personal lives, and that oftentimes these questions form a component of badgering or intimidation we face in the real world. From my own perspective as a trans woman who has moved around a lot, I have myself experienced variations on this type of public interrogation in many different places and cultural contexts.
In one incident, during a visit to Dresden I was riding a tram home from work late at night when I gradually realized two men talking loudly behind me in German were attempting to draw other passengers' attention to my presence. While I couldn't understand precisely what they were saying, the basic meaning was certainly made clear a couple of stops later; as they passed my seat while exiting the tram one of these men tapped his finger sharply on my upper wrist — where I have a bit more hair than the average woman — and stated loudly for everyone on board to hear, "Ja, it's a man," suddenly finding it useful to employ English.
Other experiences I have had with these kinds of interactions have varied from misguided curiosity from strangers to acts of intimidation even more outright than the incident in Dresden. Keep in mind, these are my experiences as a white trans woman from a middle class background who is not nearly as vulnerable on the streets as trans women of color like Janell Crosby and Tyra Woods, or trans women who need to rely on sex work to get by.
To their credit, MARTA spokesperson Lyle Harris has stated that MARTA is investigating the attack that occurred on board their train and has pledged to take action (although I notice they still have not even issued a press release about the incident on their website). From this point, the LGBT community and allies should all remain vigilant of the issue in order to ensure they follow through.
That having been said, this incident should also serve as a wake up call to some allies within the community itself who have all too often been dismissive of the issues trans women face and how media shapes public perception of our lives.
And finally, this is also a moment to push the news media — which so far seems to have basically ignored this story — to do better. Considering the media's long history of sensationalizing trans women's lives, sensationalizing trans womens' deaths, and in some cases almost certainly contributing to their deaths, having them extend some basic sensitivity in how they present our stories is long overdue.