This past weekend I was in Las Vegas for ClexaCon, a huge fan con that's all about queer women in TV and movies, and I had the luck to meet Lisa Franklin, a cartoonist from New York who makes the very funny, very gay and very cute four panel webcomic called My Two Lesbian Ants. We had just gotten out of a panel and she told me about her comic and when I went back to my room to check it out, I fell in love. As the title suggests, her comic follows a group of lesbian ants as they dig tunnels, try to date and talk to each other about life, and let me just say, it is a giggle fest.
Each comic is pretty simple in its set up. We usually see two or three ants — a combination of Angie, Peggy and Sandro — but sometimes there are others, and it's just four simple panels that usually ends in a gag. It's the kind of comic you'd see in a newspaper, but it's gay and a lot funnier than Dilbert.
There's a beautiful art to traditional four-panel comics and Franklin is showing off her skills as an artist in this comic. She has no space to waste in her comics, and so she doesn't. Instead, she sets up and executes these classic gay jokes with pizzazz, as her comic would say. The art isn't anything fancy, but it doesn't need to be, and the ants that populate the comic give it a charming and familiar feel that welcomes you home. She's even able to get a decent about of character growth in these short gag strips. Sometimes a simple comic is the best way to deliver a joke and Franklin is proving that.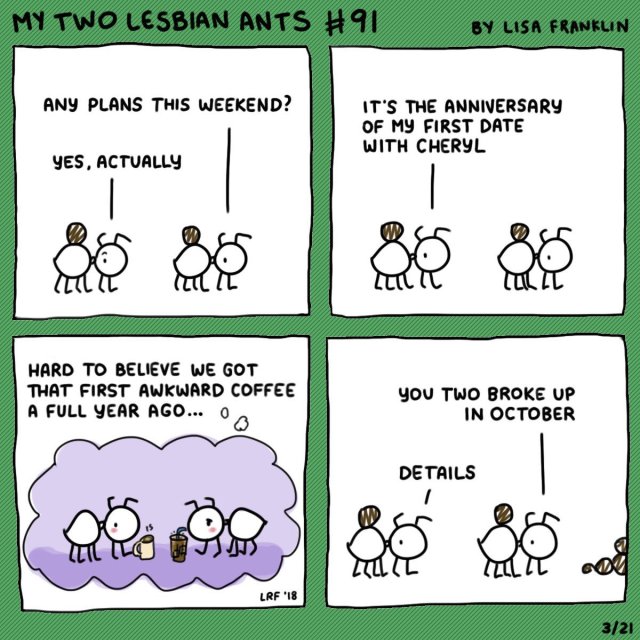 Some of my favorite MTLA strips are when Franklin makes Very Lesbian jokes about dating and love. Whether it's celebrating an anniversary for you and your ex or winning a bronze medal in the Olympics, these lesbian ants are just like lesbian people. They're full of emotions and always want to talk about them, but rarely want to actually deal with them in any productive way. They're both too nervous to talk to girls and too gay to ever talk to guys. They want good ant representation in the media they watch. They freak out and throw up when a girl ant actually says "yes" to going on a date with them. Lesbian Ants! They're just like us!
Franklin is approaching comic #100, which should happen this week. You can keep up with the comic on both twitter and instagram, where Franklin updates her comic three times a week, on Monday, Tuesday and Wednesday. You can also follow Franklin herself on twitter.
New Releases (April 11)
Tomb Raider: Survivor's Crusade #4
Batgirl and the Birds of Prey #21
Wonder Woman by George Perez Vol 3 TP
Ducktales Mysteries & Mallards TP
America Vol 2 TP Fast and Fuertona
---
Welcome to Drawn to Comics! From diary comics to superheroes, from webcomics to graphic novels – this is where we'll be taking a look at comics by, featuring and for queer ladies. So whether you love to look at detailed personal accounts of other people's lives, explore new and creative worlds, or you just love to see hot ladies in spandex, we've got something for you.
If you have a comic that you'd like to see me review, you can email me at mey [at] autostraddle [dot] com.