Is anyone else getting a metric ton of persimmons? Sure, they're beautiful, but how many display bowls can you have around your house before you start to feel bad for using the fruit merely as ornamentation?
Growing up, I never really liked persimmons. They reminded me, botanically and texturally, of tomatoes, and I hate tomatoes (sorry!). It's true that, like tomatoes, persimmons are not widely considered to be berries, but in terms of botanical morphology, it is a berry! This Autumn, I've been blessed enough to be gifted with bagfuls of persimmons (mostly the squat, pumpkin-shaped ones), and have been reaching out to my friend and family network to see what to do with them.
So what do we know about the flavor palate of the persimmon? When ripe, they are extremely sweet, which means they could pair well with something salty (mild cheese, tuna), acidic (kombucha-dressed salad with fennel and pears), and fatty (avocados in a smoothie/dressing, or pork). Since I'm a fan of potpies when it turns cold out, I decided to experiment with a recipe a friend sent to me, and make a persimmon pork pot pie with collard greens. It was time consuming, even when using store-bought dough, but absolutely worth it (and following these instructions should yield two pies — perfect for now, for sharing, and for freezing). The original recipe is from Peanut Butter & Peppers, but I added pineapple sage, collard greens, fennel seeds, more pork, and made it into two pies.
Ingredients:
2.3 lbs pork roast (loin works super well!)
7 persimmons (I used a combination of super ripe, soft fruit and harder fruit), peeled and sliced
1 medium onion, cut into chuncks
Olive oil (for drizzling on pork
2 tablespoons chopped, fresh pineapple sage
1 teaspoon salt
1 teaspoon pepper
1 teaspoon fresh fennel/dried seeds
1 cup chicken stock (or white wine)
2 teaspoons cornstarch (for thickening the gravy)
1 bundle collard greens, chopped (can substitute kale or chard, but collards really hold up well in this stew-like recipe)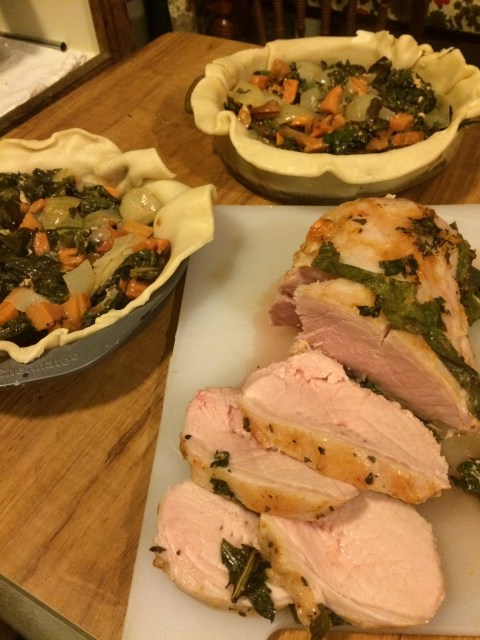 To do:
1. Preheat oven to 350.
2. In a baking dish, place the pork loin on a bed of chopped onions, persimmons, and greens, covering pork with sage, olive oil drizzle, salt and pepper.
3. Roast for 1 hour 40 minutes, or until pork temperature reaches 165 degrees F.
4. Meanwhile, roll out store-bought crusts (I used Trader Joe's brand, though you're free to use your own favorite, or make your own, as long as you make enough to cover the pie, too!). Line two pie tins with dough in preparation for the filling.
5. When pork is cooked through, remove pan from oven and cut the roast into chunks. Raise oven temperature to 400 F.
6. Go ahead and start the gravy, by adding chicken stock or white wine to a medium sauce pan and whisking in cornstarch. Slowly add fennel, whisking quickly until mixture is thick and bubbly (about 7 minutes).
7. Divide the roasted greens, meat, and onions into the separately prepared pie tins, drizzling with equal amounts of gravy. Cover with top crusts and slice little holes in the crust to allow steam to rise. Brush on a mixture of beaten egg yolk for crispiness (option), and bake for 35 minutes, or until crust is done.
8. Remove pies from oven and allow to cool for twenty minutes. Serve immediately, store in airtight containers for up to ten days, or freeze for up to six months.