I'm not really into the standard "there are two types of people in the world" dichotomies. Human beings are varied and thrilling and obviously there are millions of types of people in the world; whether you prefer, say, dogs or cats, or coffee or tea, does not define you as a person. That said, there are certain issues that do reveal aspects of your character based on where you stand on them. One of those issues – perhaps the most important of our lives – is the pressing and oft-discussed question of Willow Rosenberg, television's most computer-literate magical lesbian.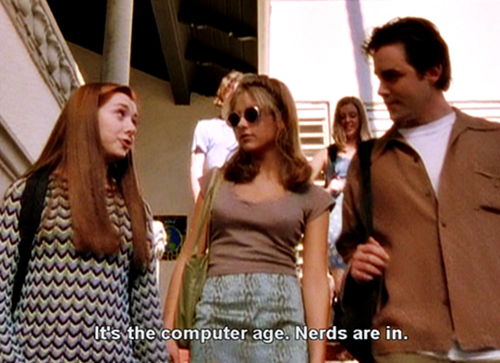 Or is she a lesbian? Therein lies the rift. Some back story for the uninitiated: Willow dated dudes for the first three seasons of Buffy the Vampire Slayer; she had a longtime unrequited crush on her best friend Xander, then dated the scruffy and adorably taciturn guitar player Oz. Xander began to return her affections while she was still with Oz, resulting in a torrid PG-13 affair and a short-lived Willow/Oz breakup, but she and Oz then reunited and were really (as even the biggest Tara fan has to admit, and I know because I am the biggest Tara fan) extraordinarily sweet together until midway through season four. Then Oz, who did I mention was also a werewolf, cheated on Willow with another werewolf, and left to pursue his movie career I mean meditate on the implications of his lycanthropy in Tibet or something. I don't know, 1999 was a weird year for everyone.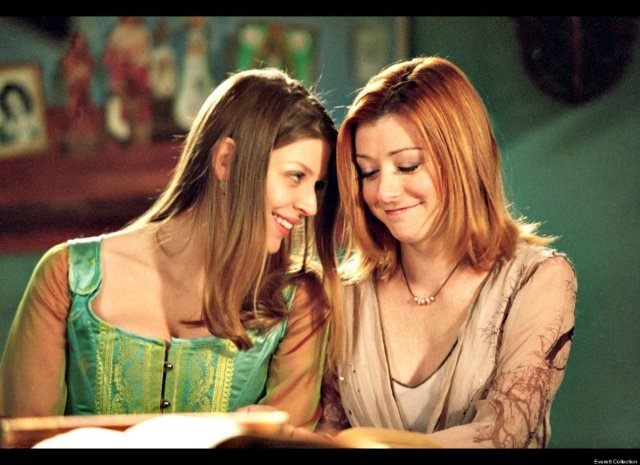 With Oz out of the picture, Willow's burgeoning friendship with Tara developed into love – a love fraught with questionable wardrobe choices (why would anyone wear an ankle-length jean skirt?), musical numbers, and witchcraft used as a metaphor for everything from cunnilingus to drug addiction, yet still one of the most poignant and heart-wrenching loves I've ever seen on television. Willow's coming out was tied to her relationship with Tara, but even after Tara's death, Willow never seemed to consider going back to men. She continued gaying it up, and even had the first lesbian sex scene on prime time television, though my heart will always ache that it was with Kennedy instead of with Tara.
In the later seasons of Buffy, Willow never identified as anything other than one hundred percent totally super lesbo. At one point, when Xander's ex-demon girlfriend Anya (if nothing else, I hope these character descriptions are convincing any holdouts to go watch Buffy already) expressed concern about the possibility that Willow would steal Xander away from her – since, you know, she'd done it before – Willow's response was an indignant "Hello?! Gay now!" She also described her relationship with Tara as "best friends. Girlfriends. Lovers. Lesbian, gay-type lovers." Willow is never described, by herself or anyone else, as bisexual, despite her history of dating and loving men.
So here's the question: Is Willow a total failure of bi visibility – a character who could have been written as bisexual, but whose hetero past was simply ignored by the writers when they decided to "make" her gay? Is her insistence on identifying as gay, not bi, a biphobic or bi-erasing gesture? Or is she actually something separate, something more progressive and interesting than bi erasure – a strong, dynamic character whose sexual orientation is genuinely fluid? I believe that the way you answer this question reveals a great deal about you, your values and your beliefs about queerness.
People who identify as bisexual tend to find Willow extremely disappointing. That makes sense. She had the opportunity to be prime time television's first out and proud bi chick, and she passed it by. To many people, especially in the bisexual community, a woman who identifies as "straight" when dating men and "gay" when dating women sets off some alarm bells about internalized biphobia. And insisting, as Joss Whedon did, that Willow is unequivocally gay, and "it just takes some people a while to realize it," can't help but seem disingenous, an attempt to justify away her obviously real feelings for men in order to make the narrative of her queerness as simple and palatable as possible.
"She likes men and women!" I remember my college roommate fuming, when Willow described herself as gay for the eleventeenth time. "She had an emotional crisis over whether she should make out with Oz or Xander! She was torn between two men! She's bisexual! " She had a point – and, as a bisexual girl who had experienced her fair share of "just pick a side already, God," plenty of reason to feel infuriated. Rewriting Willow's early loves as insignificant or produced by self-delusion is the exact same kind of revision that bisexual people are often urged to practice on their own histories to avoid making other people – gay or straight – uncomfortable, and watching a dynamic that has hurt you play out in your favorite TV show is a great way to end up feeling really shitty.
But I think there's another way to read Willow – a Willow less taken, if you will, and not one that involves covering Oz and Xander with white-out and going about your exclusively homosexual business. If you look at her from a certain angle and kind of squint, Willow, like a Magic Eye picture, springs into startling resolution as one of the most empowering depictions of fluid sexuality that has ever graced the small screen.
The thing is, I see a lot of myself in Willow. I, too, dated nothing but dudes in my high school and early college years. Unlike Willow, I described myself as bisexual at that time, and was aware of occasional attractions to women, but I seldom acted on them. Dating women seemed complicated and intimidating, and I was just as interested in men – more so, even – so why not save myself the trouble?
Then I had some bad experiences with guys. Nothing traumatic, just a series of annoyances and minor heartaches that made me wonder whether I would ever feel completely myself, completely seen and understood, in a partnership with a man. At that point, I started to explore what I thought of as my bisexuality in earnest, and I discovered something wild: I really, really liked girls. Like really. Like a lot. Like more than I ever expected I would. And once I'd had a few great times with women, I felt the compass of my libido begin to swing. More and more, I noticed attractive girls on the street. More and more, my celebrity crushes were female instead of male. More and more, when I thought about what kind of person I might like to end up with in some far-off settled-down future, I pictured a woman. It wasn't until I met the person to whom I am now married that I really became comfortable calling myself a lesbian, but long before then it was clear that, though I'll never be completely monosexual, something had shifted. I wanted to be with women. Women were the San Juan Capistrano toward which the swallow of my vagina must eternally wing.
This is how I see Willow when she meets Tara. She's aching and desperate after her breakup with Oz, and she finds this woman who understands her better than shy, nerdy Willow ever expected to be understood. Their connection, their love, comes from the very thing that makes Willow unique, the very thing that makes her strong, and suddenly Willow feels seen in an entirely new way. In Tara's eyes, Willow is finally the person she's always wanted to be – both powerful and cherished, both protector and protected. I don't buy that Willow never loved anyone before Tara, but I absolutely buy that she never loved anyone the way she loved Tara. And I find it totally plausible that discovering that kind of love would make her reluctant to return to the kind she'd had before.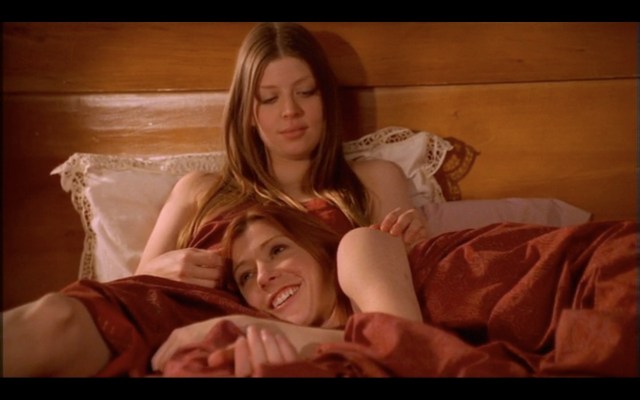 I know it's popular to depict sexual orientation as something inherent and immutable – you're born gay, or straight, or bisexual, and that's what you're stuck with forever – but I don't think it's that simple, at least not for everyone. Sometimes you meet the right person and suddenly everything is different. Sometimes you have choices, a multitude of paths you might explore, a plethora of relationships you might nurture or neglect. To say "Willow must have been bisexual all along" is to deny that love can change you, can climb inside your head and heart and rearrange all the furniture, can spin you around and around until you're pointed in a completely different direction than you ever imagined you would go. I don't deny that there's something comforting in the notion that we are born with the person we will become already curled up inside us waiting to burst forth, that we have a constant internal identity that does not alter, but I think for many people it's not always that simple, and I like the possibility of Willow being one of them.
Now, for the sake of clarity, I want to point out that I absolutely don't think either of these readings were intentional on the part of the writers. I think the entire story arc of Willow's relationship with Tara and her sexual orientation was written sloppily, by people who have never actually lived through what Willow has lived through. I don't believe they thought out the implications of this storyline beyond "let's make her gay, that's progressive of us; let's say she's always been gay, that's less complicated." Any reading of the coming-out narrative other than "poorly handled" is entirely at the discretion of the viewer, and there is no right or wrong answer here.
But given the choice between a Willow with deeply internalize biphobia and a Willow with a fluid sexuality – a Willow who falls in love with Tara, then becomes the person she needs to be in order to live up to that love – I'm always gonna choose the latter. Does Willow contradict herself? Very well then, she contradicts herself. She is large. She contains multitudes. She's complex and multifaceted and okay, sometimes extremely fucked up, but she follows her heart wherever it leads her. I like that in a woman. I think that's something we could stand to see a whole lot more of, both in television and in real life.