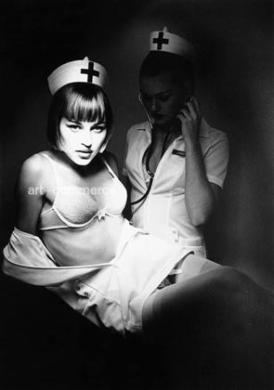 HEALTH CARE: After a long, hard debate and, according to the people on the teevee, a lot of reading, the Democratic Health Care Package has passed the House by a vote of 220-215!!! It must be a unicorn! Oh, um, except that the passing is thanks to the anti-abortion Republicans who sided with the anti-abortion Democrats. I feel like this is a "you win some, you lose some" situation. Yeah, it sucks that the pro-choice movement had to take a hit. But government is about compromise, after all, and the amendment that ended up getting the bill passed isn't much different than the current laws restricting the use of federal money to fund abortions. It could have been a lot worse, but it's unfortunate to see (per ushe) a healthcare reform bill being used to push a hotbutton conservative cornerstone issue (abortion). Always a pleasure to have men telling women what to do with their bodies written into the constitution.
Democrats say the House measure, which will be paid for via taxes and Medicare cuts, would extend coverage to 36 million people now without insurance while creating a weakened public insurance company. It will end insurance company practices like not covering pre-existing conditions and dropping sick patients.
We feel excitant that this happened!!! But we also feel scared that it will be taken from us, as we have Maine/California PTSD extending to everything the government grants us. Now we get to see what damage the Senate can do.
As you know we have a lot of feelings about health care. What's your take on the health care reform bill? (@gawker @reuters)
REPUBLICANS: Someone let Rep. John Shadegg (R) near their baby, and he used it to oppose healthcare reform. "Mattie believes in freedom! She says, 'If you want health care, pay for it yourself!'" (@joemygod)
GAGA: "I am exactly who I say I am." Lady GaGa talks about herself, David Bowie, and her new album The Fame Monster. (@vibetv)
GLAMBERT: Queerty thinks Adam Lambert might have a new boyfriend, but Adam appears to find it hilarious that anyone might think he's dating LA cutie Ferras Alqaisi. Or else this is one of those fun sexual games they play. (@queerty)

FACEBOOK: Slate's Farhad Manjoo explains how Facebook knows you're gay. It turns out it's not because you're a member of the "Team Lindsay" facebook group or your fruit tattoo. (@slate)
MICHAEL JACKSON: Michael Jackson's posthumous movie This Is It has passed the $100 million mark. I still haven't seen it and I don't plan to, but maybe Alex Vega will when she gets back from the lesbian cruise. (@hollywoodreporter)
LOHAN: Comic Confrontations – Judge Judy vs. Michal Lohan! "If I had two idiots for parents, I'd probably want to escape reality too! You both need to care about your daughter more than you care about your press! Goodbye!" (@jezebel)
BOLLYWOOD: Bollywood actresses Kareena Kapoor, Katrina Kaif, and Shilpa Shetty have all said they wouldn't be willing to pull a Charlize Theron and kiss a women for charity. This is disappointing, but Rani Mukerji and Priyanka Chopra apparently didn't answer, for which some of us are grateful. There is still hope. (@afterellen)
GLENN BECK: What lurks within Glenn Beck? Well, an amazing Glenn Beck imitation clearly lurks within John Stewart: