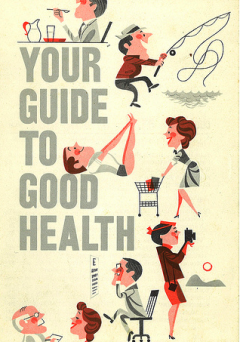 Hey you know what no-one ever talks about anymore? Health care! No but seriously, everyone is talking about President Obama's new plans for reforming the health care system in America … and we thought it would be worth a look at what we all deal with in the day-to-day when it comes to Health Care. [I guess if there's three things Americans are terrible at talking about honestly, it'd be money, the inner workings and healthy functions of our naked ugly bodies, and (right now) employment.] We've heard the absolute horror stories (and there are many), but these are our stories. 'Cause you know — Sicko ain't the whole story.

Team Autostraddle often lacks the diversity of perspective/experience we wish we could for most political discussions. But we found that when it comes to employment, finances, and health care, perhaps "your twenties" is precisely the time period when one is most likely to have a group of friends with wildly variant situations.
In addition to the core team reporting — including our resident Australian Crystal –– this week's roundtable includes Intern Emily (representing Canada), Intern Daphne (Belgium!) and Natalie's friend (that's right, a boy!), who currently resides in The UK, to participate.
So what's your situation? If you're a big ol' lez, it's likely your struggles to get adequate care are even more pressing than for strais who can marry their way into benefits. Let's begin.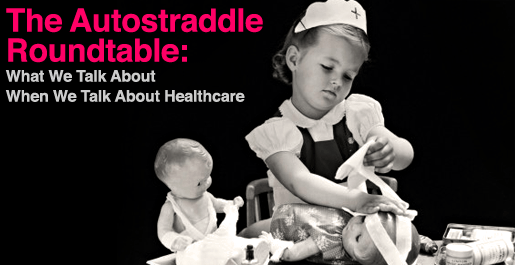 Alex – 24 – New York, USA  – Insured (via ex-employer)
"What the f*ck is my plan good for? Really Papi?"
Since I lost my full-time job in June, I pay a modest monthly cost for Cobra through my former employer. Luckily, Obama raised Cobra's subsidy under the new economic stimulus package to cover 65% of this cost for me. So anyone who has lost their job (me!! meee!) gets 65% of this monthly health insurance charge covered by the government. I'm really thankful for this.
"It's still taking me way too long to figure out what is and isn't covered under my specific plan."
While I was working I was covered under Oxford Health Insurance… I believe it was the POS* Plan? It's still taking me way too long to discover what is and what is not covered under my specific plan. They make it fucking impossible with their big fancy words!
Basically, I recently had an upper endoscopy (it was 10 minute procedure in which I was put out and they stuck a camera down my throat,) and then I got a $600 anesthesia bill and a couple months after that a $1100 bill for the endoscopy itself. Nice. What the fuck is that plan good for? Really papi.
Needless to say, I guess I'm pretty ignorant about health insurance and its issues. Howevs, I do know that the state of health care in our country is absolutely deplorable and things 'round here need to change. It was a similar scene in 1965 when our prized Medicare program passed the Senate despite the same grumblings from the right about "socialized medicine". Yes, the financial situation today is more complicated. But had the very distant financial projections of the Medicare program been made known at the time, the Medicare bill wouldn't have passed. Just my little piece there… totally up for discussion.
* "Piece of Shit"


Stef – 25 – New York, USA – Uninsured
"I'm 25 and often feel like I'm 80."
I haven't had any kind of health insurance since graduating college in 2004. I can't afford the state-wide programs my worried Jewish mother forwards me articles about. It hasn't modified my behavior per se — it's not like I was doing a lot of skydiving or skiing before –but I'm definitely cautious as I know emergency healthcare just IS NOT AN OPTION for someone like me. Every time I get a stomach cramp, I think oh God, it's my appendix, I'll need surgery, I will go bankrupt. I often tell people that if I ever break an arm or a leg, you may as well take me out back and shoot me.
I often tell people that if I ever break an arm or a leg, you may as well take me out back & shoot me.
Presently, I only see doctors in absolute emergencies, like ruptured eardrums or extreme strep throat. Last year, I experienced the profound joy of trochanteric bursitis, which is an inflammation of the shock absorbers in my left hip. Basically, the bones in my hip were grinding together constantly, causing excruciating pain and making me literally unable to walk. I lived in a fifth-floor walk-up in Spanish Harlem and didn't have the luxury of… well, anything, so I saw an orthopedist. It took the doctor about a minute and a half to diagnose me — for a $400 charge.
I was told to take expensive arthritis meds for a month & attend physical therapy twice a week for eight weeks at $75-$125 a pop. A month later nothing was better so the same orthopedist gave me a $400 cortisone shot.
Luckily, my parents stepped in and helped me out, but this was a problem that should have resolved itself within a month. After eight weeks of therapy, I was still limping but couldn't afford treatment anymore. My parents literally asked if I could "just take an Aleve or something." It took me a few days to understand that I wasn't actually mad at THEM; they were helping me out as much as they could. I was mad at the SYSTEM.
Now this supposedly temporary ailment is something I live with almost constantly. If I'm super active, doing a lot of walking or even dancing, my hip will start aching and I'll have to slow down. I'm 25 and often feel like I'm 80. I simply cannot afford to have this properly treated, and have instead become a huge fan of homeopathic remedies and illegally acquired pain medications.
It blows my mind that in other countries, emergency medical care is a given, and doctors are something you can just see whenever you want to. I would absolutely LOVE to have public health care that I could afford, and I would love to be able to be more pro-active and conscientious about my own health. It would literally HELP ME DANCE.

Intern Emily – 19 – Canada, USA – Insured (government)
"The biggest problem in Canada is long lines."
Canada has a healthcare system very similar to that of Australia's. It's publicly funded and offers all residents access to hospital/doctor/basic treatment, with variations among provinces as to how much has been set aside. In Quebec, we all have "compulsory" health insurance — the word sounds bad, but why wouldn't anyone want to be able to show their Medicare card and get a doctor's appointment?
"…why wouldn't anyone want to be able to show their Medicare card and get a doctor's appointment?"
Thankfully nothing serious has ever led me to test the system, but I hear good things about it and I've never had to worry. My Mom had cancer and my Dad says our Quebec health insurance did cover standard treatment, which is great 'cause most people couldn't afford it otherwise. I had a free eye doctor 'til I turned 18, and though my parents have to pay for my glasses & contacts now, in the grand scheme of things they're not complaining.
The biggest problem here is long lines. 'Cause it's free or prepaid, people go to the doctor for everything just 'cause they can.
For more serious cases obvs people with emergencies get to go first, but even people who don't have life threatening injuries/illnesses will sometimes have to wait months for surgery. Though after reading the rest of the roundtable and listening to This American Life's podcast about the health insurance industry, I'd rather wait in line.

Laneia – 28 – Arizona, USA – Insured (via husband)
"As a mother, I'm constantly aware of my own mortality."
Health care is a serious pain in my neck. As a mother, I'm constantly aware of my own mortality. I mean, if I die of cervical cancer [one of at least six diseases I'm convinced I have at any given moment because I might be a hypochondriac], there are two tiny people who will seriously miss me. Then they'll grow up to be angry, bitter men, unable to truly love someone because of their gripping fear of abandonment. Right? Right. It's sort of my job to stay alive. And in order to stay alive, I need preventative care, which requires health insurance. The health insurance I currently enjoy is provided to me through my husband. That's right. I'm still married! On the one hand, this affords me health care. On the other hand, I'm still married.
"On the one hand, still being married affords me health care. On the other hand, I'm still married."
I could probably obtain health care through a state-run program, but I haven't looked into it. My partner's employer does provide domestic partner benefits, but in order to receive them we have to actually be domestic partners [go figure!], which requires a filling out of forms and oh yes, neither of us can be married to someone else. What a lovely corner I've painted myself into! Happily, divorce is in my immediate future, so I'll soon be swimming in the confusing sea of acquiring new health insurance.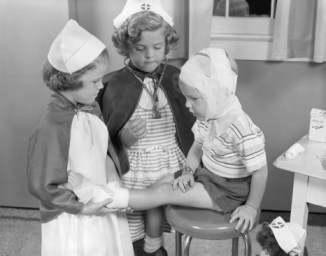 I've never been without good health care, which is sort of just dumb luck on my part, and despite my hypochondria, I'm relatively healthy. I've never experienced the stress of being unable to afford a hospital bill, yet. I think it's realistic to say that we're all just one terrible accident or moment of fate away from being in that position, and that's a pretty frightening thought.
The fact that quality health care is seen as a luxury in this country is reprehensible. It is a basic human right and should be provided to everyone, plain and simple. I still support a public option because I believe it will force the private health insurance industry to stop being such assholes and it would give me the opportunity to insure myself, as opposed to always being someone else's dependent.

Tess – 28- Indiana, USA – Insured (small business owner)
"Health insurance is by far the largest expense my company incurs."
I've never gone a day without health insurance. I've either been covered under my parents or through my company. Currently, I technically pay out of pocket for my insurance. I own a small company and provide health insurance to my employees and myself via a group plan which is by far the largest expense my company incurs. I spend $40,000 a year to insure 8 people. The plan doesn't include dental or vision and comes with a very small discount. I generally don't use the insurance outside of my yearly trip to the lady doctor and yearly allergy shots.
However, this one time I almost died and racked up over two million dollars worth of hospital bills for which I only had to pay $10,000. I have no clue what would've happened to me had I been on a government plan or uninsured. I can't even begin to think about that.
Thankfully I can afford to carry this coverage and will continue to pay the inflated price to keep it. I do think that the government should provide some type of plan to those who can't afford it but not at the expense of quality care. The way the government currently provides insurance sucks. Yeah it's better than nothing, but that shouldn't be the case.

Next: "It's exactly what the anti-universal-health-care people fearmonger you about — mediocre doctors, overcrowded clinics, impossible bureaucratic paperwork mazes to navigate for basic care and indignant overworked asshats on every "service" line."

Stories from Carlytron, Crystal, Riese, Robin and Intern Daphne

Pages: 1 2 3See entire article on one page