We're gonna do our best to keep up tonight with the results of the world-changing elections happening all over the country today but especially in Maine & Washington! If you've ever witnessed an Autostraddle live-blog of anything, you know that it is totally incoherent nonsense and sometimes legs get sliced open.
We'd love to hear from anyone who's been out to the polls in Maine or Washington today. Or both, in which case you must be an X-Men person who can shape-shift and move through time, in which case, thank you for coming to earth to save us!
3:20 AM Suck It!
I have written the concession article.
Last word on the Live-Blog:
2:00 AM Maine, Esmerelda is Mad At You
I think if I watched the Phillip video right now, I might cry!
1:36 AM Suck City USA
"Wherever it has been established that it is shameful to be involved with sexual relationships with men, that is due to evil on the part of the rulers, and to cowardice on the part of the governed." (PLATO)
1:20 AM If I can't find my chapstick in the next ten minutes I'm cracking skulls
Huffington Post: Voters Repeal Law Legalizing Gay Marriage
Queerty: G'Bye, Marriage?
1:06 AM Bottom Line the World is going to End in 2012 so who cares.
You know what I mean.
1:04 AM I feel like my head is on fire
Our second gay anchor of the night, Anderson Cooper, is trying to bring focus back to gay marriage in Maine. Rachel Maddow had to do the same. Did she ever lose her cool I can't remember?
Gawd, they really need to be prodded over there in teeveeland. This is obviously not live. Right? What the hell is going on? CNN, wtf. I miss the past. I like this better. 23% , remember when we only had 23% votes in?
12:52 AM: Look at how cute the mayor in Houston is!
Ana Marie Cox asks Larry King talking heads to bring their attention back to Maine. Says Obama should've given attention to Maine instead of to New Jersey or Virginia. Larry King said, "he's opposed to gay marriage, so why would he go in for that issue?" Guess I imagined that HRC speech. Maybe that's why Lady Gaga followed it by playing "Imagine."
Houston City Controller Annise Parker was the top vote-getter Tuesday in the race for mayor, garnering more than 30% of the vote in a crowded field of candidates.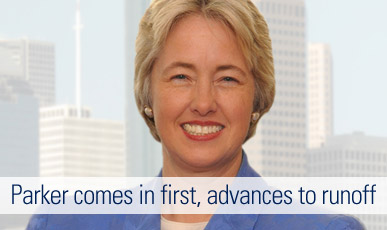 12:47 AM: The rights of the minority should never be decided by a majority vote.
Pam's House Blend reports Good News in Houston and North Carolina.
Jesse Ventura on Larry King said, "If you put it up to the vote of the people, we'd have slavery again."
12:44 AM: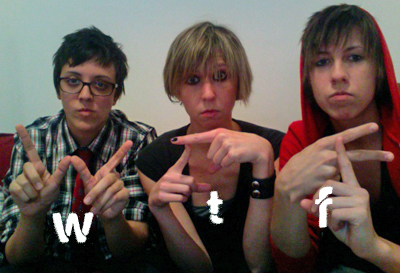 12:32 AM: Ana Marie Cox has an alternative lifestyle haircut and I like it
The lesbian is still winning in Houston. Everyone paying attention? Michigan & Texas voted for the gays tonight, and Maine didn't! Maine! Maine is like right by Ben & Jerry!
I have decided this is all a situation of semantics, I think people are legit confused at the polls by the voting "Yes" to reject a right. I mean that's such a confusing statement. Really on so many levels.
12:30 AM: Puppy
12:27 AM: Mainlining Part Duex
82% Reporting.
52.36% YES
47.64% NO
12: 21 AM: Mainlining
Dear Asshats of America,
Do you realize no other country in the world that you'd actually want to live in would put up with your bullshit? You shouldn't be so ungrateful.
Love,
Autostraddle.
12:20 AM: I HATE EVERYONE EXCEPT FOR EVERYONE IN WASHINGTON
I love puppies, ice cream, and sunshine, and I hate people!
12:18 AM: It's too bad I already slit a body part last year.
79% reporting.
52.41% Yes
47.59% No

12:17 AM: It's Time for a Recount?
From Open Left:
+ The campaign has to wait for certification from the Sec of State, which will happen after all absentee ballots come in. In Maine, there is a no-excuse absentee ballot law and she expects there to be a "significant" number of absentees.
+ The certification takes a maximum of 20 days but is almost always done before then. The campaign has to pay a nominal fee (ranging from a few hundred bucks to $10K but more likely to be a few hundred) depending on how close the vote is.
+ The recount is statewide, all or nothing. Not challenging individual precincts.
+ Based on past experience, the recount will take at least a few weeks and likely longer than that.
I'm going to re-use a graphic from the DODF, still applies: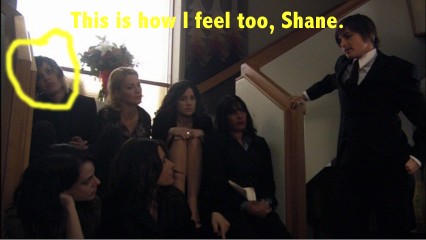 12:07 AM" i hate everyone
Maine: 76% Reporting
Yes 52.11%
No 47.89%
In other news, Sarah Shahi is still really hot!
11: 57 PM: Blergh
Maine: 73% reporting.
51.86% Yes
48.15% No
11:48 PM: Yes Leads by 14,656 votes (51.8% to 48.2%) w/ 68% reporting.
Tinkerbell is angry
11: 45 PM: You have to outclick so it gets bigger and you can see the look on his face
11:41: I Wanna Live in Friendship & Hope
OMG, I am looking at the unreported districts, and in Knox County Maine, there's a town called Appleton, another called FRIENDSHIP and! AND! Another called "Hope"! They have a "Hope" in Michigan too, so. Also, Knox County has a town called "Vinalheaven" which is clearly a misspelling, must be filled with record-album-loving hipsters who like gay people and all free spirits in general.
11:39 PM RECOUNT! I MEAN RU-DY RUDY RUDY!
From Open Left: After talking with some people here, based on projections from the campaign and looking at the rural numbers starting to trickle in, there is a very, very good chance of a recount, and we're making preparations for that.
11: 34 If George W. Bush Somehow Managed to "Win" the 2000 Election despite a lot of predictions to the contrary, Certainly We Can Win This One.
Maine: 65% reporting.
Yes 51.59%
No 48.41%
11:31 PM Le Sigh
Maine: 61% reporting
Yes 51.5%
No 48.5%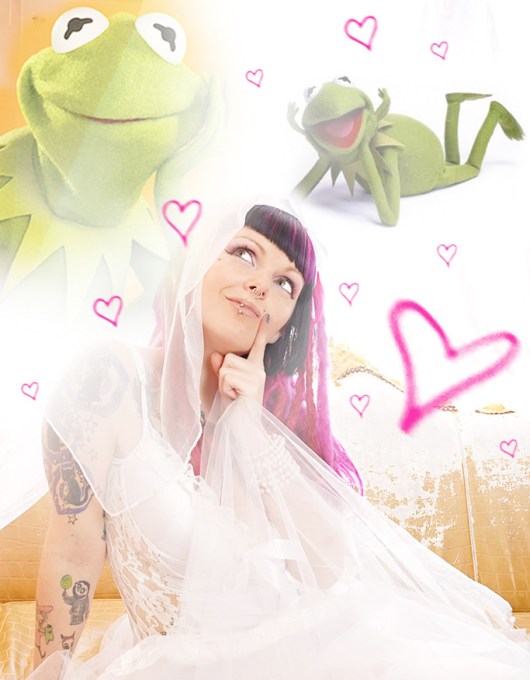 11:27: nom nom nom
The thing is, I just can't bear the possibility of having to listen to another Maggie Gallagher speech of self-satisfaction.
Here's Washington!
11:23: Yes at 51.58%, No at 48.42%. 60% of precincts reporting.
I coulda been a contender!
11:19: PM Guv'nuh
Still waiting in Maine. Rachel talking to Governor, he says that he's encouraged by the young voters coming out and that the margin of difference is too small. Talking about how he changed his position on gay marriage. Says he's more passionate about it than ever before.
11:13 The Governor of Maine will be on The Rachel Maddow Show in a few minutes.
Hey thanks for watching the election with us, btw! Nights like this we feel the INTERNET IS MAGIC. Hopefully Maine is also magic tonight too.
11:10 I Want a Little More For Me, More For Me
I really don't understand how we can only have 46% reporting and people are already thinking it's over. This isn't the entire country, there's not THAT many people that things couldn't change dramatically. We're not even at half yet you guys!
YES 50.2%, NO 49.8% with 46% reporting.
11:05 PM: Article from Bangor Daily News
Gay Marriage Vote Tight: At Stand for Marriage Maine's election party, the scene was much more subdued but not somber as about 60 people awaited the first election results.
11:03 COOL MAN
Breckenridge Colorado has decided to decriminalize marijuana possession under one ounce for citizens. Rachel will be talking to the Governor of Maine actually a little later.
11:02 PM I giggle when she says 69 percent
44% reporting.
50.12% No
49.88% Yes.
Bloomberg just won his third term in New York City.
11:00 PM Rachel Maddow is LIVE! Voting is Over in Washington!
I feel like I should put together another girls in boyshorts gallery just in case things don't go our way? I'm excited about medicinal marijuana though for real, because I think the government shouldn't be in Big Pharma's palm all the time. Anyhow.
10: 55 PM Gotta win this one kid
I am actually not mentally prepared to lose Question 1 tonight. It'll be like when Gore won, and then they said he lost, and then we all decided we'd rather extend our disbelief with a massive recount rather than accept the verdict and with it, America's conversion from democracy to aristocracy. Anyhoo.
10:48 PM Republican Chris Christie (gay marriage foe) won New Jersey.
Why they gotta kick us when we're already down.
10:46 PM RUDY RUDY RUDY
The lez is winning in Houston! Comeback time for us in Maine with 50.81% for No, 49.19% for Yes, with 33% reporting.
10:38 PM Michigan My Home State FTW
Kalamazoo Ordinance 1856 Results:
WINNING PRESS RELEASE AFTER THE JUMP
Yes (yay!): 65% *Winner!!*
No (boo!): 35%
65 percent of Kalamazoo voters have approved Ordinance 1856 by a vote of 6,463 to 3,527, adding protections for gay and transgender people to the city's nondiscrimination ordinance. This margin is larger than the number of outstanding absentee ballots that are currently being counted.
10:30 Change We Can Believe In
OMG this guy I hooked up with in 1999 is in a PC Richard & Son Commercial talking about how his Dad still loves electronics or something, but that's not his Dad. If Maine votes Yes, I am going to have to marry that guy instead of a Maine Wood Nymphette!
10:25 I am trying to count the votes as fast as I can!
This must be a big day for the Bangor Daily News!
So we have 50.51% yes, 49.49% No, with 28% reporting, which is great because now we can have a COMEBACK. Everyone loves a COMEBACK.
Ru-DY RUDY RU-DY!
10:18 PM Portrait of a (Future) Marriage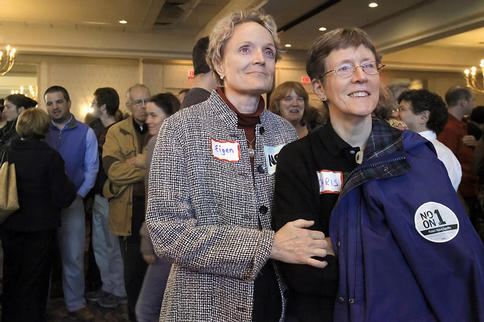 10:13 PM By a Hair
Portland Daily News has 49.40% Yes, 50.60% No with 23% of precincts reporting.
10:03 PM Rachel Maddow will be live with Maine governor at 11 PM FYI
22% reporting in Maine –
NO: 50.62%
YES: 49.38%
Rachel Maddow has a cute graphic for Referendum 71. But since I can't take a screenshot of my TV, I'll just show you this photo instead (I made it small, you will have to click.)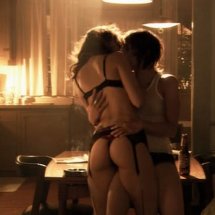 9:58 PM Report from The Jerz & NYC
@carlytron: "CORZINE IS LOSING TO CHRISTIE IN NEW JERSEY! WE HAVE A SITUATION."
And wow, Bloomberg and Thompson are neck-and-neck in New York City! Thompson called Bloomberg to concede, but then the "call" on the vote has been withdrawn, so we'll have to wait.
9:53 Good News, Bad News
Open Left reports that "from the city of Portland itself, largest city in the state and a heavy base vote area- No 71%, Yes 29%, without absentees" and "We lost the state capitol of Augusta, 47-53%. Not good."
Also there's live video happening at Protect Maine Equality.
9:49 PM
Rachel Maddow interviewed Al Gore and it will air tomorrow!
Also:
54.48% No
45.52% Yes
9:36 PM You Lose Some You Win Some
Lindsay Lohan's Dad says Lindsay looks over 100 years old. And he wonders why she's so unstable now, what with big cheers from Dad like that.
Anyhow, speaking of 100! IN MAINE, 14% of precincts reporting, 52.49% No, 47.51% Yes. Yay!
The Virginia Republican governor is thanking G-d for voting for him or something.
9:25 PM Cleve Jones on Maddow
Cleve Jones: "People who are easily manipulated to hate us don't know us … we have one constitution and only one class of citizenship … I'm encouraged by an uptick in youth turnout … important to remember that no matter what happens, we're all still second-class citizens … I regret that Obama did not take this opportunity to speak out against Question 1 …"
Maddow makes a jokey reference to how Cleve and her, as gays, know more about this stuff than everyone else and asks him to explain what we should expect from Obama.
9:22 PM Maine Campaign Manager on Rachel Maddow
Maddow says No on 1 has outspent Yes on 1. At election headquarters, Rachel is talking to the campaign manager. I missed his name b/c Natalie is blowdrying her hair with the door open and it's really loud.
Oh! OK his name is Jesse Connolly. He is optimistic. Rachel asks about the scale of the get out the vote campaign. He says they had a lot of volunteers, and that with the larger turnout they're gonna do really well.
Asked what they did differently than what happened in California, he says they were prepared to respond to certain things and that at the end of the day it's about turnout. He says that if we get a Yes on 1, per Rachel's question, that he doesn't even know what he's going to do tomorrow. I'm imagining that if we lose this, he will be drinking a lot and probably won't remember tomorrow either.
Yes – 47.34%, No – 52.66%.
9:16 MADDOW UPDATE
Rachel Maddow is going to be talking about Maine and will be going live to the No on 1 Headquarters and talking to Cleve Jones in a few minutes.
9:14 Don't Mess With Texas
In Houston, Parker has 27% of the vote and Locke has 28%. Parker is the lesbian, tight race!
9:10 PM Picture this


9:02 PM At what point can we "call it"? Just for fun?
20% reporting in Maine – No – 54.48%, Yes – 45.52%.
Rachel Maddow: "A year after voters struck down same sex marriage in California, Maine will decide tonight if their state will be the first in the Nation to endorse same-sex marriage."
9:00 PM RACHEL MADDOW IS ON THE TEEVEE THE LESBIANS HAVE WON
8:51 PM IT'S COMEBACK TIME MOTHERFUCKERS
From Open Left:
In Lewiston-Auburn, we're winning 58-42, including absentees. HUGE. That is one of the heaviest if not the heaviest Catholic region in the state. Nearly all of those numbers are in.
We are getting the base vote numbers back that we need in in South Portland- about 65% No votes. They're nearly all in.
The Bangor Daily News, which just reports completed districts, still has 53.39% Yes, 46.61% No.
8:46 Back to Life, Back to Reality
Commenter Mike says, "rural votes will come in late, and those are the ones most likely to vote YES.  College students can vote in the town or city where they attend college, so the city vote (first to get reported) is often liberal, and will vote NO."
Also Keith Olberman has declared that Glen Beck and the 9/12'ers have officially jumped the shark. "Glen, 9/12ers, if you are invoking 9/11 just to oppose health care reform, go to hell."
8:42 – GLEE was on Alexa Chung today!
Also, um, 54.18% yes, 45.82% No.
8:39 From commenter Jo, a few minutes ago
"For now, I keep reminding myself that mathematically, the fact that No on 1 is gaining ground doesn't mean anything, Since only 1% of precincts are reporting. I still can't help but have flashbacks to watching Prop 8 numbers coming in."
8:37 Everyone understands that with like only 6% already reporting, these numbers are relatively meaningless right now right?
Maine – Yes 50.67%, No 49.33%
8:34 Yes I Care About Other Issues
BTW, a bunch of Republicans won in Virginia, and Wonkette is funny: "Jon Corzine has spent approximately $700 million of his own money trying to win one of the least desirable jobs in politics: the guy who has to raise taxes on a populace of constipated slobs who can't even pump their own gas, by law."
8:31 PM – Leveling the Field
In Maine: 61.70% NO, 38.30% YES.
8:29 PM -Really this guy is TOO MUCH

8:25 PM – New Results From Maine
2% reporting
73.46% No
26.54% Yes
8:14 PM – Nate Silver is The Oracle
Over at 538.com, Nate Silver announces his plans for the evening and his prediction for Referendum 71 (Yes!) and Question 1 (No! And no means yes! As in, Yes! Yes Voting No Means Maine People Can Get Married in the Mountains!)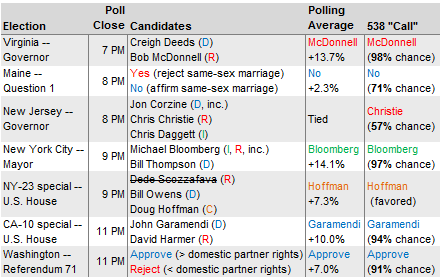 One time when I was a little girlboy I went skiing in Maine and this snowboarder almost killed me, I was wearing a hat that looked like a raccoon so maybe he thought I was a raccoon. I like Maine though, b/c it is pretty. I also like Washington. Seattle has the best library I have ever been to. Like EVER.
8:12 PM – Tweets Like This Scare Me

8:09 PM – Uknowhowiknowtwitterisweird

8:07 PM – UKnowHowIKnowTwitterisnotGay
The following things are trending topics: T-Mobile, #losemynumber, TMobile (love it when that happens, Micheal Jackson), Alec Baldwin, Steve Martin, Oscars, #unseenprequels, Justin Bieber (who?), Lady Gaga, Verizon.
Things that are not trending topics: Election, VoteNoOn1, yaygay, twatlovertuesdays.
8:05 PM – Polls Close in Maine
Polls are closed in Maine, unless you're still in line in which case you have a right to vote and don't let ANYONE TAKE THAT AWAY FROM YOU! Space Mountain works the same way, FYI.
7:56 PM – Photocopy my Ass
South Portland Maine ran out of ballots and had to use PHOTOCOPIES! – "It wasn't clear if the state questions or a local referendum on dogs at Willard Beach was driving the turnout."
I assume the referendum on dogs at Willard Beach was piggybacking on the gay marriage deal? I mean, we all know what happens after the gays get married …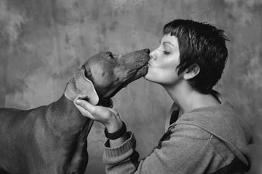 7:39 PM – Going Rogue
Why is Chris Matthews talking about Sarah Palin, I feel like I'm in a time warp
Also: No On 1 Scheduled Speakers Announced.
7: 38 PM – So far So Good in Maine
Well, according to the first um, 51 votes reported, we are winning gay marriage with 45 against Question 1 and 6 for! (Bangor Daily News). So that's about 0% of the total voters? GAME ON, HATERS!
7:21 PM – New trending topic time #VoteNoon1. From eight minutes ago, when #NOon1 was still in effect:
7:06 PM – Gay Explosion
The real sign of how much people care is that the Channel 71 website has totally stopped working, probs overwhelmed by gay love or right wing hackers.
6:58 PM – Introduction to A Night With AMERICA!
In Maine voters will decide on Question 1 which could reverse the state's law allowing same-sex marriage. Starting at 8 pm EST, ProtectMaineEquality will be covering election results as they come in on their campaign site. Until then be sure to check out the Portland Press Herald for regular updates. As of right now, voter turnout in Maine is almost twice than what Secretary of State Matthew Dunlap predicted with upwards of 50% of registered voters now expected to show up at the polls. Pam's House Blend at 5:00 PM EST has posted final newspaper clippings/Maine Blog Stories.
In Washington, on the other side of the country, supporters of LGBT rights are hoping Washington voters will approve Referendum 71, also known as the "everything but marriage" bill. You can watch live coverage on Election Night with Approve 71 starting at 8 pm PST.