SEX SURVEY: Sexual healing – Universities around the country are boasting/bemoaning various rankings on Trojan's Sexual Health Report Card, a survey undertaken by TROJAN MAN in conjunction with Sperling's Best Places. Questionnaires are mailed/emailed to University health centers and responses are also culled from Facebook networks.  Furthermore, a team of students analyze 144 major university health resources. Approximately 7,000 students participated nationally in the 13-question survey, which asked questions about "access to sexual health information and resources."
Some University responses:
+ USC: "The University of South Carolina is not No. 1 in the SEC. But, according to a national survey set to be released today, USC is tops when it comes to S-E-X."
+ Harvard: "Nothing has changed over my four years here that I am aware of on campus [at Harvard], but our grades [on Trojan's survey] have been all over the place. I don't know what information they base it on because no one has been contacted from my office."
+ University of Washington: However, Mark Shaw, University of Washington director of health promotion, believes the survey to be subjective: "I do not feel this survey is legitimate," he said.
Of course none of Trojan's questions address the thing you're probably most curious about — will this sexual health center be able to handle my big gay problems & feelings? Will the sexual counselors be homophobic or educated about issues specific to bisexual, trans, gay, lesbian, bicurious, queer, questioning or lesbian-until-graduation persons? And as we've talked about before, many lesbians are Afraid of the Gynecologist, so it's especially important for a campus resource center to have those options.
Perhaps it's 'cause lesbians aren't seen as a condom market that we're left out. But 1. HELLO STRAP-ONS love condoms! Also if your roommate "borrows" your vibrator, you're gonna want a rubber for that. 2. Hello homosexual men — doesn't Trojan advertise to gay men sometimes? We think they do.
So why are we left out of this survey when honestly sexual orientation non-discrimination is a fantastic performance indicator for any University health center? Has anyone seen one of these surveys and are we missing something? Well, we'll never know. At least we have campus progress! And Lily's College Lesbianage!
Survey says that students at DePaul University, which came in at 141, are screwed. See what I did there? Get some dental dams. (@ prn newswire)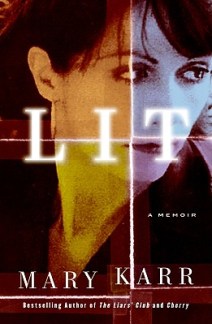 LIAR'S CLUB GOES TO CHURCH: E tu, Mary Karr? One of our most beloved memoirists (Liar's Club is a must-read, Cherry is a should-read) has a new memoir, LIT, and talks to Double X about the specific challenges for women writing autobiography … and, as Jezebel regrettably points out, "some annoying shit about how much God loves her." The Jezebel reaction piece is also a must-read, as it addresses specific prejudices towards female memoirists as arrogant while men are lauded for it. We agree that women could use A LOT more  arrogance sometimes, but unfortunately born-again religious arrogance, as Karr now exhibits  … we don't like that so much either.
AXED: Speaking of sex, Axe Body Spray is being sued by a dissatisfied user who has been buying their products for seven years and still has yet to be ravished by mass quantities of scantily-clad women. "The company cheated me because in its advertisements, it says women will be attracted to you if you use Axe. I used it for seven years but no girl came to me."
LEGENDARY LEZZIES: Legendary lesbians grace designer ads: "The masterminds behind fall 2009 high fashion campaigns have Sappho on the brain. Chanel's sizzling ads—shot at designer Karl Lagerfeld's home on Vermont's Lake Champlain—pay homage to the legendary love affair between British society lesbians Violet Trefusis and Vita Sackville-West." (@advocate)
FEMINIST NUNS: Nuns having fun! Feminist nuns the Sisters of Mercy do international work to promote social justice, refuse to wear habits, live independently, and are being investigated by the Vatican for their liberal policies. We at Autostraddle believe this is the perfect timing for Sister Act 4. (@bitch, @ny times)