Hello little grasshoppers! Natalie here. How is everyone doing? Blergalicious? Great, me too! Get your paper gown on 'cause we're gonna dive right in to some very messy paradigms via the health of your cervical canal: gender, sex and sexuality.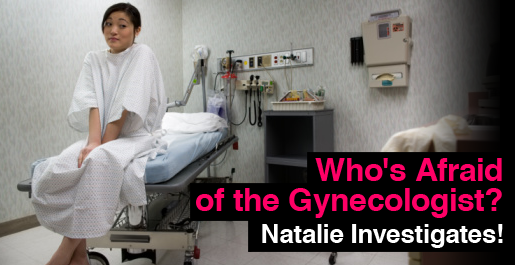 See, most people understand gender, sex and sexuality in the context of an imposed binary system. This system ignores our varied experiences, desires and expressions in favor of simple, one-dimensional norms and arbitrary delineations. The result is an uncomfortable compression and homogenization of the spectrum of human experience.
Case in point: going to the gynecologist. We saddle up, feet in stirrups, ready to go and…bamn! suddenly all become heterosexual women with one interest: reproduction! There are a million areas in which the gender binary structure cheats people of their individuality and violates basic human rights, and the experience of queer women at the gyno is just one example of the overarching and pervasive heteronormativity structuring our daily existence. (sidenote: Microsoft Word does not recognize the word heteronormativity. Just saying!)

Heterosexuality and babies are obviously fine, lovely even. But, when these norms begin to obscure the realities of our differing experiences, the office visit becomes oppressive: we lose space to articulate our needs, confusions, desires and health concerns.
Some norms are important, like "don't cut me in line at Pinkberry" or "don't clip your toenails on the subway" (this actually happened last week, I saw it!). But, short of these? Meh! Why dictate how people live and love?
According to Reality Check, the queer community faces unique challenges when accessing health care. These include widespread provider misconceptions about STD risks for women who partner with women and doctors who tailor their medical advice to stereotypes of lesbians' lives and needs.
Your Experiences
Several of our wonderful readers wrote to me about their gyno experiences. So what's it like for queer women? Obviously, the answer varies greatly. Here's a snapshot of some of the responses: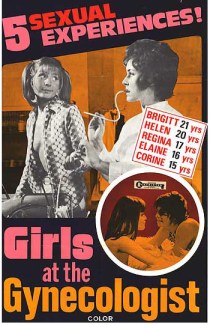 Heteronormativity is present within gynecological practices (and at the sea!): "The gynecologist I used to visit had these pictures on the ceiling of men surfing in Hawaii. And as [the gyno] was about to stick a very cold speculum up my vagina she used to say 'relax and imagine yourself surfing with those gorgeous men on the ceiling.' I don't think any image other than my own parents fucking could make my cervix tighten up faster than that statement."
Not only do some gynecologists assume that sex with men is the only (and/or preferable) item on the menu, many gynecologists also assume that reproduction (preventing or facilitating it) is at the forefront of women's minds. I suspect this experience is true for all ladies, queer and straight alike. According to another reader's comment, "…that's the one thing that peeves me about the gyno, that it seems like the whole emphasis on you being there is to prepare for reproduction, or to prepare you against it. I don't like that aspect. I wish they could just check out my lady parts and make sure everything is running smoothly without trying to find out if I'm planning to bring a child into the world at 20."
Of course, I'm not saying that reproduction is not a relevant and important topic; for many – queer and straight alike – it certainly is. My point is simply that other realities exist (some women don't want to have children! Waaaaaaa!) and these realities should receive as much understanding, legitamacy and respect as the more "traditional" ones.
"Also I just found out today that women can transmit HPV to other women? Um how? I have no idea how this works."
The blatant judgment/discrimination queer women experience precisely for identifying as queer was also noted: "My primary complaint with the gyno, back in my hey-day of youth as a bisexual, was that I really felt judged or treated as slutty because I had to check off 'men' and 'women' on that little form that asks you about all the things you've done so they can judge you and the nurse can raise her eyebrow at you like 'mmm hmmm you probs have SARS in your cervix,' you know that look."
Are these negative and discriminatory encounters keeping queer women away from the gyno? Yes! And understandably so.
According to an article published in 2001 in the Annual Review of Nursing Research, lesbian women are less likely than other women to seek health care, partly due to expected or actual negative interactions with health care professionals.
Due to a variety of reasons, some queer women are and/or feel under or mis-informed on the topics of sexual and reproductive health and well-being: "I don't think we need to be using anything like a dental dam or female condoms or whatevs but I think I should at least know what they look like…[but I don't]. Also I just found out today that women can transmit HPV to other women? Um how? I have no idea how this works, no doctor, gyno, etc. has ever talked to me about safe sex and I have never thought to ask. This all scares me a bit."
Breast and cervical cancer and heart disease affect all women. Lesbian women are at risk for many of the same STDs, including HPV, as heterosexual women. Lesbian women can transmit STDs to each other through skin-to-skin contact, mucosa contact, vaginal fluids, menstrual blood and the sharing of sex toys.
A 2000 study found that the vast majority of self-identified lesbians in his study – 80-90% – have had at least one male sexual partner, increasing the chance of contracting an STD. Yet, lesbian women are less likely than heterosexual women to have had a pap test, due, in part, to a misconception that they do not need Pap tests exam.
Pages: 1 2See entire article on one page