The gender politics of underwear are weird. What makes "men's" underwear exclusively for men? Is it still men's underwear if I'm wearing it? Why do I have to look at so many pictures of washboard abs and generous crotches? If clothing is how you express yourself to others, then underwear is how you express yourself to…yourself. Sometimes wearing men's underwear is the smallest transgression we dare to make. Sometimes it's the loudest secret we have. Sometimes it peeks out the top of our jeans. Sometimes it's all we're wearing.
So come all ye of varying genders, and let's talk about underwear for the masculine of center.
---
Breaking Tradition
by anon
I've always been that kid with hyper-senses. A loose hair between my back and shirt drives me crazy. That ball of fuzz that forms in the toe of the sock after washing drives me crazy. Traditional underwear seams? Used to drive me crazy. It's been almost a decade since I last wore a pair of traditional underwear. When I started college, my (then) girlfriend wore Hanes boy short underwear and I was excited to get in them. Get in a pair of my own, I mean. So it all started there; with this idea that I was still wearing girl's underwear. The model on the little cardboard covering was a girl. So when I checked out at the register, it was okay. When my mom saw them, it was okay because they were girls' underwear.
The next change happened about 4 years after that when I met my now (and forever) girlfriend. It's another essay and several poems to explain how she changed my life. She taught me everything I know about sexuality and gender. Taught me, really taught me that it was okay to be me; whoever that me is. That's when I got my first pair of men's underwear. Actually, she got them for me in a surf/skate shop in Eilat, Israel, where we met. They were Rip Curl and they were teal and they were – and still are – my favorite pair of boxers. Over that year, I acquired several more men's trunks, but was still wearing my girls' boy shorts as well. It wasn't until I got back to the States that I really changed my whole wardrobe.
I started buying everything that made me feel comfortable, and that included more men's underwear so that I could be wearing them on the daily. I started with Hollister – my brand of choice at the time. Since then, I've branched out to American Eagle, Express, Hanes and even Champion. It took some time, but I've finally figured out what I like and what I don't like, and I never realized boxers could be so different.
For anyone just starting to venture into the surprisingly wide world of boxers, I'm here to provide some recommendations. As a size guide, I'm a 32wp_postswaist and I wear a size small.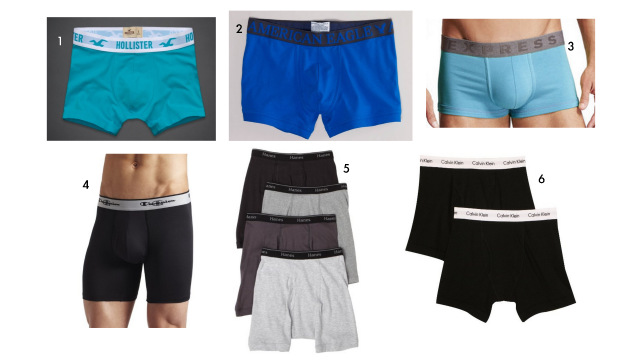 1. Hollister – $16 a pair but can be found for less when they start pumping out good sales deals, like everything else Hollister. I like that Hollister has a white waistband and most of their boxers have stripes – I'm a sucker for stripes. They're cut a little shorter than I like, and they ride up like crazy. There isn't a band around the seam of the thigh and they end up riding up and feeling like a traditional pair of underwear. Other than that, they're light and comfortable.
2. American Eagle – $12.50, but I only buy when they have a 2 for 20 deal. AE has the most cuts: Boxers, slim boxers, briefs, trunks, athletic cut and performance cut. The athletic cut is my cut of choice. They're longer than the trunks, which I like. The more thigh coverage, the better. Unlike Hollister, these stay in place – no riding whatsoever. I mostly own solid colors, but sometimes they come out with some patterns, which I dig.
3. Express – These are cut slightly shorter like Hollister, but they're tighter so they don't ride. Actually, they're a little too tight; if I had known, I would've gone a size up. But they feel nice paired with an Express suit.
4. Hanes
– like anything else from Target, they're cheap, so you can get several in one pack. It's a good alternative when you don't feel like spending 10+ bucks a pair. They're also looser, if you like that fit, and they stretch out over the course of the day. It's a thicker material – unlike the other brands – so I don't pair them with skinny jeans, but definitely under a pair of sweatpants.
5. Champion
– I recommend these for the athlete. They're the longest pair I have, and they're made with a lighter, more breathable material. They're great under basketball shorts, when working out or going for a run. They air out the sweat more than a cotton pair. Nowadays, I'd check out AE's performance boxer, but I got these before I knew of them. Also, they're cheaper because, again, they can be found at Target.
Eventually, I'd like to add a little Calvin Klein (6) to my drawer, but that's a top shelf boxer for my wallet right now. So if you're shopping on more of a budget, I guarantee the American Eagle band peeking out above your jeans will be just as sexy to your human-love as Calvin Klein. It can be a little scary walking into the men's department for the first time and especially purchasing men's underwear, but it'll feel so good knowing that you've fucked with at least one person's idea of gender. And it'll feel even better when you wear them for the first time.
---
Underwear Undercover
By Malaika
When it comes to my personal preference in underwear, I'm all over the map. My favourite place on that map is where the masculine of centre underwear live: boyshorts, boxers, you name it – if it's marketed for a man, it's perfect for me. I have been known to reduce my food budget to make room for an expensive pair of European boxers (or two) while on exchange in France. I wore said boxers under my favourite pink and purple skirt with flowers on it and felt completely like myself – my secret butch side tucked safely away, only to be revealed to those I trusted enough to let in close.
I like pink and frills and makeup and sparkly stickers but when Kate made her butch gift guide, I had never seen a list of items that was more me. When it comes to gender presentation, I don't want to be pigeonholed and my underwear reflects that. When I get dressed, I want my underwear to contradict my skirts; when I get undressed, I want the layers I peel off to be full of surprises and contradictions much like my body, much like myself.
---
Bois/Boys/Bois and The Little Boys Department
By Madi
I like to tell my closer friends, and apparently anyone on the Internet who will listen, that I have a dream to someday revolutionize pants. In my utopian view of the future of the clothing industry, clothes will be made, sized, and marketed based on body type – which may or may not be associated with sex or gender. In the meantime, on a quest to find the most comfortable and rad underpants for my physical and emotional person, I have found myself time and time again in the little boy's clothing department.
As a member of the population who possesses less than, what I feel, is their fair share in derriere department, I often find myself with extra fabric around the back, resulting in less-than-optimal wedgie situations. That being so, purchasing underwear made for the segment of the population most at risk for outwardly-inflicted wedgies – that is, actual little boys – is a logical choice. My experience only extends to boxers and boxer briefs, as most of the fun boy's briefs are too small even for my microscopic bum.
For those of you thinking about taking the plunge into the wonderful world of underwear made for little superheros, I have a few words of wisdom. Shopping in the little boy's department only seems shady if you act shady. Most little boys don't buy their own underpants and you're probably closer to the demographic generally present in that area of the store than you would generally assume. Don't be worried if that pair of super snazzy boxers only comes in up to a size medium: if you stitch the crotch shut, you'll probably be ok. Because trying on boy's underwear isn't generally an option, a good place to start with sizing is to measure your waist, or to look at what size waist people who wear your current underwear size generally have. Honestly, there will be quite a bit of trial and error involved.
For minimum wedgies and maximum comfort, the best fit has the crotch resting against your own, the waistband on the lower curve of your hips, and the bottom of the legs tight enough to stay put but not cut off circulation. This especially applies when wearing tight pants and/or working out/ moving around a lot. My favorites are the kind with visible elastic and the fabric that is kind of ribbed. When the fabric starts to pull away from the elastic waistband, you can either obtain new underwear like a practical person, or see it as a built in handle, like I do!
A good thing to keep in mind is that the tightness of your pants and underwear should directly correspond. You can wear tighter underwear with looser pants, but not the other way around. I do however prefer looser underpants with looser outer pants and also for sleeping. I bought this underwear in XL because I must have been feeling like a big kid on the playground that day, but they turned out to be large enough that I could probably wear them on the outside of my snowpants. Regardless, they are extremely comfortable and if you wear loose pants, I would highly recommend them.
Smaller does not necessarily equal better, but sometimes you have to make sacrifices when it comes to your underwear. It will probably be worth it to wear those underwear made for an eight year old even if they sometimes ride up to well above your belly button just so that you can have the bat signal creeping up above your waistline. You will rock a special kind of courage and attitude that day. Just try to pick that wedgie in private.
---
Next: Ariel Speedwagon trangresses bravely and Katrina talks underwear-as-outerwear.
Pages: 1 2See entire article on one page