Welcome to Underwear Week, a whole week dedicated to your favorite bum-hugging clothesthings. As we said many moons ago, we feel a lady is at her best when she's not wearing pants. And while our last adventure around this neck of the woods took us only as far as boyshorts, this time around we're exploring the vast and many-flavored land of underwear. From edible panties to hoopskirts and history, we've got you covered. Just like your underwear.
---
You're going to see a lot of underpants guides this week catered to specific body types or gender identities: a femme underwear guide, a masculine-of-center underwear guide, a plus-size underwear guide and so forth. This isn't one of those guides, because my body type is already over-represented in fashion and I don't have a strong sense of a fashion-relevant gender identity beyond my gender and sexual orientation. I'm just a queer girl who loves makeup and mens boxer-briefs, you know? You won't find flowers or lace in my underwear drawer, but you're also unlikely to find anything my butch girlfriend would be caught dead in. Oh and, there's a lot of underwear in my underwear drawer because I'm obsessed with underwear. In fact, the idea of Underwear Week began when I suggested we do an update of our Boyshorts 101 post from 2009. We're just all sitting here thinking about your inner thighs, basically.
So, today we're gonna talk about my favorite style of underwear which falls under the loosely-defined definition of "boyshort" and is extremely popular within the queer-lady population.
I officially transitioned from thongs to boyshorts eight years ago (a sexual orientation switch occurred around the same time, suspiciously) and since then have seen my favorite brands and styles get discontinued again and again, or redesigned to totally suck, probably because of the patriarchy or else because of "how the fashion industry works." The fact that awesome women's boyshorts go extinct so quickly is why our initial Boyshorts 101 post has now become almost completely obsolete.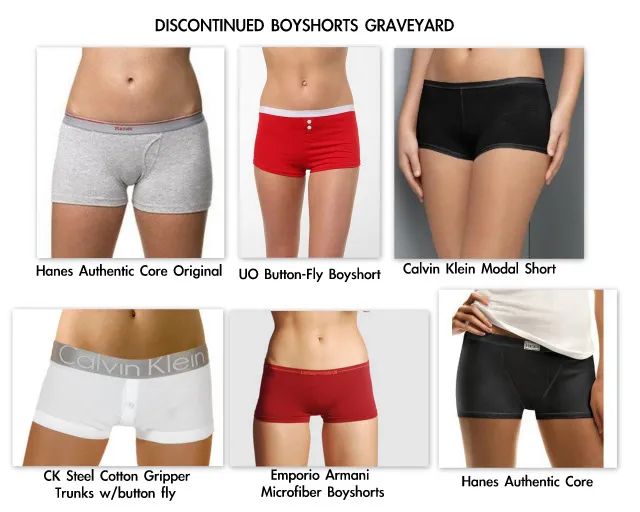 The Hanes Authentic Core Women's Boxer-Brief we loved so dearly in the late '00s are a thing of the past, and the new style doesn't even cover your entire butt! The Calvin Klein Steel Gripper Trunk has discontinued the button-fly style in favor of it's enormous penis-sculpting pocket style. Urban Outfitters, which coincidentally I hate now anyway, stopped offering its classic boyshorts with the white waistband and the three buttons in the front.
All of these discontinued models fit into my favorite style of boyshort, which I will refer to as "girltrunks." Underpants who identify as "boyshorts" run the gamut, especially with respect to coverage, so when I say "girltrunks" I'm referring to "boyshorts" (and sometimes men's boxer-briefs) that cover your whole entire butt and then some. Here, I made you a graphic to explain the different types of underpants!
As you know, we like to diversify the imagery as much as possible here, but unfortunately underwear vendors prefer to focus on skinny white cis girls exclusively, even when modeling plus-size underthings! So that's how that is. [Sidenote: Also, whenever searching for imagery of plus-size ladies in their underpants — for a fashion feature, NSFW Sunday or a girl gallery — I find the vast majority of modeled underthings are super-duper-femme and exceptionally lacy. Have you noticed this? I think we need to start shooting our own stock photography or something.]
Let's begin!
Basic Boyshorts
The most common style of boyshorts doesn't, generally, offer full ass-coverage and subsequent freedom from panty-lines. What makes this style different from traditional women's underpants is the cut — they generally reveal less of the thigh and ass than traditional women's briefs and have short legs and generally a lower waist. They're exceptionally flattering and also very sporty/sexy. Sportysexy, if you will.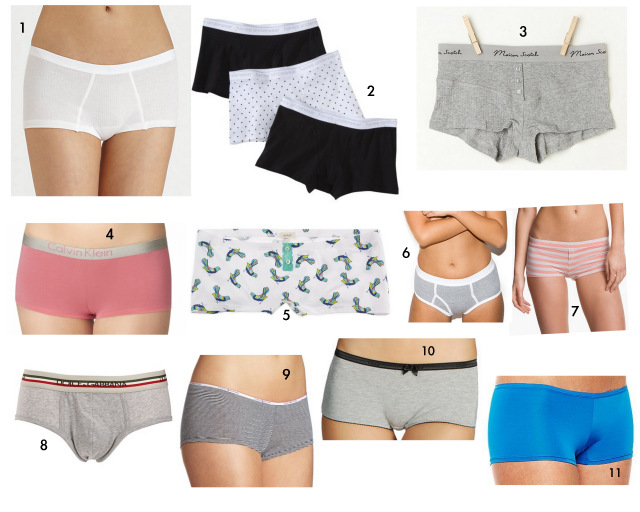 1. Cosabella Ribbed Low-Rise Boyshorts ($38), 2. Hanes Women's Premium Boxer-Briefs (3/$9.99), 3. Free People Boxer Short Pack (3/$55), 4. Calvin Klein Metallic Boyshorts ($12) (not pictured, but also awesome: Calvin Klein Metallic Hipster Briefs) ($12), 5. aerie Printed Boyshort ($7.50), 6. American Apparel Baby Rib Brief ($5 – $14), 7. Splendid Fruit Fusion Boyshort ($26), 8. Dolce & Gabbana 2-Pack of Jersey Briefs ($140), 9. Tommy Hilfiger Women's Classic Boyshorts ($9), 10. D&G Boyshorts ($29), 11. Jockey Modern Tactel Boyshort Panties ($11)
Plus-Size Boyshorts
We're gonna have an entire Underwear Week feature dedicated soley to plus-size underthings but I want to be sure that everybody has fun right here, right now, too.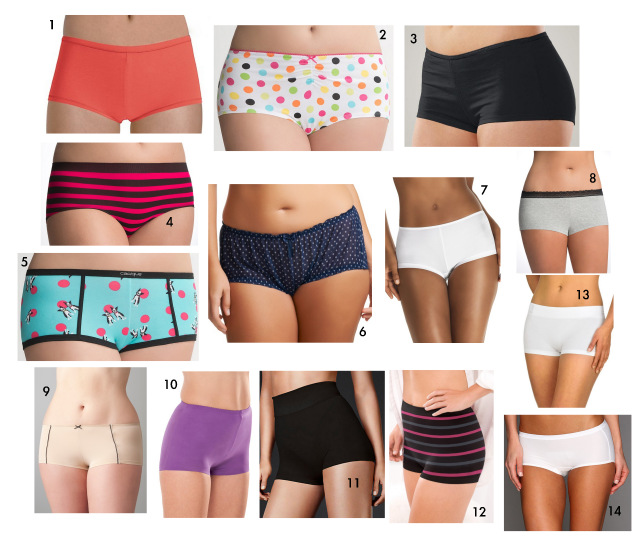 1. Hanes Plus Size Womens Comfortsoft Cotton Stretch Boy Briefs Assorted (3/$8.40), 2. Ruched Cotton Boyshort Panty ($14.50), 3. Avenue Plus Size Cotton Girlshort Panty ($7.90), 4. Seamless Boyshort Panty ($16), 5. Cacique Sassy Cotton Boyshort Panty ($14.50), 6. Elomi Betty Boyshort ($32), 7. Boyshort Brief ($18), 8. Lace Trim Boyshort Panty ($12.50), 9. Dazzler Microfiber Boyshort Panty ($16), 10. Comfort Choice No-Show Boyshort ($12.99), 11. Maidenform Comfort Devotion Shaping Boyshorts ($38), 12. Striped Seamless Boy Short Panty (also in nude or black) ($12.90), 13. Jockey Plus Size Naturals Seamfree Boyleg ($10.50), 14. Ex-Officio Give-n-Go Boycut Brief ($20)
Girltrunks
If you're crazy about avoiding pantylines (as I am), then you need a very special kind of boyshort: the kind that is really hard to find. The kind that covers your entire ass and then some, so that if there's any bunching-up of the underroos, it'll blend right in to the natural bunching-up that happens in your pants when you move around the world while wearing pants. I'm gonna call this type of underpant the "girltrunk." If you're wearing a good pair of girtrunks, nobody will know whether or not you shave your bikini line, and if you trip over a banana on the sidewalk, nobody will see your bits.
In the past, my go-to brands for this style were Hanes and Calvin Klein, but both of those franchises have let me down as of late. Presently, I obtain 75% of my girlshorts from the H&M boys section (size 12-14Y) because they're completely a men's style, but spandexy enough to wear under leggings. However, I recognize that 95% of the female population cannot shop the boys section so you'll be happy to learn that Uniqlo's seamless boxer-briefs are a popular choice for those seeking masculine style with a more feminine fit. Also, these: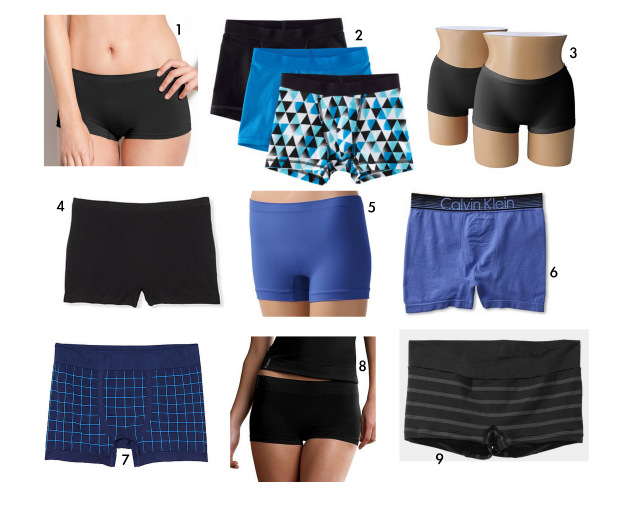 1. Hanro Black Touch Feeling Low-Rise Boyshorts ($49), 2. H&M Boy's Boxer-Briefs (3/$9.95), 3. Barely there® Flawless Fit® 2-pk. Microfiber Boyshorts ($13.99),  4. Shimera Seamless Boyshorts ($13), 5. Superfit Curves Seamless Boyshorts – $9.49, 6. Calvin Klein Concept Micro Low-Rise Trunk ($30), 7. Uniqlo Seamless Low-Rise Boxer-Briefs ($4.95), 8. Jockey Natural's Seamfree Boyshorts ($9.45), 9. Under Armour Seamless Boyshorts ($30)
Boxer-Briefs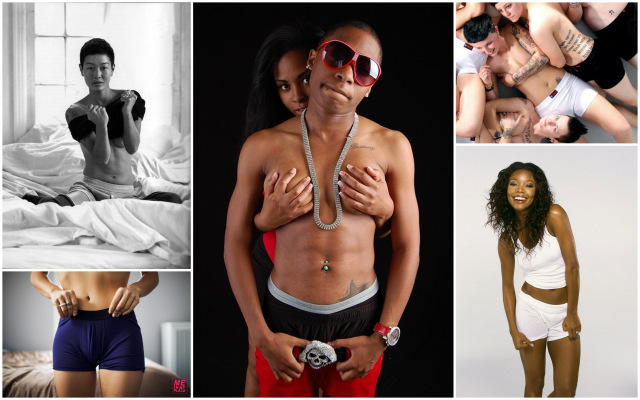 There will be an entire masculine-of-center underthings style guide so I don't want to encroach on that territory too much, but fuck I love boxer-briefs! When you're home alone, boxer-briefs basically count as pants. Depending on your between-the-legs situation, you may or may not be looking to avoid a generous penis pocket. I personally eschew boxer-briefs that offer "enhancing" or "sculpting" or even "support," which means I generally stick to 95%-100% cotton boxer-briefs. Again I tend to loot the boy's section for these (Fruit of The Loom), but also find the adult American Apparel boxer-brief to fit nicely under baggier jeans and look sexy without a shirt at bedtime. (And especially sexy with 'Straddle This' written on them!)
1. Fruit of the Loom Men's 2 Pack Active Ringer Boxer Brief ($14), 2. Calvin Klein Stretch 2-Pack Trunk Set ($34),3. American Eagle Outfitters Low-Rise Trunk ($12.50), 4. Puma Volume Boxer-Brief (3/$28), 5. Schiesser Cotton Boxer-Briefs ($60), 6. Hanes Men's 3 Pack Comfort Stretch Boxer Brief (3/$12.50), 7. Mack Weldon Trunk ($22), 8. 100% Cotton Topman Branded Underwear 3-Pack (3/$30), 9. Emporio Armani Cotton Stretch Cotton Boxer Briefs ($26), 10. American Apparel Baby Rib Boxer Brief ($16)
The #1 reason I sometimes choose men's underpants over women's is The Waistband. If I'm wearing loose-fitting jeans that might possibly sag, I specifically select underpants with a prominent logo'ed waistband. (This is the only situation in which I proudly rock a brand name on my body, generally I avoid that because of commercialism and The Man. I don't know, underwear makes me do crazy things.)
Funderpants
I like my underpants to be fun, and by "fun" I don't mean "reminiscent of The Secret Garden." By "fun" I mean:
Stripes!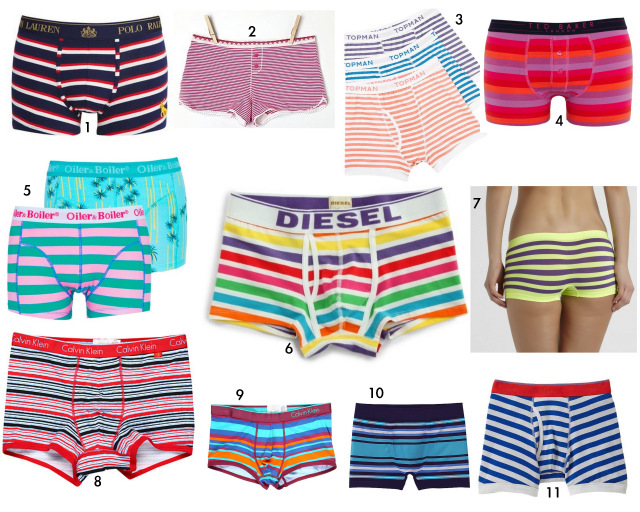 1. Polo Ralph Lauren Varsity Stripes Trunk ($32.80),  2. Free People Yarn Dye Boy Short ($38), 3. Topman Striped Three-Pack Underwear (3/$32), 4. Ted Baker Block Stripe Button Front Long Trunk ($23), 5. Oiler & Boiler Nantucket 2 Pack Palm Trees/Stripe Trunk ($36), 6. Diesel Men's Divine Striped Trunk ($24.99), 7. Joe Boxer Women's Boy Short Panties – Striped ($2.99), 8. CK One Striped Cotton Stretch Trunk ($14.99), 9. Calvin Klein Underwear ck one Microfiber Printed Low Rise Trunk ($14.99), 10. Uniqlo Men Seamless Low Rise Boxer Briefs ($4.95), 11. Gap Thin Diagonal Striped Boxer-Brief ($12.50)
So Many Patterns & Colors

1. Bonds Hipster Boyshort Stripe (AU $10.77), 2. Cassis Boyshort ($44), 3. Jack & Jones Herbert 4-Pack Trunks ($50.87), 4. Unisex Printed Baby-Rib Brief ($16), 5. House of Holland Devore Short ($30.52),  6. Jack & Jones Touch Intelligence 3-Pack Trunks ($33.91)  ,7. Gap Ultra-Low Girl Shorts ($14.50), 8. OnGossamer Mesh Boyshort ($14) 9. Pink Ruched Shorty Panty ($10.50)
Funnypants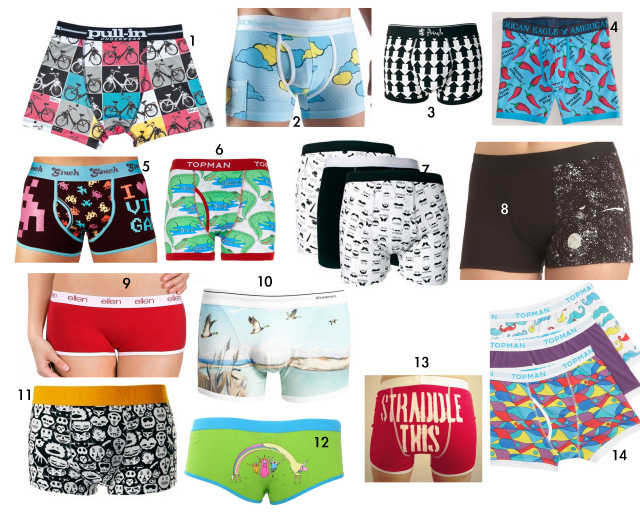 1. Pull-In Fashion Retrovieseur Short ($39.99), 2. Sly Clouds Work Hard (with pocket) – ($20), 3. Pringle Arrow Trunks ($16.95), 4. American Eagle Peppers Athletic Trunk ($12.50), 5. I Love Video Games Pixel Pusher ($24.99) [also check out the I Love Girls Ginch Gonch Briefs!], 6. Green Crocadillio Underwear ($14), 7. River Island Three-Pack Moustache Trunks ($25.43), 8. Galaxy's Greatest Undies in Boyshort (glow-in-the-dark) ($23.99), 9. Ellen Boyshorts ($15), 10. Stonemen Digital Print Ducks Trunk ($42), 11. Enlarge Paul Smith Monster Trunks ($50.87), 12. Adventure Time Rainbow Hotpants ($8.50), 13. "Straddle This" Boxer-Briefs ($16) (that's my actual ass, btw, I practice what I preach is what I'm saying), 14. Topman Moustache Pattern Three-Pack Underwear (3/$32)
 Okay what are you waiting for, TAKE OFF YOUR PANTS!!!!