When Tabby Besley started InsideOUT — a voluntary organisation that works to make New Zealand a safer place for queer and trans youth — she was 19 years old, unemployed, and had just moved to a new city. Fuelled by an understanding that things urgently needed to be improved for young people of all sexualities and genders, she began running workshops in schools focused on LGBTQ inclusivity, officially forming InsideOUT after a year. Four more years and a heck of a lot of blood, sweat and tears later, InsideOUT is a much-loved national charity, campaigning for inclusivity in schools, running annual festivals for queer and trans youth, and working tirelessly to educate and advocate across sectors…and Tabby's passion shows no signs of waning.
Last summer, InsideOUT received further more recognition when Tabby was awarded a Queen's Young Leaders award. The latest fantastic news is that the charity has received a development grant, meaning that Tabby will finally be paid for the full-time hours she works. As InsideOUT goes from strength to strength, I spoke to Tabby about just what it takes to build an idea like hers into a sustainable non-profit organisation. In the interview below she shares what keeps her going in the face of real frustration, how she's learning to manage her time, and the astrological make-up she credits for her relaxed approach to all that hard work.
---
Tabby Besley, Founder/National Coordinator, InsideOUT
Age 24, Wellington, Aotearoa New Zealand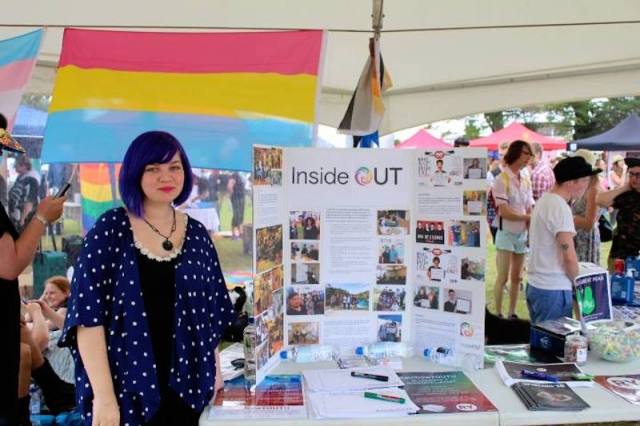 Hi Tabby! Can you describe your organisation? What's your mission? Who do you serve? 
InsideOUT is a national charity in Aotearoa New Zealand that supports young people of minority sexualities, sexes and genders to have a sense of belonging and safety in their schools and communities.
Our mission is:
1. To work with youth, families, schools, community groups, youth services, government agencies and other relevant organisations to provide safer schools and communities for young people of minority sexualities, sexes and genders.
2. To foster the building and provision of resources, education, information, hui and relevant tools which work to improve the health, wellbeing and safety of young people of minority sexualities, sexes and genders.
One of our key projects is Shift Hui – a national youth hui (the Māori word for meeting/gathering) which is kind of like our version of an A-Camp, but for younger people. It's about creating a space for people to come together and make connections, learn about different issues facing our communities, take part in workshops and activities, and build on skills and knowledge that they can take back to their own communities to make change. It's about wanting to see a shift in the dominant culture and making Aotearoa New Zealand a safer place for everyone, regardless of their sex, sexuality or gender.
We also coordinate the international Day of Silence campaign here in New Zealand and do a huge amount of work with schools, supporting young people and school staff to set up and sustain queer straight alliances/rainbow diversity groups and take other actions to make their schools safer and more inclusive environments — like implementing gender neutral uniforms and toilets. This year we launched a resource on Making Schools Safer For Trans and Gender Diverse Youth which as far as we know is a bit of a first even internationally, in the unique way that it was written and created by young people and walks schools through all the things they might need to be thinking about. While it's often things like uniforms and toilets that are the visible issues, there are so many other areas schools need to think about, such as where trans and gender minority young people fit into school choir and sports teams, or how to update their name and gender markers on the school roll.
InsideOUT also does a lot of education and advocacy on sexuality and gender diversity for schools, youth workers, health professionals and organisations that work with young people. These are a few of the key things we work on amongst a whole range of other stuff — like a radio show/podcast, an arts competition, outreach work to rural communities and lots more!
What's your role at InsideOUT?
Basically my role is being the CEO/director/manager/whatever you want to call it (!) of a national charity, but it started as a voluntary thing while I worked in other community jobs. Because we're a small team, I still get to do lots of project delivery etc despite being in this kind of role where you hold oversight of everything.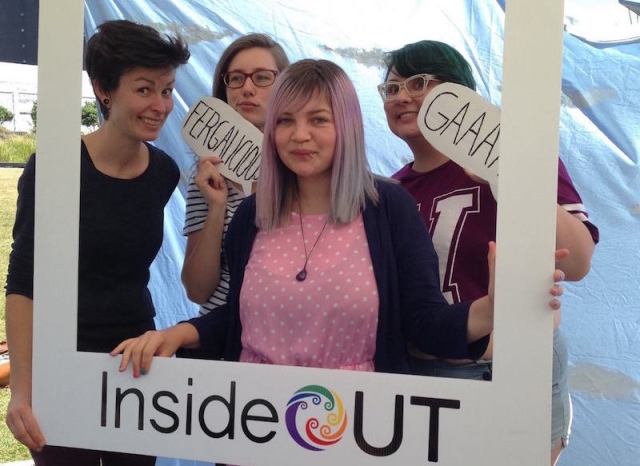 How would you describe your approach to this work? What personal qualities inform your approach?
Relaxed but organised, determined, coming from the heart. I think my astrological make-up explains my approach pretty well. I'm a Taurus Sun with an Aries Moon and a Cancer Rising. I am very grateful for this combination of earth, fire and water and I contribute it to my success in some ways! I don't know that I'd be in the same position as I am now if I didn't have these qualities.
My Aries energy gives me strong initiative, big dreams and determination to fight against the oppressive systems we deal with, my Taurus energy helps keep me grounded, focused and able to steadily work away at things over time and my Cancer Rising and Mars in Pisces brings compassion and a deep need to be doing work that is about caring for others, that means something, leading me to do work that is very personal. My Sun, Moon, Mercury and Venus all sit in the 10th House which rules stuff like life purpose, career, being in the public eye and our role in communities, which is very fitting for me. My work is a huge focus for me and I've always wanted to be doing things that I'm passionate about, things that make a difference.
What does a typical day look like for you? Do you have a routine? What is your workspace like?
I'm kind of in a transition period at the moment, as we got our first office space a couple of months ago! I've primarily worked from my bedroom for the last five years, so it feels like such a relief to finally have a physical space that belongs to InsideOUT and will hopefully enable me to set up some stronger boundaries around my work. I also kind of like being able to wake up and get stuck into work, snuggled up in bed, though, so I think I'll still have some days like that!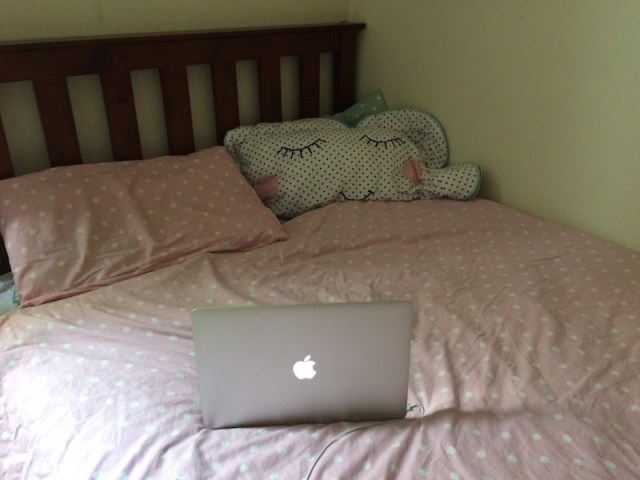 My work is pretty varied — there's always lot and lots of e-mails! Social media, report writing, grant writing and fundraising, accounts, scheduling and administrative tasks. Lots of meetings which vary a lot — planning projects, providing advice to more mainstream organisations, catching up with other people working in the 'rainbow' space, working with our volunteers. Then the most exciting stuff is delivering our work — things like running our youth hui, visiting different parts of the country and running professional development training, facilitating workshops with young people, visiting schools, presenting at conferences. Every week is quite different which I enjoy!
My role requires a lot of self-motivation (luckily I'm a bit of a workaholic and very passionate about what I'm doing!) and at times can be quite isolating, but the days where you get to really see the impact you're having make it so worthwhile.
When did you know that this was what you wanted to do? And what were your early goals, your first steps? 
I spoke at a conference once about how nobody told me in high-school that changing the world was an option. You don't hear about any kind of community or political work being a valid contribution to society! So no, it's not something I always knew I would do.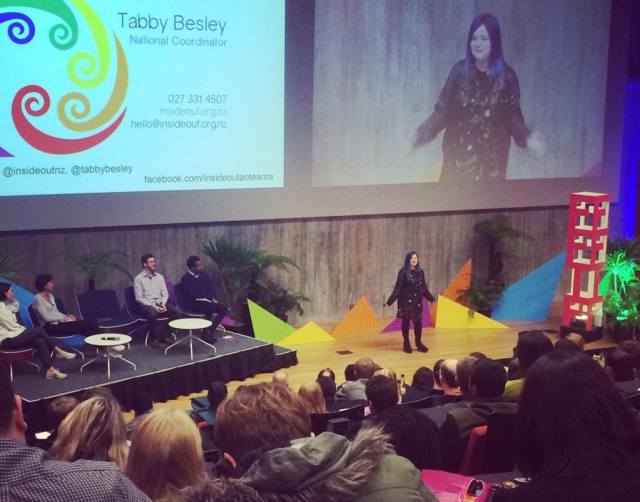 I was lucky to go to the first high-school in NZ (and probably the entire Asia-Pacific region) to have a queer straight alliance/rainbow diversity group. I got involved leading the group and went on to work with others to set up a local community support group for LGBTQIA+ young people and their friends called Q-Youth. I volunteered a lot of my time towards the group and did a certificate in youth work, and when I finished high-school, was employed part time to coordinate the drop-in centre and facilitate our youth groups. I have always been anti the huge pressure there is on young people to go straight to university out of high-school, and at the time wasn't able to study in NZ without paying international fees anyway, as I moved here from the UK. I was lucky that things fell into place and I was able to go straight into something I wanted to be doing.
During my time at Q-Youth we used to receive a lot of requests from people in other parts of the country who wanted support to set up groups in their schools and it become clear to me that there was a real need for an organisation to be focused on working to make schools more inclusive. When I first had that idea, it was definitely more of a 'oh wouldn't it be nice if someone did that', rather than 'I'm going to do this thing!' One day I shared the idea with a colleague who was really encouraging and from there things kind of escalated. I moved to Wellington and decided to give it a go. I was 19 at the time and didn't really know what I was doing, so it still surprises me now to see that we are actually a recognised national charity, doing important stuff, seeing change happen!
It has taken time and a lot of hard work to get to where we are now. All my work with InsideOUT was voluntary for the first few years. I was working other jobs in the community sector and just got to a point where it was becoming really hard to manage my voluntary work on top of paid work, but it was impossible for InsideOUT to grow and do what it needed to do without someone dedicating a lot of time to it. At the same time I wasn't feeling fulfilled in the job I was doing. I made a decision to resign before I knew whether InsideOUT had been successful in receiving salary funding, which was a bit of a risk, but luckily things worked out. So for the last two years I've been paid part-time hours to work for InsideOUT while making up full-time hours voluntary, as largely that's been necessary for us to be able to deliver our projects and continue to grow. Just last week I was honoured to receive an award which comes with a grant for InsideOUT to be able to pay me for full-time hours next year. That feels pretty exciting, scary and relieving after five years of dedication to the organisation!
Why do you do this? What makes you spring out of bed in the morning? What's the best thing about the work you do?
Because it needs to be done. Our schools and communities need to be safer for our young people, we are losing too many of them. I'm not going to sit and wait with naivety that our government or schools are going to lead that. I care about my community and I want things to change, so I'm passionate about doing what I can to be part of making those changes happen.
The best thing about the work I do is when we can see the impact it has on young people. Hearing what it means for them to be in an environment that we've provided — I've heard comments like 'I've always felt like an alien in society, but now I know who I am is okay' and 'before today I didn't think I'd make it out of high-school alive'. Seeing people discover their community, their identity, being free to express themselves. Working with people who provide services to young people and seeing them click, seeing their own fires light up and leaving knowing that they care about queer and trans youth and are going to fight to make things better too. Watching young people creating change in their own schools and communities and the strength they have. Seeing our volunteers grow and give back. The people, the stories, the realness of what we're doing.
…and the worst?
The huge amount of frustration that comes when you're fighting so often against systems that don't support what you're trying to do. Sometimes you are just faced with a brick wall. The lack of funding and resourcing for our communities — thinking about how much we do with so little and imagining what we could do being properly resourced. Knowing the impact young people are facing when our schools and communities aren't safe. Seeing young people in really unsupportive spaces, feeling powerless even when you've done all you can, losing young people.
What are the key challenges you face in your work? And what are your tactics for overcoming these?
Frustration and powerlessness. To overcome this I would recommend complaining, crying, looking after yourself, finding solidarity with others doing this work, remembering the good things, celebrating the small things, holding onto hope and carrying on.
Along with those feelings, one of the biggest challenges is dealing with people who aren't supportive of what you're doing. Whether that's, for example, a school that won't acknowledge they have any queer students, or even people within your own community who aren't backing you. I think grounding and holding onto belief in the importance of the work you are doing and your ability to do it is so important, as well as having others alongside you that also believe that and can remind you of it when things are tough. I think often in queer communities we are highly critical of ourselves and each other, when the rest of the world is already doing that for us. It's so important to continuously be reflective, open to feedback and growth, but sometimes you just have to remember that you know who you are, how you got here, what you're doing and why it matters. Sometimes that needs to be enough.
How do you approach time management?
Google Calendar is my saviour! I am one of those annoying people who is often late to meet you, will write her speech the night before, get the funding application in with minutes to spare. So time management probably isn't my strength! But at the same time I am pretty good at remembering dates and having an awareness of when things need to be done by, so I think that's still managing it? Generally things still get done on time and to a high standard I reckon! I also use to-do lists and when I start the day I try to go over that and prioritise what needs to be done that day before getting stuck into my inbox! The app Wunderlist is great for simple to-do lists and makes the most satisfying noise when you tick something off!
And what about work-life balance? Has your social or family life been impacted?
Work-life balance is such an ongoing lesson for me and many of us I think! Especially when you're doing work that is personal, that you're really passionate about, when it's something you've created and you have a lot invested in. As a polyamorous person, a partner, a friend, a sister and an aunt sometimes it does feel really hard to make time for everything and you feel like you're constantly apologising for being busy.
My job doesn't have set hours — often I have to attend events or work in the evenings and weekends as well as during the day. A small thing I'm trying to do at the moment is to plan all my meetings for the week over a set couple of days, trying to make some time that's free for social things or me-time. I've also started scheduling social hangouts into my calendar a lot more than I used to, to make sure they happen and that that time isn't automatically taken up by work just because it's 'free'.
Let's talk money for a moment. Can you tell us about your financial situation when you started out? Did you have start up costs and how did you handle this?
When InsideOUT started I was unemployed and had just moved to a new city. Initially we were umbrella-ed by another charity, the wonderful Intersex Trust Aotearoa New Zealand to apply for funding to run our first project (a youth hui). Later that year we became our own legal entity and managed to obtain a small grant and did some fundraisers to cover essential costs.
Everything we did was entirely voluntary for a long time. As time went on we had some more successful grants for projects where we were able to cover some volunteer expenses. Our first funding application for salary funding was turned down because we didn't have reviewed accounts (though we'd barely had any money to review!), but when we tried again the following year we were successful. At the end of 2014 I was employed for 10 hours a week and then a year later we were able to double that.
Is InsideOUT financially sustainable now? How do you feel about the money side of 'following your arrow'?
Currently I'm paid for 22 hours but am often working 40-60 hours. Luckily I'm a frugal person and I was able to save a bit from a previous job, so I can just about live off this. Over the last four years I've also done some contract work for an org called Wellington Rape Crisis, coordinating their fundraising street appeal, and other community jobs to help get by. Next year I'm going to be paid for full-time hours in my role for the first time and I'm feeling a bit scared by that and how it might feel to have my time valued and supported properly. How to feel okay about that when most people doing work in this area aren't paid. How to be careful not to put too much weight on that, because the funding we're getting is a one-off and there's no guarantees how we'll fund my position the following year. How being paid for the hours you work is just most people's normal, but having always worked in the NFP sector, it feels uncomfortable. What responsibility comes with having money? How do I use it to take care of myself and the people and communities I care about? Lots of questions! I'm interested in the learning ahead around that.
In terms of sustainability for InsideOUT, that's a really hard thing for a charity to attain, especially in the context we work within and when your primary income is grants which are never guaranteed. I hope that over the next year that we'll be able to look at how we can gain more long-term sustainability and increase different income streams.
Where would you like to see yourself in five, ten years' time?
I find it really hard to answer questions like this! I take quite a 'go with the flow' approach, I don't have a plan beyond this. I think (hope!) I would still love to be doing work that I am passionate about, that makes a difference and combats some of the harm and inequalities in the world. I think as well as working in rainbow communities I'm curious about doing further work in the sexual violence sector and of course seeing where astrology takes me!
I often feel this tension between being in a role like I am currently that is hugely diverse in what I get to do, but at times can be heavily administrative/overseeing versus being in a more crisis support, youth work or counselling role where I could work more one-on-one and support people through change over time. That's probably a reflection of my Taurus/Aries/Cancer challenges too!
How do you promote your organisation?
Things are slightly different for marketing in the charity world I think. We use social media a lot, in ways that appeal to both the young people we work with and those supporting them in various ways — parents, youth workers, teachers, etc. We speak at lots of conferences and events and try to educate people working in the mainstream youth sector about how they need to be caring and supporting LGBTQIA+ youth.
How does being LGBTQ impact on your organisation (if at all)?
Well evidently in my area of work it's pretty obvious that I'm queer and it can often be useful to bring your personal experiences into your advocacy. I think an interesting thing about working for an LGBTQIA+ organisation is that your work can often out you before you choose to do that yourself! Sometimes that's really useful, especially as a femme, but other times I will tip-toe around it for safety reasons when people ask what I do, and try to answer very vaguely.
What's your hot tip for queer women who want to start their own organisation or business?
Give it a go, believe in your dreams, follow your passions and be persistent… find people who will support you — whether that's practically with the business or just on a personal level. It's so important to have other people on the journey with you, in one way or another.
Be patient — I know what it's like to just want everything to magically fall into place overnight but that rarely happens. Work hard but don't let it take over, take time for you and the people you love and make sure you don't lose sight of why it is you're doing this/the thing you're passionate about.
twitter: @tabbybesley or @insideoutnz
instagram: @queerindigo or @insideoutaotearoa