Welcome to "I Just Now Saw," a new column in which I attempt to conduct conversations about television shows you watched ten years ago and I just now saw, in their entirety, for the first time. I've got a serious backlog of shows I've recently seen that I wanna talk to you about but today I will begin with Buffy the Vampire Slayer, the seminal lesbian feminist classic.
I think one of the primarily disarming feelings of watching a show all the way through, many years after it aired, is that you have to completely avoid reading anything about the show because you don't wanna accidentally bite down on a spoiler. Buffy was particularly challenging in this regard — whereas I could read old Battlestar recaps knowing that the recapper knew as much as I did, Buffy was popular in the pre-internet-ubiquity age which means online recaps of Buffy were generally written a few years after the show stopped airing, meaning its authors had usually already seen the entire series before setting out to recap it. Therefore I was worried they might spoil a thing for me. You can't read anything about it until you're completely done watching it, at which point I just didn't know where to even begin.
There's just SO MUCH BUFFY that attempting to discuss seven seasons of 22 episodes each all in one post is nearly impossible, so I've just decided to focus on some of my largest feelings.
Top Ten Feelings I Have About Buffy The Vampire Slayer
1. It Was A Slow Starter
It's not uncommon, of course, for a supposedly excellent television program to take some time to grow on me — The Wire and Battlestar Galactica, for example, took six or seven episodes to really suck me in (and then never let me go). But Buffy took a lot longer than that. It took three seasons, actually. I'd resisted researching the answer to the question "when do the lesbian parts start," because my belief that the lesbian parts could begin at any moment was the only force driving me to continue watching episode after episode, especially every episode in which Drusilla had any lines. If I wanted to see what it looks like to have unusual teeth and talk like a melting cake, I'd take a bunch of Valium and look in the mirror, you know?
That being said, I'm not confident Buffy ever captured my entire attention at first, and by that I mean I was probs doing other things while watching, which likely contributed to my disenchantment. There was a monster of some kind, they killed it, then the episode was over. Everybody was dressed really bad and the special effects were almost comically terrible. None of the ongoing storylines snagged me — Angel seemed kinda broody and dumb, so I didn't care about that, and Xander was obnoxious and Willow was talking in a weird baby voice all the time and I just kinda wanted to get a beer with Giles, and I don't even drink beer. And maybe neither does Giles.
I also think the super-clever humor is one of the show's strongest points, and you tend to "get it" more when you've already fallen for all the characters and for the concept in general. I think I'd like Seasons One and Two a lot better now than I did at the time because it would be more hilarious.
2. Buffy Wasn't My Bestie
I think part of my late-start problem is that it took me eighteen lightyears to wrap my head around the idea of Sarah Michelle Geller playing a feminist heroine. I'm not in the "feminist heroines can't look like Barbie Dolls and if they do it's not progressive" camp because, hello, it's television, have you met Veronica Mars or any other female heroine on any show ever, but this was a radically new context in which to see SMG. I'd never found her particularly inspiring as an actress, she was just that girl who dated the equally coma-inducing Freddy Prinze Jr and starred in all the 90's movies I hated JUST KIDDING I LOVED THEM ESPECIALLY SHE'S ALL THAT AND CRUEL INTENTIONS. [But I loved them in a way dissimilar to how I expected to love Buffy, obviously.]
So what was it, then, that separated me from really connecting with Buffy Summers? She's an outsider and a strong woman and I love both of those things. This is my best guess: she's not a dork. She may be an outsider, but she's not a nerd or an intellectual or, at least at first, much of a deep thinker in general. She doesn't read books, understand computers, like school or get good grades. So it was Willow, then, who served as my ambassador to the show, at least at first (I think every show has one or more "ambassador," your anchor, the person you can identify with or feels honest to you, like Alice on The L Word and Hurley on Lost and Jim on The Office). Willow was the nerd. She was so nerdy that she learned her way into powerful witchdom!
But then shit got dark, y'all! (more on this in a minute) Shit got super dark in later seasons and as Buffy became a Woman, she became a Woman I related to.
Oddly, I also felt closer to her in later seasons because of what she said and felt about the responsibility that comes with leading a group of (mostly female) humans in a united cause and being the Decider.
Faith: "I'm looking at you, and everything you have, and I don't know, I'm jealous. Then there I am. Everybody's looking to me, trusting me to lead them and I've never felt so alone in my entire life."
Buffy: "Yeah?"
Faith: "And that's you, every day, isn't it?"
Buffy: "I love my friends. I'm very grateful for them. But that's the price of being Slayer."
3. Everything Looks So Familiar
At least half the cast of Buffy consists of actors I strongly associate with their other work. It took me a long time to get over the fact that Xander was dating Susan Keats from 90210. I had no idea this show was so chock-full of humans I know in radically different contexts.
Oz // Kenny Fisher from "Can't Hardly Wait." // Seth Green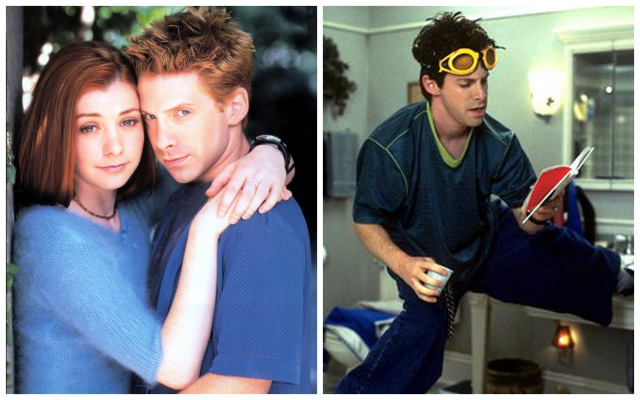 Anya // Susan Keats from Beverly Hills 90210 // Emma Caulfield
Susan was Brandon Walsh's harpy feminist girlfriend from the newspaper who was probably really awesome and I'd totally love her now in a Miranda-from-SATC-way, but when I was thirteen I could only see her as an obstacle between Brandon Walsh and his true love Kelly Taylor. Also because Susan was a wet blanket.
Cordelia // Rebecca, the manipulative bitchmom from The Lying Game. // Charisma Carpenter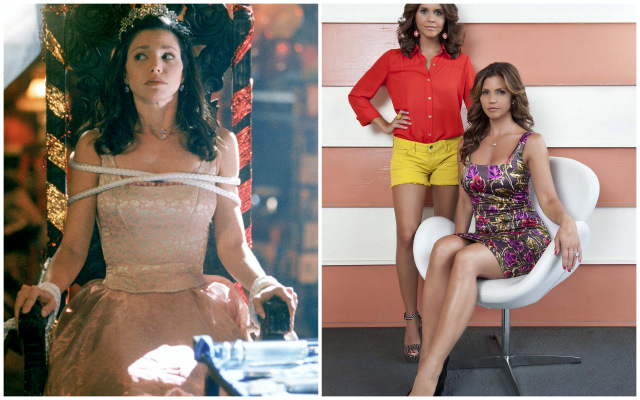 Dawn // Harriet the motherfucking spy. // Michelle Trachtenberg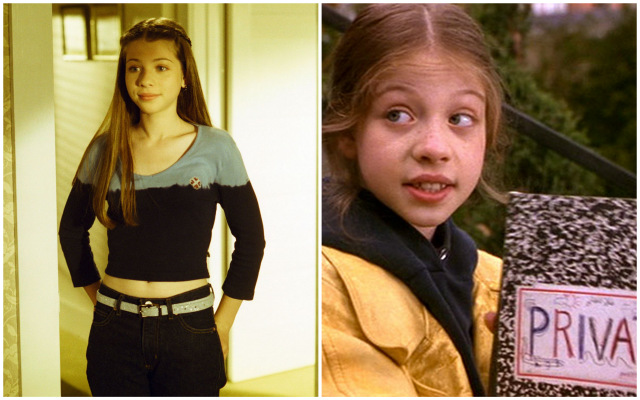 Faith // Missy Pantone from Bring It On // Eliza Dushku
Xander // Kevin Lynch from Criminal Minds // Nicholas Brendon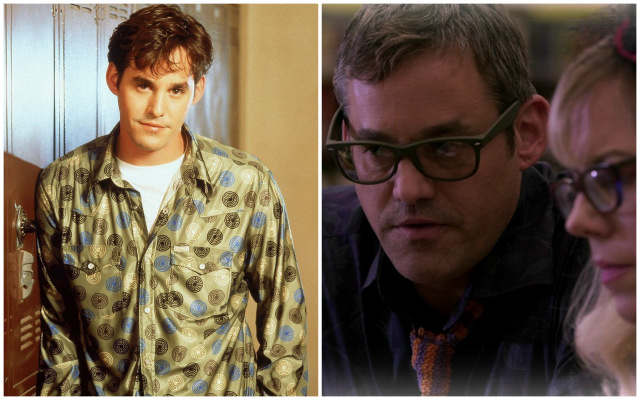 Willow // Band Camp Girl from American Pie // Allyson Hannigan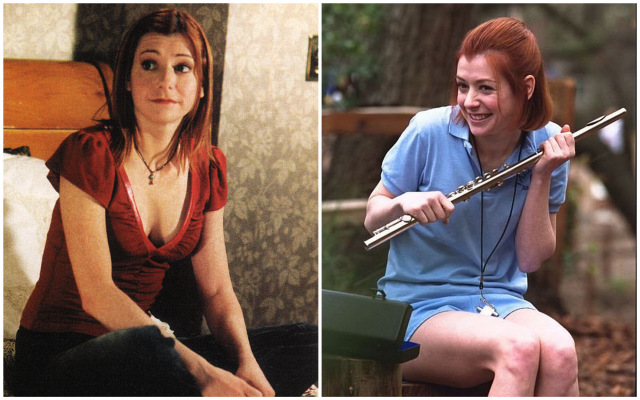 Buffy // Evil bitch from Cruel Intentions // Sarah Michelle Geller
4. Tara and Willow Are So Gay
Aw, the 90's! When it was such a huge deal for a lesbian couple to exist in the first place that having them act sexual towards one another would've been downright scandalous. But just like how Lucy and Ricardo's separate beds strike present-day audiences as hopelessly antiquated and foolishly prudish, Willow & Tara's tender sexless affections seemed a bit quaint at first. Plus they were always dressed in those long flowy skirts they sell at bougie boutiques by the waterfront in Berkeley which summoned memories of the pandering sexless lesbian image of the 1990's. They didn't kiss for the first eighteen episodes of their relationship! But still, it was groundbreaking shit and became the longest-running lesbian relationship on network television at the time.
I knew only one thing about their relationship going into it: that Tara would die. But I didn't know about the tender and funny "coming out" scene with Buffy, or about all the funny gay jokes that would ensue or about what a good singer Amber Benson is. (JK I already knew that last one because prior to my marathon, I'd seen Once More With Feeling at Intern X's apartment in like 2010 and we were all so stoned I couldn't tell the difference between television and real life.)
Also I liked Kennedy as Willow's partner too? Which I guess is also an unpopular opinion.
5. Oh, Spike
So I have this weird affection for bad-bois-turned-good-for-love. Like if an asshole does one tiny redeeming thing, I develop a panic that if he's not rewarded for said redeeming action, that he'll never do anything good again or believe in the good of mankind. (I have similar emotional reactions to every tiny thing Obama does for gay people, as you may have noticed.) Besides, Spike seemed more interesting than Angel, who reminds me of a loaf of bread, or Riley, who reminds me of meatloaf. I'd rather make out with a cardboard box. Or a cardboard box cutter. Or Finn Hudson. I don't know what it is about men, they just have a habit of reminding me of carbohydrates and razorblades.
Spike, though! Young Spike in his glasses, reading love poems that nobody but his mother wants to hear! Evil Spike with the trench coat flapping in the wind with the fury of a thousand outsiders trying too hard to look cool! Spike with his heart, looking after Dawn, playing teacher's assistant for the new class of slayers!
Prior to watching Buffy, I'd heard of and about Angel but never heard of Spike, so I assumed my affection for Spuffy was about as unpopular as my affection for Shenny (DON'T HATE), but after I'd watched the series I asked Laneia and she said everybody liked Spike! Silly me.
Remember when Spike went and visited Buffy at her job at the fast food restaurant? That was so cute. It's always special when you're trapped in a low-paying job which requires you to wear a profoundly stupid uniform and then your real friends from the real world come visit and catch you in all your uniformed scripted corporately-compliant glory.
[Yes, I cannot fit "Seeing Red" into my consciousness, cannot really know what to do with that. Because no. Just no. It failed on so many levels. If you're going to use an attempted rape scene in your show, especially in a show about empowering women, you follow through or you don't, and they didn't, although Buffy Wiki says the writers stood by the decision, claiming "that moment was necessary to set up a powerful motivation for Spike's quest to gain a soul." But I don't think so. Plus as metaphors go, that's a weak one with no legitimate parallel in real life. I've read a lot of analyses of this since watching it which has lead me to conclude that there are so many angles from which this scene (and episode) fails that I can't do it justice in this one paragraph, or even in many paragraphs quite yet. ]
6. Shit Got Dark
When shit got dark, that's when I started relating, that's when I fell in love with the show, and not just Season Six but how it made her stronger, I think, in Season Seven. It made her ready to lead. Sometimes being in charge is a way of keeping yourself healthy, you know? Those weren't the seasons everybody else liked, were they? Those weren't the seasons everybody liked. But that's when Buffy became a thing to me. When she was depressed. When she missed death, when she wished she could be a part of death again. When she slipped into Spike's lair and let him push her hard because she just needed to feel something, anything, just anything besides the tedium of being alive.
All day you do things you're supposed to do — things you need to do, things you're obligated or expected to do by others — because that's just what there is to do. You don't want to do anything so you can only do the things you need to do. But here is a thing you both want to do and do not need to do. So what do you do. You do it.
I get that.
7. I Love Andrew
I think Andrew was my Anya. He was one of my favorite parts of the show. I also loved how he was gay but it wasn't a thing, it was just funny. Gay guys always steal the show from the gay girls but he didn't.
[I was hoping that Vex would be my New Andrew on Lost Girl, but I'll talk about that more in I Just Now Saw: Lost Girl.]
8. I Didn't Hate Dawn
There are many ways in which the traditional viewing experience differs from the marathon-viewing experience. Dawn's storyline, I think, is a perfect example of this. When Dawn appeared out of the great blue nothing at Season Five's start, I honestly thought I'd just missed something in the previous Season which would explain her presence, but six hours later I knew the truth about what she was doing there. If I'd had to wait six weeks to know what the hell she was doing up in Buffy's situation, maybe I would've hated her like everybody did — but I didn't. She was a 13-year-old girl, you know? There were episodes in later seasons where she annoyed the living fuck out of me, though.
9. Buffy Isn't Bad at Relationships!
Why were Buffy and her pals so obsessed with the idea that Buffy can't "make it work" with guys and all of her relationships are disasters? Um, she had two boyfriends before Spike. Angel, and then Riley. Like all relationships that end — a.k.a., every single relationship you're ever in except for the one you're in when you die — their relationships didn't work.
10. What Makes Buffy Special
I think a lot of it is that they use ALL THE TROPES! But in a really exciting, fresh, fun way. Like almost the entire thing is potentially meta. There's an attention to detail that manifests itself in really surprising ways, and fails in really surprising ways at times, too, you know? I think it did fail, from time to time, but only because it was so ambitious in the first place.
But of course, also the lady-thing!  I basically cried through the entire finale, and not because I was sad — I'd sort of prepared myself for everybody dying and was pleased that not EVERYBODY died any anyhow, the show was over so who cares who's dead or not— but when all the potential slayers become slayers? I'm moved to tears by this epic exhibition of raw Girl Power, especially when all fifteen girls are suddenly infused with the power and confidence to kick 100 asses apiece. It was beautiful.