A few months ago I took a workshop on zine and chapbook-making and it was so much fun that I went home and made a bunch of chapbooks and got them printed. I even made one on the computer because I wanted to use my own images and not ones from magazines! A chapbook is a short "book" of less than 40 pages and is often used for poetry.
Zines or chapbooks are really easy to make. The hardest part is the creativity! Here's what you need:
+paper
+pens/things to draw/colour with
+glue
+scissors
+magazines and/or pictures
+whatever you want to put in your zine! I like to tell short stories or use each page for a line of a poem. Laneia likes to share feelings and make observations. You do you!
There is a really easy way to make an 8-page chapbook out of one piece of paper. I took some instructional pictures to show you how!
How to Make an 8-Page Zine/Chapbook Out of One Piece of Paper
1. You will need a rectangular piece of paper. I think anything smaller than a 9″x12″ will be too small.

2. Fold the paper in half both ways.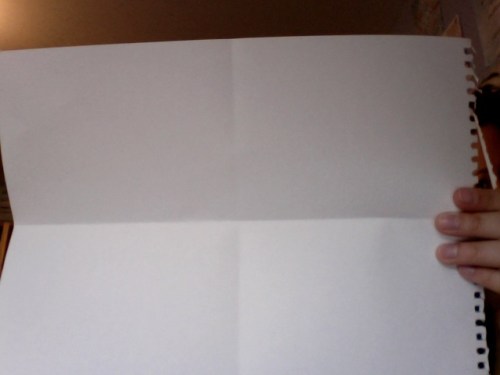 3. Lay your paper out so it is longer horizontally. Fold the left and right sides of the paper to the vertical crease in the middle.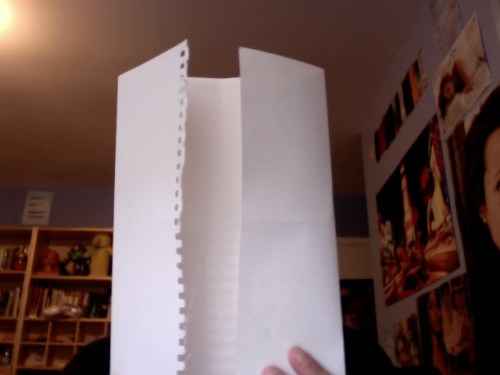 It should look like this when you unfold it: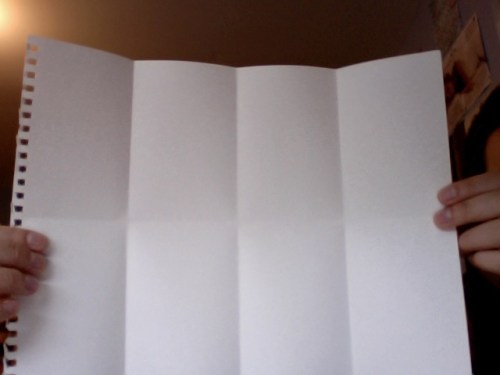 4. Now you need your scissors. Fold your paper along the horizontal middle line. I've drawn a line on my paper to show you where you need to cut, but you don't need to draw the line yourself (unless you want to!)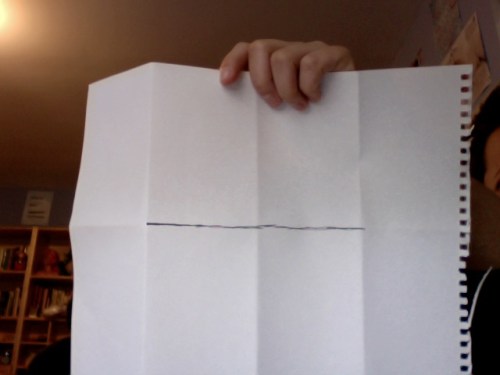 After you cut it, it should look like this: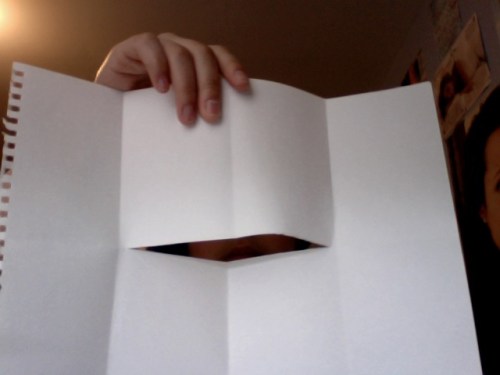 5. Now for the actual folding part! Fold your paper again along the horizontal middle line (the part that you just cut). With the cut, you should be able to push the two ends together to make sort of like a starfish looking thing:

6. Just fold the two outside flaps over, until you have a little book! Does that make sense? It should make sense if you have it in your hand.
Here's an example of what a finished one might look like when it's all unfolded: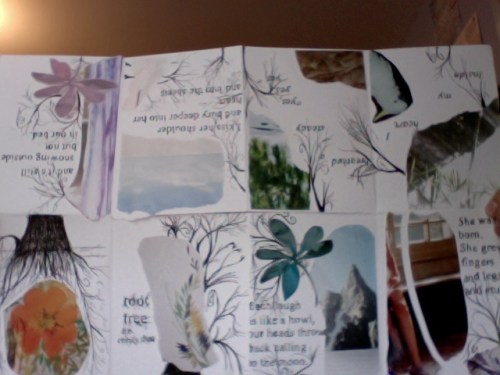 And here are some zines you can purchase from Autostraddle, all created and designed with love by me or Laneia!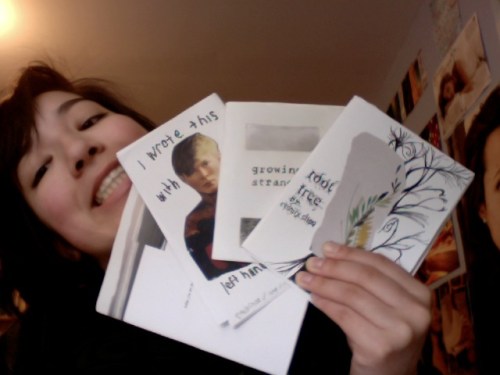 Limited Edition Emily Zines – half-size, 8 pgs, color, so so special – $10
I have about four copies of each, so there is a limited amount. I am willing to print a few more pending demand, but hurry up because I am going to China in a week and a half and won't mail anything from there! Price includes shipping all the way from Canada!
This Isn't a Bird Story – full-size, 22 pgs, color, special shiny cover paper – $15
Created last fall using print clippings, drawings, electrical tape, polaroids, origami paper, the inside of a moleskine cover, stickers, Laneia's favorite childhood books and one kindergarten treasure box tally card. Price includes shipping all the way from Phoenix!
"The original title of this zine was to be Bloody Vains, but now it's called This Isn't a Bird Story, because it isn't. I began putting this together when my computer crashed a few weeks ago. This Isn't a Bird Story is a collection of nice, pretty things that I like and that's basically it."
Additional monetary donations are always welcome, of course. ALL YOUR MONEY GOES TO AUTOSTRADDLE AND THE FUTURE!
Autostraddle recommends Microcosm Publishing for any additional ziney needs you may have. Have you ever made a zine or chapbook? Do you have feelings or stories or maybe a zine of your own that you'd like to share?