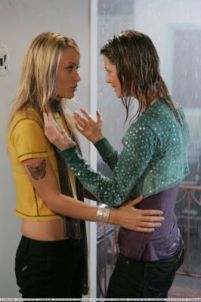 LESBIAN KISSES ON THE TV:
Sometimes in our bubble of distorted and possibly pathological awareness of lesbian kisses on the TV, we forget that those smooches aren't for us, they're for the fellas:
The nation's fellas have been in a frenzy since we revealed how there's a new lesbian storyline coming up in Desperate Housewives.
For once, lads everywhere will be bugging their other halves to watch the show instead of the other way around.
Also in aforementioned article, The Sun (always a model of journalistic integrity, obvi) presents a gallery of TV's Lamest Lesbian Scenes, entitled "TV's Hottest Lesbian Scenes." "Nation's fellas" listen up: this one time Shane did Cherie with a strap-on by the pool and this other time Naomi & Emily had sex in the woods (or so we hear, that part was edited out for the US 'cause we aren't ready to give up KY Jelly). Neither are on your list. Who at The Sun is responsible for this top ten list? You missed all the good stuff!
Raise your hand if seeing Sarah Jessica Parker and Alanis Morisette play Spin the Bottle and kiss reluctanty in Sex and the City got your panties in a bunch, or if you had to reach for The Rabbit when Hilary Duff & Jessica Szohr locked lips pre-threesome on Gossip Girl?
Howevs, props to the list's inclusion of Alex & Marissa on The O.C. and those chicks from Mistresses. Those were good ones.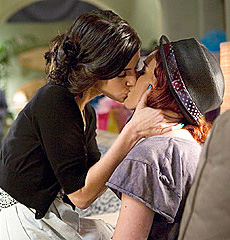 Moving on! The Hollywood Gossip is excited for 90210's lesbian romp!
"Adrianna and Gia share a special bond. My character starts questioning whether or not sexuality is measured on a spectrum, if it's black and white or if it comes down to who you connect with and who you are compatible with. I'm excited as an actress to tell the story."
You can read about more 90210 spoilers right now, but we have no need to. Two girls kissing? We're totally in!
So ladies, next time you feel pathetic for watching an entire hour of shitty television just to catch two girls kissing, remember you're not alone, lots of dudes are doing it too and they're not doing it 'cause Visibility Matters. [Sidenote: Autostraddle is not a manhater, we think dudes are awesome, we also imagine our male readers would agree that these aforementioned articles are silly.]
THE REAL WORLD DC:
Further evidence that TV producers are trying to deprive us: Grace Chu at AfterEllen interviews our favorite lady Emily Schromm of The Real World: DC on being bisexual, coming out and her first lesbian relationship… and! why MTV excluded Emily dating women from the final cut. (@afterellen)
ADAM LAMBERT:
Adam Lambert performs "Sleepwalker" on The Tonight Show. He did not cross paths with Leno's other guest, Sarah Palin (why god why why is she still existing and doing things). There was a dude on keyboard, it was not Camila Grey. Adam's performance was f*cking awesome, though:
ROSIE: We've got some audio/video of Rosie and the girls ripping into The View's Octomom interview. "Why are they booking the octomom?" is Rosie's first question, 'cause not only is it insane that people are still paying attention to the Octomom, but Octomom is clearly a lunatic and the last thing she needs is contact with Elisabeth Hassleback.
In this recording from Rosie's radio show (part one is below, watch/listen to part two here) Rosie basically recaps The View. I'd watch The View every day if Rosie was recapping that sucker Mystery Science Theater 3000-style. Especially when she's like, "and no one is going WHAT? What did she just say?" Rosie also points out how amazing Whoopi is through the whole thing, "okay here's a three shot of Whoopi, Barbara, and the Octomom, and Whoopi's face — look at her face right there — she's like what the FUCK is going on… gotta love the Whoop for keeping it real."
I actually literally for serious cannot stand Octomom. Not in a like, "I hate her but I must watch her" way, but in a "that's super annoying turn it off please" way, like how I feel about Two & A Half Men.
KANYE:
Kanye West wrote a good blog post? Kanye West wrote a good blog post: "There's no such thing as fact anymore, only opinion. The closest thing we have to "fact" is "common opinion." Everything is an opinion. The way you dress is an expression of your opinion. Your religious beliefs are your opinion. The music you turn up loud is your opinion. For most people it's easier to just agree. For me the hardest thing is to 'just' agree and that is what sparks creativity, the feeling that something can be better, the feeling that something's missing, the feeling that something's needed." (@ontd)

WOMEN IN HOLLYWOOD:
Wanna see some pathetically sad statistics about women in film-behind and in front of camera? Look no further. (@huffpo)
LINDSAY LOHAN:
Lindsay Lohan's provocative shoot with Terry Richardson for Purple Magazine. (@lindsaylohansource)
KE$HA:
Ke$ha is interviewed at Billboard. (@billboard)
90210 HOUSE:
"Beverly Hills, 90210" Beach House For Sale For $10.5M: You can get some of that investment back if you manage to rescue the speed David Silver flushed down the toilet. (@huffpo)