For the past six years, we've watched their loves and we've witnessed their lives. We've shared their dreams … and hopes … but mostly we've just been patiently waiting for the following characters to stop talking and start undressing: Jenny, Bette, Alice, Dana, Tina, Shane, Kit, Helena, Moira/Max, Marina, Tasha, Paige, Carmen, Jodi, Papi, Phyllis, Dylan, Lara, Nikki,  Joyce, Molly, Dawn Denbo & Her Lover Cindie, Billie Blakie, Grace, Tom, Tim, Robin, Candace, Cherie Jaffee, Gabby Devoux, Lindsay, Dusty, Claude, Catherine … and so much more.
It's hard to choose. Begin to argue away (some images are NSFW).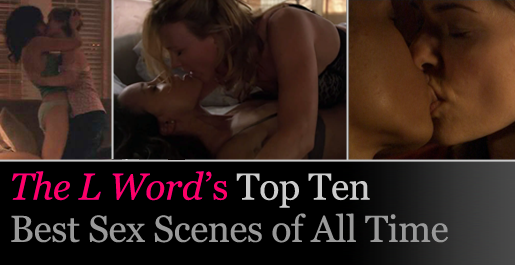 15. Shane & Carmen – Full Circle Sex (201 & 213)
At Season Two's opening, a post-Cherie-Jaffe Shane is settling back into her commitment-free wayward ways and super-fly DJ Carmen is her first new fuck. As the season progresses, Carmen is frustrated by Shane's walls and moves on to other things [e.g., Jenny]. After a season of denying the torch she's clearly carrying, Shane does the unthinkable and actually asks Carmen out on a date and then asks Carmen to come over and then bow chicka bowwww guess who's in love now?  You just have to ignore the creepy EZ Girl poltergeist music. Fucking fucking fucking fucking. Shane Shane Shane Shane. Carmen Carmen Carmen.

14. Jenny & Marina – First Time Sex (102)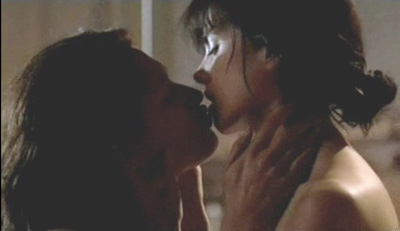 Oh, little Jenny, back when she was a tender-hearted recent MFA graduate stunned by the sapphic energy suddenly sapping her former feelings for long time flame Tim. Marina seduces Jenny and bing bang clothes go off and a lesbian is born.

13. Helena & Dylan – Sunset Sex (308)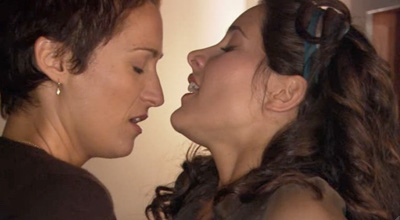 "Are you sure you've never done this before?" Helena asks her latest conquest. Clearly she's a natural. Speaking of being a natural, Dylan and Helena remain naked and in various throes of ecstasy for way more than 45 seconds (the typical limit on nudity in Post-S2 sex scenes).  When Dylan returns in Season Six, this is what we must close our eyes and remember when asking ourselves "Why is that asshole back in her life?"

12. Bette & Tina – StirFry Sex – 506

If you leave your door open while you're home alone & cooking, you never know who could walk in. Like maybe your ex and the mother of your child. "Turn around," Tina commands. "Look, I know that you don't wanna hurt Jodi –" and then she goes in for the makeout. Oh! That old familiar feeling … oh, it gets better every time they go back to each other. And this time, for the last time, it's for good. Meanwhile I think the stir fry is burning.

11. Max & Grace – I Wanna See Your Body Sex (411)

Grace wants to see Max's body. Max says it's not his body. Grace has this husky determined-to-seduce voice. She tells him not to hide. She tells him she wants him to come in her mouth. Oh yeah, and he just quit his job that day. So we're talking all around gender-liberation day, and some hot Grace full-frontal is just the icing on the "trannie wedding cake" (copyright carmen de la pica morales).

10. Nikki & Jenny – Strap-on Sex (510)


Smack dab in one of the series' best episodes was one of its most playful and kinky sex scenes, ignited by Jenny's gift of a large purple strap-on and their movie star Taj Mahal tent. And … it's LONG. I mean they keep going and going. If Adele still has that tape, we'd like a copy.

9. Hypothetical Sex (502)


When the producers of Lez Girls demand more sex, we're finally treated to a montage of couplings we know we'll never get to witness in real time. Bette & Shane, Bette & Helena, Tina & Shane … along with Jenny & Tina's hilarious commentary, for once a man on the show is saying something we agree with — "MORE SEX! You're the one who says lesbians are always sleeping with their friends!"

8. Alice & Uta – Vampire Sex (305)


Alice knows how to fuck and laugh at the same time — or how to fuck and make US laugh at the same time. Though Alice has been pining after Dana all season, lesbian vampire Uta fixes that up real quick. After a healthy few minutes of full frontal every which way, Alice calls Helena to announce that she's just had the best sex of her life and oh, if Helena doesn't mind, could she just go online and check out some vampire websites? Alice has been bitten and believes she may become one of the undead. Which in this situation does not seem like such a bad thing.

7. Shane & Carmen – Too Hot/No Touch Game (202)


Boyshorts have never looked so good as they do on Carmen in her "SuperLovah outfit." Carmen wants to play a game called "Too Hot." The first person to touch the other loses. We are not surprised that Shane cannot resist.

6. The Entire Cast – Blackout Sex  (509)

Shane shows nervous Molly how it's done, Jenny finally makes art happen on the set of Lez Girls with Nikki's tits at full mast on "Jessie's" bed, Bette and Tina reunite and it feels sooooo goood, Alice & Tasha play with fire & ice, and Max lets himself get comfortable with new flame Tom.

5.Alice & Tasha – Because We Wanna Fuck Each Other Sex (408)



Tasha: "Some of the people are in the military because they want to serve their country, okay? We believe in what we stand for. I'm sorry if we don't live our lives wearing trendy fake-ass raggedy t-shirts that scream out bullshit about why do we kill people?"
Alice: "You think it's trendy to not kill people?"
Tasha: "The soldiers I worked with didn't want to kill people! Like, what the fuck? You think we wanna kill people?"
Alice: "Well why are you there?"
Tasha: "The question is, why the fuck am I here?"
Alice: "Because we wanna fuck each other!!"
… and it's hotter than the Iraqi desert!

4. A Moment for the Underdogs:
From the audience voting boards:
"Where were you going with this" entry: Carmen and Jenny's watersports."
"Jenny and Claude in Windsor…champagne, cigarettes and French Canadians."
"The whole Max and Billie sex scene at the Planet ("I like to get kissed while I'm getting fucked") was really fantastic. Mostly because the television world has never seen something like that before, so I think it should get points for representation. I was hoping we would see more of that with Tom and Max, but of course nobody's story lines are consistent and Max apparently becomes a power bottom."
"Shane is my favourite sex scene."
"Alice and Tasha in 501 when Tasha comes back. Sweet,hot and funny all together!"
"Bette & Tina … anywhere, any time !"
And maybe it was just me … but I thought Paige & Shane in the car (408) was fan-fucking-tastic.

3. Shane & Cherie Pool Sex (305)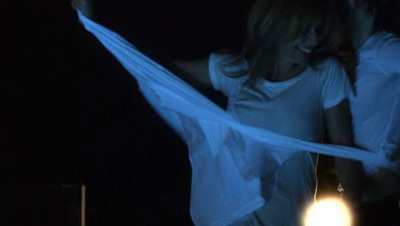 This is everything you could ever want from a West Hollywood girl-on-girl sex scene. The lanky androgynous ladykiller with a secret in her pants, the rich ex-wife emerging from glass doors to giggle and strip by the glowly glowy pool. It was so hot that we've all conveniently blocked out the fact that Shane was stepping out on Carmen to gift us with this love.

2. Tina & Bette's Angry Sex Scene (114)
Though Tina & Bette boast a healthy archive of smokin' hot sex scenes, Season One finale AngrySex is one of the most raw honest sex scenes ever on television. It resonates because Tina's mind has just been blown — what she conceives as possible has just expanded into terrifying realms decorated by betrayal and uncertainty. We know that feeling, that violence and despair, and Tina's hysteria becomes a kind of spastic beauty, as they fuck like killing and the icing on the cake of this heart-wrenching scene is realizing that here's something we can do that hets can't — the violence of this scene never feels abusive. It just feels like all there is, because sometimes your heart gets angry and everything gets wet and hot all over.

1. Alice and Dana – Finally Sex (205)

First they were making gift bags for Dana's wedding to Tonya, and then they were making sweet, sweet love. Alice touches Dana's ass and hey-o! The music begins, the clothes get tossed, and it's everything we've been waiting for and more. Everything we love from an L Word sex scene — complex characters we've invested in, lots of naked-ness, poses in ten differnet locations, laughter, and um, what's the other l word? Lunch? Oh! LOVE! I mean how could anyone go back to Tonya after that.
[ad#postads]