When Netflix debuted their three week "reality music competition event" Rhythm + Flow earlier this month, it was clear right from the start they were pulling no punches.
The ten-episode rap series is modeled a bit after The Voice or American Idol, with undiscovered rappers vying for their big break under the guidance of judges Cardi B, T.I, and Chance the Rapper. It keeps all the best parts of its predecessors (heartfelt stories about dreams of stardom, watching career growth and high stakes in real time, soundtracks that make you want to leap on Spotify) while also doing away with the worst of them (gone are months long audition reels and cheaply done covers of '80s ballads — every rap spit is a bonafide head bangin' original). Throughout the series there are cameos and "guest judges" from some of hip hop's most iconic stars — Snoop Dogg, Rhapsody, Killer Mike, Fat Joe, Lupe Fiasco, Anderson.Paak and the late, great Nipsey Hussle to name a few. When it premiered at the start of the month, Time magazine named it "the best music competition show in years." And they were damn right.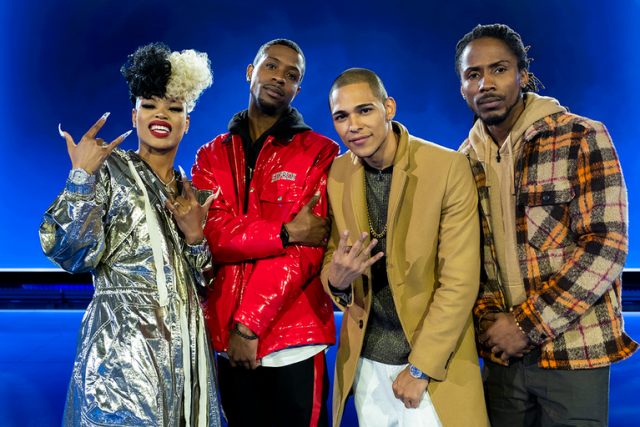 Yes, Rhythm + Flow is a lot of fun (and seriously, surprisingly good!) if you love rap music, but what nearly killed me dead was that it's also surprisingly gaaaaaaaay. There's two queer men and three queer women rappers who make it out of the audition rounds into the the Top 30. Two of them make it to the TOP EIGHT — shout out to Chicago's Big Mouf Bo! — and one of those lesbian rappers, Atlanta's Londynn B, makes it to the FINAL FOUR!
There's no denying Londynn B is the complete package from the first time she picks up the mic. She's a lesbian Cardi B by way of Grace Jones — all charisma, swagger, and sex. With the bars to back it up. She has a wife, a young daughter, and she's taking no fucking prisoners.
As of last week, all of Hustle + Flow is now available on Netflix, so if you want to find out if the queen takes her crown, you'll have to watch on your own. In the meantime, we here at Autostraddle wanted to congratulate Londynn on making it to the finals with a look at her most iconic performances.
---
Episode 6: Rap Battles — Londynn B vs Inglewood IV
Before the battle began, Inglewood IV complained to the cameras that having to compete against a woman put him at a disadvantage because he couldn't call her bitch without being unfairly labeled as sexist — which is first of all ridiculous, because this is rap music we're talking about. Second of all, if you have to make excuses from the jump, boo-hooing about why you're going to lose, then you deserve to have your whole ass sent packing back home. Of course Londynn delivers.
"I'll take your baby moms and let her eat my butt." — An icon.
Episode 7: Music Videos — "I Can't Change"
When this video aired, Chance the Rapper declared "I Can't Change" the best song in the entire competition up to that point. I could watch it forever, and I dare you to get its infectious chorus out of your head from the first time you hear it. A true bop for the ages.
Episode 9: Collaborations — "Rose in Harlem" with Teyana Taylor
Netflix dropped some behind-the-scenes footage of the first time Londynn met R&B star Teyana Taylor (along with her adorable daughter!). Londynn described herself as a longtime fan of "Rose in Harlem" and Teyana's work. "I was a fan because for one, we're both moms. And two: everything that gets done by women is always downplayed and when I heard the song, I felt that."
I felt that, too.
Episode 10: Finale — "Only One"
Some artists focused on creating just one single for their finale performance; ever the overachiever (because black women have to work three times as hard to be seen), Londynn performed a medley of three tracks. And honestly? Any one of them could be a Billboard hit this winter if she wanted them to be.
---
You can listen to Londynn B's greatest hits from Rhythm + Flow on Spotify, Tidal, or Apple Music. Don't forget to follow her on Twitter or Instagram. Congrats again, girl.