DC:
Tomorrow is the day for gay marriage in Washington DC! Under the recently passed marriage equality bill, same-sex couples will be able to apply for marriage licenses starting tomorrow. The standard three-day waiting period still applies, so marriage ceremonies won't be happening for a bit. Officials are expecting long lines and waiting period tomorrow as gay couples rush to get marriage licenses. (@washingtonpost)
Yesterday, opponents of the law asked the Supreme Court to step in, arguing that the people of DC should be able to vote on the matter. Chief Justice John Roberts denied the request this afternoon, saying he would defer to the opinion of the local courts, which had allowed the law to stand. (@reuters)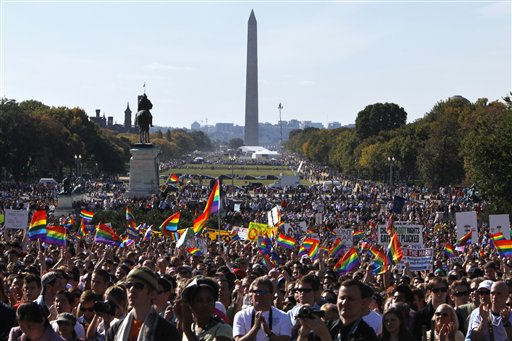 You may also remember the controversy with the DC Archdiocese, which said it would have to cut charity programs sponsored by the Church in the city if the law passed. The law requires government-related programs to provide partner benefits to same-sex couples. The Church cut an adoption program last week as a result of the law's passage. Now they have decided to cut partner benefits for everyone. Apparently they would rather not provide health care for spouses at all than give it to gay couples. We've already explained why this basic strategy is flabbergasting, and it's pretty self-explanatory at this point, right? (@ms.)
But how did DC get here? The bill passed relatively easily, and there seems to be only a marginal amount of protest. This is one of the very few victories for gay marriage in the past year. There's got to be something we can learn from the campaign for the bill. Luckily, the Associated Press has an analysis of the strategies used by the pro-marriage equality people. Turns out, race was a big factor.
Over the past year, both sides have courted the support of Washington's black community, a majority of the city's 600,000 residents and one traditionally perceived as opposed to same-sex marriage.
"In D.C., outreach to African-Americans wasn't part of the campaign. It was the campaign," said Michael Crawford, the leader of a pro-same-sex union group, D.C. For Marriage.
Crawford, who is black, said other residents weren't ignored, but his group and others weighed the city's racial makeup in planning their message. That made the debate here different than in other places that have considered gay marriage — places like California, where about 7 percent of residents are black, or Maine, where 1 percent are. Voters in both states struck down gay marriage laws.
After accusations that the black community helped pass Prop 8 in California, it's nice to see a positive spin on the race-related views of marriage equality. (@ap)
Hopefully, marriage licenses will indeed be handed out tomorrow. We're looking forward to a bunch of adorable photos from big gay weddings this weekend!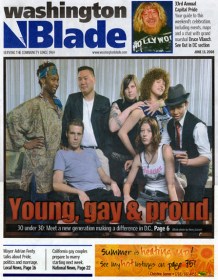 PRINT:
The assets of gay publishing company Window Media were sold off in Atlanta bankruptcy court last week. The DC Agenda has purchased the 40-year archives of the Washington Blade, as well as the rights to the name of the now-defunct gay publication, for $15,000. The Agenda is run by the Blade's former staff.
Gaydar, an Atlanta-based nightlife publication, bought the rights to the Southern Voice's name and archives. A former Southern Voice editor was outbid. (@editor&publisher @advocate)
TRANS:
San Antonio police officer Craig Nash has been charged with raping a trans woman. After the alleged assault, "the woman then took a bus to a police substation to report the incident, telling officers Nash 'wasn't going to get away with this.'" Nash is currently out on bail. (@sanews)
ATLANTA:
The Atlanta City Council has approved a set of subpoenas to force 18 police officers to testify in front of the Atlanta Citizen Review Board about a raid of a gay bar last year.
"I was treated with total disrespect," said Thomas Hayes. "We were all being ordered to the floor and told to lie face down and palms up."
Hayes still gets angry when he recalls the night last fall when the Atlanta police raided one of the city's oldest gay bars. Investigators said they had probable cause to believe that illegal drugs were being dealt or used inside the bar, and people were engaged in illicit sex. But Hayes claims that isn't true. (@cbsatlanta)
CANADA:
Internal reports indicate that the Citizenship and Immigration Minister Jason Kenney removed references to same-sex marriage and anti-discrimination laws from an official study guide used in the citizenship process in Canada. Kenney argued against same-sex marriage laws in the past and ignored memos from his staff asking that references to gay rights be put back in the guide. (@globeandmail)
MAHER:
Olivia Wilde was on a panel discussion about health care on Bill Maher's show, and she was super intelligent and therefore hot. She comes in around the 4:20 mark.