ANTI-COMING OUT DAY:
Despite our deep love for the lesbian lifestyle and general sapphicry, no one seems to be interested in joining our special secret club today! This is bogus, b/c it means:
1) The gay agenda isn't working, possibly isn't as popular as Focus on the Family thinks it is
2) "Lesbian chic" was a term invented by the media just to get attention and not because it is legitimately cooler to be a lesbian
3) Furthermore "Lesbian Chic" and "Bisexual Chic" are not trends, but rather actual characteristics of a human being unaffected by trends or homosexual brainwashing
4) Alice Pieszecki was not correct when she stated, "All girls are straight until they're not."
"Real Housewives of Atlanta" star Kim Zolciak is pissed that everyone saw this picture of her with her girlfriend DJ Tracy Young and reported that she was in a lesbian relationship. Specifically, she's pissed at some dude named Steve, who I guess is somehow involved with the show, who spoke to US Weekly about her lesbianism:
Last week, Real Housewives of New York star Simon van Kempen (who is married to Alex McCord) hinted to Us that Zolciak's sexuality would be a storyline on the Bravo reality series.
"The rumor is that Kim Zolciak will come out this season," he told Us at the Season 3 screening party at Tenjune in NYC.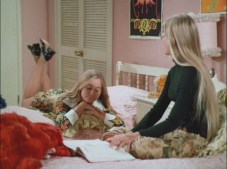 'Brady Bunch' reunion has been nixed over old hints of lesbian affair between Maureen McCormick and Eve Plumb. Apparently the two don't want to be in the same room because they hate each other, and apparently they hate each other because Maureen McCormick "insinuated" in her book that she and Eve had a lesbian affair. McCormick insists the passage was taken out of context, which we're positive is true, but Plum thinks that section was phrased the way it was on purpose to sell books. Cindy agrees:
"I don't like there to be a rift in the family. I love them both and this means whenever we get together for any project there will only be one or the other. But I do understand Eve's point of view," [Susan] Olsen told Fox 411 last November. "She got tired of Maureen gaining attention for herself by regurgitating the tiresome and false insinuations that they had a lesbian affair."
This is disappointing because not only did I read Growing up Brady (Greg Williams' book, which lacked lesbian affairs but addressed Robert Reed's life in the closet) and watch every single episode of The Brady Bunch, but I honestly love reunion specials.
Also, Alicia Keys wants to 'set the record straight' over lesbian rumors, says The Improper.
But seriously: is this really a no one wants to be gay day, or a "media is sometimes annoying" day? In the Brady Bunch & Alicia Keys articles, headlines focused on relatively minor gay content in a larger story. Of course, the SEO-dominated world of internet journalism requires hyperbolic headlines to stay above water (Jon Stewart's mocking of hyperbolic website headlines the past few weeks speak to this), but can we hold these ladies accountable for reacting negatively to something someone else started? [Sidenote: Yes, yes, Autostraddle's headlines focus on relatively minor gay content in a larger story but that's 'cause we're a gay website, obvi. We'll focus on the homo-related section of an interview while Self might focus on the workout-regimen aspect. Yannow?]
IRA GLASS FTW:
NPR'S This American Life is streaming this week its 2002 show about the American Psychiatric Association's 1973 decision that Homosexuality was no longer a mental illness. (@npr)
JOHNNY WEIR:
Current's "THAT'S GAY" looks at figure skater Johnny Weir:
DEPRESSION:
Depressions' Upside: "The mystery of depression is not that it exists — the mind, like the flesh, is prone to malfunction. Instead, the paradox of depression has long been its prevalence. While most mental illnesses are extremely rare — schizophrenia, for example, is seen in less than 1 percent of the population — depression is everywhere, as inescapable as the common cold." (@nytimes)
HOMOPHOBIA IN THE CHURCH:
The editors of Urban L Magazine on how "the religious bigotry in the black church is killing us as a people." They compare the environment within black churches to "Don't Ask Don't Tell":
…if we do not talk about it, it doesn't exist. Here lies the issue, the spread of homophobia in the church continues to be perpetuated because we are not standing up and being counted. We are not reaching into our own beliefs and truth about what we know about God. Which is he loves all of us, no matter what or who we are. We need to be grounded in our faith, in order to handle the comments that get thrown our way.
They quote this 2007 article in The New Black Magazine by Keith Boykin, in which Boykin wrote; "I've often said that homophobia would end in the black church if every black lesbian and gay person simply came out. The first thing we would realize is that many of the people running the churches are themselves gay," which Urban L agrees is true within their church communities.
MODELING:
Crystal Renn is interviewed at the UK Independent: "Crystal Renn looks like a normal person, albeit a very beautiful one. And she doesn't look like a size 16. She hears this a lot. In her book, she describes the constant trills from editors and stylists that she meets who tell her, by way of a compliment, that she doesn't "look fat". "It's simply bizarre," she writes, "that 'normal' is the new overweight."
BROETRY:
In reaction to The Times Of London's latest installment of "The Trouble With Women," featuring "bro-etry" about how women need to lay off the Slim-Fast and lay on the poet, Jezebel commenters write their own reaction poems. It's golden, really, just read it. (@jezebel)
INTERSEX:
Q: Caster Semenya, the real "Middlesex"? A: No.: "News Blaze has published an op-ed piece called Caster Semenya, The Real Middlesex? which disappointingly fails to offer the 'compare and contrast' overview that the title might suggest. Instead, it's simply an extended review of Jeffrey Eugenides' 2002 novel Middlesex with just one passing reference to Caster Semenya." (@bird of paradox)
COMING OUT:
Clay Aiken gave a speech at the HRC and it was actually pretty awesome? (@queerty)
PHONE ME:
10 Reasons to Avoid Talking On the Phone. I couldn't have said it better myself ON EMAIL. (@gizmodo)