Jess: Well, I think they had the emotional connection for people to relate to. And they were also the least threatening characters, compared to someone like Shane, who might make some people uncomfortable because her sexuality is right out there and in your face.
J. Beals: Right, see, but I think that would draw me in and be alluring…  It's a true mystery, one of the myths of the universe. I don't know… but I'm grateful for it!
Jess: Were you satisfied with how the show dealt with Bette being biracial?
J. Beals: I think we could've done more things but I'm glad that we dealt with some of it anyway. Obviously there's a lot more that we could've touched on but there were a lot of characters on the show and a lot of stories that needed to be told so you do what you can…. But, I'm glad that we did do something with it.

On Obama and Current Events…
.
Jess: How are you feeling about Obama so far?
J. Beals: I have to say, as far as the LGBT community goes, I'm really frustrated. I'm really frustrated, frankly. I don't know what he's done. And I campaigned really hard for him and people who I know keep saying "be patient…be patient…" so, I'm hoping that good things will come. At a certain point I believe you just have to wait and I know that there are many things on his plate, and I get that – but, that doesn't stop me from being incredibly frustrated.
Jess: Living in Vancouver, I'm sure you were following the Winter Olympics. Do you have any thoughts on the Johnny Weir controversy? [The 2010 Olympic figure skater widely believed to have been underscored because he's flamboyant. Broadcast commentators were also called out for their thinly veiled homophobic comments.]
J. Beals: I think it's absolutely appalling. You know, I saw him skate for the first time this year, I didn't know of him before that, and I watched him skate and he was so fantastic and so accomplished and I really don't think his scores were commensurate with his ability.  And I feel in some ways he's penalized for his presentation, and I feel he continues to present himself as authentically as possible, and frankly I believe he's unbelievably fabulous and I would love to meet him one day!  The way he was treated was appalling and almost from another era. They should really be ashamed of themselves.
Jess: The best was when he skated to Poker Face.
J. Beals: I love it. He's amazing… I have a little crush on him.
On Closeted Actors in Hollywood…
.
Jess: Why do you think so many actors and actresses are still closeted in Hollywood?
J. Beals: Fear. I think they're afraid.
Jess: Do you think it's important for actors and actresses to come out publicly?
J. Beals: I think it's important to make the decision that's best for them… But I think they stay closeted probably out of fear, and I hope that one day they won't be fearful.
Jess: Had you been gay, do you think you'd choose to come out publicly?
J. Beals: It would be that or perish, honestly. I mean, I think I would have to but I can't possibly presume what that would be like for me… And it also depends on so many things, not only your sexual orientation but it also depends on your class, like how much money do you have? Because some actors may not even feel like they can afford to do it. And they go to that place where they go "oh, I need this job…" – and they get into that mindset. If you're independently wealthy you can be independently everything.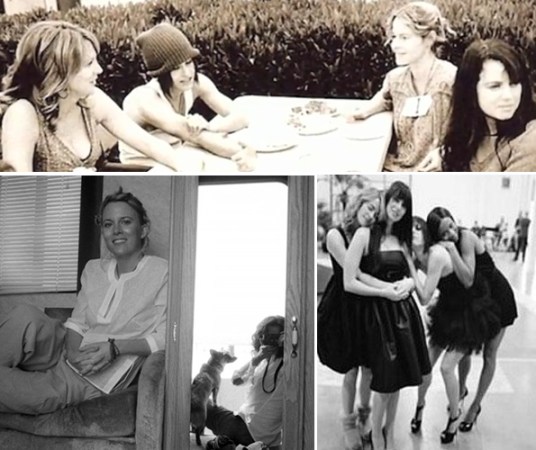 On Family…
.
Jess: How has becoming a parent in your 40s changed your outlook on life?
J. Beals: Everything feels very new, and I appreciate sleep so much more.
Jess: Did your family ever watch the show?
J. Beals: My mom did sometimes… my mom's not a big TV watcher either but she did sometimes…
On Her Own Perfection…
.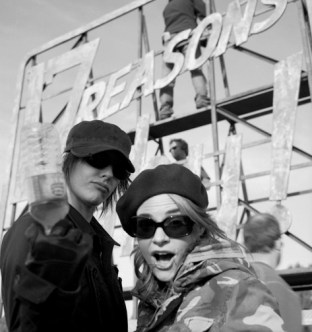 Jess: You always come across very ethereal and Zen-like. Were you always this centered and together?
J. Beals: I do meditate and I also do yoga, which helps. But I was actually more grounded when I was younger in a way. I was much calmer when I was younger. I mean, I lose it upon occasion, that's for sure and I certainly did with the end of the 6th season which I talk about in the book a little bit. Everybody talks about how they processed the 6th season. As much as everybody was so grateful to be on the show, like deeply, hugely, immensely grateful to be on the show, everybody had an issue with the 6th season and that may have happened for a lot of reasons. Maybe it happened because people knew that the show was gonna end and they're processing ending this thing that meant so much to them. And then there's the issue of storylines that you may disagree with and how they're represented. I'm not always really calm, but I try not to get taken away by things that are incredibly transitory.
Jess: Let's talk about your workout routine.
J. Beals: Well, it depends on the day, but lately I'll go swim for 30 minutes and then I'll go run or do yoga or work out with lots of light weights afterwards.
Jess: What are you reading or some of your favorite authors?
J. Beals: I just read – and this is gonna sound so "deep" [laughs] – it's this really great Viktor Frankl book called Man's Search for Meaning which a friend of mine gave me while I was shooting this movie called A Night for Dying Tigers [also starring Lauren Lee Smith aka Lara Perkins the Soup Chef], it's an independent film and it's about this incredibly dysfunctional family, like extraordinarily dysfunctional family and I was talking to one of my friends on the set and he had recommended this book so I went out and bought it and it was really interesting. I keep re-reading parts of it, it's a very engaging book.
One of my favorite authors is Walt Whitman, for sure.  I've read Leaves of Grass over and over and over again.
Jess: What are you listening to right now?
J. Beals: I tend to play the Dixie Chicks ad nauseam.  [I mention they need to come out with a new album cause it's been so long]  I know, my husband is really getting tired of the same rotation. I've also been listening to a lot of David Gray, and I'm a huge Joni Mitchell fan.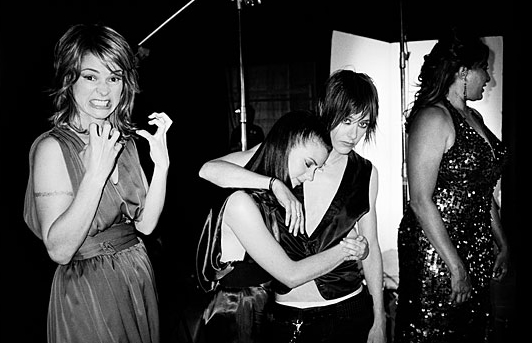 On Photography…
.
Jess: I read that you prefer to shoot with film rather than digital, why is that?
J. Beals: Film surprises you in a way that digital can't… Film is this unknown thing that happens where you just don't know, even just in terms of the age of the film, the particular chemicals on that particular roll of film. I like being surprised in that way.  And, I'm sure that somebody somewhere has a digital camera that they know how to make all of those certain effects happen, and I kind of secretly like the waiting [for film to develop].
Jess: Do you use a particular kind of camera?
J. Beals: Oh, I have several! I use a Mamiya 67 which is nice, a Rolleiflex 2.25, a Leica M8.2. I know I should probably stick to one and learn that one really well but I get a kick out of using different kinds.
Jess: You mentioned you just finished shooting A Night for Dying Tigers. Do you have any other projects lined up after that?
J. Beals: Not really, I mean I'm developing a couple things, but there's nothing imminent. I really, truly need a break after that [A Night for Dying Tigers.]  That was a roller-coaster ride so I need a little bit of a break now.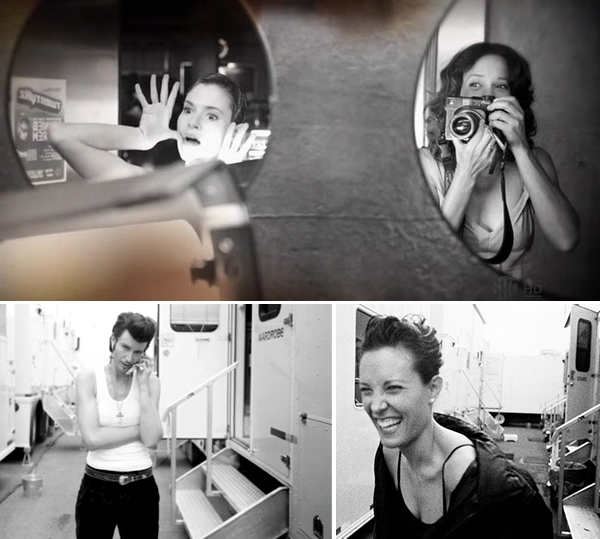 ---
The hard cover book is available for order at lwordbook.com.
Feel free to send your review of The L Word Book to jbphotobook[at]tibette.com
Pages: 1 2See entire article on one page