Welcome back to your Twenties recap, episode 208 — otherwise known The L Word Season Five when everyone was sleeping with each other's exes (don't worry, no one's actually cheating on Idina — yet).
In our last episode, we took a Girl's Trip (© Tracy Oliver, 2017) to fake!Sundance otherwise known as Moondance. Hattie and Idina tried for a romantic getaway, but ended up in a few couple's arguments, one of which was about if Hattie should send out her script to Ida's possible ex Alicia, who had agreed to help her get it to a manager. I got very annoyed at Hattie's immaturity and then Marie agreed to distract me by sleeping with her white bae-boss. Which brings us too…
Marie sure did have sex with that white man! I've been saying this, but I think that the agreement to open up her relationship with Chuck (it was her idea, in fact!) has never solely been about him being bisexual. My good sis has been pressed tight in a number of ways; I've never seen someone more in need to let loose a little. I'm excited by the possibility that through these explorations, she might learn a few new things about herself.
Unfortunately, this will not be one of those times. Marie heads home and rather than be honest with Chuck about sleeping with white bae-boss at Moondance, Marie lies and says she has to "wash the plane off."
Despite all the odds, I'm really rooting for Marie and Chuck to work! And I maintain that opening their relationship was the right next step for them as couple, but it won't work with these heavy-loaded silences and dishonesty.
Meanwhile, at Idina's apartment, the writing group is back in session and the general consensus on Hattie's script is the same as what Idina said last episode and what Ida said five episodes before that — Hattie's script is not ready. But too bad for that, Hattie already sent it out to Alicia's connect! Now she's sweating as she waits to hear back from potential new manager.
Hattie seems to think that all she has to do is get picked up by a manager to level up her career, but the group encourages her to consider this more deeply. One of the men in group says that a manager is a lot like picking a spouse — which, as a writer, isn't a sentiment that I completely agree with, but is completely worth it for Idina's bright smile as she leans in and says with more than a little hint of smug, "She getting better at that."
The next day, Hattie, Marie, and Nia are all having lunch together at the studio lot (it's been so long since we've seen the three of them hanging together! Especially to be a show about three best friends. More of this please!) — Marie's barely listening because she's thinking about white bae, Hattie's nervous because today is her meeting with her potential manager, and Nia is.. taking selfies. NIA!! C'mon!! In my Tyra Banks voice 🗣 I was rooting for you!!
It's the kind of lunch when you're with your friends, but none of you are actually hearing each other because everyone is talking past each other about their own bullshit. Which isn't a critique! That's what friendship is like sometimes, I respect the realness of it. The main takeaways are that Hattie has hurt feelings that Marie never sent her script around like Alicia did, Marie says Hattie's script isn't ready (Hattie: "Are you and Idina in the same group chat or something?"). She cautions Hattie not to become tokenized by her new manager. And Nia wants Big Sister Dear White People out of her damn house.
At the office of her maybe new manager, Drew Fowler, Hattie runs into a very smiley Alicia working the hell out of her yellow suit. Hattie and Alicie's mouths talk about work, but their eyes talk "you see how good I look, right?" Then Alicia bounces on out of there and Drew calls Hattie into the meeting.
We have a lot (and I mean a lot) of lesbian antics to get to in this episode, so I'm going to cut to the chase: Drew seems much more straightforward than Marie feared, and acknowledges (like Idina, Marie, Ida and literally anyone who has ever met Hattie) that her script isn't ready point blank. He says that him and Hattie need each other — she needs a manager, despite her flaws, and he needs more writers of color on his roster. He believes he can help Hattie tighten up her work and get to that next level. I dunno y'all, I found his honesty refreshing? There's still a lot of bad potential here, but my gut is agreeing with Hattie and she signs with him. So we're giving Drew a pass for the rest of this episode because it's time to get get gaaayyyyyyyyyyyyyy.
Pull out your popcorn.
There were three reasons I knew that Ida — in all of her make my knees weak, ice cold, mean femme glory — would be coming back to us today.
 Because Idina was so adorable when she said that Hattie was "getting better" about picking life partners. If there is one thing Twenties famously is about, it's about Hattie making mistakes — not good choices. That means we're due for a big one.
Because of Alicia's whole deal. I guess we have no official proof that she's Ida's ex? But their relationship consists of trying to make the other jealous, and there was no way Alicia was keeping Hattie's come up to herself if she could rub Ida's face in the mud with it. Absolutely n o n e.
 Because Idina and Hattie are happy together. Here they're on the couch, having mature conversations about career paths and being a writer who dates other writers. They're blissfully making out. Hattie tells Idina, "thank you for being the best girlfriend that I've ever had in life."
So you know.
YOU JUST FUCKING KNOW.
Mid daylight-drenched kiss, wrapped in the arms of her new girlfriend that she's quickly seeing herself build a life with, that's when Hattie phone rings and Ida walks back into her life. Nothing like the timing of an ex-girlfriend with an axe to grind. It's the way of our people. Sun rises, sun sets, dykes are gonna drama.
To her credit, Hattie sees Ida's name, turns the phone face down, and continues with her make out. But this is just round one. Ida's gearing up for the Tyson-Holyfield fight.
But before we return to what's up Ida's sleeve, can we pause for a second on Chuck's very cute lil homosexual basketball date? He's playing with the man he was flirting with at the gay bar back in 206 and at one point he very awkwardly and adorable wonders aloud, "can I ask how you identify?" Which just left me making little baby doe eyes at the screen because nothing is harder than being new at being gay!! I was really hoping they were going to kiss, but instead they just play some very erotic and sweaty basketball and listen ok… it's hot. This is a safe space. We can say that here.
It ends with Chuck, lost so deep in his own thoughts that I thought steam was going to rush out of his head, being comforted, "Do me a favor? Take a deep breath. You're gonna be alright."
You sure are, baby!
Ok so leaving the wading pool of baby bisexuals and being thrown into the forest of high powered lesbians who should be feared, Nia is called into a one-on-one meeting with Ida on the set of Cocoa's Butter.
Somehow Nia didn't get the memo that if your best friend breaks up with her girlfriend, who is also your boss, and then you are pulled into a private meeting — that's a red flag. So she's surprised when Ida, barely breaking her stride as she packs up scripts for the day, informs her that she's being written off the show.
[And now wait now, hold on — what Ida is doing is bad! It is awful, petty, and dangerous! It should not be emulated or glamorized! In any real life situation, Nia's next stop should absolutely be to HR.]
[I need to say all that so I can get to what I have to say next: IDA STEP ON MY NECK, RUN ME OVER, AND MAKE IT HURT REAL GOOD PLEASE I AM BEGGING YOU whew ahem — had to get that one out of my system!!! I'm but one simple queer woman, I was not built to withstand the pressure. You understand.]
Nia's crying, tears streaming down her face. She asks what she could have possibly done wrong! Ida crosses the room in three steps, towering over her, eyes narrowed, her voice husks (see my previous statement, STEP ON MY NECK AND RUN ME OVER PLEASE I BEG YOU):
"Nia, do me a favor. Tell Hattie she owes me a phone call."
Now, is this line of dialogue unrealistic in a firing setting? Yes m'am.
And again, should Ida be brought to HR? Yes m'am.
But also, and I must: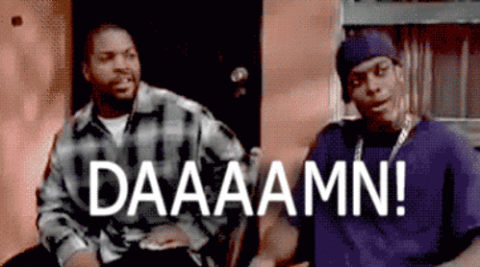 So Nia, still crying buckets, is back at her apartment and calls Hattie — who hasn't been picking up her phone all day because *shoulder shrug* "I'm tryna cut down on my screen time."
At first Hattie cannot believe that Ida would be so petty as to fire Nia over their relationship, and you know what? Maybe she didn't? Maybe it really was time for Valentina the character to come to an end (we've been given hints before that the fans don't like her) — but also have you met Ida? No way pettiness isn't on the menu. Which means that Ida gets what she wants, Hattie finally calls her back.
Hattie wants to talk about Nia, but Ida waves it off. She lowers the register on voice so impossibly deep, it's like gravel. The camera zooms in on her nude painted lips.
She tells Hattie congratulations on getting a manager (told y'all to look out for Alicia!), but it sounds more like
"do you remember that thing my tongue does?"
. Then she reminds Hattie to keep working on her script, but it sounds more like
"I remember that time you made my toes curl."
And finally she says if Hattie ever needs her help, she knows where to find her, but I swear to you all I heard was
"we both know, your new girlfriend don't do it like me."
Here's what is frustrating — clearly the scene is supposed to be hot! And ok, I clearly got into it, so maybe it was a little hot. And just last week, I was begging for Ida to come home to us! But not like this. I haven't been a fan of Nia's boring social media plot, but she didn't deserve to be axed over someone else's dyke drama. And Ida didn't deserve to be brought back only to become some vengeful femme villain straight out of Basic Instinct. None of this is right.
But oh wait! A fourth lesbian fighter has entered the match!
That night, while in bed with Idina, Hattie works on her script. She gets a text from Alicia, who of course just happens to let Hattie know that she "loves a late night [writing] session" and did she mention? "I do my best work at night."
Remember what I said about one-upping Ida?
---
Post-Credit Notes:
+ Marie had an awkward run in with white bae-boss at work that might unintentionally send her back into the arms of Iman Shumpert. I'm still very much here for her hoe phase.
+ HEyyyyYY Vanessa Williams!!
+ Quote of the episode: "The only person I'm in competition with is myself. You run your race; I'll run mine." — Idina, who deserves better than what's coming for her.
+ Amount of times I thought to myself that Idina would be a mistake I'd gladly make: 1 (she was so cute playing bootleg Uno!)
+ Amount of times I thought to myself that Hattie would be a mistake I'd gladly make:  2 (I liked her confidence during the manager meeting; and I still think Hattie is making bad choices, but her voice was doing this hoarse thing during the card game that got me)
+ Amount of times I thought to myself that Ida would be a mistake I'd gladly make:  ALL OF IT. LITERALLY ALL OF IT. And yes, I am ashamed. I'll take it to therapy.