Welcome back to your Twenties recap, episode 207 — otherwise known as fake!Sundance and also it's Thanksgiving, so I hope you get some good eating. In our last episode, Hattie and Idina had a stud 4 stud date night, and I got allllllll the way up in my feelings about it.
This week the recap might be a little short because I'm publishing it simultaneously with an exclusive whole ass long-form interview with Lena Waithe (!!!!) about the show, the pressures of creating Black queer art in Hollywood, and then some that I sincerely hope you read. But until then…
Marie is waiting at the airport when Hattie walks up with Idina, apologizing for being late. First of all, oh we taking bae out in public now?? Having her meet the crew!?? OKAYYY HATTIE!
Hattie: This is my lady friend, Idina.
Idina: Don't call me that!
Hattie, to Marie: We're still working on what to call each other, I mean I don't want to call you (Idina) my Nubian Queen, but I also don't want to call you my friend because that just sounds disrespectful…
On the real, this entire exchange probably means a lot to Hattie — not being able to take her girlfriend out in public, of course, was precisely a major reason in her break up with Ida (an aside: WHERE IS IDA!!??!? I need some Mean Femme loving in my life, and I need it pronto!). Hattie tells Marie that Idina really could be the one, which sounds like a lot until you remember that she was fantasizing about walking down the aisle to Anita Baker after less than one night with Ida (Ida come home boo, I miss you!). Anyway, LESBIANS!
Marie was hoping that this trip to Moondance aka fake!Sundance would double as a girl's trip, like we're watching a Queen Latifah and Jada Pinkett Smith summer blockbuster. I do wonder, if it's supposed to be a "girl's trip" then where is Nia? And why are we seemingly always only seeing two of the three best friends being close at the same time? My meditations on the politics of Black girl friendships will have to wait until another day, however, because Hattie traded in the first class ticket Marie got her for two coach tickets + some snacks. BROKE BITCHES WE OUTCHEA!!! Moondance here we come!
(My Narrator Voice: PS, Hattie reached out Idina's hand and called her "baby"🥺)
Now that we are at Moondance, it's important that you know Marie is flirting up a storm with her white co-worker/boss person. Chuck, seemingly in full support of these shenanigans, sent a stuffed animal to her hotel room along with a card that reads, "go on ahead and hoe! Hoe phases are strongly encouraged 'round here! Love, your betrothed"
(My Narrator Voice: Y'all, I'm weeeeeeeaaaaak!!)
The second thing that's important to know is that Hattie didn't plan any of this impromptu romantic weekend with Idina at all. Fuck ups gonna fuck up and Hattie didn't check the Airbnb ahead of time, so now she and Idina are sleeping on a broken ass cot, Hattie also didn't get any movie tickets for them to enjoy at a world renowned movie festival, and now Idina's about to have a fit!
Hattie, doing what she does best, flirts her way out of it. "You're the one that was talking bout how you wanted to go to Moondance so badly, and now you here, under the moon, and I'm ready to *swivels hips and does a small wop* dance, and you pouting cuz you I don't have everything figured out yet."
And that works for a little while, at least until she and Idina find themselves outside of a movie premiere with no way to get in. The white gay at the door notes how cute their (failed attempt) date night is and Hattie, sensing an opportunity, flings her arm around Idina's shoulder saying, "so can you hook us up with some tickets fam? rainbow rainbow unicorn wink wink."
The white gay says cute only gets you so far, and that far is the standby line. After all it's fake!Sundace: "It's not just a festival, it's a group of people very dedicated to making sure that indie cinema doesn't die but also a place for rich Hollywood to thrive. We like to be fair and balanced."
Now listen, I only playact like I'm connected to "the industry" — mostly I observe from the outside, write my lil words, and hope to make you laugh or think between your work or errands on any given day — but I'm sure for those who know, that was a BURN.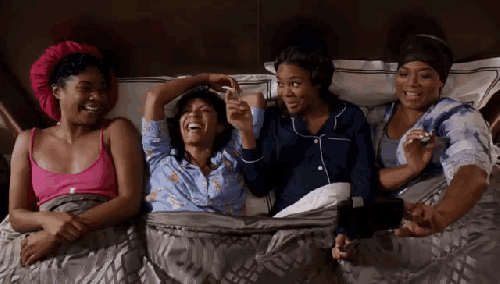 The next day at a Diversity and Inclusion panel, Marie makes the analogy that great movie is a lot like falling in love (cue heart eyes at white boss bae) and then points out that "it's estimated that the American economy has lost over 16 trillion dollars over the last 20 years do to racism." A Fun fact, that's true!
In other straight stories, back at home Big Sister Dear White People cleaned Nia's crystals. I know I'm not expert on that side of the witchy queer spectrum, but doesn't that fuck with their karma or something? Also Ben called because he wants to open up his own studio and will Nia join hi— zzzzzzzzzzzzz…
When I woke up, Hattie and Idina are outside some Moondance after hours party when they run into Alicia, a producer we met last year who I am 97.65% certain is Ida's ex?? Can someone run the tape back on that? (Also, because third time's a charm, Ida we miss you girl! Next I'm going to start quoting Boyz II Men lyrics, "down on my knees, begging you please..")
Alicia offers to give Hattie's script a hook up with her boss, but Idina is worried that the script isn't ready to send out yet, which offends Hattie.
This is an excellent time to mention that Hattie can't get them into the after hours party either, but here she goes trying to play a different kind of "fam card" with a new bouncer again, this time it's "what happened to Black and brown relations? ✊🏽✊🏾✊🏽✊🏾 " to which the bouncer says, "oh it's beautiful" before promptly showing her ass the curb.
Back at the Airbnb, Hattie and Idina work together on her script (Adoraaable!) but Idina still thinks it needs another pass. She encourages Hattie to wait to send until after the next writers group, so it can be polished. After all, first impressions last a long time. She wants Hattie to be set up for success.
Hattie bristles, "How would you know? You're still making latte art at a coffee shop!" (My Narrator Voice: Oh so Idina and Hattie are gonna be short lived then? Because ain't no way…)
And I'm sorry here, but it simply must be said — I am over Hattie and her defensiveness! It's thin skinned and immature, especially for a writer. There's no way Hattie can grow like this! And I thought she had started to learn that lesson after doing script edits with Ida in episode 202, but here we go again, back at the f*Ck**g starting line.
Hattie tries to downplay her insult with a well timed shoulder tap and "you know what I mean", but it's clear Idina's hurt.
Idina says she just wants to help. Hattie says she doesn't need Idina's help, she needs her support — as if those things could possibly be mutually exclusive?? Again I must ask, maybe it's me. Maybe I'm built different. But this stubborn refusal to accept help and get better AT THE THING THAT'S SUPPOSED TO BE YOUR LIFE'S PASSION is such a turn off, on 100 Hattie would be finding a new girlfriend expeditiously.
(And I say that knowing damn well that Jonica Gibbs in this white collard shirt with silver chains is doing it.)
Idina's pissed. Doing one final check of the email, she spits out "you spelled sincerely wrong" and throws the laptop back at Hattie.
Everything about this is frustrating, so let's check back in on Marie, who hears a knock on her hotel room door and….
Lawd THAT WHITE MAN DON'T GOT ON A SHIRT!
---
Go for yours Marie, we salute you.
Post-Credit Notes:
+ There were so many straight subplots this episode?? And gobble gobble I could not keep up with them! I did catch that Ben broke up with Lauren? And I'm at least pretty sure Nia's in a love triangle?
+ When Idina told Hattie she spelled "sincerely" wrong, did anyone else have flashbacks to Ida and the "your/you're" incident from the season premiere? Where we ever so young?
+ I love Marie's new hair and I hope they keep it
+ Amount of times I thought to myself that Hattie would be a mistake I'd gladly make: Literally zero. I cannot.
+ Amount of times I thought to myself that Idina would be a mistake I'd gladly make: Honestly? Also zero, but it's not her fault! All of her sexy got caught up in Hattie's mess. Next week will be better.
+ Quote of the episode: rainbow rainbow unicorn wink wink