Since President Obama announced Elena Kagan as his nominee to replace Justice Stevens on the Supreme Court, everyone's been attempting to predict what type of Supreme Court Justice she might be. Will she be the progressive visionary filling the ideological void left by Justice Stevens' retirement, or will she take a more moderate stance and work to bridge the divide between the varying factions of the Court? Does her limited public record disguise the fact that she's secretly super-conservative, or simply make it easier to ensure her confirmation?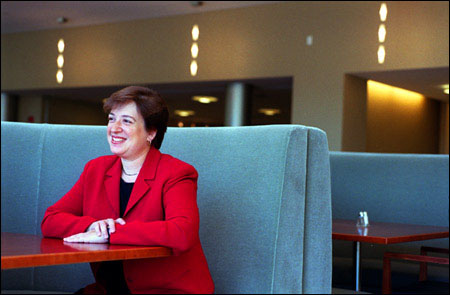 I understand the desire to predict her hypothetical future rulings. After all, the Supreme Court plays a significant role in shaping the country, it's a lifetime appointment, and it would be nice to know what we're getting before we've committed.
Kagan's Record Is Light on Answers
But the reality is, you can scrutinize every words she's ever spoken and every action she's ever taken, and you're unlikely to end up much closer to knowing what she might do as a Supreme Court Justice. Thus far, Kagan's public life has been defined by her actions as an advocate — whether advising President Clinton or representing the faculty, students and institution as the Dean of Harvard Law School. Her prior actions as an advocate provide little guidance as to her personal views or her understanding of the Constitution.
Take, for example, the memo she co-authored to President Clinton in 1997. In the memo, she recommended that Clinton endorse an amendment banning late-term abortions to sustain his credibility and prevent Congress from overriding his veto. One can hardly infer her personal stance on abortion based on the memo though, or even her thoughts regarding the Constitutionality of such restrictions. Her recommendation was clearly based on a political calculation rather than any concerns regarding late-term abortions. This isn't to suggest that she's lacking such thoughts, just that her personal beliefs about the subject were not part of the analysis.
Unfortunately, we're not likely to learn much more in the upcoming confirmation hearings. Prior to her last round of confirmation hearings (for Solicitor General), several Senators attempted to elicit her opinions on particular Supreme Court holdings. Her answer?
"The Solicitor General owes important responsibilities to the Court, one of which is respect for its precedents and for the general principle of stare decisis. I do not think it would comport with this responsibility to state my own views of whether particular Supreme Court decisions were correctly decided. All of these cases are now settled law, and as such, are entitled to my respect as the nominee for Solicitor General."
Or, in the language of non-lawyers: I'm not telling.
She's certainly not the first person seeking Senate confirmation to avoid disclosing her personal views. To quote Gail Collins of the New York Times, "Everybody knows that the Judiciary Committee hearings on Kagan will consist of senators asking for her opinion on all the hot button issues of the day, and Kagan responding that she could not in good conscience prejudge a case that might someday come before her. And then she will add something flattering about the Constitution." It's ridiculous — but it's also how the system works.
The Case For Kagan
If you can't look to her past experiences or glean anything from her future confirmation hearings, where can you look?
"[T]he core of Kagan's experience over the past two decades has been all about moving people of different beliefs to the position she believes is correct. Not by compromise, or caving, but by insight and strength.
Who can promise that she's not going to authorize secret prisons and offer guns to everyone and criminalize criticism of the government? When George H.W. Bush appointed Justice David Souter, he was convinced he was solidifying the conservative legacy for decades to come. Justice Souter gave us almost two decades of service and more than fifteen years of solidly liberal, rational jurisprudence. Who can say that Kagan won't head the other direction?
Lawrence Lessig is a brilliant legal scholar, self-identified liberal and close friend of Elena Kagan. And though the last quality might prompt one to take his arguments in support of her nomination, he makes a strong case that she is the ideal candidate to join the Court. In part he argues based on information we do not share; they have been colleagues for the past 20 years and he knows her personal philosophies in a way that we cannot. He promises that she is solidly progressive. But mostly, he argues that Kagan is the best selection from a strategic point of view.
According to Lessig:
"[T]he core of Kagan's experience over the past two decades has been all about moving people of different beliefs to the position she believes is correct. Not by compromise, or caving, but by insight and strength. I've seen her flip the other side…I've seen her earn the respect of people who disagree with her, and not by either running to a corner to pontificate, or by caving on every important issue. Kagan can see a fight; if she can see a path through that fight, keeping her position in tact, she can execute on it. And even when a victory is obviously not in the cards, she will engage the other side boldly."
This willingness to actively engage with those who disagree is of critical importance. You see, even after this appointment, the Supreme Court is still going to have a conservative bent. For the progressive Justices to write controlling opinions that bind federal courts across the country, they'll have to persuade at least a few more conservative colleagues to come around to a more appropriate way of thinking. And Elena Kagan just may be the best candidate for that particular task.
What About Marriage Equality?
Obviously the Supreme Court covers a broad range of subjects. But chances are, if you're reading this, marriage equality ranks highly on your list of issues that matter. Within the next few years, the Supreme Court will almost undoubtedly be asked to decide the constitutionality of laws that prevent same-sex couples from marrying. The Supreme Court is the final arbiter of constitutionality; when five justices decree something constitutional or unconstitutional, they are correct. As one of those potential five justices on either side, Elena Kagan's opinions matter.
So what are her thoughts?
Turning back to the questions from the Kagan's confirmation process for Solicitor General, it's appears that Kagan has made her opinion clear. Senator John Cornyn asked whether she believes that there is a federal constitutional right to same-sex marriage. She replied, "There is no federal constitutional right to same-sex marriage."
Disappointed yet? Don't be. Her statement may appear unambiguous, but it's not.
Lawyers are tricky and detail-oriented. In providing her answer, Kagan did not state her beliefs. She stated an incontrovertible fact. As previously mentioned, the Supreme Court is the final arbiter of constitutionality. Until five Supreme Court Justices assert that a constitutional right exists, it doesn't. The Supreme Court has not yet held that there is a federal constitutional right to same-sex marriage; therefore, no constitutional right exists. Kagan's assertion of the facts does not in anyway reveal her personal beliefs. This might seem counterintuitive, given the clarity of the statement, but it is consistent with her ongoing refusal to provide her personal opinions.
Much like many other issues, we don't know her personal thoughts on marriage equality. This is likely intentional and perhaps among the many reasons she was selected. Given the current highly-polarized political climate, the confirmation process is likely to run more smoothly because Kagan does not have a significant public record of controversial beliefs. Those opposed to her nomination have limited grounds on which to build a challenge.
Few will deny that she's incredibly intelligent and has a distinguished professional record. Hopefully this will lead to a smooth confirmation process and we'll have a new Supreme Court Justice soon.