The U.S. Senate confirmed Elena Kagan's nomination to the U.S. Supreme Court today by a vote of 63-37. She will become the 112th justice on the court, and the fourth female justice, according to CNN.
This will also be the first time in history that three women have served together on the panel of nine judges. Ruth Bader Ginsburg told the New York Daily News yesterday that she was extremely excited about that proposition.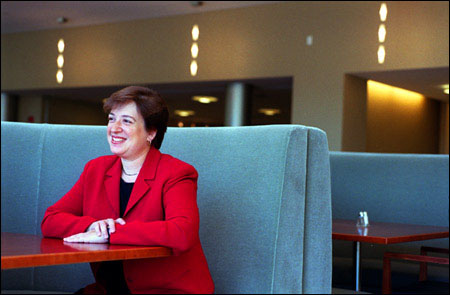 Kagan is seen as a more liberal candidate for the seat and shouldn't affect the Court's ideological balance following John Paul Stevens' retirement. This liberal bent could be really good for the LGBT community if the Prop 8 trial ever comes before the Supreme Court.
"I've been a Democrat all my life, my political views are generally progressive," she told Republican Sen. Lindsey Graham Tuesday.
When another Republican, Sen. Tom Coburn, pointed out, "You're very pro-choice. You believe in a woman's right to choose. You believe in gender-mixed marriages or gay marriage," Kagan didn't disagree.