Judge Walker just announced that he has ruled against Prop 8 and for the gays in California. A source has confirmed to NY Magazine that he's ruled it unconstitutional under both the due process and equal protection clauses. More updates to come as we get them! For now, celebrate! (@nymag)
UPDATE: Good As You now has scans of the decision itself!
SUCK ON THAT, H8ERS.
Also, here's a statement by Rea Carey, the executive director of the National Gay and Lesbian Task Force on today's ruling:
"This ruling marks a victory for loving, committed couples who want nothing more than the same rights and security as other families. From the start, this has been about basic fairness. Today we celebrate the affirmation of this fundamental principle; tomorrow, we are back out there sharing our personal stories and having conversations with Californians and people all across the country about why this matters and who we are.
"The tide is turning nationwide in favor of marriage equality, but our work is far from over. Today's ruling is just a beginning step in what will likely be a long process, yet we are confident that fairness will prevail. Our conversations are breaking down barriers and helping to transform our country."
PREACH, SISTER.
So Can I Get Married Now?
After a quick gchat discussion, we have determined that no, you cannot yet sprint down to your local city hall before an arbitrary court ruling changes this again. As Sarah reported earlier today, the other side has filed for a stay on the execution of the ruling, asking Judge Walker to wait to put this ruling in effect in order to mitigate the "harm" of renewed legal gay marriages. Judge Walker has yet to tell us whether he'll grant the stay or not; until he tells us, we can't be sure of when the weddings can begin. Since I'm not sure Judge Walker has actually released the official ruling yet, it's unclear when we might get this news. We'll keep you posted, though! Get that white dress dry-cleaned, girl!
UPDATE: We have breaking-but-not-entirely-confirmed reports that Walker did in fact approve a stay of two days, so we're kind of on standby w/r/t lesbian weddings, not sure of the details. Keep refreshing, we're working on it! <3
UPDATE AGAIN: It appears that an official decision won't be made on the stay until Friday, when our side has the chance to file papers in opposition to the stay. We'll find out then if an official stay is declared, but until Friday no marriages can happen, so we're in kind of unofficial stay limbo.
How Did We Get Here, Where Are My Pants
If you're dazed and confused and wondering how all this happened, the New York Times' article on the ruling has some pretty good background on this case, as well as reminders that the legal battle on this issue is far from over. Or you can just read our Prop 8 Recaps of the trial itself, which will maybe be slightly less educational but ultimately better for your heart and soul.
Also, I don't know who this person is, but I thought their tweet was funny.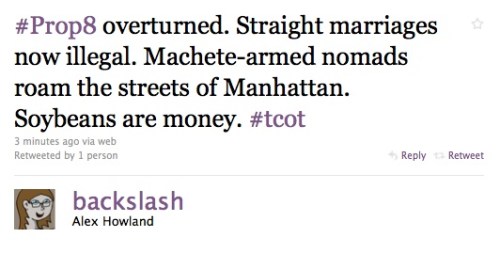 If you are interested in more, uh, relevant documentation of this event, you can now read Walker's entire 136-page decision for yourself. Don't complain about the length, it's shorter than The Davinci Code and you read that, didn't you?
Or just check this out! This one goes out to all those people who said "Prop 8 is MAYBE repealed, I'm not putting my party sombrero on until I hear an old white man say it."
And now for tweets from EVERY SINGLE CELEBRITY YOU CARE ABOUT except Lilo who can't tweet from rehab: