Alright kids (see how we did that!) — you can all stop your endless trolling of Jezebel, AfterElton, Salon, Out, The Advocate, etc. because the final word in angry gay movie reviews is here…
Julie & Brandy: In Your Box Office give THE KIDS ARE ALL RIGHT
a very serious, non-frivolous TWO FISTS!!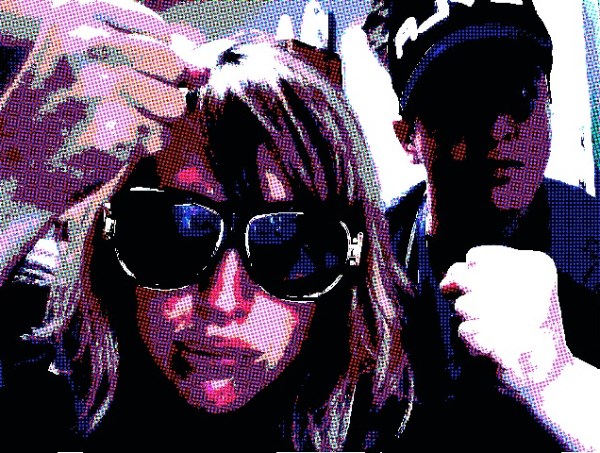 We love this movie so much that we decided to skip the re-enactment and put on our monocles and thinking caps and take fingers to laptop a la Roger Ebert (post mouth surgery).
First things first: The Pink Elephant Cock in the room!

We won't bother you with a spoiler alert because by now, you all must have heard that one of the lesbians in the movie sleeps with a man. In a nutsack (see how we did that!), Annette Benning and Julianne Moore play rich, cool lesbos living in L.A. who've been married for a million years, when one of their annoying precocious teenage kids contacts the sperm donor they used to make said kid. The sperm donor is played by Mark Ruffalo who looks pretty hot and is just about the ONLY man who could've played this part (besides Johnny Depp or Barack Obama) because he has the special ability to seem gentle and sexy even to lesbians.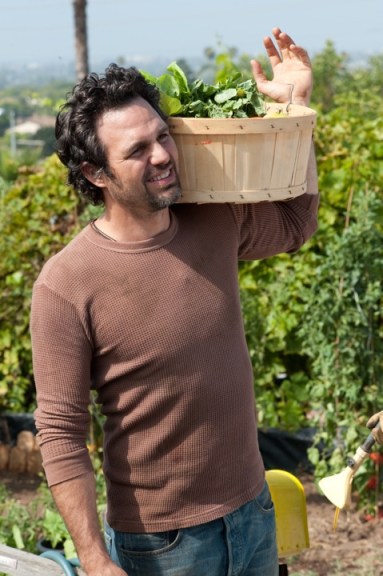 Why would he need to seem gentle and sexy to lesbians, you ask?
Because Julianne Moore's character ends up fucking him. Five thousand times.
Let's not sugarcoat it: it was weird, it made us uncomfortable, it didn't make sense, and it wasn't realistic. However, seeing the lesbian Julianne Moore have sex with Mark Ruffalo was a lot less offensive then reading that Lisa Cholodenko said, "I was much more interested in reaching out to the male population than I was concerned about alienating a sector of the lesbian population."+
(Dear Lisa,
While you were busy reaching out (pandering) to the male community, you didn't just alienate a small section of the lesbian community — you actually disvalued women, in general, as a viable ecomonic marketplace. It's a shame that the one voice in gay/female filmmaking being distributed on a large scale had to become a cog in the wheel rather than a conduit for change. Reading your quote made us feel almost as bad about being women as Sex and the City 2. Okay well that's going a bit far.
That being said, we loved your movie and are dying to work with you. Call us! We wrote a lesbian romantic comedy and we want you to direct it.
Love Always,
Julie Goldman & Brandy Howard)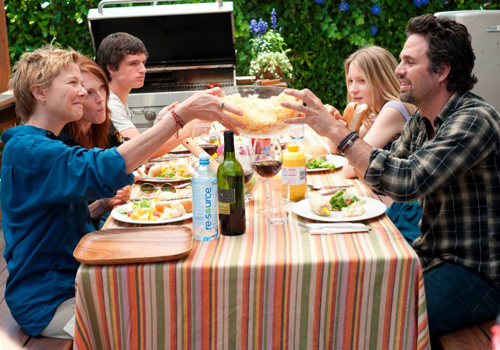 +
Despite the pink elephant cock in the room, we still loved this movie. We understand selling out and plan on doing it the first chance we get. Someone please! Just give us a chance!
You can go and read all the other reviews (if you want a real review), but it's worth the risk of being redundant to say- this movie was genius. The writing was charming and poignant, the directing was thoughtful without being heavy-handed, and the acting.. wow. The fucking acting. They were all great, but Annette Benning was giving ACTOR'S STUDIO LESBIAN EXECUTIVE REALNESS. That bitch stole every scene. All she needed was her lesbian mom jeans and a glass of wine and she had us at hello.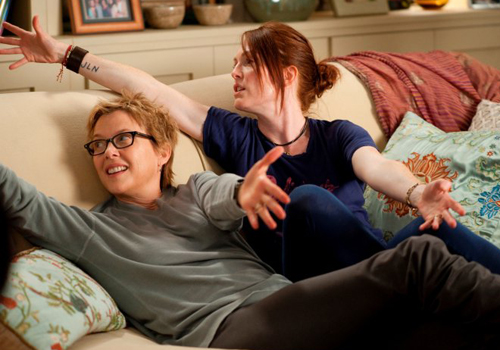 Say what you will about Lisa Cholodenko, but she and co-writer Stuart Blumberg deserve some major Kudos (the good kind with the chocolate chips) for writing these incredible female characters. It's literally the first time anyone has brought women to the silver screen in this way. Not since Marlene Deitrich wore a tuxedo and kissed another woman on the lips in the film, "Morocco" in 1930, has a film absolutely redefined the female protagonist archetype. For all the lesbians, and straight-lady "tops" out there — this one's for you. YOU MUST SEE THIS MOVIE.
We aren't saying that this movie is without flaws. They are there, but they are worth overlooking. Was it annoying seeing a lesbian have sex with a man? Fuck yeah. But not more annoying than having to say that this is THE BEST lesbian movie ever made (to date) — when we wrote the best lesbian movie ever written, but no one will make it.
What movie, you ask? Oh. Well, let us tell you… www.nicestthingthemovie.com