Lunchtime: unequivocally the best part of the day. But could it be better? Yes sir, it can. You don't have to spend gobs of money going out, but you also shouldn't be packing the same peanut butter sandwich year in and year out; there is a middle way. The path to becoming a lunch box buddha isn't so hard. All you need is a good balance of inspiration and  improvisation. Every week, we'll make one or two packable recipes so that you have something new to fill your lunch box and your stomach. 
---
Spain has lots of things going for it. It's got every kind of beach you could ever want, siesta, and gobs of beautiful women. One thing I'm not so crazy about: the food. I spent the first few weeks at my job politely try to rearrange the food on my plate using everything my mom had every taught me about eating dinner at other people's houses. When my first paycheck came, though, and I discovered I'd been paying €3.21 every day I'd "eaten," I decided to take matters into my own hands.
After getting permission (and being assured that he hated American food just as much as I couldn't tolerate Spanish food) from a co-worker to bring my own lunch, I started realizing it wasn't going to be as easy as I thought to feed myself. Working at a place with no microwave or kitchen, having to get up early and working in a town whose only grocery had no fresh produce meant I was going to have to start planning. So I did. I'm four weeks into bringing my own food every day and things are finally how they should be: Lunch is my favorite time of the work day again.
Since I'll be making new recipes every week, I thought we could do this together. I made a list of six things that keep me happy while I'm making the food and when I'm eating it. Think about what you aim for in terms of a lunch and decide if there's anything special you need to maximize your lunching pleasure.
My rules and/or goals for lunch
+ The food has to be able to be eaten cold
+ It must be able to last a week (both in terms of life-span and in tolerability)
+ My lunch and/or breakfast has to contain some form of protein (I aim for general all-around healthiness, but protein gets extra attention because I don't like to take meat for lunch.)
+ The total cost of lunch and breakfast for the week has to be less than €20
+ I have to be able to make my lunch in less than 2 active hours, including cleaning up. That means something can rise, boil, or cook for 48 hours, as long as I don't have to be there watching it.
+ The food doesn't necessarily have to go together. It's just lunch. I can eat tabbouleh and pumpkin muffins if I want to.
This week's menu:
Raisin and Walnut Boule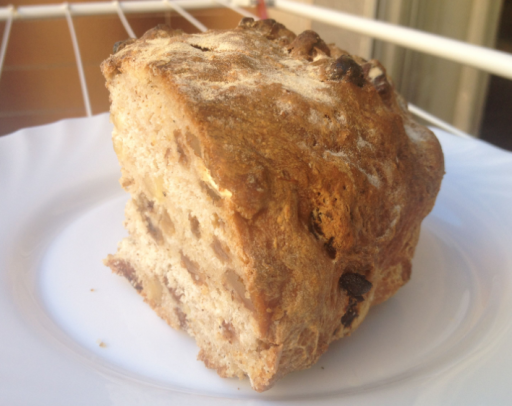 Having never made bread before, I was a little daunted by this recipe. Actually, recipes plural, since I couldn't find one that was exactly what I was looking for. Some of them called for starters (where am I supposed to get one of those?), others wanted me to add gluten (huh?), another had nothing sweet for the yeast to eat and the last involved a complex baking process that required a dutch oven and a spray bottle. So using everything I know about bread (absolutely nothing, except that I like eating it), I created my own recipe. And you know what? It turned out beautifully.
Ingredients
3 cups of flour
1 1/4 t of table salt
1/4 t of instant yeast (or normal yeast if you can't find it)
3/4 cup of crasins or raisins
3/4 cup of chopped walnuts
1 1/2 cups of very warm but not hot water
2 T of honey
Instructions
1. Mix all the dry ingredients together, including the yeast if it's instant.
2. Mix the water and the honey together.
2a. If the yeast isn't instant, add it to the honey and water mixture and wait 10 minutes for it to grow.
3. Add the water mixture to the dry mixture and combine everything until you have a shaggy dough.
4. Let it rise twice for at least an hour each time and up to 9 hours each time (2-18 hours total). The recipe I adapted this from suggested 12 hours at the very least but I only let it rise for 3 and my bread was amazing.
5. Punch the dough down and form it into a ball. Cover the ball in flour and then place it on parchment paper or aluminum foil on a pan. Bake for 30-40 minutes in a 450° oven. It's going to get dark and that's okay; take it out when it's completely cooked through.
Sushi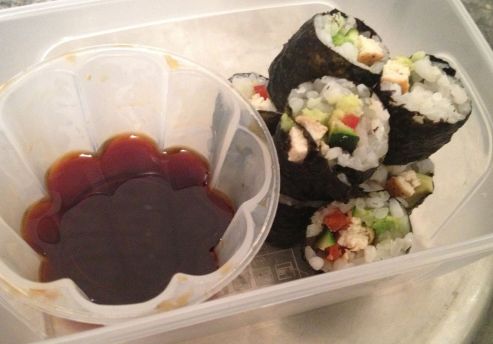 Despite living 30 minutes away from the world's second largest port (Tokyo takes the gold in that department), sushi here is hard to come by and expensive. After going out for dinner with a few of my friends the other night, I decided that sushi was going to be next on my list of things to try making for lunch. I'm absolutely not an expert in this department so I'm open to any and all tips that y'all might have.
Ingredients
Nori (sheets of seaweed)
Sushi rice (or whatever short grain white rice you can get your hands on)
5 T of Rice vinegar (or 3 T of white wine vinegar + 2 T of water if you can't find rice vinegar)
5 t of Sugar
1 1/4 t of Salt
Fillings (we used red pepper, green pepper, fried tofu, zucchini and avocado but stayed away from fish since we're not eating it right away)
Instructions
1. Cook the rice. You'll need 2 1/2 cups of water and 2 1/2 cups of rice. Ideally you should rinse your rice and sing to it and take it out to dinner, but I am not a sushi chef (who, by the way, spend 3 out of 7 years learning how to make rice the right way. Thanks Wikipedia!) so I just cooked it. I let it come to a boil over high heat and then put on a lid and turned the heat down to very very low. After about 15 minutes, it was sticky but not mushy, so I turned the heat of and let it sit with the lid on for 10 more minutes while we finished…
2. …Chopping the vegetables. You want these puppies to be matchstick-sized.
3. Make your vinegar dressing by mixing the vinegar, sugar and salt together. If, like me, you couldn't find rice vinegar, using the white wine and water mixture will work just fine. Rice vinegar is less acidic than white wine vinegar, so water cuts down on the acidity. It won't taste exactly the same, but it's a good substitute if you're just cooking for yourself. When the rice is cool, stir it in, being careful not to overdo it.
4. We didn't have bamboo mats so we used pieces of magazine as our rolling mats. To make a regular Makizushi roll, cut a piece of nori in half and place one half on your mat. Dip to fingers in water to keep the rice from sticking to your hands, and then scoop some rice onto the nori. You want to keep this layer pretty thin or it'll be hard to close. Place your fillings along one side and then, using the mat, roll the sushi into a strip, wetting the end of the nori to make it stay shut. Since you're not eating it right away, wrap the long cylinder tightly in saran wrap. You'll cut it the morning before you eat it with scissors or a knife if you're lucky enough to have a good set of knives.
To make an inside-out Uramaki roll, start the same way. After covering the nori with rice, flip the sheet over and place your fillings on the nori. Roll so that the rice ends on on the outside and then wrap it in saran wrap.
5. I found little dipping containers at a dollar store that fit inside a bigger piece of tupperware. I put soy sauce in the dipping container, smear a dab of (fake) wasabi on the inside of the lid so that I can mix it in later, and then put my sliced up sushi rolls in the big tupperware. Ta da! You have lunch for the whole week.