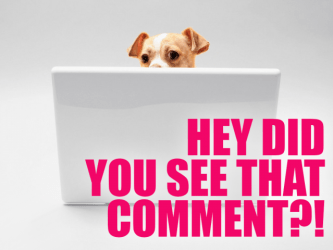 Hi ducklings! What's new with you this week? How's your mom? Did you ever get your cat to switch to dry food?
It's been a busy week around here. Maddie and Cara talked more about the word "queer," Kate recapped a lesbosexy Bomb Girls and Ashley Catharine wrote a love letter to Autostraddlers who voted for her in the WOWPS video slam. Gabby and Katrina hosted queer lady speed dating at Strand and Brittani interviewed out UFC fighter Liz Carmouche. And have you feasted your eyeholes on the new episode of Unicorn Plan-It or the cute faces that attended the Tomboy Tailors grand opening?

Ex-New Yorkers and newly minted Californians Carly and Robin made it to LA just in time to avoid the east coast blizzard. Will you be stuck in the storm this weekend? Maybe cuddle up with some books by prairie homo authors or start planning a queer escape to Florida. My city is expecting two or three feet of snow so I'm planning to play with my Beth Ditto paper doll and watch the most lez-centric video of the week on repeat until it's safe to go outside. But I've pretty much been doing that all week anyway, so. Now for shout outs to commenters that we'd like to have our babies (or at least invite over for some consensual cuddling).
---
On Five Ciara Videos That Made Me Queer:
The Heartthrob Remix Award to HarryTheHandsomeExecutive: "My friend and I have talked about a band, 'Tegan and Ciara'. We think it would be a hit."
On 5 Prairie Homo Writers You Should Know:
The Extreme Reader Award to Trina: "Tomorrow i'm going to go out in the biggest snowstorm ever in 5 years, find the nearest book store, and go on a queer book binge. You guys just make everything sound so amazing. Also, I just got a crush on Rae spoon after watching the insensitive video."
The Canadian Friend Wanted Award to Ranger: "This whiskey just came on my radar a few days ago. I now have a bottle of "Thirsty Tears" due to not being able to acquire this whiskey."
On How Do You Know If You're On A Date With A Lesbian…:
The Smooth(ie) Operator Award to Digger:

The You Get It, You Really Get It! Award to Melanie: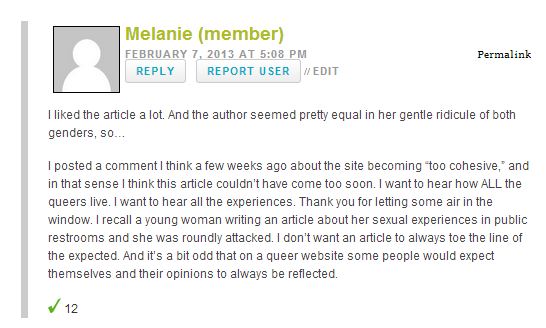 The Clean Plate Award to Erin: "Not gonna lie, if someone asked me 'wanna get some beers and eat an entire bison while watching the NCAA championships?' that kinda sounds like the perfect date….."
On Questioning "Queer" Across Generations:
The Respectful Perspective Award to Sam:


The More Than Just Nice Words Award to Polly Evans Leshan: "As a woman of a much older generation, I found your piece touching, generous, and wonderfully inclusive. It is not often that a word with a dark and painful history can be so eloquently redeemed."
On Tegan and Sara Interview Heartthrob Kate Moennig:
The Damian from Mean Girls Award to Hana: "this video reminds me how I am too gay to function and cannot possible think straight ever."