Robin and Carly, attractive newlyweds and perfect humans, are growing up and moving out — from busy busy New York City to easy breezy beautiful Los Angeles, California. They'll be taking all their belongings minus what they were able to foist off on others, their dance superstar dog Arthur, and a lot of pictures. We will be following their emotional and actual literal journey — from packing to moving to settling in to establishing what will surely be the best-decorated apartment since their apartment in New York — as they make the biggest move of their lives and process with a bottle of Maker's. They will be using the hashtag #arthurgoeswest for all trip-related tweets and Instagram photos.
---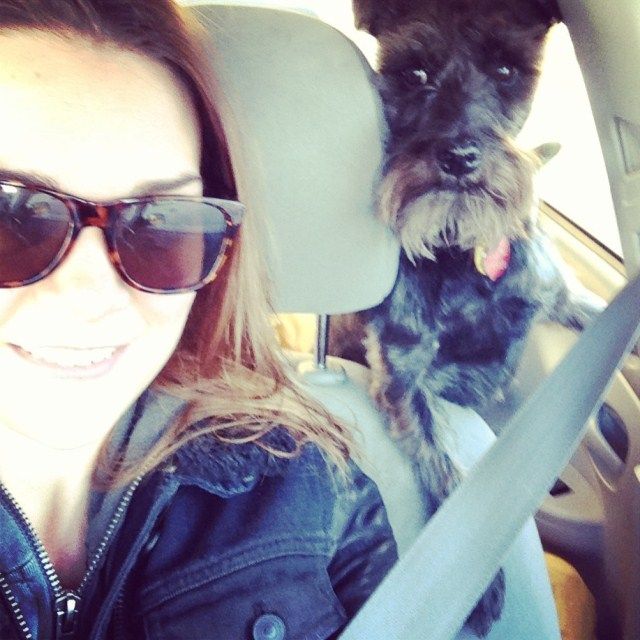 And The Beat Goes On
On day 3 and 4 of our trip, we drove from St Louis to Oklahoma City, stayed the night and then drove to Albuquerque, New Mexico. I drove both of these days because, as I quickly discovered, I'm not great at occupying myself as a passenger and driving keeps me from getting too restless. Carly gets very sleepy when you put her in a car, much like a small child, so she happily played DJ. She also put herself in charge of packing and unpacking the car each day. Carly's very good at organizing spaces; I am not. Its nice to have a system for things like this so you aren't arguing over who does what. We do this at home, too: Carly does the laundry, I cook (sometimes). I pay bills and make the phone calls, and Carly does the techy stuff. If there's something heavy or high up to reach, that's automatically my job. If there's folding to be done, that's all Carly. Spiders, me. Making the bed, Carly. She calls me her husband, but I don't think we share the stereotypical gender roles. Its one of the reasons neither one of us likes labels like butch and femme, but that's a more interesting article for another day. Back to the boring stuff!!!
After our third day on the road and our 50th listen to the new Tegan and Sara album, we stopped in Oklahoma City at a lovely La Quinta, another dog-friendly chain we love. We had a nice big room with a mirrored wall which made us feel even more like the disgusting car monsters we had become after three days on the road. There was also a jetted tub, which we both tried to fit in with disastrous results. It was a really sexy night.
For our night in Albuquerque we stayed in an amazing studio space that we found on Airbnb, a site where people rent out their properties to travelers. We were so excited to be in a private house for the night. It was a beautiful little southwest style bungalow in the Old Town district. Plus, we got to watch High School Musical IN Albuquerque. (High School Musical is set in Albuquerque, duh.)
-Robin
City Queers in Todd Akin Country
I think on a personal note we both have been a bit humbled thinking about the many queers who live in some of the very conservative areas of the country we drove through on this trip (and especially the ones in the states we purposely avoided). Both Robin and I have spent most our lives in big cities and predominantly liberal, gay-friendly towns, so this has been a very eye-opening trip. We saw lots of Todd Akin signs in Missouri, refused to get out of our car in North Texas, and I almost got kicked out of a bathroom in Western Arizona.
I've been getting called sir for over 20 years, but I have rarely felt unsafe. In NY and LA, I walk confidently and don't try to hide, but out on the road, unfamiliar with the little towns we drove through, I often felt like I looked like an alien to people and I just wanted to blend in.
-Carly
Los Angeles, I'm Yours
We left Albuquerque and made the grueling 12 hour drive all the way to LA. New Mexico was the prettiest part of the trip so far. Just gorgeous.
At one point, I called to set up our electricity and the woman on the phone asked me if I was single or married. I said married, because I am, and Carly smiled at me. Then she asked for my husband's name and I grimaced and laughed uncomfortably, looked over at Carly, and said to her "well, I don't have a husband, but I am married". When I asked her what the option was for same-sex spouses she sounded kind of sad and said, "I guess you have to put 'single.'" So according to my electric company, I am single. This is a weird reality for us, moving from a state where we became legal spouses just months ago, to a state that doesn't recognize our marriage. We wish we fully understood what exactly our marriage means in California, in a legal sense. Anyone with this information should immediately contact us! Please. But in the non-legal sense, my marriage and my wife are still just as real to me as they were when we began this crazy trip. If anything, I love her more after spending these six days trapped in cars and hotel rooms than I did when we left.
So here we are in LA, at a La Quinta, waiting for the painting and construction to be completed in our house. We have been sleeping and watching HGTV and writing this post. Looking forward to catching you up on our progress once we've settled in! We have lots of exciting ideas on how to decorate our space.
-Robin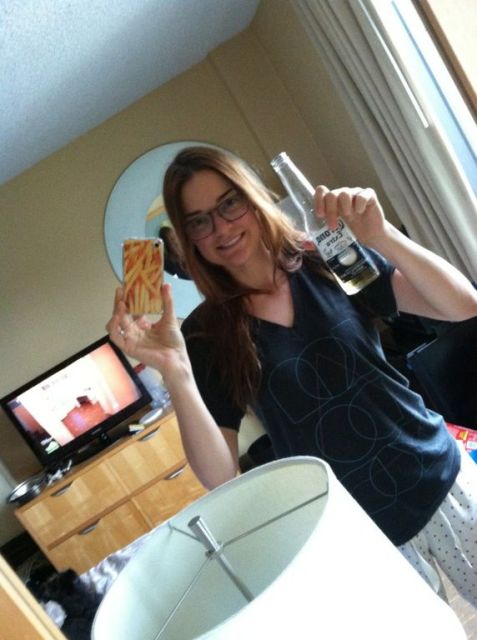 "Look, I know you think you live here, but we don't. You probably think we live nowhere, and in a way, that's true. But we do have an address, if you need something sent there. But for now, we are in a hotel and you can't get all protective here, because we're fine. I love you, just be cool." – Carly to Arthur, just now when Arthur growled and looked towards the door