Welcome to Almost Famous, a weekly segment where we ask up-and-coming queer musicians some hard-hitting questions about music and life and maybe even convince them to show us photos of their pets. Get to know intimate details about your new favorite artist or band before they hit the Big Time and become too famous for us to interview for real.
Header by Rory Midhani

---
 Xoe Wise
Chicago, Illinois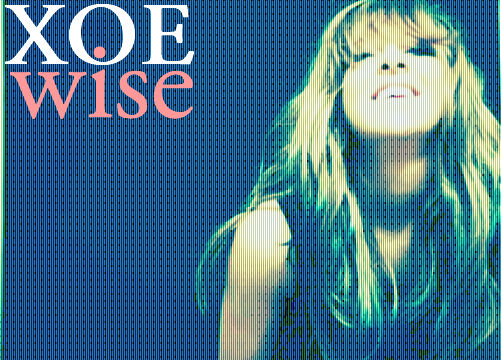 Gather around and let me tell you the story of my favorite emerging singer-songwriters, Xoe Wise. Xoe was raised in small town North Carolina but then left for the windy city in pursuit of a music career. First came the album Echo, an acoustic-driven pop collaboration with Ethan Stoller that racked up quite a bit of acclaim. In 2012 Xoe followed up with Archive of Illusion, which reached #41 on the iTunes singer-songwriter chart and was easily one of the most charming records that I heard last year. It's crazy good. You can buy it here.
With the new year has come a new sound. Xoe is set to release an electronica project sometime this spring and she's given us a preview of one of the new tracks below.
How would you describe your music?
My band and I have made a giant shift into the Electro-Pop world. Dreamy, yes. Lush and sweet.
We are all so strange, powerful, expressive, and in progress. I think that is not only true for all of us human beings, but as creative figures. For a long time I have felt somewhat weirder than my music. I've worked with so many talented people during my self discovery as an artist. Ethan Stoller taught me so much about arrangements, Matt Ryd and I experimented with an acoustic record like it wasn't one. Currently I am working with Ramsey Zabout and Matt Richert on a few tracks that have challenged me and hopefully you. Growth and change- yum.
What instrument/s do you play?
I play guitar, a drum pad, sing, and while a little out of practice- the flute. I play anywhere from solo to with 5 piece band.
Which song would you most like Autostraddle readers to hear?
You can preview a clip of [forthcoming track] "Cigarette Break". FOR YOU FOR YOU. You're the first.
[soundcloud url="http://api.soundcloud.com/tracks/78092674″ params="" width=" 100%" height="166″ iframe="true" /]
Ed note: Also I think everyone should really hear "Fade Into You" (Mazzy Star cover) from Archive of Illusions.
[soundcloud url="http://api.soundcloud.com/tracks/78092975″ params="" width=" 100%" height="166″ iframe="true" /]
What has been the most memorable moment of your music career to date?
2012 was a pretty killer year in general. We had to opportunity to do our CD release show at Schubas Tavern which actually sold out! Opening acts Duck & Goose and Little Light helped make the night so much fun. Most recently we hit the stage at House of Blues Chicago! I am so grateful to be here in Chicago and to have memorable moments like these.
What was the last song you wrote about?
I'm currently working on a song about brunch. This is probably inspired by a few things. Brunch is definitely a symbol for a continued night, a long morning, a transition into daytime, a significant amount of time – it's not breakfast of lunch- it's breakfast AND lunch. Do you love brunch? My roommate took me one of the most bizarre brunch experiences the other day here in Chicago- I'm talking Saturday night at 11AM. So the song is lined with thoughts of morning, days, and nights in Chicago.
What do you do outside of making music?
Outside of making music I'm reading Autostraddle ; ) Really though, thank you for such a phenomenal space you all have created. I'm honored to be talking about my art here. I go to a lot of concerts, eat a lot of spicy foods, friends and family time, thrill seek, workout, and play hopscotch at least 92 times a day, you know.
What is the best and worst thing about touring?
I haven't had a ton of touring experience- but in my few times:
The best things: weather changes, new bodies of water, human beings from place to place, trying new accents out on strangers, taking all of the Sea World pamphlets because you just watched The Cove and want to save the dolphins!, traveling for and because of art.
Worst things: Gas stations attached to fast food places, seeing how many hotels have Sea World pamphlets, little time to write.
If you could only listen to one album for the rest of your life, what would it be?
"So That Tonight I Might See" – Mazzy Star
If you could share a line-up with any two other artists, who would you choose?
At our last show we covered songs by two of my favorite artists: Yeah Yeah Yeahs and Robyn. To share a bill with either acts would make me smile. Wow.
Describe the environment that you write your songs in.
Lately I have been writing a lot in my car. If you see a Prius vibrating with bass and stopped in the middle of the road- kindly respect that I may be in the middle of a verse. Should I paint that on my car? Will people understand? Ever?
What was the last book you read?
Currently (compliments of my amazing Godparents), Dykes to Watch Out For by Alison Bechdel
Do you have any pets?
I do not have any pets, but there is a giant stuffed panther that will join me on stage in 2013.
Keep an ear out for Xoe's new electronica project in the coming months. If acoustic pop is your jam, I highly recommend her first two albums, Echo and Archive of Illusion, which can be sampled and purchased on Amazon. Some tracks can also be streamed on Tumblr.
Everything else you'd like to know about Xoe can be found here:
http://xoewise.tumblr.com/
www.facebook.com/xoewisemusic
www.twitter.com/xoewise
www.youtube.com/xoewisemusic
---

If you are, or know of, a queer artist or band that should be featured in Almost Famous, drop me the details via crystal [at] autostraddle [dot] com. Please write 'Almost Famous' in the subject line!