Hi crush monsters, this is Straddler On The Street, a feature where I celebrate all of you incredible Autostraddle readers by hunting you down, demanding you chat with me, and then writing about you on the Internet so we can all crush on you. Get excited, because butterflies in your stomach 24/7 is a fantastic way to live.
Header by Rory Midhani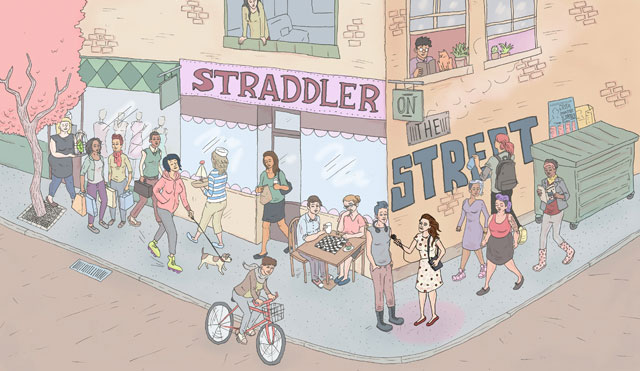 ---
Straddler On The Street: Ashley, 22
Ashley is a smart, funny, driven poet and she was totally understanding when I was 15 minutes late to our Sunday morning gchat interview because of internet issues. Once I fixed my internet connection and apologized profusely (it was 10:45 on the east coast and felt kinda early for me, but it was 7:45am for Ashley, who lives in LA!) she and I had a great conversation about poetry, her goals for the future and how much the Autostraddle community means to her.
You may have already read about Ashley in Gabby's Team Pick from last week, when we told you how Ashley is currently entered in the Women Of The World Poetry Contest and how you should totally vote for her (voting ends tomorrow, February 5 at 11:59pm EST)! In this interview she shared a bit about the inspiration behind her poem that is entered in the contest. If you'd like to see more of Ashley's work you can find her at her website thatstarvingartist.com, on twitter, on instagram or via email at Ashley [at] thatstarvingartist [dot] com.
Ashley told me that she decided to submit to Straddle On The Street because "2013 is my year of going for it," and I'm so glad she did. Plus she's turning 23 on Sunday so make sure you say "happy birthday!" in the comments.
Tell me how and why you started writing poetry.
I started writing about everything the moment I could write. I didn't realize anything constituted as poetry until I was a teenager really. A friend saw that I liked to write and took me to a poetry venue when I was 17, and I absolutely fell in love. I didn't think people could actually make a career out of such a thing.
What are some themes you write about?
Pretty much anything that has affected me has become a poem, so you can expect a lot of queer, feminist themes throughout, but I talk a lot about love, family, and death. I have stacks and stacks of notebooks, so there's a poem for everything. I even wrote a slam poem about Britney Spears.
Oh my gosh. Is there a video of that somewhere? I have a lot of feelings about Britney, most of which came about from that epic article Riese wrote about her.
Yes there is! Let me find the link! Here it is. I have feelings about her too, obviously!
Oh my god Ashley. That was perfect.
Thank you!
Can you tell me a bit about performing your poetry versus writing it? How did you know you wanted to a be a spoken word poet instead of just a "write on the page" poet?
I think the idea of spoken word was birthed when I started going to venues. I'd enter my name into slams and didn't really progress very far until I slammed for the LA Brass Knuckles team in 2011. I ended up progressing in each slam and ultimately making the team. My writing is still just my thoughts and opinions and is fairly consistent; it's my stage presence and performance that I feel makes the difference. I think you can successfully marry the "spoken word artist" and "write on the page poet." I'm trying to anyways!
Yes, definitely! I just know some people prefer to stick with just writing on paper, so I was curious how you got brave enough to want to perform or if it was just a natural progression or instinct?
I was always one of those weird queer theatre kids in high school, and then I studied theatre for two years in college so getting onstage was kind of exciting for me, whereas most people see it as a huge fear. I still get nervous, but its definitely a huge thrill.
Tell me a bit about the contest you're entered in right now.
Right now I'm a contestant in the Brenda Moossy video slam, which is an online poetry slam. The winner of said slam gets free admission to the Women Of The World Poetry Slam this year in Minneapolis, Minnesota and I am dying to go!
Can you tell us a bit about the inspiration behind the particular poem in the video for the contest?
That poem, "Artists Don't Make Mistakes," is my own battle with body image issues. I am a big girl and have not always loved my body. I'm sure most people can relate in some way or another, whether it's a plus size body, or a trans* body, or a disabled body, we've all got things we find difficult to embrace. I wrote that as a sort of plea to God – though I'm not religious – asking, why are you an artist if your subjects despise their own design?
Well it really resonated with me, as someone who has a lot of body "stuff."
Who doesn't, in some aspect or another?
True life.
I think thats why the poem is so successful. Everyone understands.
Absolutely. Moving on to happier topics, please tell me about your experience at A-camp!
What a freaking amazing experience. I was in the Snatch-22 cabin and every girl in our group had never gone to camp before and didn't know anyone at camp, so we were all these fearless girls who just took a huge risk and I think that risk paid off. I ended up falling hard for my cabin mate, and we haven't stopped talking since the day we got back from camp. If I'm not the perfect walking advertisement for camp, I don't know who is. I came to camp alone and I came home with 300+ new friends and a girlfriend. I won all the things.
That makes me insanely happy.
Me too! Why can't we just live on queer mountain?
I mean my personal goal in life is to live at A-camp year round, so who knows what the future holds! This next question is kind of goofy but it's my favorite. Do you have a celeb crush?
Rachel Maddow is the obvious one, with Andrea Gibson as a close second. The short hair and the intellect will get me EVERY TIME.
Ugh right?! Speaking of Andrea Gibson, let's jump back to poetry for a moment. What advice would you give to someone who would like to write poetry, or is trying to make it work as a poet?
Read. Read everything you can get your hands on. If you have a favorite poet, find out who their favorite poet is and read their work. Then write a lot. Your writing is always gonna be crap in the beginning. I promise. Also, find your own voice. I see a lot of beginning poets who sound like their favorite poet. Be inspired, but don't be a copy.
Thank you for that advice! And what are your goals, both big and small, for your poetry moving forward?
The small goal now is to progress into this WOWPS competition, but the big goal for this year is to actually self publish my first book of poems and then hit the road and tour with it. I'll be starting the Indiegogo for it next week on my birthday – which is a week from yesterday! – so when I'm done asking for votes, I'll be asking for money!
Well happy early birthday, and please keep us posted about the Indiegogo!
I will. I really wanna get out and see the country and meet people and share poems.
That sounds amazing! Who are some of your favorite poets?
Andrea Gibson, duh, Rachel McKibbens, Lauren Zuniga, Carvens Lissaint, Sierra DeMulder, Audre Lourde, Shakespeare. There's tons more whom I love, but that is a solid start.
Perfect. Now for my last two questions. How and when did you find Autostraddle?
I found Autostraddle about two years ago when I first came out. My good friend, D,, sent me a link to an article and I was like, "girl on girl culture! What is this amazing place?"
Let us all take a moment to thank D for bringing Ashley to Autostraddle.
THANK YOU D!
Is there anything else you'd like to share with the AS community?
This community has changed my life. And that's so damn corny, but it's true. I went to camp, you guys are putting my poetry on an amazing platform and I met my girlfriend through AS. I am one of those ridiculous "results may vary" success stories!
---
If you would like to be featured as a future Straddler on the Street, please email vanessa [at] autostraddle [dot] com. Include a few photos, 3-5 sentences about yourself and put "Straddler Submission" in your subject line. Approximately a million people have submitted so far, so please be patient as Vanessa goes through her inbox — you're all sexy with really smart brains, and don't you forget it!